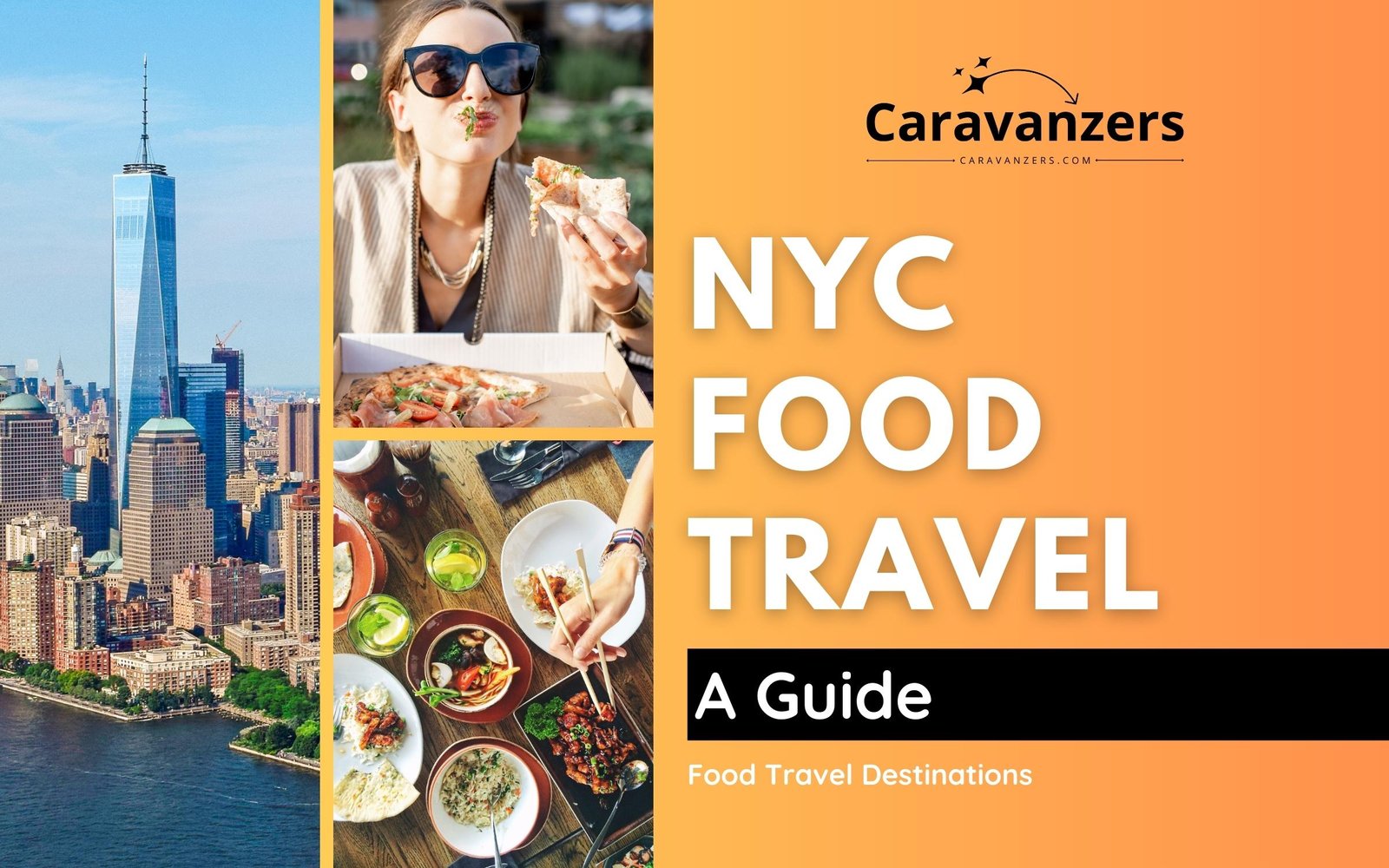 New York food guide made for travelers who want to experience the culinary traditions of this beautiful destination.
In this guide, I will describe foods that originate in New York, as well as those brought by its many immigrant cultures.
For those of you on a budget, I will also share cheap places to eat.
I will also venture into day trips and will mention places out of the city that you can visit for some delicious food.
So, let's get started on this food adventure!
Foods of New York
Very few cities in our world are as much of a foodie haven as the Big Apple, and the city's foods can be categorized into three distinct groups.
There are those originating in NYC, dishes brought by immigrants, and the global cuisines available throughout the city.
New York City is home to iconic foods that have originated within its boundaries.
The New York-style pizza, hand-rolled bagels, and pastrami sandwiches are just a few to name.
The large Italian-American population has given rise to authentic Italian dishes found in neighborhoods like Little Italy and Arthur Avenue.
Chinese cuisine thrives in Chinatown and Flushing, offering a wide range of regional specialties like dim sum and Peking duck.
Jewish delicacies such as knishes, matzo ball soup, and latkes reflect the traditions and flavors of the city's Jewish communities.
Global cuisines also flourish in the city, reflecting New York City's cosmopolitan nature.
Mexican food has a thriving scene, for example.
You will find taquerias, street food vendors, and upscale restaurants that showcase popular Mexican treats.
Indian cuisine is well-represented, with Curry Hill and South Asian neighborhoods offering flavorful curries, crispy dosas, and fragrant biryanis.
Meanwhile, there are also numerous Middle Eastern eateries in neighborhoods like Bay Ridge and Astoria.
For a long time, New York was a hub of Black culture, and Harlem is a great place to sample some African American goodies.
Of course, there is so much more, but these examples represent the diverse culinary tapestry of New York City.
Unique New York Food
New York City is home to some standout one-of-a-kind delicacies.
For example, there is the cronut, a delectable hybrid of croissant and donut, which gained worldwide fame for its flaky, deep-fried pastry filled with cream and coated in sugar.
The black and white cookie, a soft and cake-like treat topped with half vanilla icing and half chocolate icing, has long been a beloved classic among New Yorkers.
Another unique creation is the egg cream, a non-alcoholic carbonated beverage made with milk, chocolate syrup, and seltzer water.
On the streets of New York, oversized, salted pretzels from food carts have become an enduring symbol of the city's fast-paced lifestyle.
These chewy yet slightly crunchy delights are a popular grab-and-go snack.
Halal cart chicken and rice is another street food sensation found throughout the city.
Seasoned grilled chicken, fragrant yellow rice, tangy white sauce, and spicy hot sauce come together in a mouthwatering combination that has become a staple meal for many New Yorkers.
For a visually striking twist on the classic New York bagel, The Bagel Store in Brooklyn introduced the rainbow bagel.
With its vibrant, swirled colors, this bagel is often served with creative and colorful cream cheese spreads, adding a playful touch to the breakfast or brunch experience.
Lastly, the pickleback shot has gained cult status in New York City's bars.
This unconventional combination involves taking a shot of whiskey followed by a shot of pickle brine, creating a unique flavor pairing that appeals to adventurous drinkers.
These unique New York foods have become iconic, reflecting the constant innovation and creativity found in its diverse neighborhoods.
Cheap Places to Eat in New York
Contrary to its expensive reputation, New York City has numerous affordable dining options.
So, let this New York food guide be your reminder that you can find some yummy stuff for a lot less.
During lunch hours, areas like Midtown, SoHo, and Union Square often have a high concentration of food trucks.
Expect to find hot dogs and falafel and tacos, and more.
Exploring the city's ethnic neighborhoods can lead you to affordable and authentic dining experiences.
For instance, Chinatown, Jackson Heights, and Flushing all have an abundance of affordable eateries.
Delis and bodegas are ubiquitous in New York City, offering quick and reasonably priced meals.
Expect to find sandwiches, salads, soups, and other grab-and-go options, particularly in residential areas.
New York-style pizza by the slice not only provides a quintessential food experience but also an affordable one.
You can find these pizzerias in nearly every neighborhood, with notable ones in Midtown, Greenwich Village, and Brooklyn.
Popular inexpensive fast food options include Shake Shack, Chipotle, Dos Toros, and Maoz Vegetarian, among others.
These chains are conveniently scattered throughout the city, providing a budget-friendly and hassle-free dining experience.
Numerous restaurants in New York City offer lunch specials during weekdays, presenting more affordable alternatives compared to dinner.
Look out for signs or menus advertising lunch specials, prix fixe menus, or discounted options during specific hours.
So, yeah, you really only have to look around to find a bunch of places to eat on the cheap.
Classic New York Street Food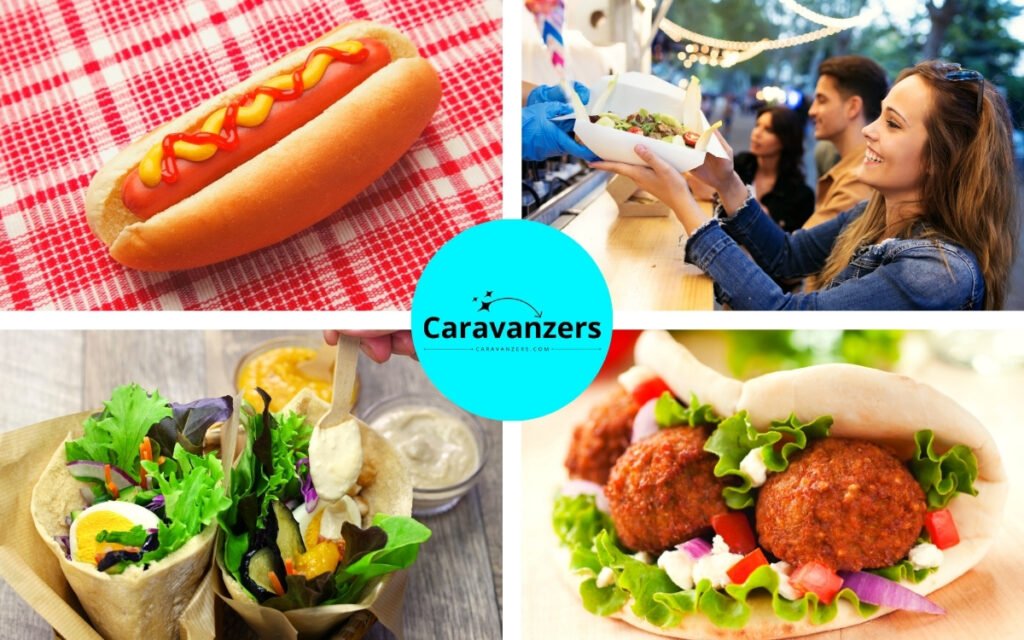 Classic New York street food is an iconic part of the city.
New York-style hot dogs are legendary.
Served on a soft bun, these grilled or boiled beef franks are typically topped with mustard, ketchup, sauerkraut, onions, and relish.
During my last trip to New York, a friend invited me to a falafel street vendor, and, oh my goodness, it was delicious!
Falafel is made by frying balls or patties made from ground chickpeas or fava beans, and it's everywhere in the city.
Another classic street food item, the gyro, is a Greek-inspired delight.
I actually started making this at home, and you generally need thinly sliced, seasoned meat, grilled and served on warm pita bread with onions, tomatoes, lettuce, and a tangy tzatziki sauce.
Sabich, an Israeli street food, has become popular in New York City.
It features pita bread filled with fried eggplant, hard-boiled eggs, Israeli salad, hummus, tahini sauce, and amba sauce—a tasty vegetarian choice.
Each item represents a fusion of different cultures and flavors, reflecting the diverse culinary heritage of the city and providing a delicious taste of New York on the go.
You will also find Japanese street food, too!
NYC Day Trips for Foodies
New York City offers several enticing day trips for food enthusiasts.
Start your day trips with the nearby Hudson Valley.
This region is perfect for farm-to-table restaurants and visit wineries and distilleries for tastings.
If you can, bring along friends and turn it into a proper road trip.
In the summer months, don't be surprised to find delicious fruit on the roadsides, especially in small towns.
Head east to Long Island's North Fork, a region famous for its wineries.
Take a wine tour, sample varietals, and enjoy vineyard views.
Pair your wine tastings with visits to charming seaside towns and seafood shacks for fresh catches.
My advice is to stay in the area overnight if you can.
That way, breakfast can also be an adventure on the following day.
A good friend told me how Jersey City has emerged as a culinary hotspot, and, of course, I had to try it.
Sample diverse cuisines, from Indian and Filipino to Middle Eastern and Latin American, in the city's vibrant neighborhoods like Journal Square and Grove Street.
Remember to check operating hours, availability, and any necessary reservations for specific establishments or activities before planning your day trip.
Also, keep in mind that New York is highly seasonal.
For example, if you want to take advantage of apple picking, try to do that in late summer and early fall.
Final Thoughts
Who doesn't love delicious, diverse food, right? That's exactly what you will find in New York City.
Whether you want to try the African American yummies in Harlem, or the Jewish delis of Lower Manhattan, this New York food guide has given you a lot of ideas.
If you care to leave the city for some nearby eateries, I also gave you a few options.
So, yeah, be prepared to eat right in the city that never sleeps!
Nina Walker is a food writer for Caravanzers.
Follow us on Pinterest.