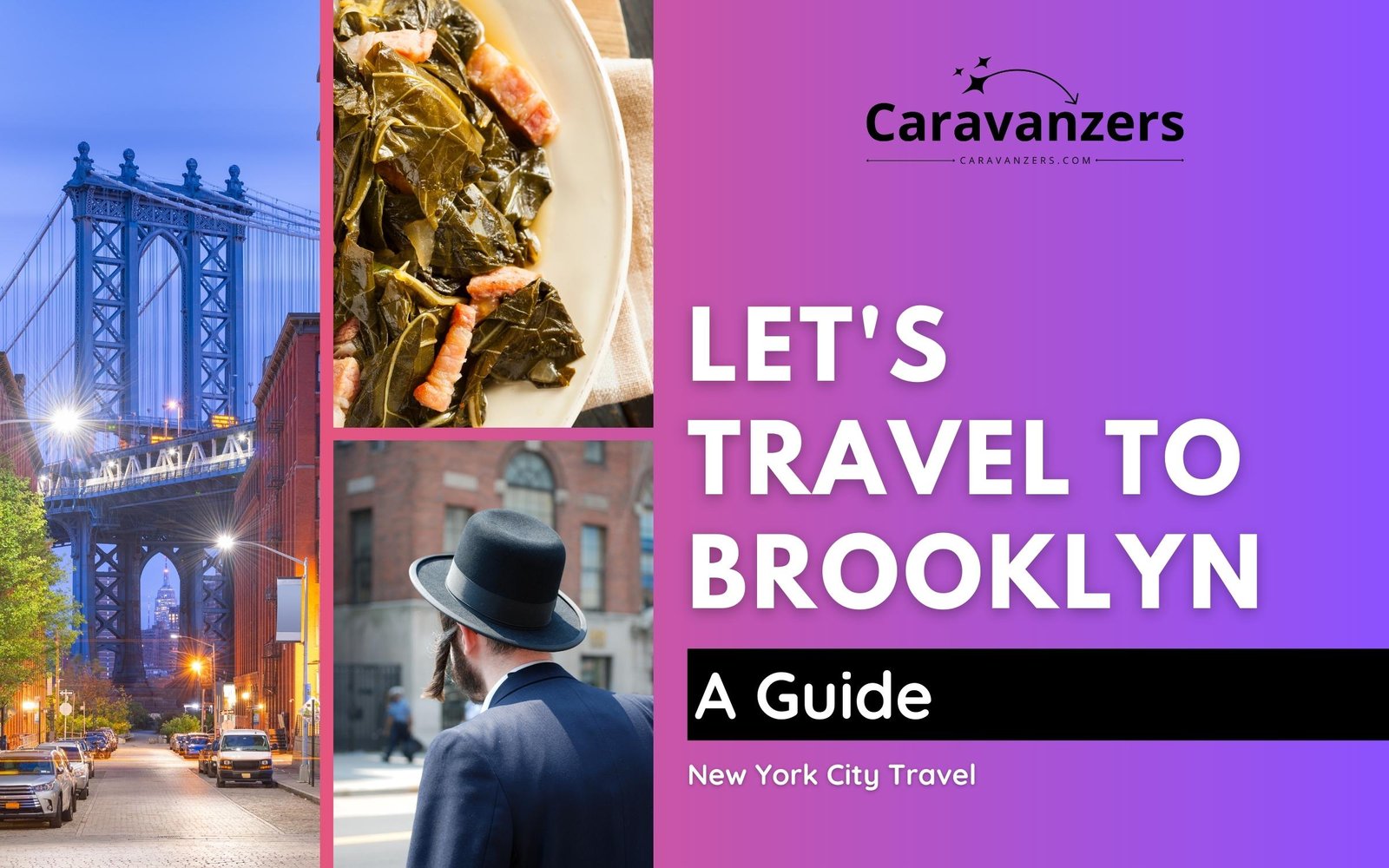 Brooklyn travel is a great chance to experience New York City outside of Manhattan, and this guide has all the juicy secrets.
Travelers love visiting Brooklyn for a lot of reasons.
This borough has a vibrant cultural scene, diverse neighborhoods, and trendy shops and boutiques.
Likewise, Brooklyn has got a ton of thriving arts and music scenes, delicious food options, and beautiful parks.
Similarly, there are iconic landmarks like the Brooklyn Bridge and a unique atmosphere that showcase the dynamic spirit of New York City.
So, what can you expect from this guide?
Well, as someone who really loves Brooklyn, my goal is to walk you through all the amazing things to do, places to visit, and what to eat!
If you've been thinking of spending some time in this amazing borough, I say get your pen and paper because I've got a ton to share.
Welcome to Brooklyn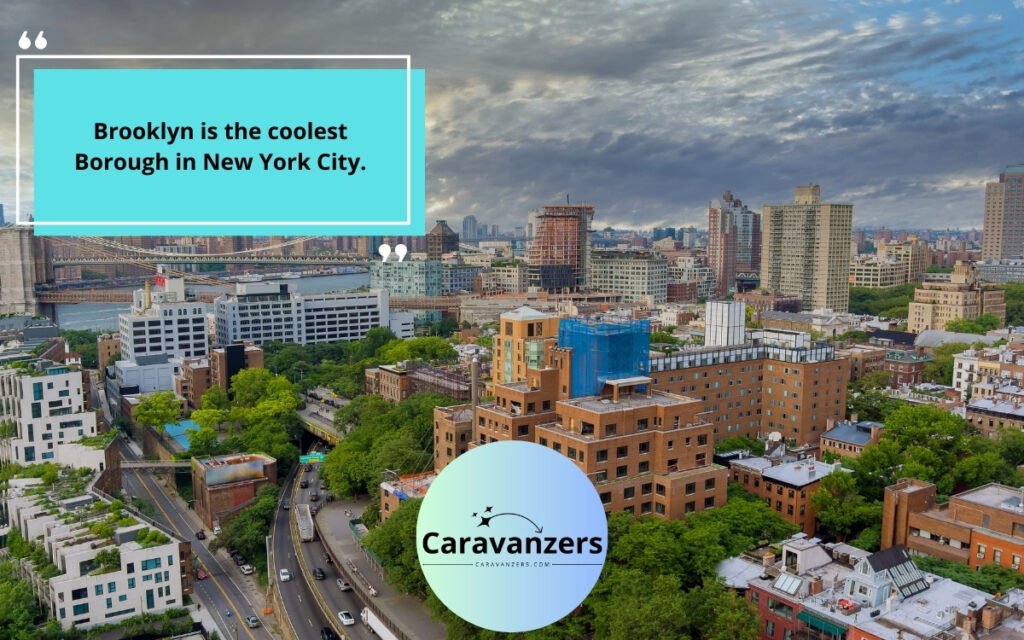 I guarantee you that hardly anyone will argue with you about Brooklyn's status as the coolest Borough in New York City.
It owes a lot of that to its diversity as a mixed city that seemingly has something for everyone.
This diversity is evident in the neighborhoods, local businesses, and culinary offerings found throughout the borough.
Made up of a collection of distinct neighborhoods, each with its own unique character, Brooklyn offers a range of well-known areas.
Nature enthusiasts can take pleasure in the borough's numerous parks and green spaces, providing an opportunity for relaxation and outdoor enjoyment.
Meanwhile, the borough caters to diverse tastes.
You will find food ranging from trendy farm-to-table eateries to traditional ethnic establishments.
Fostering a strong sense of community, Brooklyn sees its residents actively engaged in local initiatives, events, and activism.
This results in a unique neighborhood ambiance, with many areas featuring small businesses and community-driven events that contribute to the borough's charm.
Architecturally, Brooklyn also has a diverse landscape.
All in all, I feel like Brooklyn successfully combines the energy of an urban environment with a strong sense of community, making it an enticing place to both reside in and explore.
Brooklyn Neighborhoods
Brooklyn has diverse neighborhoods, each with its own unique character and cultural identity, and I bet you there's something you will love in each.
So, let's explore some notable neighborhoods in Brooklyn.
Downtown Brooklyn is the heartbeat of the borough, and this neighborhood offers a mix of residential, commercial, and cultural spaces.
Williamsburg is a vibrant neighborhood known for its hip and creative atmosphere.
Its waterfront area provides stunning views of the Manhattan skyline.
Coney Island is a beloved seaside neighborhood that offers a lively and nostalgic experience.
Iconic amusement park, boardwalk, and sandy beach make Coney Island a fun area to visit.
Borough Park is a predominantly Jewish neighborhood known for its strong Orthodox Jewish community.
It features synagogues, kosher markets, and traditional Jewish bakeries.
The area preserves Jewish traditions and is recognized for its cultural institutions and events.
Crown Heights is a diverse neighborhood with a significant African American population.
It is characterized by its rich history, cultural heritage, and vibrant Caribbean influences.
The neighborhood hosts the annual West Indian Day Parade, a colorful celebration of Caribbean culture.
Bushwick is a thriving neighborhood known for its artistic energy and a significant Latino population.
It offers a mix of hipster cafes, Latin American eateries, and a lively nightlife scene.
Sunset Park is a vibrant neighborhood with a strong Chinese presence.
The main thoroughfare, 8th Avenue, has earned the nickname "Brooklyn's Chinatown." This bustling street is renowned for its assortment of genuine restaurants, bustling markets, and lively cultural festivities.
These diverse neighborhoods reflect the cultural richness of Brooklyn, contributing to its allure as a dynamic and welcoming borough.
Brooklyn Hotels
Brooklyn offers a range of accommodations, including luxury hotels, boutique establishments, and chain hotels.
These properties often cater to the diverse needs and preferences of visitors, providing upscale amenities, convenient locations, and unique experiences.
That said, such features often come at a higher cost, too.
High demand, coupled with limited hotel availability, contributes to the relatively higher prices of Brooklyn's hotels.
To find more affordable options, travelers may consider looking for accommodations in surrounding areas or exploring alternatives such as vacation rentals or hostels.
Brooklyn has a selection of 5-star hotels in Brooklyn.
The William Vale and The Williamsburg Hotel are two notable options.
The William Vale features artwork by local artists and offers excellent service.
If you love rooftops, it has a bar called Westlight with a panoramic view.
The Williamsburg Hotel is popular for the culinary experience with a focus on locally sourced ingredients.
On a warm summer day, you might think you're in California with its beach-themed roof pool.
Both will set you back around $500 a night.
For some as chic but not as bank-breaking, consider the Sheraton Brooklyn New York.
This is a fantastic 4-star hotel in Downtown Brooklyn.
With its superb location, clean rooms, and helpful staff, it offers a comfortable and convenient stay.
Despite being reasonably priced at around $300, it provides a high-quality experience for guests visiting NYC.
Finally, the Holiday Inn Express in Sunset Park is a fantastic 3-star hotel that offers excellent value for its price of around $200.
With comfortable rooms, friendly staff, and convenient amenities, it makes a pleasant stay.
Walking Food Tour
Brooklyn has some notable and highly regarded food spots you definitely want to add to your list.
For some historical spots, check out Peter Luger Steak House.
This is an iconic steakhouse that has been serving up prime dry-aged steaks since 1887.
It has a classic, old-school ambiance and consistently high-quality meat.
Di Fara Pizza is a beloved pizza institution in Midwood.
Think of handcrafted, thin-crust pizza.
Each pie is meticulously prepared by the legendary pizzaiolo, Dom DeMarco, who has been making pizzas since 1964.
Lilia in Williamsburg is a popular Italian restaurant.
It serves handmade pasta dishes, wood-fired seafood, and yummy desserts.
The stylish yet approachable ambiance adds to the overall dining experience.
Olmsted in Prospect Heights is a Michelin-starred restaurant that is hugely popular for its delightful farm-to-table experience.
The menu showcases creative dishes using locally sourced ingredients, often from their backyard garden.
Maison Premiere is a charming oyster bar and cocktail den in Williamsburg that transports you to a bygone era with its elegant decor and vintage vibes.
It serves a variety of oysters, seafood specialties, and classic cocktails.
Roberta's in Bushwick is a trendy pizzeria and restaurant known for its wood-fired pizzas and creative, seasonal dishes.
It also houses an urban garden, enhancing the farm-to-table concept.
Meanwhile, Cheryl's Global Soul in Prospect Park is a great place to sample some African-American food. She has been serving up Southern comfort since 2006!
For the best noodles in New York City, check out Yun Nan Flavour Garden in Sunset Park. Their rice noodle with lamb stew is out of this world!
For some Jewish food, I love Luzee's in Borough Park, which is actually a take-out place. So worth it.
As you can see, you can cover a lot!
Brooklyn Attractions
Brooklyn has attractions that may not be as famous as those of Manhattan but will keep your traveling soul happy.
From its iconic landmarks to its artistic neighborhoods, Brooklyn offers something for everyone.
The Brooklyn Bridge, renowned as a global icon of engineering, represents the essence of the city while offering awe-inspiring vistas of the Manhattan skyline and the flowing East River.
Dumbo is a vibrant neighborhood where visitors have the opportunity to fully immerse themselves in a haven of creativity.
There are captivating art galleries, trendy boutiques, and panoramic views of the majestic Manhattan skyline.
The Brooklyn Museum, with its extensive art collection spanning various cultures and eras, captivates art enthusiasts and history buffs alike.
Coney Island Beach, a lively seaside destination, entices with its sandy shores, amusement parks, and the famous Luna Park.
Lastly, Floyd Bennett Field offers a unique blend of aviation history and recreational activities, allowing visitors to explore the grounds and learn about the field's significant role in early aviation.
Whether you're interested in history, art, beaches, or adventure, Brooklyn's attractions have something to offer everyone.
Brooklyn Bridge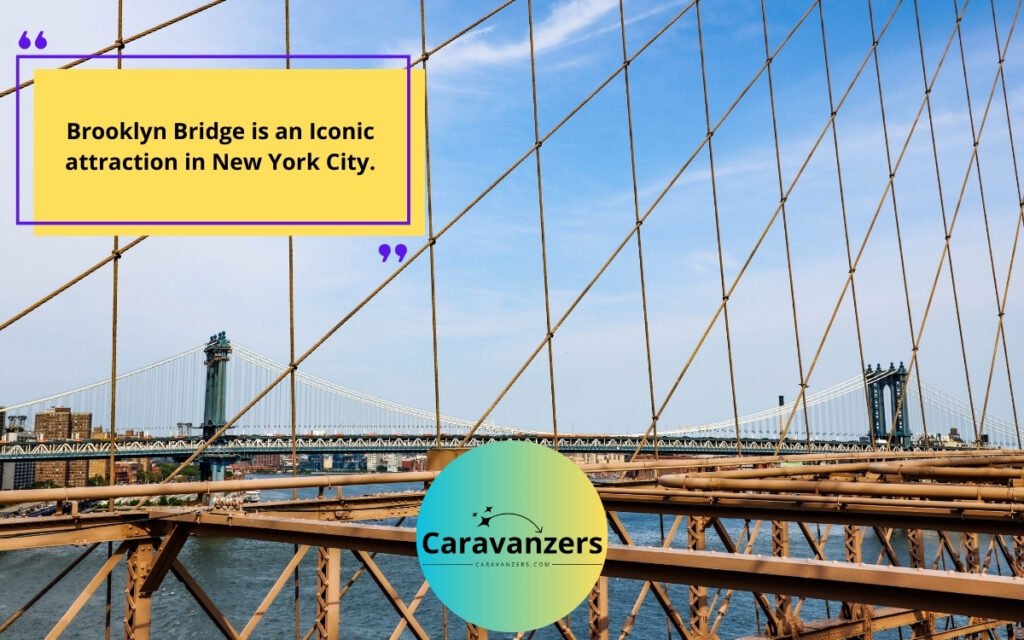 The renowned Brooklyn Bridge is an essential destination for those who wish to explore New York City.
Stretching across the East River, this storied suspension bridge presents awe-inspiring vistas of the Manhattan skyline and the lively waterway beneath it.
With its construction finalized in 1883, it held the distinction of being the world's inaugural steel-wire suspension bridge.
Visitors have the opportunity to traverse the bridge on foot, by bicycle, or at a leisurely pace, indulging in its remarkable architectural magnificence and capturing enduring snapshots.
Adorned with majestic stone arches and imbued with a Gothic-inspired design, the bridge serves as an adored emblem of the metropolis, attracting both residents and tourists alike to its allure.
Dumbo
Situated in Brooklyn, Dumbo (abbreviated from Down Under the Manhattan Bridge Overpass) represents a thriving and fashionable neighborhood brimming with creative vibrancy.
Formerly an industrial district, Dumbo has experienced a metamorphosis, becoming a stylish enclave adorned with cobblestone streets, repurposed warehouses, and captivating vistas of the Manhattan skyline.
It serves as a haven for artists, designers, and food enthusiasts, boasting an assortment of art galleries, boutiques, cafés, and restaurants.
Visitors have the opportunity to delve into the renowned St.
Ann's Warehouse, relish leisurely strolls along the picturesque waterfront of Brooklyn Bridge Park or partake in a delightful ride on Jane's Carousel.
The allure of Dumbo lies in its captivating charm and the palpable artistic energy it exudes, making it an indispensable destination for travelers.
Brooklyn Museum
The Brooklyn Museum is recognized as one of the United States' oldest and most expansive art museums.
It holds a celebrated position for its vast and varied collection, spanning numerous cultures and millennia.
Situated in the vibrant Prospect Heights neighborhood of Brooklyn, this esteemed establishment presents a comprehensive array of artistic treasures, encompassing ancient Egyptian artifacts, European paintings, contemporary creations, and an extensive assemblage of feminist art.
The museum's magnificent Beaux-Arts edifice itself is a spectacle to behold, characterized by its iconic entrance and breathtaking architecture.
Through its rotating exhibitions and captivating programs, the Brooklyn Museum offers a captivating and educational cultural encounter catering to the tastes of art enthusiasts and history aficionados alike.
Coney Island Beach
Coney Island Beach, a dynamic coastal destination, has captivated both New Yorkers and tourists for over a century.
Renowned for its lively ambiance, amusement parks, and iconic boardwalk, it presents a classic beach experience infused with a hint of wistfulness.
The beach spans the southern coast of Brooklyn, and you will see people sunbathing, swimming, and picnicking.
Alongside the sandy shores, visitors can indulge in a variety of attractions, including Luna Park—an historical amusement park boasting exhilarating rides and carnival games.
Coney Island also garners recognition for its annual hot dog eating competition and the Mermaid Parade, a vibrant celebration of artistry and imagination.
Floyd Bennett Field
Floyd Bennett Field, situated in the southern part of Brooklyn, occupies a significant position in the annals of aviation.
Once an operational airport, it now functions as a recreational space within the Gateway National Recreation Area.
This site, named after the renowned aviator Floyd Bennett, served as New York City's inaugural municipal airport and played a pivotal role in the early days of aviation exploration.
Presently, visitors have the chance to explore the vast premises, stroll along the runways, and discover the field's rich aviation legacy at the Ryan Visitor Center.
Additionally, the field offers a range of outdoor activities like birdwatching, camping, and hiking, rendering it a distinctive destination that appeals to history enthusiasts and nature lovers alike.
3-Day Brooklyn Itinerary
For those who are considering a thrilling three-day adventure in Brooklyn, I have an itinerary that will optimize your time and experiences.
To begin Day 1, start your morning in DUMBO (Down Under the Manhattan Bridge Overpass) to immerse yourself in the breathtaking view of the Manhattan skyline.
In the afternoon, make your way to the Brooklyn Museum, nestled in the Prospect Heights neighborhood.
As the sun starts to set, venture into the trendy neighborhood of Williamsburg.
Day 2 begins with a morning in the historic neighborhood of Brooklyn Heights.
Fuel up for the day with a delightful breakfast at a local cafe in Brooklyn Heights, setting you up for further exploration.
Lose yourself in the serene surroundings of the Brooklyn Botanic Garden in the afternoon, wandering through the gardens.
The enchanting Japanese Garden, the fragrant Rose Garden, and the picturesque Cherry Esplanade are a few to consider.
As evening approaches, venture into the neighborhoods of Fort Greene and Clinton Hill.
Wrap up your day with a delightful dinner at one of the local restaurants in Fort Greene or Clinton Hill.
On Day 3, start your morning in Greenpoint, a neighborhood brimming with Polish heritage and a thriving food scene.
For the afternoon, visit the Brooklyn Navy Yard, a historic site that now houses various businesses and artist studios.
Enjoy the sandy beach of Coney Island at sunset, take a leisurely stroll along the lively boardwalk, and experience thrilling rides, including the iconic Cyclone roller coaster.
Finally, find a cozy spot on the beach to witness the mesmerizing sunset before heading back to your accommodation.
Remember, feel free to adjust this itinerary based on your personal interests and any specific events or exhibits happening during your visit.
Brooklyn FAQs
For many travelers, Brooklyn is an "area" of New York, not understanding that it's one of only five parts or boroughs.
So, naturally, tourists ask questions about Brooklyn to gather information and insights about the borough's attractions, activities, neighborhoods, and local recommendations.
They seek guidance on how to make the most of their visit, discover hidden gems, explore popular landmarks, and gain a deeper understanding of Brooklyn's rich cultural and historical significance.
So, in this section, I will answer some of these.
Is Brooklyn Safe?
Is Brooklyn safe? Brooklyn has safe neighborhoods like Williamsburg and affluent areas like Dumbo, and others with higher crime rates, such as Brownsville. Generally speaking, it's a safe borough for travelers, and the New York Police or NYPD spends a lot of effort in making sure tourists are safe.
What is Brooklyn Known for Historically?
What is Brooklyn known for historically? Historically, Brooklyn had an influential role in the American Revolution. It was also prominent as a hub for immigration. Its industrial and manufacturing growth, the construction of iconic bridges, and cultural contributions in music, art, and literature have all given it historical relevance.
Is Brooklyn a Good Place to Live?
Is Brooklyn a good place to live? Brooklyn isn't for everyone. However, I would say it's generally considered a great place to live for several reasons. It has diverse neighborhoods, unique cultural scenes, tons of amenities, and proximity to Manhattan. Of course, personal preferences vary, but people love it.
Is It Expensive to Live in Brooklyn?
Is it expensive to live in Brooklyn? I would say that living in Brooklyn is definitely expensive compared to other parts of the US. The average one-bedroom apartment is over $3,000. The good news, though, is that it's way cheaper than Manhattan, and, honestly, that's what counts for most locals.
What is a Good Salary in Brooklyn?
What is a good salary in Brooklyn? A good salary in Brooklyn would depend on various factors such as individual lifestyle, expenses, and personal goals. I would say comfortable living considers the cost of housing, transportation, and other normal expenses. You need at least $40,000 to afford the bare minimum.
Brooklyn Travel – Final Thoughts
Brooklyn travel offers an exceptional opportunity to immerse oneself in this great borough.
The vibrant culture, diverse neighborhoods, and trendy establishments of New York City make it a great trip.
This comprehensive guide encompasses all the captivating secrets of Brooklyn, providing travelers with a wealth of reasons to explore this borough.
From its thriving arts and music scene to its delectable culinary offerings and breathtaking parks, Brooklyn truly showcases the dynamic spirit of the city.
With iconic landmarks and a unique atmosphere, this Brooklyn has countless amazing things to do, places to visit, and culinary delights to savor.
So, if you're considering a visit to this remarkable borough, I've given you plenty to consider.
I wish you a fun and safe trip to Brooklyn!
AJ Paris is a travel photographer based in New York. He is the editor of Caravanzers.
Follow us on Pinterest.