A San Francisco travel guide that has everything you will need to make an absolutely memorable trip a reality? Yes, I got you, my friend.
Are you planning a trip to San Francisco and feeling overwhelmed by all the options? Look no further than this guide.
I'm covering everything from travel basics and when to go to where to stay, what to eat, what to do, and a suggested itinerary.
Whether you're a first-time tourist or a seasoned traveler, this comprehensive guide will help you make the most of your time in the City by the Bay.
So sit back, relax, and let's start planning your San Francisco adventure!
San Francisco Travel Basics
San Francisco is in the Pacific Standard Time (PST) time zone, which is about 8 hours behind Coordinated Universal Time (UTC-8) or about 3 hours behind New York City.
The climate in San Francisco is mild temperatures with foggy days. Summers are typically cool, with average temperatures ranging from the mid-50s to mid-60s Fahrenheit (12-18 Celsius), making it a highly strange major city for summer in California.
Winters are also mild, averaging in the 50s Fahrenheit (10-15 Celsius). However, it's always a good idea to pack layers when visiting San Francisco, as the weather can change quickly, and it can get chilly in the evenings due to the ocean breeze.
The major airport serving the city is the San Francisco International Airport (SFO), which is about 13 miles (21 km) south of downtown. SFO is a busy airport with numerous domestic and international flights, making it a convenient gateway for travelers visiting the city.
Another nearby airport is Oakland International Airport (OAK), which is just across the Bay and serves as a secondary airport option for travelers.
For Non-Americans
If you're a foreign traveler planning to visit San Francisco, there are a few requirements you should be aware of. First and foremost, you'll need a valid passport.
Depending on your country of origin, you may also need a visa to enter the United States. The U.S. Department of State has a Visa Waiver Program (VWP) that allows citizens of certain countries to travel to the U.S. for tourism or business purposes without a visa for up to 90 days.
It's essential to have travel insurance that covers medical emergencies, as healthcare in the United States can be expensive.
And if you plan to drive in San Francisco or anywhere in the United States, you'll need a valid driver's license from your home country, as well as an International Driving Permit (IDP) if your driver's license is not in English.
Finally, it's always a good idea to check the latest travel advisories and entry requirements from your home country before your trip to ensure you have all the necessary documentation and meet the requirements for foreign travelers.
When to Go
San Francisco really depends on your preferences and what you want to do during your trip! San Francisco has a mild climate with cool summers and mild winters, so you can visit throughout the year.
If you enjoy mild temperatures and fewer crowds, the spring (March to May) and fall (September to November) seasons can be great times to visit. During these months, the weather is usually pleasant, and you can experience beautiful blooms in the spring or foliage in the fall.
If you prefer more outdoor activities, the summer (June to August) can be a good time to go, although it can be cooler compared to other parts of California. However, you can still enjoy festivals, outdoor events, and the lively atmosphere of the city during the summer.
Winter (December to February) in San Francisco is the coolest time of the year, and it can be rainy at times. That said, though, the holiday season brings festive decorations, events, and fewer tourists. This makes San Francisco a magical time to explore.
Where to Stay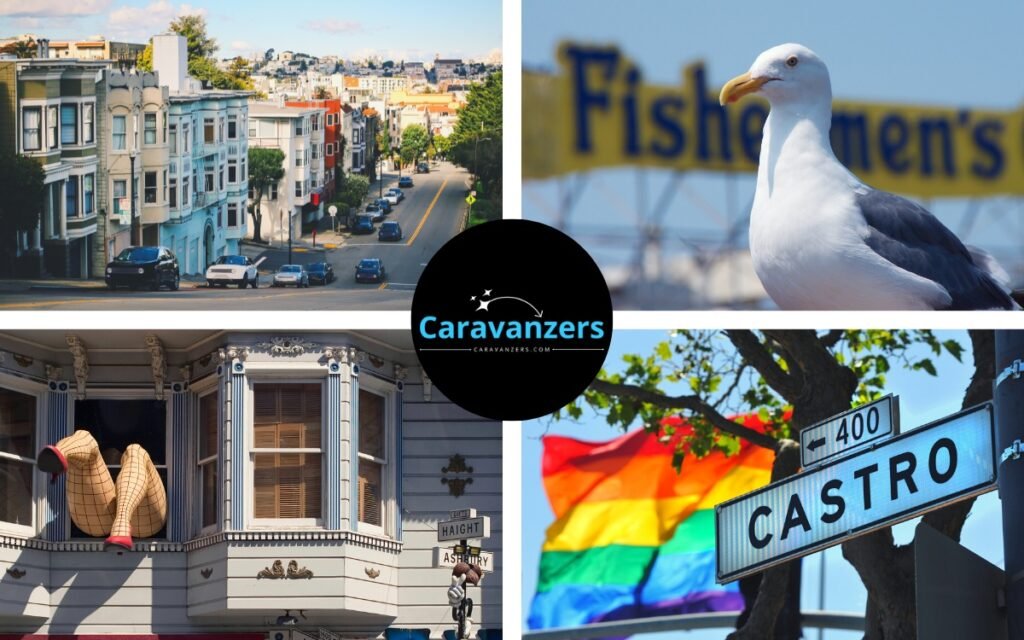 San Francisco has amazing neighborhoods to choose from. Truly, they are all with their own unique personality and charm.
For a more bohemian and eclectic vibe, Haight-Ashbury is ideal. With its association with the counterculture of the 60s, this neighborhood is home to vintage shops, cafes, and music venues that will give you a taste of the artistic and free-spirited San Francisco.
If you're looking for a trendy and hip area, the Mission District may be the perfect choice for you. This is by far my favorite part of the city. It has vibrant street art, lively nightlife, and a diverse culinary scene.
If you're looking for something more luxurious and upscale, the Nob Hill neighborhood is perfect. Boasting stunning city views, historic architecture, and a lineup of upscale hotels and restaurants, you'll feel like royalty during your stay.
Finally, if you're keen on riding the iconic San Francisco cable cars, you'll love Fisherman's Wharf. A popular tourist destination, it has many seafood restaurants, souvenir shops, and attractions like the Golden Gate Bridge and Alcatraz Island.
Of course, there are many other neighborhoods to choose from, but for now, these should give you a great starting point for your San Francisco adventure!
The Castro District
I already mentioned a lot of amazing neighborhoods, but there's one that really needs its own space, and that's the Castro.
The Castro is a dynamic and colorful neighborhood with a rich history and a strong presence in the LGBTQ+ community.
It boasts a range of exciting shops, bars, clubs, and restaurants, as well as historical landmarks, including the Castro Theatre and GLBT History Museum.
The neighborhood is popular among locals and tourists alike, with a lively atmosphere and welcoming environment.
The Castro is also a safe neighborhood with a visible police presence. People walk around all night long with its many gay bars open until 2 a.m.
While primarily recognized as an LGBTQ+ district, I would say it's open to all visitors regardless of sexual orientation or gender identity. This makes it a friendly and inclusive community for everyone.
If you're into partying, even if you aren't in the LGBTQ+ community, this is a fun area to stay. So, yeah, consider staying at the Castro!
What to Eat
San Francisco is a food lover's dream destination with its diverse culinary scene that reflects the multicultural population.
Naturally, California cuisine is one of the most popular types of food in San Francisco. It is known for using fresh, locally sourced ingredients and healthy, flavorful dishes.
The city's large Chinese population makes it home to some of the best Chinese food in the country. Chinatown and the Sunset District are the neighborhoods you must visit for authentic Chinese food.
Likewise, the Latin American community in San Francisco also contributes to the city's diverse food scene. There are plenty of delicious Mexican, Salvadoran, and other Latin American restaurants to choose from, making the city a food paradise.
Similarly, the city has a rich African American history and culture, with several neighborhoods that are home to African American residents and businesses. Bayview-Hunters Point is one such neighborhood where you can find some delicious soul food restaurants.
With so many different types of cuisine to try in San Francisco, you're sure to find something that satisfies your taste buds.
What to Do
San Francisco is a city full of endless possibilities for travelers of all types. History and culture enthusiasts will find themselves in awe of the world-renowned museums and landmarks like the Golden Gate Bridge, Alcatraz Island, and the de Young Museum.
Nature lovers will find solace in the city's beautiful parks and outdoor spaces, like Golden Gate Park, Lands End, and Twin Peaks, that offer stunning views of the city and the Bay, perfect for hiking, picnicking, or just enjoying the scenery.
Families with kids will have a blast with the many family-friendly activities like the California Academy of Sciences, the Exploratorium, and the San Francisco Zoo.
Finally, shopaholics will also find their happy places with the many shopping districts in the city, like Union Square, the Mission District, and the Haight-Ashbury neighborhood.
With so much to offer, San Francisco is truly a vibrant and dynamic city that will excite and inspire every traveler!
San Francisco Travel Itinerary
If you're looking to make the most of your trip to San Francisco, a well-planned 3-day itinerary is the perfect way to explore the city and the surrounding Bay Area.
Day one offers the chance to marvel at San Francisco's most iconic landmarks, such as the Golden Gate Bridge, Fisherman's Wharf, and Alcatraz Island.
You can also get a taste of the city's diverse neighborhoods, like the Mission District, Haight-Ashbury, and the Castro, which are brimming with cultural experiences, shopping, and dining.
On the second day, venture out of the city to discover the natural beauty of Marin County, East Bay, or South Bay, depending on your interests.
You can enjoy the stunning coastlines, hiking trails, and quaint towns of Marin County, explore the vibrant arts scene and great food of the East Bay, or visit the tech giants like Google and Facebook in South Bay, which also offers fantastic food and art.
The third day takes you to the world-class wineries, gourmet food, and stunning scenery of Wine Country.
Choose from Napa Valley, Sonoma County, or the Russian River Valley, each one offering its own unique charm and attractions. Do your research beforehand to decide which one is perfect for you.
While a 3-day itinerary is short, it's enough to get a taste of the best that San Francisco, the Bay Area, and Wine Country have to offer.
Frequently Asked Questions or FAQS
Being a passionate traveler with a keen interest in the city, I often get asked by fellow travelers regarding San Francisco.
I take pleasure in addressing these queries and assisting them in planning their itinerary for this stunning city.
Therefore, mentioned below are some commonly asked questions.
Is San Francisco Even Worth It?
Is San Francisco worth a visit? San Francisco is definitely worth a visit! With its iconic landmarks, diverse neighborhoods, world-class dining, and stunning natural beauty, it has something for everyone.
Which is Better to Visit; LA or SF?
Which is better to visit, LA or SF? Both Los Angeles and San Francisco have their own unique attractions and charm, so it really depends on your personal preferences. SF has its cultural experiences and scenic beauty, while LA is super famous for the entertainment industry and glamorous lifestyle.
Is San Francisco Expensive As a Tourist?
Is San Francisco expensive as a tourist? San Francisco can be expensive for tourists, especially when it comes to accommodations and dining. That said, though, there are plenty of affordable options if you're willing to do a bit of research and planning. You just need to book in advance!
What is the Best Month to Visit San Francisco?
What is the best month to visit San Francisco? The best time to visit San Francisco is in October. The weather is better and with fewer crowds than in summer. Plus, this is when many of the city's festivals and cultural events take place. So, go for October!
A Travel Story
David was a young traveler from Missouri who had always dreamed of visiting San Francisco. One summer, he finally made the trip with his best friend, eager to explore the city and all its top tourist destinations.
"It was the best trip of my life," David now remembers, years later.
They visited the Golden Gate Bridge, Alcatraz Island, Fisherman's Wharf, and more. Everywhere they went, they took pictures and checked off items from their bucket list.
But David's trip didn't end there. He also wanted to experience the city like a local, so he started meeting San Franciscans online.
Through these connections, he learned about hidden gems and local events that he would never have known about otherwise.
He visited dive bars and hole-in-the-wall restaurants, saw indie bands play in small venues, and attended street fairs and festivals.
David fell in love with San Francisco and its people, so he decided to come back every year during the fall.
Now, David recommends to others visiting San Francisco to reach out to locals online to get the most authentic experience.
"Go to Facebook Groups, YouTube Channels, and anywhere else you can," he says. "Meet people and just be a good person, and they will welcome you."
He suggests trying the city's diverse and unique cuisine, exploring different neighborhoods and parks, and attending local events.
For David, being a tourist is fun, but having a real experience is even better.
Final Thoughts
Congratulations on reaching the end! This comprehensive guide provides everything you need to know for a fulfilling San Francisco travel experience.
From useful travel advice to recommended itineraries, you've received plenty of helpful tips.
Whether you're keen on visiting the city's famous landmarks, uncovering secret treasures, or sampling the delicious local cuisine, this guide caters to all interests.
So start organizing your fantastic San Francisco adventure with confidence!
AJ Paris is a travel photographer based in New York. He is the editor of Caravanzers.