Taj Mahal is one of the most beautiful destinations in our world. If you're looking for a travel experience, add this attraction to your list.
People visit the Taj Mahal for many reasons. Some visit to see the beautiful architecture, which is why it's a top tourist site.
Of course, others go there to learn about the rich history of India, and some just to honor the associated love story.
In this guide, I will show you why it truly is a world wonder. From when to go to where to stay, I've got everything you need for an unforgettable trip.
Plus, I even got you a travel example to use as a guide to help you plan your own trip!
VIDEO – Taj Mahal Travel
Taj Mahal Basics
Taj Mahal is a unique travel destination in India. Its name is Persian, meaning "crown palace." As you will see throughout this article, it truly is a palace with many unique buildings.
What to know about its structure is that the site is an octagon-shaped space.
There are many layers to the Taj Mahal. One layer is the love story as a mausoleum, which is how it started. A man wanted to pay homage to his late wife.
Another layer is its architectural beauty, which is still unmatched many centuries later. There's something about the Taj Mahal that just leaves you breathless.
Of course, another layer is history. The site is part of Mughal India, which was a very rich period in Asia. The Mughal Empire was able to mix Arab, Persian, and Indian aesthetics into majestical spaces.
Finally, a layer of this site is its place as a world wonder. It's a UNESCO World Heritage Site for a reason. The combinations of the previous reasons make this place a very unique site.
Meanwhile, for those of you who have specific questions, I've got answers to some of the more frequently asked ones.
Later I will go into its attractions, how to get there, and who to work with.
But, first, let me answer some of these questions…
What Is The Taj Mahal?
The first time I saw a picture of the Taj Mahal, I was just a child. Like many travelers, I became curious about it, wanting to know everything.
What is the Taj Mahal? The Taj Mahal is a gigantic site in India. It's on a 42-acre (17 hectares) complex that includes a mosque, mausoleum, and gardens. Over the centuries, the site has become a tourist attraction. About seven million people visit each and every single year.
Of course, that means this is the top tourist attraction in all of India. Both Indian and non-Indian tourists visit the site.
In many countries, there are specifically designed tours to visit this site!
Where Is The Taj Mahal?
There are sites around the world that, when you discover their beauty or historical value, you immediately want to go there. The Taj Mahal is, without a doubt, one of those.
Where is the Taj Mahal? The Taj Mahal is in the Taj Gang or neighborhood of Agra. Agra is a major city in the northern Indian state of Uttar Pradesh. This is about 137 miles (or 221 kilometers) south of Delhi, the capital of India. Uttar Pradesh borders Delhi.
Driving can take anywhere from 3 to 5 hours. This depends on whether you go on a private car or public transportation.
Trains can take about 3 hours or less, depending on how fast and how many stops.
Although Agra has an airport, there aren't any commercial flights in or out of that airport. It's generally used by government and private flights.
Uttar Pradesh is one of those fascinating states in India. Other incredible attractions include Varanasi, which is one of the oldest cities in the world.
For many Indians, especially Muslims, Lucknow is of major importance. Not only is it the capital of the state, but Lucknow has a tradition of music and culture unmatched anywhere else.
Lucknow is called the "City of Nawabs." Nawabs were aristocrats who nurtured the beauty of cultures like music, art, and more.
Amazing state.
Who Built The Taj Mahal?
When you see how humongous the Taj Mahal is, you will immediately wonder about its history, especially its construction. I certainly remember having those thoughts.
Who built the Taj Mahal? Mughal Emperor Shah Jahan was the person who commissioned it. It was 20,000+ Indian architects, designers, and construction laborers that put their sweat into the complex that we know as the Taj Mahal today. The construction took about 22 years to complete. Huge project.
The building of the Taj Mahal is probably one of the largest constructions in history. Imagine the amount of manpower.
"This was a crazy project," explains Sahil, an architect in Delhi. "One thing that many people don't think about is that some of the construction people had to retire during the building of it."
Sahil says that if you happened to have a son, he replaced you. Part of it is because people died younger, but it was also because it required vigor.
"You couldn't be older than thirty to work there," Sahil says.
Incredible project!
What Is The Taj Mahal Made Of?
If you ever search for Taj Mahal images on the web, you will see they have different colors. That is because this site has unique designs!
What is the Taj Mahal made of? The Taj Mahal is made of diverse materials. The outer shell is made of white marble. In the inner part of the walls, though, builders used the lime staining technique. They added precious stones, making the building shine differently under different lights.
Under the sun, the Taj Mahal has blinding light that can be seen from a far distance. Emperor Shah Jahan wanted it to be incomparable to anything else.
Likewise, it shines differently under the moon. Even far from it, you will see how the moonlight gives it a shade of blue.
"The architects had to plan for all of that," Sahil explains. "It can also look different when it rains!"
Just amazing.
Taj Mahal Attractions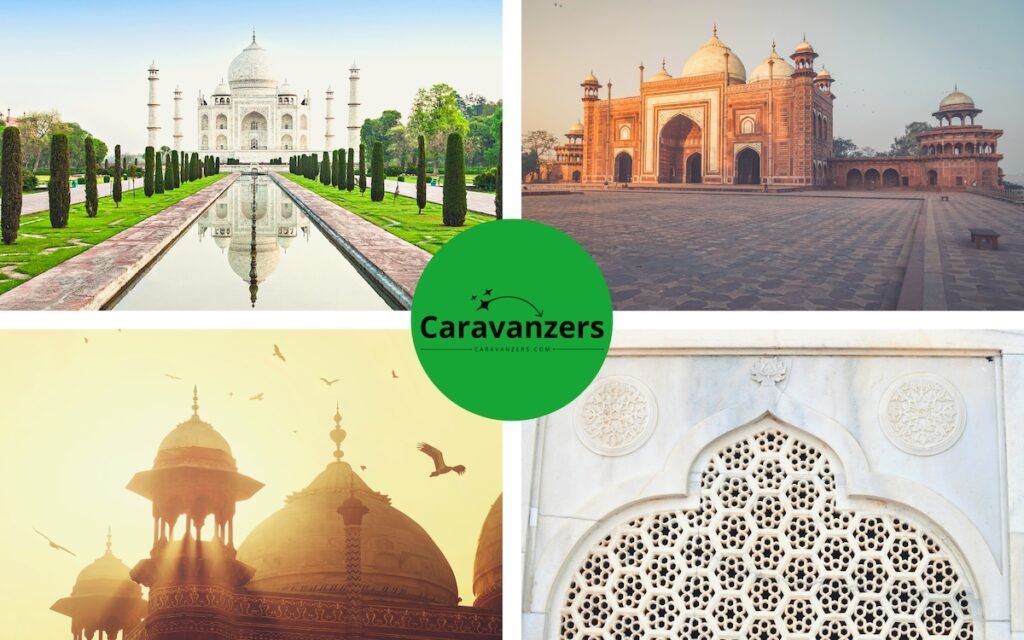 When travelers think of the Taj Mahal, they imagine one building. Although there's one part of the palace that is advertised, it isn't the only thing.
"I truly expected it to be a small building that I could go in and out of," explains Elizabeth, a traveler from Canada.
There are actually several buildings in the Taj Mahal complex, including a mosque, a guest house, and the main mausoleum where Emperor Shah Jahan and his third wife Mumtaz Mahal are buried.
"Every building was different," says Richard, who visited from the United Kingdom. "I was utterly impressed by its diversity."
As with many Mughal-era palaces, the complex also has extensive gardens, fountains, and walkways.
All of the buildings are made of diverse materials and are incredibly ornate.
If you want to have an amazing travel experience, take note of some of the attractions I will mention. It will be helpful to know about them, even if you get a full tour guide.
Although you don't have to see every one of the sites I will mention, your experience will be richer if you can try to incorporate as many as you can into your visit.
Remember, you can go back to the Taj Mahal several times. This is especially the case if you don't like walking too long.
No matter what you do, I hope you enjoy your trip to the Taj Mahal.
So, here are some of the attractions…
Taj Mahal Building
The main building of the palace is the "Taj Mahal," which means "Crown Palace."
This is the building most people think of when they hear the name. Its Islamic architecture, with its four minarets, makes it the most iconic Indian attraction.
In the main part of the building, you will be able to visit the tomb of the empress Mumtaz Mahal, whose birth name was Arjumand Banu Begum.
"Mumtaz Mahal" is an imperial title that means "Distinguished Palace." The title was conferred upon her by Shah Jahan, the fifth emperor of the Mughal Empire.
She was a second-generation woman in the palace, with her being aunt Nur Jahan, the stepmother of Shah Jahan.
Mumtaz became the favorite wife of Shah Jahan for several reasons. First of all, they shared a unique love because he was thirty years older.
However, you want to remember that these people lived in a different time. Shah Jahan couldn't get away with favoring her just like that, regardless of how much he loved her.
Mumtaz was important because the empire favored her. The officials at the imperial court, the aristocratic families, and the general public liked her.
That's because Mumtaz bore the emperor the most "important" children.
Her son Aurangzeb was the future emperor that replaced his father, and her daughter Jahanara was truly the apple of Shah Jahan's eye.
Because of her immense contribution to the empire, the emperor ordered to build the most lavish mausoleum anyone had ever seen.
And, of course, he succeeded.
Despite the many years and manpower that it took to complete, Shah Jahan was able to present a jewel to the world.
He's buried next to her.
The mausoleum has two identical structures around it, and they are Mehman Khana and Shahi Masjid.
Mehman Khana
Mehman Khana is a guest house at the Taj Mahal complex. Away from the river, the guest house sits left of the main building.
This was a very important space because it allowed people who were visiting the royal tombs to be comfortable.
Over the centuries, everyone from merchants to government officials stayed there.
While the guests stayed in its luxurious rooms, the main hall was used to entertain them.
It's hard to imagine "entertainment" in a solemn place, but that's part of the deal.
On Thursdays, the hall saw qawwali performances. Qawwali is a Sufi musical performance that can play well into the night.
Both Shah Jahan and his daughter Jahanara Begum were famous for their patronage of the Sufis. As a result, the site attracted many famous Sufis throughout history.
These days, no one stays at the guest house.
While the Taj Mahal is white, Mehman Khana has that red and earthy Mughal tone. However, its roof has white marble domes, as are in some of the intricate designs of the entrance and arches.
It's a beautiful building.
Shahi Masjid
Shahi Masjid is the main mosque at the Taj Mahal complex. Away from the river, the mosque sits right from the main building.
Like most Mughal palaces, the Taj Mahal has its own mosque. The full name of the mosque is "Shah Jahan Masjid" or "Shah Jahan Mosque," but the locals have shortened it to "shahi."
With as many people who went to visit the place, it was just common sense to provide a spiritual space for Muslim travelers.
Remember that both Shah Jahan and Mumtaz Mahal were Muslim, and many people have since gone there around important days to pay tribute to them.
Sometimes, this is called ziyara or a spiritual visit. Most likely, though, many of them were just tourists who wanted to see the famous site.
Nevertheless, the mosque, like the guest house, is a beautiful building made of the famous Mughal-era red sandstones.
Recently, people were arrested there for praying namaz or Islamic prayers. According to the Archaeological Survey of India (ASI), prayers are prohibited at the mosque due to their archaeological value.
Meanwhile, it's a beautiful building to take pictures of or admire. Just like Mehman Khana, its roof has white marble domes, as are in some of the intricate designs of the entrance and arches.
Char Bagh Garden
Char Bagh is the garden at the Taj Mahal. The garden is one of the most beautiful gardens in all of India.
When you walk from the main gate, between the gate and the actual Taj Mahal is the garden.
This is a classic Persian-style garden known as "char bagh" or "four gardens." It originated with the Qur'an describing four gardens given to the pious.
Taj Mahal's Char Bagh was modeled after the one Abbas the Great commissioned in Isfahan, Iran.
Remember that Shah Jahan's great-grandfather was born in Persia, and so was Mumtaz's father.
So, it was a way to pay tribute to their shared cultures.
Naubat Khana
Naubat Khana is a drum building. It was an important part of the palace because it announced when important visitors arrived.
Typical of its era, the Naubat Khana housed musicians. As was the custom, these musicians would play elaborate pieces to entertain the guests before they reached the main house.
Like many Mughal-era palaces, the Taj Mahal needed one. This one, however, had gold designs on parts of its exterior walls. It was to give some glamour to the otherwise red stone building.
Of course, it proved dangerous for some. According to the inscription at the site, several emperors were assassinated while waiting to be taken to the main building.
It sits between the entrances and the building.
Jilau Khana
Jilau Khana is the foreground court of the Taj Mahal. It's the main building you enter through to get to the mausoleum right after the gates.
Back in the day, this building was heavily guarded, especially when important people were visiting the site.
Like many Mughal-era palaces, the foreground court was also a way to "slow down" the traffic, so to speak.
Oddly enough, it works fantastically today, too, with the tourists.
This is a beautiful red stone building. With its white marble intricate designs illuminating its space, Jilau Khana fits in perfectly with the rest.
Taj Gates
The Taj Mahal has three gates. These are the eastern, western, and southern.
Remember, the complex is facing "toward" the river. We know this because it has a southern gate but not a northern one, meaning the river acts as its northern gate.
The southern gate is called Sidhi Darwaza, the east gate is Fatehabadi Darwaza, and the west gate is Fatehpuri Darwaza.
Today, the southern gate is not in use. However, it's definitely the most beautiful of all three. It's symmetrical to both the Taj Mahal mausoleum and Agra's main gate.
Many locals prefer to go through the eastern gate because it's closest to public transportation. This means it's also the busiest, accounting for about 70% of the visitors.
Some tourists prefer to go through the eastern gate because it's closest to the hotels, etc.
If you can, try to experience both gates.
When to Visit Taj Mahal
Traveling to the Taj Mahal has many considerations, especially for those who want to plan their trips. Like many other magical places in the world, you will have to consider several things with the Taj Mahal.
What is the best month to visit Taj Mahal? There are several factors to consider, but the best month to visit the Taj Mahal is February. February is the best because it doesn't have any Indian national holidays, the weather is mostly moderate, and costs tend to be doable.
That said, you need to consider other factors, including pollution. Agra is one of the worst polluted cities in India. In fact, for some years it has been the most air polluted city in the country.
For travelers wanting to visit the famous Taj Mahal, my recommendation is to pay close attention to air pollution.
If you're visiting from October forward, the chances are you will experience the worst pollution. This is when the city's pollution starts to climb.
That continues to be the case until June. However, June is when the monsoon rains start.
In other words, you need to choose between pollution and rain.
Meanwhile, if you care about warmth and cool weather, then you will probably stick to visiting between October and March. This is cooler weather.
March to June can be very hot, where temperatures can be around 100 degrees Fahrenheit (or about 38 Celsius).
As I said, February is the best because it's warmer in the day but doesn't get too cold at night.
How to Get There
The Taj Mahal is located in Agra. It's inconvenient for tourists because it's a bit of travel from the nearest major international airports.
Where do you fly into for the Taj Mahal? Although Lucknow and Jaipur are good options, I would say Delhi is the best city to fly into for the Taj Mahal. As the capital of India, this city has more infrastructure for your trip, definitely giving you more options.
With your Delhi option, the best way to get there is by hiring a private car. There are many taxis available, including right at the airport. It should take less than 3 hours to reach the Taj Mahal.
You can also take a 3-hour train from Delhi, which isn't as complicated as you think. The city has several major stations, and they all have tourist accommodation services, although you pay more for them.
Of course, you can also take a comfortable tourist bus. If you're staying at a hotel, they can help you manage it. Having done this, I think it's a comfortable way to do it!
If you play to go from Jaipur or Lucknow, similar options apply. Unlike Delhi, though, you do need to think ahead and plan for the trip.
Jaipur is about a 4-hour train away, while Lucknow will set you back at least 6 hours.
All of these options will get you to the Taj Mahal in a safe and comfortable manner.
Taj Mahal Tour From Delhi
Delhi's Indira Gandhi International Airport is the busiest in the region, and the chances are you will probably arrive through it.
If you don't plan to stay in the city, you can immediately jump into a waiting taxi and head to Agra.
For those of you who are in town already, you can talk to your hotel or other travel professionals. They can arrange a taxi for you.
A private car should get you to Agra in about 3 hours.
Another option is to take the train. The trainers aren't that slower, and I find them to be convenient, especially if you want to get to know the country.
There are many trains departing from Delhi's major stations, like Delhi Junction, Sarai Rohilla, and Hazrat Nizamuddin.
A train ride to Agra can take from 3 to 5 hours, depending on what time of day or what service.
For those going directly from the airport, the nearest railway station is the New Delhi station, which is about a 30-minute taxi ride away.
Hotels can also arrange for train rides.
If you're open to more public transportation, you can also jump onto a comfortable coach. And there are coaches leaving directly from the airport, major centers across the city, and some that will even pick you up!
Just plan it right.
Taj Mahal Tour Guide
Meet Deepak Sharma. He's a travel professional from Agra who has been helping visitors for many years now.
"I was born and brought near Taj Mahal, within five hundred feet," says Deepak, who was licensed as a tour guide way back in 2006. "Since childhood, I'm seeing many tourists coming to see it. In those days, tourists visiting the Taj Mahal were small, maybe one hundred to two hundred tourists per day."
It was a chance to return home in 2001 that sparked Deepak's interest in showing people his city. Soon, he was working for travel companies.
However, he says it was the web that really made his business blossom.
"I found online community forums where future travelers were looking for information," he says. "I could answer their queries, so I started posting on forums of popular sites like Tripadvisor and Fodor's. I became a Destination Expert on Tripadvisor for Delhi, Agra, and Jaipur."
Today, Deepak runs both Sudarshan India Tour and River View Delhi Home Stay. Sudarshan India Tour helps people plan memorable trips to India.
With Sudarshan India Tour, travelers can arrange trips to Agra and beyond.
Likewise, the Airbnb-listed River View Delhi Home Stay gives travelers a chance to experience a homely life in Delhi.
By staying in a home in the East Delhi neighborhood of Laxmi Nagar, you will experience what it truly is like to be living in the mega city that is Delhi.
Etiquette for Your Taj Mahal Trip
Deepak Sharma, our Sudarshan India Tour friend, suggests a couple of things for you to make sure you have an enjoyable trip.
"Take care of water and food to avoid Delhi belly," he says.
What is a Delhi Belly? A Delhi belly is diarrhea that tourists contract in India. There are a number of ways that you end up getting this, but the most common is through water and food. One way to avoid this is to drink bottled water and cooked meals.
Major culprits are ice and watery foods like salads, prepared fruits, and, sadly, street food.
Keep this rule in mind: if it's not bottled, cooked, or peeled, leave it.
"Immediately switch to light food or vegetarian food or skip a meal on first symptoms of indigestion," says Deepak.
Unless you specifically ask for it, Indian food is spicy. Spicy food tends to be so much lighter if it's vegetarian because the meat needs more digestion time.
"Dress modestly as you might be visiting temples and mosques," says Deepak, which is great advice in India in general. "Women should avoid wearing short pants and deep neck tops."
For the men, I would say don't go anywhere bare-chested and try not to wear shorts, too.
Remember that the Taj Mahal's grounds have a mosque, not to mention that it's also a holy mausoleum.
Modesty is important for this trip.
Taj Mahal Travel Example
When Brian saw the Taj Mahal during high school, the American traveler says he immediately knew he was going to visit it one day.
"I just knew it," he says.
Over the years, the dream kept popping up, and he was always mentally refreshing the idea.
Then his big break came a few years after he first left the United States for Mexico.
"I've been working for an American company down there, and it just reminded me that I do like to travel," he says.
First stop? Delhi, India.
After exploring Delhi for a week, Brian says he got to the business of arranging his trip to his real destination: the Taj Mahal.
The people at the front desk of his hotel helped him with everything from putting him in touch with a travel agency to storing his luggage while he was away.
"The first time we approached it in the car, I had to fight the tears," he says, remembering how he felt embarrassed.
He didn't realize how emotional he was going to be; otherwise, he would have decided to go a different way.
"I agreed to go on a trip with six other tourists," he says.
Need to say, Brian really had a good time and remembers the feeling he had accomplished something major in his life.
Brian recommends booking your hotel with a reputable company, asking them for their help to arrange for your trip, and being careful.
Taj Mahal Final Thoughts
Taj Mahal is a world wonder. Naturally, travelers everywhere want to visit this iconic structure.
In this guide, I provided an overview of why the Taj Mahal is such an important historical site. With its beautiful structure and UNESCO World Heritage Site, I said it's a place you should definitely check out.
I also shared information on the best time to visit would be, how to get there, and what kinds of things travelers can expect to see.
I hope that this guide has helped you plan your own trip to the Taj Mahal and appreciate its significance.
In the meantime, don't forget to visit our other articles about India, conveniently listed for you below.
AJ Paris is a travel photographer based in New York. He is the editor of Caravanzers.
More India
Here are more India articles: