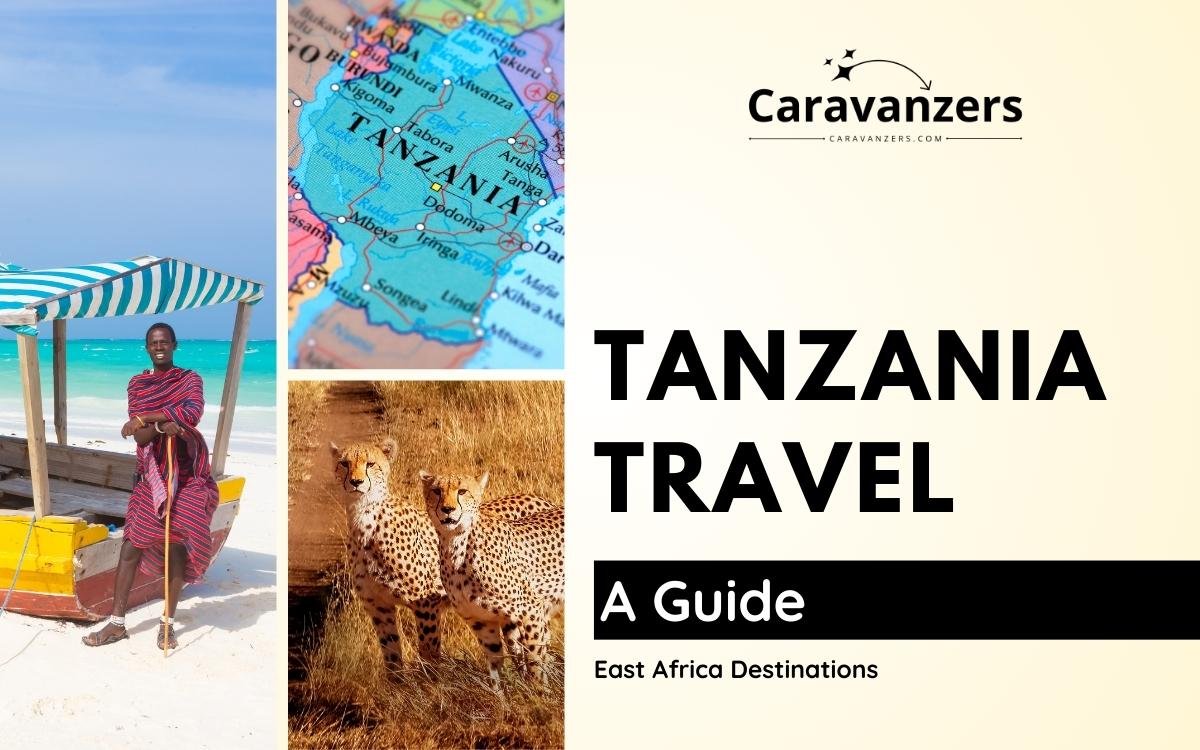 Tanzania travel will expose you to one of the most beautiful destinations in our world. This country has tons of things to do and see!
From the mesmerizing wildlife of the Serengeti to the pristine beaches of Zanzibar, Tanzania will definitely not disappoint.
In this guide, I will cover all the essential aspects of your trip, including the best time to visit, must-see destinations, local cuisine, accommodation options, and exciting activities to make your Tanzanian experience unforgettable.
Let's delve into the wonders of Tanzania together!
Video – Tanzania Travel (Watch)
Tanzania Travel Basics
I featured Tanzania in my seven countries in Africa you must visit at least once in your lifetime.
So, planning a trip to Tanzania? It's crucial to understand the basic aspects of the destinations. First and foremost, Tanzania uses East Africa Time, which is GMT+3. That means when it is 11 AM in New York, it is 6 PM in Tanzania.
For most travelers, a valid passport with a minimum of six months validity from the date of entry and a visa is needed. You can obtain the visa online before arrival or at the port of entry.
Meanwhile, Tanzania has several international airports, with Julius Nyerere International Airport (DAR) in Dar es Salaam being the busiest and most commonly used for international flights. It is about 7 miles away (or 11 km) from the capital, Dar Es Salaam.
The currency of the country is the Tanzanian Shilling (TZS). Cash is widely used for transactions in Tanzania, and credit/debit cards are accepted at many hotels, restaurants, and shops in major tourist areas.
Likewise, Tanzania has a well-developed banking system, and major cities like Dar es Salaam, Arusha, and Zanzibar have numerous banks and ATMs where you can withdraw cash or exchange currency. CRDB Bank Plc is the most popular one.
Finally, taxis are a common mode of transportation in Tanzania, particularly in urban areas. There are both official taxi services as well as informal taxis, such as privately owned vehicles offering rides for a fee.
I will cover climate and the best times to go under the next section.
When to Go to Tanzania
The best time to visit Tanzania depends on the specific activities and destinations you plan to experience during your trip, as well as your tolerance for weather conditions. Tanzania has a tropical climate with distinct wet and dry seasons, and temperatures remain relatively warm year-round.
That said, there are a few things to pay attention to.
The Rainy Seasons in Tanzania
Yes, you read that right. Tanzania has several rainy seasons as a country with a huge mountain, a gigantic lake, and a bunch of islands.
November to December marks the start of the short rains, with brief showers occurring mainly in the afternoon or evening.
While wildlife is still abundant, some roads may be muddy and less accessible during the short rainy season, particularly in remote areas.
March to May, on the other hand, is the peak of the rainy season in Tanzania, with heavy rainfall, particularly in April. Many roads and trails may become impassable, and some lodges and camps may close during this time.
Wildlife viewing may also be more challenging during the long rainy season, as the dense vegetation and abundant water sources disperse animals.
So, take that into consideration as you plan!
Green Season in Tanzania
January to February is a transitional period between the long rainy season and the dry season, characterized by lush green landscapes and fewer tourists.
While wildlife viewing may not be as ideal as during the dry season, the scenery is beautiful, with blossoming flowers and vibrant colors.
This is a great time for photography for those of you who want live landscape photos.
The Safari Season in Tanzania
If you're considering a safari adventure, it would be beneficial to consider that the climatic conditions could substantially affect your experience.
What months are high season in Tanzania? June to October is considered the peak tourist season in Tanzania, particularly for wildlife viewing in the popular northern national parks like Serengeti, Ngorongoro Crater, and Tarangire. The weather during this season is generally dry and cool, making it perfect for safari.
I absolutely love this time of the year in Tanzania. In the dry season, temperatures range from 68 to 77 degrees Fahrenheit (20 to 25 degrees Celsius).
The vegetation isn't as crowded, too, making it easier to spot wildlife, and many animals congregate around water sources, offering excellent game viewing opportunities.
So, if you're heading to Tanzania for a safari, this is your best time of the year!
Ramadan in Zanzibar
For those of you planning to visit Zanzibar, which is definitely a destination to add to your list, you will need to keep Ramadan in mind.
Ramadan is a significant religious event for the Muslim community in Zanzibar, as well as in other parts of Tanzania.
Zanzibar is a predominantly Muslim island, and Ramadan is observed by the local population with fasting, prayers, and other religious activities.
During Ramadan, which follows the Islamic lunar calendar and lasts for about a month, Muslims fast from dawn to sunset, refraining from eating, drinking, and other activities during daylight hours.
As a traveler visiting Zanzibar during Ramadan, it's important to be respectful of the local customs and traditions associated with this holy month.
Accommodation in Tanzania
There are so many amazing choices for where to stay in Tanzania. That said, though, it is important to note that accommodation options may vary.
Tanzania is a developing country, and accommodations depend on the location and availability, so I would advise you to do your research and book in advance. And this is especially during peak seasons.
I would also say that you should check reviews, amenities, and safety measures of the places you intend to visit ahead of time. This is to ensure a comfortable and secure stay during your trip to Tanzania.
So, now, let's focus on the specifics.
Luxury Hotels & Resorts
Tanzania is known for its luxurious lodges and camps, particularly in popular wildlife areas like Serengeti National Park, Ngorongoro Conservation Area, and Tarangire National Park.
These luxury accommodations offer top-notch amenities, elegant furnishings, gourmet dining, and often spectacular views of the surrounding wilderness.
Examples of luxury hotels/resorts in Tanzania include Singita Grumeti, Four Seasons Safari Lodge Serengeti, and Ngorongoro Crater Lodge.
Budget Hotels
For those of you traveling on a budget, you really decided on the right country. Tanzania has a range of options, including budget hotels and guesthouses in different towns and cities.
Generally speaking, these types of accommodations in Tanzania offer affordable prices and basic amenities like acceptable rooms, simple dining options, and so on.
Some examples of budget hotels in Tanzania are the Arusha Tourist Inn, Mikumi Adventure Lodge, and Kilimanjaro Wonders Hotel.
You will definitely need to do your research with reviews with these.
Hostels
If you want to make connections with other travelers, hostels are the way to go in Tanzania. Although hostels are a popular choice for budget-conscious travelers and backpackers, in Tanzania, they offer more.
Tanzania has several hostels, particularly in major cities like Arusha, Dar es Salaam, and Zanzibar City.
You will definitely have to leave your first-world requirements behind, though. That is because hostels offer dormitory-style accommodation with shared facilities such as bathrooms, communal kitchens, and common areas for socializing.
Meanwhile, some hostels in Tanzania also offer private rooms for those seeking more privacy. This is a great compromise.
Examples of hostels in Tanzania include Arusha Backpackers, Jambo Inn Hostel, and Zostel Zanzibar.
Yeah, hotels are fun in Tanzania.
Apartments
Like many popular destinations around the world, apartments are another option for travelers in Tanzania. This is a great option for those you looking for a longer stay or prefer self-catering accommodations.
You can use Airbnb or local agents to find these, but there are definitely various serviced apartments available in Tanzania, especially in cities.
These apartments usually come with multiple rooms, a kitchen, and other amenities for a more home-like experience.
The Amariah Serviced Apartments in Dar Es Salaam is a great example.
So, yeah, if you want to make your own food, for instance, an apartment is the way to go.
Camping
Oh, camping is fun in Tanzania! For those of you seeking an adventurous travel experience, camping is a popular option.
Camping is particularly popular in national parks and conservation areas. Many national parks in Tanzania offer designated campsites where you can pitch your own tent or rent camping equipment.
Some campsites also have basic facilities like toilets, showers, and cooking areas. So, even if you aren't normally into adventurous things like this, it might be good to know this.
What I personally like about camping in Tanzania is that it truly allows you to immerse yourself in the wilderness and experience the sounds and sights of the African bush up close.
Anyway, examples of camping options in Tanzania include Seronera Public Campsite in Serengeti National Park.
What to Eat in Tanzania
Hey, who doesn't love food when traveling, am I right? When it comes to food in Tanzania, I divide it into Bantu, Swahili, and Indian cuisines.
That said, Tanzania is a modern country, and there are plenty of global spots, too. So, you will still get your Ethiopian, Japanese, and even British yummies.
So, I will now describe each of these…
Bantu Food
Let's start with Bantu food. Bantu are combined ethnic groups in Tanzania, accounting for about 90% of the country. They are over 130 different ethnic groups.
My goodness, Bantu cuisines are truly amazing. The Bantus rely on local ingredients such as grains, vegetables, and fruits. As a result, staple foods in Bantu cuisine include ugali.
Ugali is a thick maize porridge, and this delicious item is often served with meat, vegetables, or beans.
These cuisines also feature a variety of grilled or roasted meats. For example, nyama choma is grilled meat that is usually beef, goat, or chicken. Each part of the country has its own, and I love the coastal one!
Meanwhile, vegetables and legumes are also commonly used in Bantu cuisines. Dishes like mchicha, which is a dish made from spinach, are super popular.
So, I would say these are foods to look forward to. Meanwhile, there are others, so let's keep going.
Swahili Food
Swahili are the coastal peoples of Tanzania. You find them in places like the Zanzibar islands.
Because of their maritime encounters, the Swahili people are a mix of Bantu, Arab, and Indian, as well as Persian and even European.
Swahili cuisine, therefore, has vibrant flavors. They use fragrant spices, including curry. However, it is such a seafood-oriented culture, too.
Some popular Swahili dishes include fish biryani. This fragrant rice dish is inherited from India, where it is typically made with spiced rice, meat, and vegetables. Fish biryani, though, is so different!
Meanwhile, coconut milk is also common in Swahili cuisine. Coconut mbaazi, a pigeon pea dish, is a good example.
I would say my favorite Swahili thing is the halwa. They have a sweet from Oman, and it is so good! It has a jelly feel to it.
Indian Food
You will be surprised to see so many Indian spots across this country. First of all, there are many Indians in Tanzania. About 1% of the society is purely Indian, but a larger number of about 5% are mixed.
Indian cuisine has a significant influence on the culinary landscape, especially in cities with a large Indian population.
Indian cuisine in Tanzania features a wide array of vegetarian and non-vegetarian dishes, including curries, biryanis, samosas, and naan bread.
Some popular Indian dishes in Tanzania include chicken tikka masala, which combines both British and Indian concepts of the cuisine. It has gravy, which normally Indians don't add to tikka dishes, which are marinated and grilled.
Meanwhile, I really love the masala dosa, which is kind of like flatbread. You can have it plain with gravy or as a wrap.
Yum.
Global Cuisines
Of course, Tanzania has many African foods, too. The country has seven borders, which means there is plenty of cultural exchange.
Kenya, Uganda, Rwanda, Burundi, the Democratic Republic of the Congo, Zambia, Malawi, and Mozambique all have borders with Tanzania. So, each of those countries foods are food on the borders.
Meanwhile, major urban areas like Dar Es Salaam, Arusha, and Zanzibar City have a lot of international cuisines, too. One of my favorite restaurants in Zanzibar is an Ethiopian one, for example, in Stone Town.
Chinese restaurants are popular, too. Dar Es Salaam actually has some really authentic ones, and not just a tourist.
So, yeah, you will find plenty of international spots to eat.
Travel Destinations in Tanzania
Tanzania is truly a land of breathtaking natural beauty and rich cultural heritage! There are so many destinations here that you will really have an enriching travel experience.
Travelers visit Tanzania for so many reasons. Some visit for the wildlife safari opportunities, others because of Mount Kilimanjaro.
Of course, a lot of tourists come for the pristine beaches in Zanzibar, and others want to experience the rich cultural diversity, adventure tourism options, and commitment to conservation and ecotourism.
I will dive into each of those soon, but Tanzania really does has something for everyone.
So, let's explore some of these destinations.
Dar Es Salaam
Let's start with Dar Es Salaam, the largest city. Dar, as the locals call it, is also the commercial hub of the entire region.
This busy coastal city has a mix of modern and traditional vibes. Its vibrant markets, colorful street scenes, and rich cultural heritage are all a testament to its capital status.
Explore historical landmarks such as the National Museum and Village Museum. There is so much art to see in these places.
You could also simply enjoy the local atmosphere. One way to do that is by strolling along the waterfront. If you happen to be out on a warm day, the breeze will definitely cool you down.
Likewise, you could indulge in delicious street food. There are different parts of the city where you find different things. For more mixed, head to the Central Business District or Downtown.
Of course, you could also mingle with the friendly locals at restaurants, bars, and even nightclubs.
You will definitely love Dar!
Zanzibar
Next up is Zanzibar, a picturesque group of islands off the coast of Tanzania. These islands are famous for their idyllic beaches, turquoise waters, and rich history.
Start your fun by exploring the UNESCO-listed Stone Town in Zanzibar City. Its labyrinthine alleys, ancient architecture, and bustling markets are all that make it a must-see destination.
If you're traveling to rejuvenate, head to the pristine white-sand beaches and enjoy the African sun.
For those of you into sea fun, go ahead a book a snorkeling session in coral reefs teeming with marine life.
When you gather your energy, I would advise you to immerse yourself in the local culture. One way to do that is by visiting spice farms, where locals are making incredible things.
Another way is by taking a traditional dhow cruise, allowing you to enjoy the scenery of the islands from a distance.
Finally, you could also learn more about Zanzibar's history as a center of the spice trade at the local museums and government-sponsored institutions.
Zanzibar is an incredible experience, for sure.
Safari
They don't make tons of nature documentaries in Tanzania for no reason. For wildlife enthusiasts, a safari in Tanzania is a must.
Tanzania is home to some of the most iconic national parks and game reserves in all of Africa. Popular ones include the Serengeti, where countless nature documentaries have been filmed. Ngorongoro Crater and Tarangire are also two other popular ones.
One of the most popular safari-related events is to go on a thrilling game drive to witness the famous wildebeest migration.
Meanwhile, you could also go on a trip to spot the Big Five––lion, elephant, leopard, buffalo, and rhino.
Finally, you could naturally immerse yourself in the breathtaking landscapes and abundant wildlife of Tanzania's savannahs.
Yeah, safari is truly not something to miss. Even if you're typically not into "nature" things, you really should check it out.
Lake Victoria
As you plan your adventure, don't miss out on the incredible Lake Victoria – the largest freshwater lake in Africa and the source of the Nile River.
This stunning destination is a must-visit spot in Tanzania, and there are plenty of exciting activities to enjoy in and around the lake.
For a peaceful and scenic experience, take a stroll along the shores of Lake Victoria during sunrise or sunset.
Alternatively, hop on a boat and cruise to local fishing villages for a glimpse into the area's rich cultural history.
If you're feeling more adventurous, why not try your hand at water sports such as fishing, canoeing, or birdwatching? Every year, countless water sports enthusiasts flock to Lake Victoria for these exciting activities.
Lake Victoria offers a picturesque and tranquil getaway, perfect for those seeking some rest and relaxation. So, make sure to add it to your travel bucket list – you won't be disappointed!
Mount Kilimanjaro
Lastly, we cannot forget about the majestic Mount Kilimanjaro, Africa's tallest peak and a bucket-list destination for adventure enthusiasts.
Embark on an epic trek to the summit, passing through diverse ecosystems and awe-inspiring landscapes.
I also really would suggest hiring a driver and going around the nearby areas. Moshi, Mandara, and Rongai are all around the ring roads.
There are also tons of villages that not only have incredible views of the mountain but will also give you a chance to experience local life.
Whether you choose to summit or not, a visit to the base of Mount Kilimanjaro is an experience like no other, with its towering presence and unique flora and fauna.
Tanzania Tour Packages
There are popular tour packages in Tanzania with numerous options available to cater to different interests, preferences, and budgets.
I always recommend getting a package since it allows you to explore multiple things.
That said, it is important to choose a reputable tour operator or travel agency that offers well-planned and responsible packages to ensure a memorable and meaningful experience.
One of the most interesting packages is the wildlife safari one. This package typically includes visits to iconic national parks.
Basically, that means these packages will come with game drives to spot wildlife, accommodations in safari lodges or camps, and expert guides to enhance the safari experience.
Another type of package I really like is the cultural tour one. These packages focus on cultural experiences, with visits to local communities, traditional villages, markets, and historical sites.
A cultural tour page is a great way to learn about diverse ethnic groups, customs, music, dance, and arts.
These days, we really want to be mindful of our travel. As a result, eco-tour packages are great. An eco-tour package focuses on responsible tourism and conservation efforts.
Generally speaking, an eco-tourist package will include visits to community-based conservation initiatives and volunteering opportunities.
If you are willing, it may also include stays in eco-lodges or camps that support sustainable tourism practices.
Of course, there are tons of other packages, but I think these will do it for now.
2-Week Tanzania and Zanzibar Itinerary
Honestly, 14 days are plenty to see Tanzania. Begin your adventure with a couple of days in Dar es Salaam.
Explore local markets, dine on delicious Swahili cuisine, and soak in the vibrant culture of the city.
Then, fly to Serengeti National Park, known for its iconic wildlife. Enjoy thrilling game drives to spot the Big Five and witness the wildebeest migration if you're lucky.
Spend a few nights in a luxurious safari lodge or camp, and immerse yourself in the African wilderness.
Next, head to Ngorongoro Conservation Area and descend into the Ngorongoro Crater for a unique game viewing experience.
Marvel at the high concentration of wildlife, including the endangered black rhino, and enjoy panoramic views from the crater rim.
Continue to Lake Manyara National Park for tree-climbing lions and diverse birdlife.
Visit the town of Mto wa Mbu for a cultural experience with the local Maasai and other tribes.
Fly to Zanzibar, a tropical paradise known for its pristine beaches and rich history.
Lounge on sandy shores, indulge in water sports, and explore UNESCO-listed Stone Town with its narrow streets and vibrant markets.
Stay in a luxurious beachfront resort and indulge in spa treatments and delicious seafood.
Next, embark on an adventure to Mount Kilimanjaro, Africa's highest peak. Choose a trekking route and challenge yourself to reach the summit at Uhuru Peak.
Overnight in mountain huts or camps, and enjoy stunning panoramic views along the way.
This 14-day itinerary allows you to see city life, nature, and culture.
Tanzania Tourist Board
I always suggest keeping in touch with tourist boards when traveling. The Tanzania Tourist Board (TTB) is a government-run organization that focuses on promoting and advertising the country as a premier travel destination.
Just like other tourist boards, the TTB serves as the official tourism marketing agency for Tanzania. They expertly showcase the country's diverse attractions, which include its abundant wildlife, breathtaking landscapes, lively culture, and welcoming hospitality.
The TTB collaborates with key players such as tour operators, hotels, and local communities to ensure sustainable and responsible tourism practices.
Through its tireless efforts, the TTB aims to draw in international visitors and help boost Tanzania's tourism industry, all while safeguarding the country's natural and cultural heritage for future generations to revel in.
Make sure to check out their website and save it for future reference, as it can be a great resource to have on hand.
Tanzania Travel – Final Thoughts
In conclusion, Tanzania is a captivating destination that offers a plethora of experiences for travelers.
With its abundant wildlife, stunning landscapes, rich cultural heritage, and warm hospitality, Tanzania has something for everyone.
Whether you're embarking on a thrilling safari in Serengeti National Park, exploring the pristine beaches of Zanzibar, trekking to the summit of Mount Kilimanjaro, or indulging in the local cuisine and culture, Tanzania is a treasure trove of adventure and discovery.
So, pack your bags and get ready to embark on a journey of a lifetime in Tanzania, where awe-inspiring natural wonders, rich cultural experiences, and unforgettable memories await.
Karibu Tanzania, welcome to Tanzania!
AJ Paris is a travel photographer based in New York. He is the editor of Caravanzers.
More Tanzania
Here are more articles for you…