Travel to Bali and discover one of the world's most beautiful destinations. It has unique land, people, and culture.
After a trip to Bali, you will realize there is so much more to this island than just beaches. In this guide, I will show you how it has various landscapes and activities you can do!
You could spend your time in the mountains, hiking up volcanoes or exploring lakes. We're talking about green paradise here.
Down on the coast, not only are iconic beaches, but you will find some of the most impressive temples and towns in Asia.
Don't be intimidated by all of the choices – take your time through this ultimate guide to Bali so you can make the right decision for your trip!
Let's go!
Bali Travel Basics
Bali is a province of Indonesia, although it has a very unique culture compared to all of the others. Unlike the majority of Indonesia, which is Muslim, Bali is predominately Hindu.
While the province has several islands, the largest and most popular of them all is Bali. The size of Bali is just a little bigger than the US state of Delaware, about 2,231 square miles (or 5,780 square kilometers).
The province keeps the Central Indonesia Time zone, which is GMT+8. That is, when it's 4 pm in New York, it's 3 am in Bali.
Like all of the provinces of the country, Bali uses the Indonesian rupiah. So, a US dollar equals about 15,000 rupiahs.
Bali has its own international airport, and there are taxis available to whisk you to any part of the island.
For more specific inquiries, check the sections below.
Is Bali Worth Visiting?
Even though there have been hints through the guide so far, many travelers will probably have questions about whether to even bother.
Is Bali worth visiting? Absolutely. Bali is home to a unique land, people, and culture. Its gorgeous landscape will leave you breathless. Balinese people are very sweet, and they have a beautiful culture. Whether you visit temples, try the food, or watch their fashion, Balinese people will wow you.
I will describe these things throughout this guide, but let me just say that this is the type of destination you don't regret visiting.
I just find it to be a very cool spot!
Keep reading, because I've got lots of reasons for you.
Is It Safe to Travel to Bali?
When travelers consider destinations, one of the immediate aspects that we all think about is safety.
Is it safe to travel to Bali? Yes, Bali is one of the safest destinations in Asia. The island has upped its security measures over the years because of its growing influx of international tourists. There is a lot of police presence, and most popular hotels have security staff.
That said, Bali attracts a large number of national and international people who flock to the province to work in the tourism industry. As a result, there are petty thieves, crooks, and so on.
Balinese people tend to be spiritual-minded folks, and they will usually watch out for you. However, I would say pay attention to your surroundings.
For women, more precautions may be necessary, especially avoiding having to walk around late at night.
If you can, take a taxi provided by the establishment you visit.
Do I Need a Visa to Travel to Bali?
Indonesia has one of the most relaxed tourist visas, and you will note plenty of countries on the list of visa-free travel.
Do I need a visa to travel to Bali? Not for tourism less than 30 days. All arrivals to Indonesia get a visa stamped on their passport, but you may not need one prior to arrival. If you need to stay longer than a month, though, you need one.
Members of the ASEAN, or the Association of Southeast Asian Nations, do not need a visa.
For travelers from developed countries, including the United States, visa extension is very simple in Bali. However, this only gives you another month. Visa on arrival system allows 60 days altogether before you have to leave the country.
Best Time to Travel to Bali
Although Bali is one of those beautiful destinations that are perfect a lot of the year, travelers ought to know the specifics.
What is the best month to go to Bali? April is the best month to visit Bali. This is a month characterized by warm days and cool evenings. Generally speaking, the water will be nice during the day, and going out at night is perfect. It's also very green!
April temperatures will be around 90 degrees Fahrenheit (33 Celsius) maximum. For many, though, this is pretty hot.
If you prefer to be there in cooler climates, consider August. The temperatures in August tend to be around 75 Fahrenheit (or 24 Celsius).
The rainy season in Bali is from October to February. If you don't like rain, you probably will want to avoid this period.
If you don't like crowds on the streets, you may want to pay attention to local festivals, including the famous Diwali. There are also others, such as Galungan, which is Balinese. Balinese people use their own lunar calendar, which has a 210-day system.
Honestly, though, it's a great place to visit all year long!
How Many Days in Bali Is Enough?
When you hear Bali is an island, most people think it's small enough that you could just walk through it, right? Nope.
How many days in Bali is enough? Generally speaking, 7 days is adequate to see some of its many tourist spots. For example, you can visit a beach, a temple, a rice field, and a sanctuary during that period. Of course, each of those has multiple ones to see!
That is, if you must, 7 days should be enough. However, plan for longer… if you really want to experience Balinese land, people, and culture in a thorough way.
I go more into detail under the "Things to See" section below.
Bali Travel Restrictions
Like many destinations around the world, Bali has travel restrictions, depending on what issue is more prominent at that time.
Your own government will generally tell you what you need. For example, Americans can visit the State Department website for what is needed for travel to Bali.
Meanwhile, Indonesia's embassies generally will tell the local constituent what they will need prior to arrival. For example, Indonesia may require yellow fever vaccination from countries where that is prevalent.
So, check with either your government or the Indonesian embassy before leaving.
How to Travel to Bali
Travelers to Bali have many options, but most of them actually use flights to reach the island.
Where do you fly into when going to Bali? Ngurah Rai International Airport is the only spot for global travelers. Its IATA code is DPS, referencing Denpasar, the capital of the province, which is about 8 miles (or 13 kilometers) north of the airport. Public transportation is plenty here.
Flights to this airport range from local to regional, as well as long distance. It serves local airlines like Batik Air, regional such as Cathay Pacific, and long distance such as KLM.
Both Singapore Airlines and Cathay Pacific offer flights to Bali from the United States, for example.
Visit the airport website for a list of updated airlines, and you can plan your trip accordingly.
Bali Tour Guide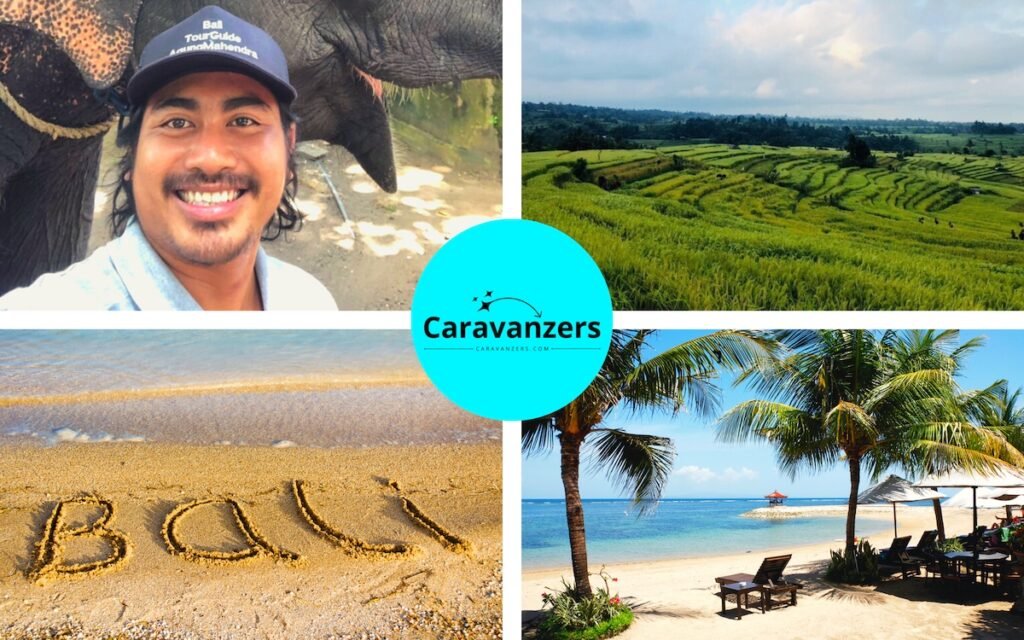 Meet Agung Mahendra. This professional tour guide doubles up as a driver and photographer, too, making your memories even more unforgettable.
His reviews on Google, the comments people leave on Instagram, and his perfect 5.0 score from Tripadvisor all say the same thing. Agung is a great tour guide.
"I have a lot of experience," Agung says. "I've been working as a tour guide for almost seven years."
He has also worked at some 5-star hotels as a receptionist, and he says he studied been in tourism for three years.
"After I got all the experiences, I decided to be independent company as a professional tour guide," he says, "and photographer for our tour packages such as honeymoon packages for clients."
Agung recommends visiting Bali between March and May.
"Good weather, enough sun, and not too crowded," he explains.
He also recommends following Balinese rules when visiting, especially if you're visiting a spiritual space such as a temple.
You can follow or get in touch with Agung in many ways, whether on social media, website, or by calling.
Do I Need a Tour Guide in Bali?
Do I need a tour guide in Bali? Yes, unless you speak the local languages. Bali province speaks Balinese, as well as Bahasa Indonesia. Both languages are part of the Malayo-Polynesian. For sure, it's best to find a proper tour guide to get the best out of your visit.
You could fly to the island, stay in a tourist hotel, use a guidebook, and not "need" a tour guide, but then you will miss some of the cool local things.
Bali Tour Guide Packages
Bali is uniquely shaped. Its eastern portion is the smallest, while the south, north, and west together are a large area.
In reality, you want to think of the island in the east, north, and south directions, though. As a result, when you think about tour packages, look at the destination.
Generally speaking, tours in the south are cheaper because they are closer to the airport. East is the farthest from the airport, just for your information.
Next, let's look at the cost.
How Much Is a Tour Guide in Bali?
How much is a tour guide in Bali? Generally speaking, a day tour will cost around $50 on the budget level and up to $1,000 on the mid-range levels. A private tour will cost more than a group, and some locations have higher fees, as well. So, it varies.
For example, Agung has tours that cost $50, including a car. His tours tend to be all day. However, he makes a note to let you know that his tours do not include entrance fees or food.
Therefore, it really depends on what you need.
Things to Do in Bali
Bali has many things to do, from exploring the rice paddies and temples, as well as enjoying the beaches and nightlife.
One of the things Bali is famous for is its rice paddies, and they are a must-see when visiting the island. There are many different rice terraces to explore, each with unique views.
Ubud is home to the Tegalalang rice terrace, which is the most famous of them all.
The island is also home to many beautiful Hindu temples, which are definitely worth exploring. Some famous temples include the Pura Bratan and the Pura Besakih.
Shiva is the god of Pura Bratan, while Pura Besakih has temples within its complex where Shiva, Vishnu, and Brahma are worshipped separately.
Bali's beaches are some of the best in Asia. From surfing and sunbathing to swimming and snorkeling, plenty keeps you busy on the beach.
One of the most popular is Blue Point Beach, at the southern tip of the island. It has limestone cliffs and incredible sunsets.
Like a lot of islands, Bali is also well-known for its lively nightlife. There are many bars and clubs to choose from, and they generally all give you a good time.
Something gross but interesting is the luwak coffee. It's a coffee where the beans are ingested by civet cats, and tourists love it.
Another thing is the landscape. Just go for a drive. The hills, the greenery, and all of that!
People-watching is another thing you must do. I love the way they dress. Their colors are amazing.
Finally, be sure to try the food. Balinese food is amazing. Try the bebek betutu, which is a slow-cooked duck.
If you do those things, your Bali trip will be unforgettable!
Final Thoughts
While there are many destinations in our world, very few can truly challenge Bali. This island defies logic in its all-around beauty.
From its land to its culture, everything about Bali makes for an incredible trip.
In this guide, you learned the best of Bali, and I believe this information will help you plan a trip that will be satisfying.
If you can, plan your travel to Bali at least six months in advance. That way, you have enough time to read guidebooks, watch YouTube videos, and follow our referred tour guide on social media.
For those of you who are about to head out, you can download this guide or print it out for easy access.
Enjoy Bali!
AJ Paris is a travel photographer based in New York. He is the editor of Caravanzers.
More Asia
More travel articles about Asia.