Brazilian playlist can be fun way to get to know Brazil, and travelers should really consider loading up with these while visiting.
There are many reasons why travelers should listen to local music when visiting a country.
For one, it can help you better understand the culture and what the locals are like. Listening to music is a great way to immerse yourself in a new culture and get a feel for the place you're visiting.
Additionally, local music can be a great way to meet new people and make friends while traveling. It's a wonderful conversation starter!
So if you're planning a trip to Brazil, be sure to pack your headphones and check out some of these local tunes!
I asked a Brazilian singer to share his favorite songs.
Meet Gerson – A Brazilian Singer
Gerson is a singer from Brazil. He knows music very well and even wrote the biography of the country's most popular pop start, Gretchen.
So, he's the perfect Brazilian music guide!
When he's not working on his own songs, Gerson loves to do covers of some of his favorite tunes.
One of my favorite covers of his is the smash hit 2020 song "WAP" by Cardi B and featured artist Megan Thee Stallion.
Whereas the original is the epitome of hip-hop ratchet-meets-class, Gerson's is a soulful rendition.
Likewise, his rendition of the 1990s Madonna hit song "Frozen" is another great example (embedded in this section).
Check out his music by going to his website, YouTube channel, and Instagram account.
Brazilian Playlist – Add These Now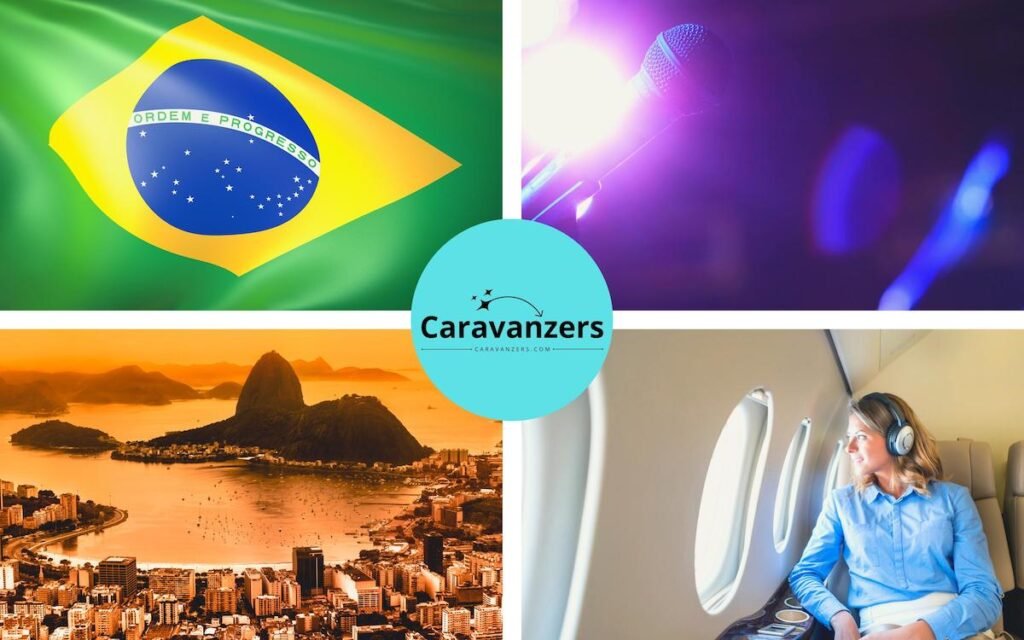 This Brazilian playlist is the personal perspective of one individual, but I believe it gives a good overview of Brazilian music from the past 30 years or so.
It includes a mix of well-known songs as well as lesser-known gems. The list covers a wide range of genres, from samba to MPB to funk.
There's something for everyone on this playlist, and it's a great way to get introduced to the richness and diversity of Brazilian music.
Uma noite e 1/2 – Marina Lima
This is a classic Marina Lima song from the 1980s. The title of the song—"One Night and a Half"—tells you everything you need to know: this is a romantic song.
Lima, who was born in Rio de Janeiro in 1955, made a name for herself in the rock genre as one of its earliest females.
With songs like "Mesmo que seja eu" (Even If It's Me), "Criança" (Child), and "Me chama" (Call Me), she has proven she's versatile as an artist, too.
Leão do norte – Elba Ramalho
"Leão do norte" (Lion of the North) is a little different. This is a song that celebrates the Brazilian state of Pernambuco.
For example, the first verse of the song makes references to writer Carlos Pena Filho, the Capibaribe River, and the island of Itamaracá—all from Pernambuco.
The song is funky and a perfect expression of Brazilian pop in the 1990s. It features Lenine, who also co-wrote the song.
Nosso Sonho – Claudinho e Buchecha
This is another 1990s song by the Brazilian funk group Claudinho (Cláudio Rodrigues de Mattos) and Buchecha (Claucirlei Jovêncio de Sousa).
When Claudinho was killed in a car accident in 2002, the group ceased.
Claudinho e Buchecha was very successful, releasing about six albums. Some of their albums went to platinum status.
"Nosso Sonho" (Our Dream) is from their first album. The song is about two friends admiring a girl together.
Só No Balanço do mar – Daniela Mercury
"Só No Balanço Do Mar" (Alone in the Swing of the Sea) is a funky song from 2000.
The song was heavily featured in "Porto dos Milagres" (Port of Miracles), and the chorus singing to a sailor made it a perfect fit.
Mercury is a Baiano (from Bahia), and the song is a perfect funk from that state, featuring eclectic African-influenced beats.
Senhor da Floresta – Maria Bethânia
This 2003 song is really popular. "Senhor da Floresta" (Lord of the Forest) was originally sung by Augusto Calheiros in the 1940s.
However, Bethânia holds her own here. Brazilians celebrate her rendition as one true to the original with its own uniqueness.
Bethânia, another Baiano, is known for her deep, illustrious voice. "De Manhã," a duet with her brother Caetano Veloso, is very popular on social media.
Vidacarnaval – Carlinhos Brown
Carlinhos Brown's "Vidacarnaval" (Carnival Life) starts out as a soulful ballad before it picks up steam at around the 1-minute mark.
This 2014 song is probably familiar to Olympic spectators. The song was used by the Spanish rhythmic gymnastics team at the 2016 Rio Olympics.
Brown, another Baiano, mixes elements of soul, jazz, rock, and funk in his music.
"Vidacarnaval" is the perfect example.
His other popular songs include "Ararinha" (Fly Love) from the animated film Rio and "La La La" with Shakira.
Meu pisêro – Duda Beat
Duda Beat debuted on the music scene in 2018 with a lot of success. Her debut album became one of the most celebrated of the year.
"Meu pisêro" (My Pisêro) is from her sophomore album, and the song references the pisêro.
The pisêro is an electro-melancholic genre that came out of Bahia in the early 2000s.
Duda Beat is known for her romantic lyrics, colorful videos, and modern vibe.
Girl From Rio – Anitta
Anitta's 2022 song "Girl From Rio" is a reference to the "Girl from Ipanema" (Garota de Ipanema).
If it sounds like this is an artist with the world on her mind, you're correct.
Anitta has been expanding into the global market for years now. In fact, in Brazil, she's affectionately referred to as the Brazilian Beyoncé.
She has collaborated in Spanish, French, and English, garnering millions of fans from all over the world.
At her core, though, Anitta is the girl from Rio. Her music unabashedly mixes funk, reggaeton, and pop.
Other Songs for Brazilian Playlist
There's no shortage of great Brazilian music to listen to. Here are a few more songs to add to your playlist.
No matter what your taste is, there's sure to be something here that you'll enjoy:
Quando o DJ Toca – FBC
Vc, O Amor e Eu – Carlinhos Brown
Tempo – Sandy
Te Deixo Crazy – Thiago Pantaleao & Danny Bond
Rave de Favela – Major Lazer, Mc Lan, Anitta & BEAM
Lucro (Descomprimindo) – Baiana System
O Que Será (A Flor da Terra) – Chico Buarque & Milton Nascimento
1989 – Sandro & Tuyo
These are all great choices!
Final Thoughts
Brazilian music is really popular around the world, and there are many reasons why people enjoy Brazilian music.
First of all, the genre is incredibly diverse, incorporating elements of pop, rock, jazz, and more. Brazil has been influenced by the Americas, Europe, and Africa. All of that shows up in the music.
Additionally, the beats are often very catchy and infectious, making it hard not to tap your foot along. This is really a fun culture!
And lastly, many Brazilian musicians are extremely talented, both in terms of their songwriting and their performance abilities.
When you combine all of these factors, it's no wonder that Brazilian music is so popular all over the world.
AJ Paris is a travel photographer based in New York. He is the editor of Caravanzers.
More Brazil
Love Brazil? Here are some more articles: