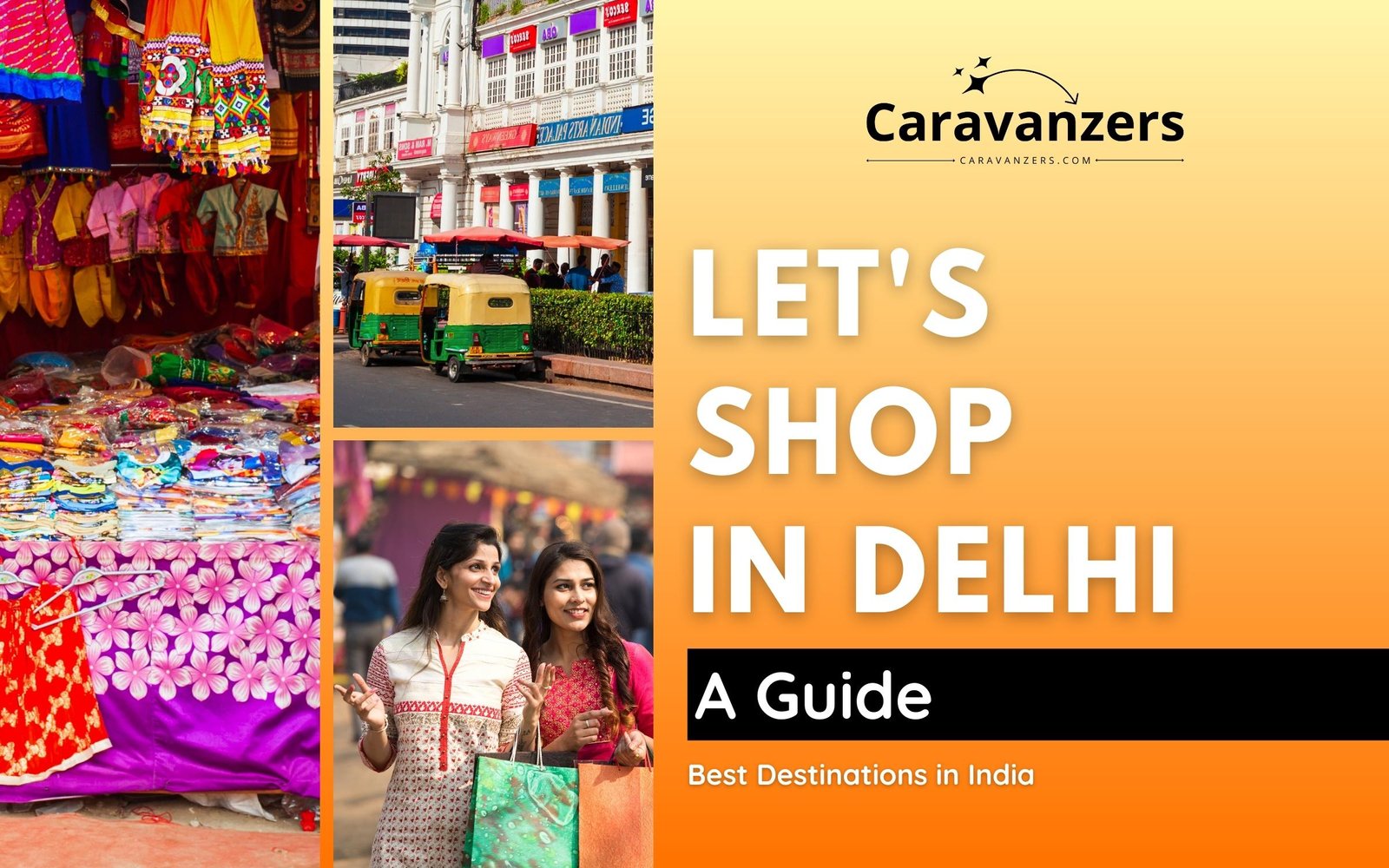 Delhi shopping is a traveler's paradise because it has a diverse range of experiences that go way beyond buying things.
From bustling markets to trendy shopping spots and upscale malls, Delhi caters to every taste and budget.
The city is home to trendy fashion boutiques and local craftsmanship, making it a haven for fashion enthusiasts.
Keep in mind that this city uses the Indian Rupee, which more or less translates to about 80 rupees to 1 US dollar.
You will also have to learn the language of bargaining pretty quickly because the Delhi merchants are not a joke.
But other than that, Delhi is actually a pretty cool place to get lost in its markets, malls, and street vendor areas.
So, let's get into it, shall we!
Welcome to Delhi Shopping
Delhi is truly a unique city that blends history, culture, and modernity in ways you never imagined before.
This is a city with an incredible heritage that dates back thousands of years, and Delhi has certainly witnessed the rise and fall of empires.
From the iconic Red Fort and Jama Masjid to the majestic Humayun's Tomb and Qutub Minar, the city showcases a stunning amalgamation of Mughal, British colonial, and contemporary influences.
As a melting pot of traditions and aspirations, Delhi calls travelers to discover its captivating charm.
For travelers who intend to visit the city simply for shopping, I would say make sure you have your visa in hand.
Delhi Airport won't think twice about turning you away!
Likewise, make sure to bring plenty of cash or withdraw immediately after landing.
Delhi is still pretty divided in terms of who has access to banking technology.
Likewise, be careful when you eat the food here.
Yes, it's delicious, but you have to ensure it's cooked with the right standards.
Finally, try your best to hire a tour guide, please.
So, now that all of that is out of the way let's go shopping around Delhi.
Best Areas for Delhi Shopping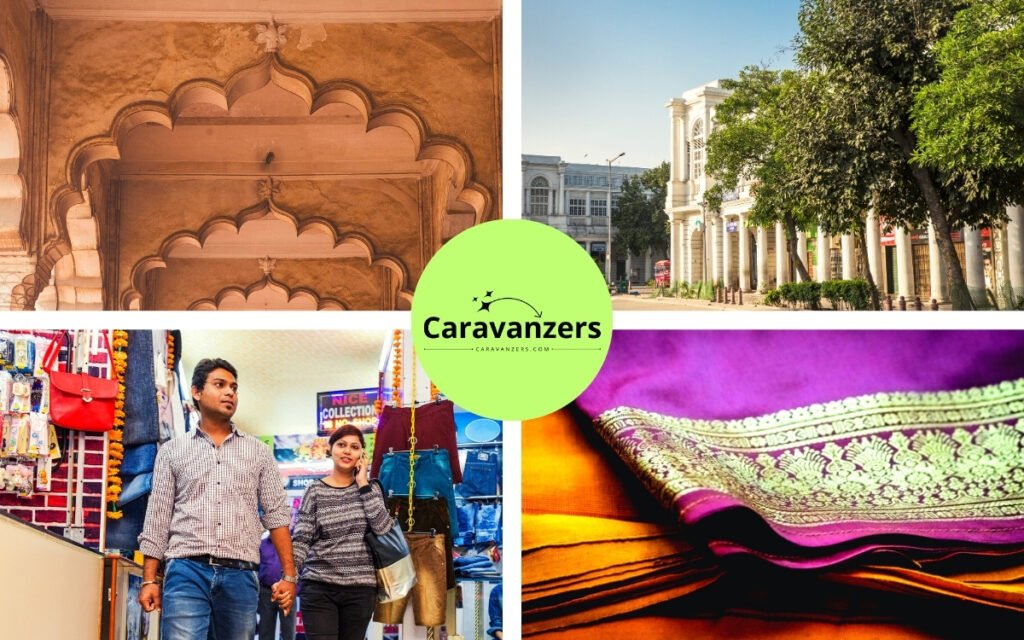 Delhi is a shopaholic's paradise, and you will really love all the amazing things you can snag in this capital.
From bustling markets to trendy shopping spots and upscale malls, Delhi offers a wide range of shopping experiences to satisfy every taste and budget.
Travelers go shopping in Delhi to experience the lively markets, find unique traditional items like textiles, jewelry, and spices, as well as explore trendy fashion boutiques, discover local craftsmanship, and immerse themselves in the bustling atmosphere of the city's shopping districts.
Compared to other big cities around the world, Delhi shopping is generally considered affordable.
Let's start with the markets…
Chandni Chowk, Dariba Kalan, and Kinari Bazaar
Chandni Chowk is in the heart of Old Delhi and is one of the oldest and busiest markets in the city.
The market is a treasure trove of traditional Indian items and is particularly known for its wedding shopping options.
Dariba Kalan has an exquisite collection of silver and gold jewelry.
Whether you're looking for intricate earrings, stunning necklaces, or intricate bangles, Dariba Kalan is a must-visit for jewelry enthusiasts.
Another gem in Old Delhi's shopping scene, Kinari Bazaar, is a paradise for those seeking fabrics, laces, and embellishments.
Connaught Place, Khan Market, and Hauz Khas Village
Located in the heart of New Delhi, Connaught Place, also known as CP, is a bustling commercial and shopping hub.
It is famous for its circular layout and colonial-era architecture.
This is really a great place to shop for unique things to find in Delhi style.
Known as one of the most upscale shopping destinations in Delhi, Khan Market caters to affluent and discerning shoppers.
It is renowned for its designer boutiques, high-end fashion stores, and exclusive bookshops.
Khan Market is a great place to find luxury brands, premium garments, fine jewelry, and gourmet food.
The market exudes a sophisticated ambiance and is frequented by Delhi's elite.
Nestled amidst the historical ruins of the Hauz Khas complex, Hauz Khas Village is a trendy shopping and entertainment district.
Hauz Khas Village is known for its bohemian vibe and attracts a young and fashionable crowd.
Besides shopping, you can also explore the charming cafes, restaurants, and art studios that make the village a cultural hub.
Select Citywalk, DLF Emporio, and Ambience Mall
Located in Saket, Select Citywalk is one of the most popular shopping malls in Delhi.
The mall also houses a multiplex cinema, entertainment zones, and a wide array of dining options.
Select Citywalk provides a modern and comfortable shopping experience.
Situated in the upmarket Vasant Kunj neighborhood, DLF Emporio is India's first luxury mall.
DLF Emporio is a haven for luxury connoisseurs who appreciate the fine craftsmanship and exclusive shopping experiences.
Ambience Mall is in Gurgaon, just outside Delhi, and is one of the largest shopping malls in India.
It has a vast retail space with a mix of high-street fashion brands, international labels, and a wide range of entertainment options.
The mall features a spacious layout, multiplex cinemas, gaming zones, and an extensive food court, making it a one-stop destination for shopping and entertainment.
As you can see, Delhi provides a diverse shopping landscape with something to offer everyone.
Whether you prefer exploring traditional markets, trendy shopping spots, or upscale malls, the city has it all.
So, get ready to embark on a delightful shopping journey in Delhi and indulge in retail therapy like never before.
Unique Delhi Shopping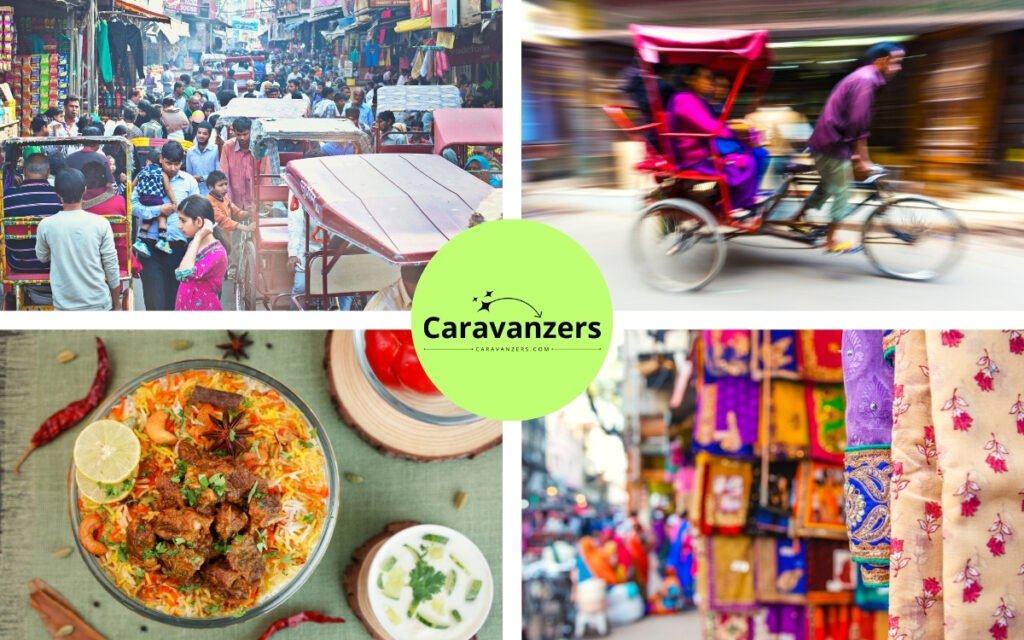 Delhi truly has a ton of unique shopping experiences that set it apart from other cities around the world, and travelers love every bit of it.
From street shopping to traditional markets and cultural finds, the capital city of India is a treasure trove for shopaholics and cultural enthusiasts alike.
I can't stress enough how important it is to keep safety in mind at all times as you shop through this gigantic city, especially if you're a woman or traveling alone.
These include keeping an eye on your belongings, avoiding crowded areas, being cautious of pickpockets, and using reputable modes of transportation.
Be aware of your surroundings at all times, and follow common safety practices to make sure a secure shopping experience.
Now, with that out of the way, let's dive into some unique shopping in Dilli (the local way to say the name of the city)!
Street shopping in Delhi
One of the most exciting aspects of street shopping in Delhi is the art of bargaining.
Remember, bargaining is a fun way to interact with local vendors and can often result in significant savings.
People do street shopping in Delhi for several reasons.
Street shopping has a wide variety of affordable options, trendy fashion, unique and one-of-a-kind items, a chance to experience local culture, the thrill of bargaining, and the opportunity to explore vibrant markets and interact with friendly local vendors.
So, definitely make time for some street shopping!
Must-visit flea markets
Sarojini Nagar Market, located in South Delhi, is a favorite among locals and tourists alike.
Janpath Market, near Connaught Place, is another bustling flea market where you can find handicrafts, jewelry, and ethnic clothing.
These markets are a haven for budget shoppers looking for trendy and unique items.
Traditional Indian markets
Explore authentic handicrafts and textiles.
Delhi is home to traditional markets that showcase India's rich heritage of handicrafts and textiles.
Dilli Haat, situated in South Delhi, is a government-run market that celebrates the diversity of Indian crafts.
It's a great place to shop for souvenirs, too.
Specialized markets
Delhi also has specialized markets dedicated to specific items.
For jewelry enthusiasts, the Dariba Kalan market in Chandni Chowk is a must-visit.
It is renowned for its exquisite silver and gold jewelry, including intricate designs and precious gemstones.
Khari Baoli, Asia's largest spice market located in Old Delhi, is a sensory delight.
These specialized markets offer a unique shopping experience, allowing you to delve into the rich traditions and crafts of India.
Cultural and ethnic shopping
Fabrics and garments from different regions: Delhi is a melting pot of cultures, and you can experience the diverse fabrics and garments from different regions of India.
The bustling markets of Chandni Chowk, particularly the Katra Neel market, are famous for their textile offerings.
From vibrant silks to delicate chiffons and traditional weaves, you can find a wide range of fabrics to suit every taste.
Traditional accessories and footwear
Delhi is a treasure trove for traditional accessories and footwear.
From intricately designed juttis (embroidered shoes) to colorful bangles, statement necklaces, and ornate hair accessories, you can find a vast range of traditional Indian accessories in markets like Lajpat Nagar and Karol Bagh.
These accessories not only complement traditional Indian attire but can also add a touch of ethnic flair to modern outfits.
Delhi's unique shopping experiences offer a blend of tradition, culture, and affordability.
Whether you're exploring the bustling streets, immersing yourself in traditional markets, or indulging in cultural finds, the city ensures that every shopping excursion is a memorable one.
So, get ready to embark on a shopping adventure and uncover the hidden gems of Delhi's vibrant shopping scene.
Tips for a Successful Delhi Shopping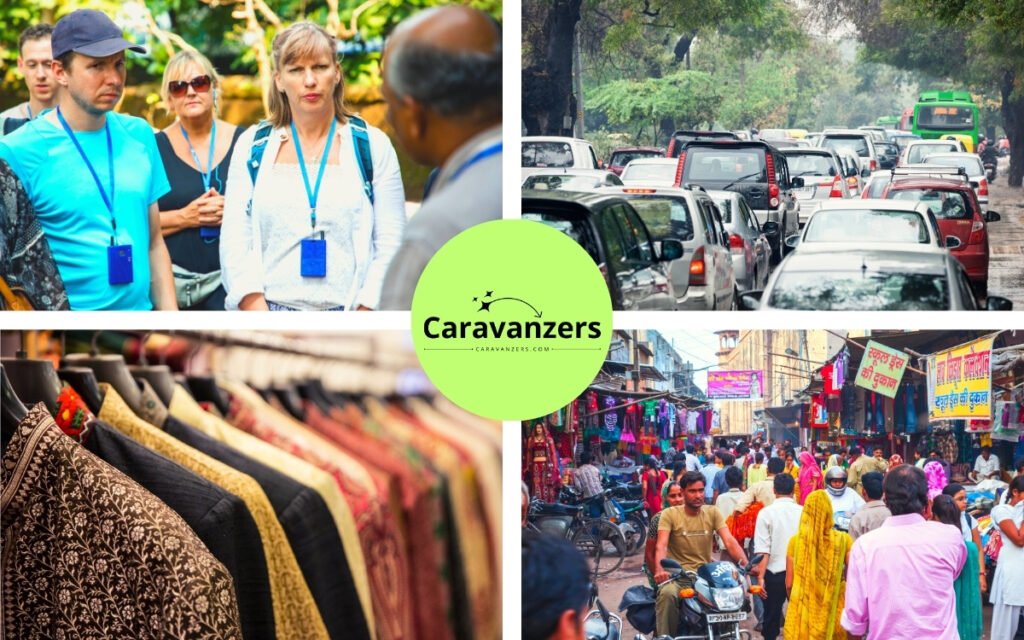 Delhi, with its vibrant markets and diverse shopping options, can be an exciting destination for shopaholics.
The city offers a well-rounded shopping experience with culinary delights and relaxation opportunities.
Here are some tips to make the most of your shopping adventure in Delhi.
Public transportation
Delhi has an extensive public transportation system that can help you navigate the city efficiently.
The Delhi Metro, a well-connected and reliable subway network, is a convenient mode of transportation to reach popular shopping areas.
Additionally, auto-rickshaws and cycle rickshaws are common modes of transport for shorter distances.
It's advisable to use authorized and metered vehicles or negotiate the fare in advance to avoid any disputes.
Hiring a local guide or driver
If you're unfamiliar with Delhi or prefer a more personalized experience, hiring a local guide or driver can be beneficial.
They can help you navigate through the city, suggest the best shopping areas, provide insights into local markets, and assist with language barriers.
A local guide or driver can enhance your shopping experience by offering valuable tips and ensuring that you make the most of your time in Delhi.
Keeping personal belongings secure
Like any bustling city, it's important to take precautions to keep your personal belongings secure while shopping in Delhi.
Carry a bag with a secure closure and keep it close to your body.
Avoid displaying valuable items or large amounts of cash.
Be cautious of your surroundings, particularly in crowded areas, and be aware of pickpockets.
It's advisable to keep important documents and a backup of essential information in a safe place.
Avoiding scams and counterfeit products
While shopping in Delhi, it's essential to be vigilant and avoid falling for scams or purchasing counterfeit products.
Stick to reputable stores and markets known for quality and authenticity.
Be cautious of unbelievably low prices, as they may indicate counterfeit or substandard goods.
Verify the authenticity of branded items and make purchases from authorized retailers.
Festive shopping
Delhi is renowned for its grand celebrations during festivals such as Diwali, Eid, and Christmas.
Shopping during these festive seasons can be an enchanting experience, with markets adorned with lights and decorations.
It's advisable to plan your visit during these times to witness the vibrant atmosphere and enjoy the festive spirit.
Best time to find sales and discounts
Delhi's shopping scene also has various sales and discounts throughout the year.
Following local shopping websites and social media accounts can provide insights into upcoming sales and promotional offers.
Remember to embrace the local culture, interact with friendly shopkeepers, and enjoy the diversity of shopping experiences Delhi has to offer.
Don't be afraid to explore lesser-known markets and interact with locals to discover hidden gems.
With the right planning and precautions, your shopping adventure in Delhi is bound to be a rewarding and unforgettable experience.
Where to Eat and Relax During Shopping
While exploring the bustling markets and shopping districts of Delhi, it's important to take breaks and refuel your energy.
Fortunately, Delhi has a plethora of options for dining and relaxation that complement your shopping experience.
From savoring famous street food to indulging in a culinary journey at restaurants and cafes and even rejuvenating yourself at spa and wellness centers, Delhi provides a well-rounded shopping experience.
In this guide, we will explore the various options for dining and relaxation in Delhi, ensuring that you have a memorable and rejuvenating time during your shopping adventure.
So, get ready to tantalize your taste buds, take a breather, and find your oasis of relaxation amidst the bustling city.
Famous street food in Delhi
No shopping experience in Delhi is complete without indulging in the city's famous street food.
Located in Old Delhi, Chandni Chowk is a haven for street food lovers.
Here, you can savor iconic dishes like parathas at Paranthe Wali Gali, spicy kebabs at Karim's, and mouthwatering jalebis at Old Famous Jalebi Wala.
Don't miss the famous street food delights like chole bhature, aloo tikki, and dahi bhalla.
In the heart of New Delhi, Connaught Place has a wide range of dining options to satisfy your hunger pangs.
From local street food vendors serving golgappas (pani puri) and chaats to popular eateries like Kuremal Mohan Lal Kulfi Wale and Wenger's Deli, you can explore a variety of flavors while taking a break from your shopping spree.
Restaurants and cafes in shopping areas
Delhi's shopping areas are dotted with numerous restaurants and cafes, providing a welcome respite from your shopping adventures.
After exploring the trendy boutiques and art studios of Hauz Khas Village, take a break at one of the many chic cafes lining the narrow lanes.
From cozy cafes offering aromatic coffees and delectable desserts to rooftop restaurants serving international cuisine, Hauz Khas Village has options to suit all tastes.
Khan Market is an upscale shopping area that also boasts a range of dining options.
From renowned Indian restaurants like SodaBottleOpenerWala and The Big Chill to international cuisine at The Kitchen and Town Hall, you can enjoy a delicious meal while enjoying the bustling ambiance of Khan Market.
Spa and wellness centers for relaxation
After a long day of shopping, pamper yourself and relax at one of Delhi's spa and wellness centers.
These rejuvenating spaces are a tranquil escape from the hustle and bustle of the city.
The Imperial Spa is a great one. Located in the iconic Imperial Hotel, the spa has a range of therapeutic treatments and massages in a luxurious setting.
Indulge in a relaxing massage or try their signature Ayurvedic therapies to unwind and recharge.
Situated in the Ashok Hotel, Amatrra Spa is a renowned wellness center known for its holistic treatments and serene ambiance.
From traditional Ayurvedic massages to contemporary therapies, the spa has a wide range of options to cater to your relaxation needs.
Nestled in the luxurious Lodhi Hotel, this spa offers a tranquil oasis with its serene surroundings and a range of therapeutic treatments.
Unwind with a soothing massage or indulge in a luxurious spa package to rejuvenate your mind and body.
Remember to book your spa appointments in advance to ensure availability, especially during peak times.
In conclusion, Delhi provides a delightful range of dining and relaxation options for shoppers.
Whether you're craving the flavors of famous street food, looking for a cozy cafe to rest your feet, or seeking a spa retreat to unwind, Delhi has it all.
So, take the time to savor the culinary delights and indulge in some well-deserved relaxation during your shopping expedition in the city.
Delhi Shopping – Final Thoughts
Delhi is a diverse and vibrant shopping experience that caters to every taste and budget.
In this guide, we visited lively markets like Chandni Chowk, Dariba Kalan, and Kinari Bazaar and upscale shopping destinations like Connaught Place, Khan Market, and Hauz Khas Village. There are plenty of options to explore.
To have a successful shopping experience in Delhi, it's important to use public transportation, consider hiring a local guide or driver, keep personal belongings secure, avoid scams and counterfeit products, plan visits during festive seasons, and take advantage of sales and discounts.
So, get ready to embark on a delightful shopping journey in Delhi and indulge in the city's uniqueness.
Lena Wilson writes about fashion, beauty, and more for Caravanzers.
Follow us on Pinterest.