India travel visa comes in various types, and this country is strict. This guide has everything you need to know to secure one.
So, I've been to India many times, and over the years, I learned that this is by far one of the most important visas to get.
Not only is India home to incredible attractions like the Taj Mahal, but the country is also a great place to visit for its people and landscape.
In this guide, I will walk you through the process of snagging an Indian visa.
From background to the different types, you will learn how to go about applying and so on.
So, if you've been planning a trip to India, read on!
India Visa
India is one of the countries in our world that requires a visa to visit.
The primary reasons for implementing a visa system are national security, immigration control, reciprocity, and economic considerations.
I would argue that India's visa system is really one of those "It's not you, It's me" kinds of things.
If you aren't familiar, India has had a long-term conflict with Pakistan.
At one point before 1947, the two countries were actually part of British colonial territory.
The visa system also allows India a chance to manage and control the number of immigrants and visitors it receives.
It helps regulate the flow of people based on factors such as economic needs, labor market demands, and population management strategies.
Of course, diplomatic and bilateral relationships between countries influence visa requirements.
Visa policies can be used as a means of diplomatic negotiation and as a way to maintain balanced relationships between nations.
Like many other things, visa systems promote tourism, business activities, and foreign investments.
So, yeah, there are a few reasons why India chooses to adopt a visa system.
Do I Need a Visa to Travel to India?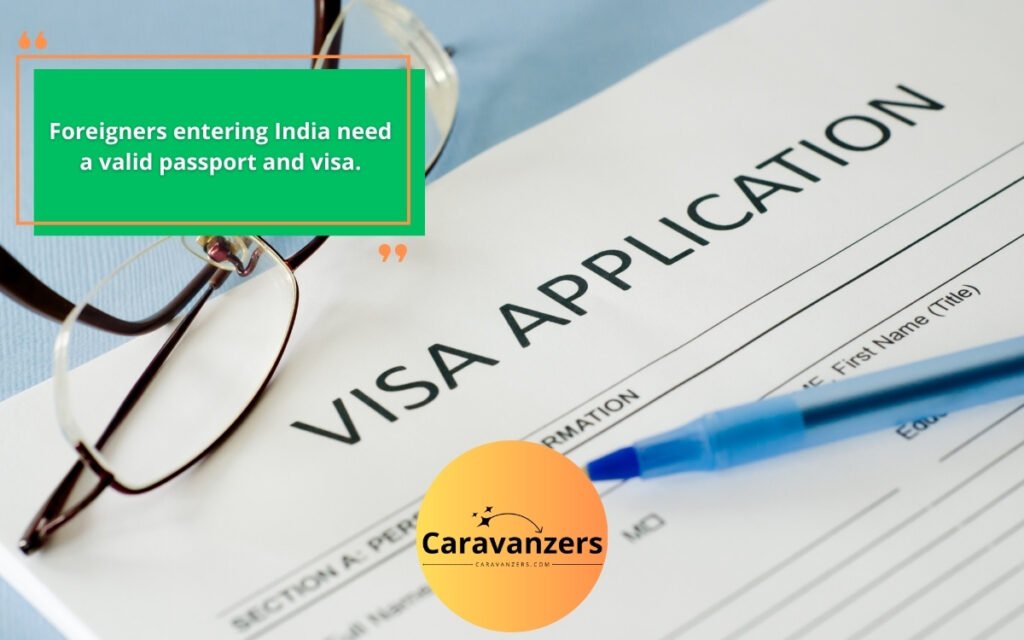 India has a vibrant culture, diverse landscapes, ancient traditions, and culinary delights, providing an immersive experience that is both spiritually enlightening and visually captivating.
Do I need a visa to travel to India? Foreigners entering India need a valid passport and visa from an authorized Indian representative abroad. Nepali and Bhutanese citizens have exceptions, not needing a passport or visa but requiring specific identity documents. Check requirements based on your nationality and travel circumstances.
The general policy guidelines regarding Indian visas state that every foreigner entering India must possess a valid national passport or an internationally recognized travel document establishing their nationality and identity, along with a valid visa for India granted by an authorized Indian representative abroad.
That said, though, India is a flexible culture, and there are exceptions.
For example, citizens of Nepal and Bhutan entering India by land or air over the Nepal or Bhutan border do not require a passport or visa for entry into India but must have certain identity documents.
India Travel Visa Requirements
For tourism purposes, travelers visiting India typically need to obtain a visa before their arrival unless they are eligible for visa-free entry or fall under a visa exemption category.
The e-Tourist Visa (e-Visa) facility is available for citizens of many countries.
The e-Visa allows for shorter visits of up to 60 days and you get it electronically.
You can, for example, apply for it online before traveling to India.
Alternatively, a regular tourist visa can be obtained for longer stays or for specific travel purposes.
This visa type allows for stays of up to 180 days and may offer multiple entries depending on the specific visa category.
It is important to check the specific visa requirements that apply to your situation.
The Indian e-Visa service has been restored for citizens of 166 eligible countries, with all currently valid e-Visas reinstated.
To apply for an e-Visa, complete the online form, pay the fee, receive the ETA via email, and present it at an Immigration Check Post in India for passport stamping.
No emergency or additional fees are charged.
Visit the Bureau of Immigration's website for instructions.
E-Visas cover categories like tourism, business, conferences, medical purposes, and emergencies.
Save unfinished applications and re-upload documents if necessary.
For technical information, use compatible browsers and Adobe Acrobat Reader.
For US Citizens
Americans traveling to India require a current passport, which the Indian government considers one that isn't going to expire for 6 months.
For work or business-related visits, you may need to furnish employment or business-related documents, while visiting family or friends or attending an event may require a letter of invitation.
The visa fee may be paid online or at the designated application center, with costs ranging from $40 to $300.
Once you have submitted your application, gathered all required documents, and paid the fee, you must visit the nearest Indian visa application center to provide your biometric data, such as fingerprints and digital photographs.
This step has been mandatory for most visa categories since 2015.
Finally, you may submit your application to the appropriate Indian Embassy, Consulate, or authorized visa center and stay up-to-date on its status by tracking it online or contacting the designated processing center.
For UK Citizens
So you want to visit India, eh?
Well, that's awesome.
Meanwhile, UK citizens will need to have a valid passport with at least six months left on it from their entry date.
The Indian government is really not flexible on this, so don't wait until the last minute to renew it if it's about to expire!
And don't forget to snag that visa through the e-visa system – it could take one to three working days, so give yourself plenty of time.
You'll get that visa delivered straight to your email, but be sure to print it out, just in case.
And I know you're a unique bunch of travelers, but everyone's gotta provide a recent passport-sized photo that fits the specific guidelines.
Oh, and some of you may need to give up your fingerprints and a digital photo.
Just remember, different types of travel, like for work or study, might have extra requirements.
So follow these rules, and you'll be living it up, enjoying all that India has to offer – from culture to traditions to natural beauty!
For EU Citizens
The Indian government requires that European Union (EU) citizens planning to travel to India have a valid visa first.
Though applying for an Indian visa is not confusing for EU citizens, they need to be careful and meticulous.
The most common type of visa offered to tourists is an e-Visa that enables them to stay for 60 days continuously in India.
That said, though, India allows business travelers to apply for a more extended visa, and this type of visa be up to five years.
Travelers must apply for their visas before leaving because India does not issue visas on arrival.
EU citizens should fill out an application form online, pay the appropriate fee, and upload a passport-sized image, as well as a valid passport scan, that should still be valid for six months beyond the planned arrival date.
E-Visa processing time is usually up to three days, but it can take longer for traditional visas.
Finally, after the visa has been accepted, it will be delivered electronically.
India requires it to be printed and shown to immigration officers at the entrance.
EU citizens should carefully check the visa criteria before applying since they may be subject to change.
Apply for an Indian Visa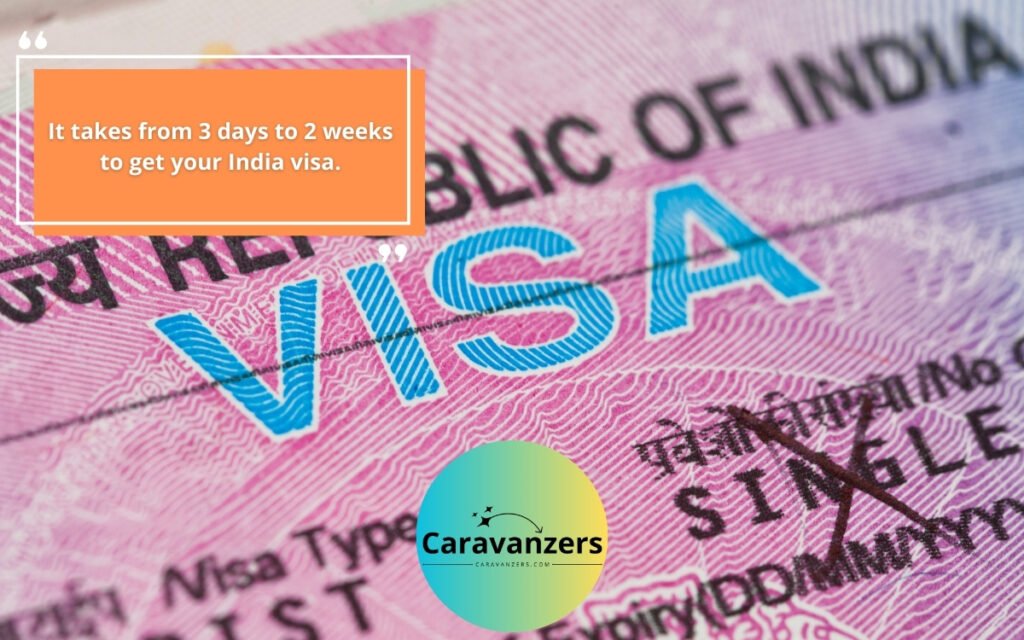 Are you gearing up for an adventure in India?
Fantastic!
While getting a visa may sound daunting, it really isn't once you go through the steps.
First of all, my advice is to take a deep breath because an Indian visa is kind of complicated.
Once you're relaxed, determine what type of visa you need, such as a travel visa or business visa.
Next, the online application process begins.
Provide the requested personal details, including travel dates, passport information, and the purpose of your trip.
Make sure you enter everything accurately to prevent any issues during processing.
Supporting documents are then required to be submitted, such as passport scans, employment records, or invitation letters.
Online payment of the visa fee is then required before submitting the application to the embassy.
Different visa types have variations in fees, and the duration of your visit will also impact the price.
After submitting the application and paying the visa fee, the waiting period begins.
India's processing time for visas varies depending on the type you have chosen, with the timeframe ranging from several days to a few weeks.
Once your visa is processed, you will receive an email regarding it which needs to be printed and kept handy for your journey.
Making sure all the necessary requirements are fully met and that the information provided is accurate is essential for your visa's successful approval.
That's really pretty much it.
Getting Approved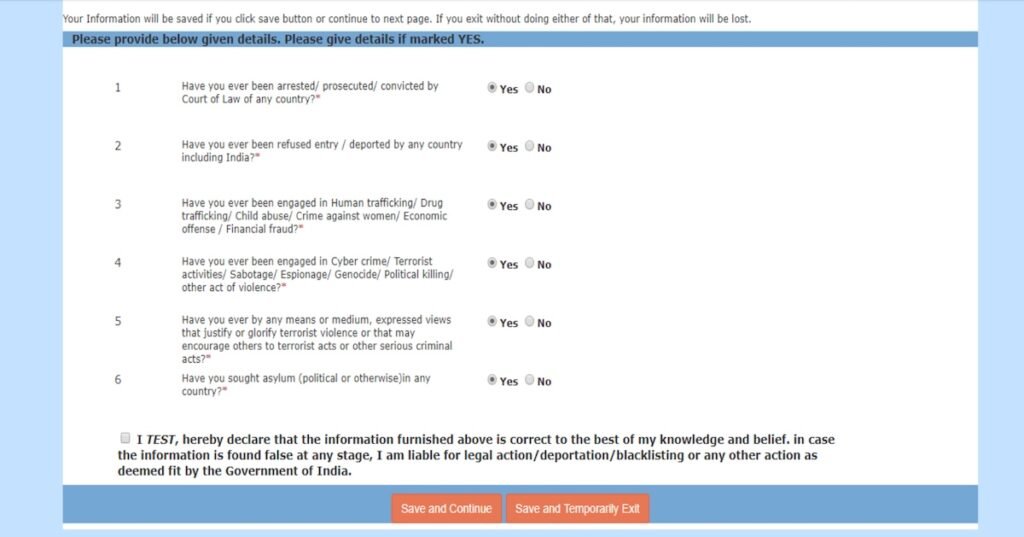 The first page of the Indian visa primarily focuses on immediate personal details such as passport information, contact details, and travel plans.
As the application progresses, the questions become more extensive and thorough.
You will start to realize that the government seeks to gather comprehensive information about the applicants.
They will ask about your citizenship status, employment details, educational background, and previous travel history.
Additionally, they inquire about the applicant's parents, including their names, citizenship, and any previous naturalization.
While these inquiries are invasive, basically, they want to know if you're Pakistani, if you ever were Pakistani, if your parents are currently Pakistanis, or if they ever were Pakistanis.
But, of course, they don't ask you that directly.
So, yes, it's really invasive and unnecessary for most travelers, but it's a necessity and burdensome to get your visa to this beautiful country.
If you're Pakistani or your parents have been Pakistani, you're going to be contacted, and it's a pain, and you have my sympathies.
India asks Pakistanis to only visit 5 locations in the country, and the Indian government wants you to enter and exit their countries in the same place, and they are really serious about it all.
So, plan ahead. Choose your entry and exit, plan your maximum 5 locations, and pray.
What else do you need to get your Indian visa approved as a Pakistani or former Pakistani citizen?
For the children of Pakistanis, you will have to show a certificate that says you're not Pakistani.
For the Pakistanis, you will actually need a sponsor in India, and they will have to fill out a Certificate of Sponsorship.
Yeah, it really sucks.
Sadly, in 2021, Indian government rejected over 60% of applications from Pakistan-related individuals.
Final Thoughts
So, securing an Indian travel visa is crucial for anyone planning a trip to this diverse and captivating country.
This guide has given you all the necessary information and steps to obtain an Indian visa.
Whether you're attracted by India's iconic landmarks like the Taj Mahal or its vibrant culture and landscapes, this guide has helped you to navigate through the application process, explaining the background and various visa types.
If you're preparing for a journey to India, I hope this guide has been helpful to you.
Meanwhile, consider checking out our India-related articles, too!
AJ Paris is a travel photographer based in New York. He is the editor of Caravanzers.
Follow us on Pinterest.