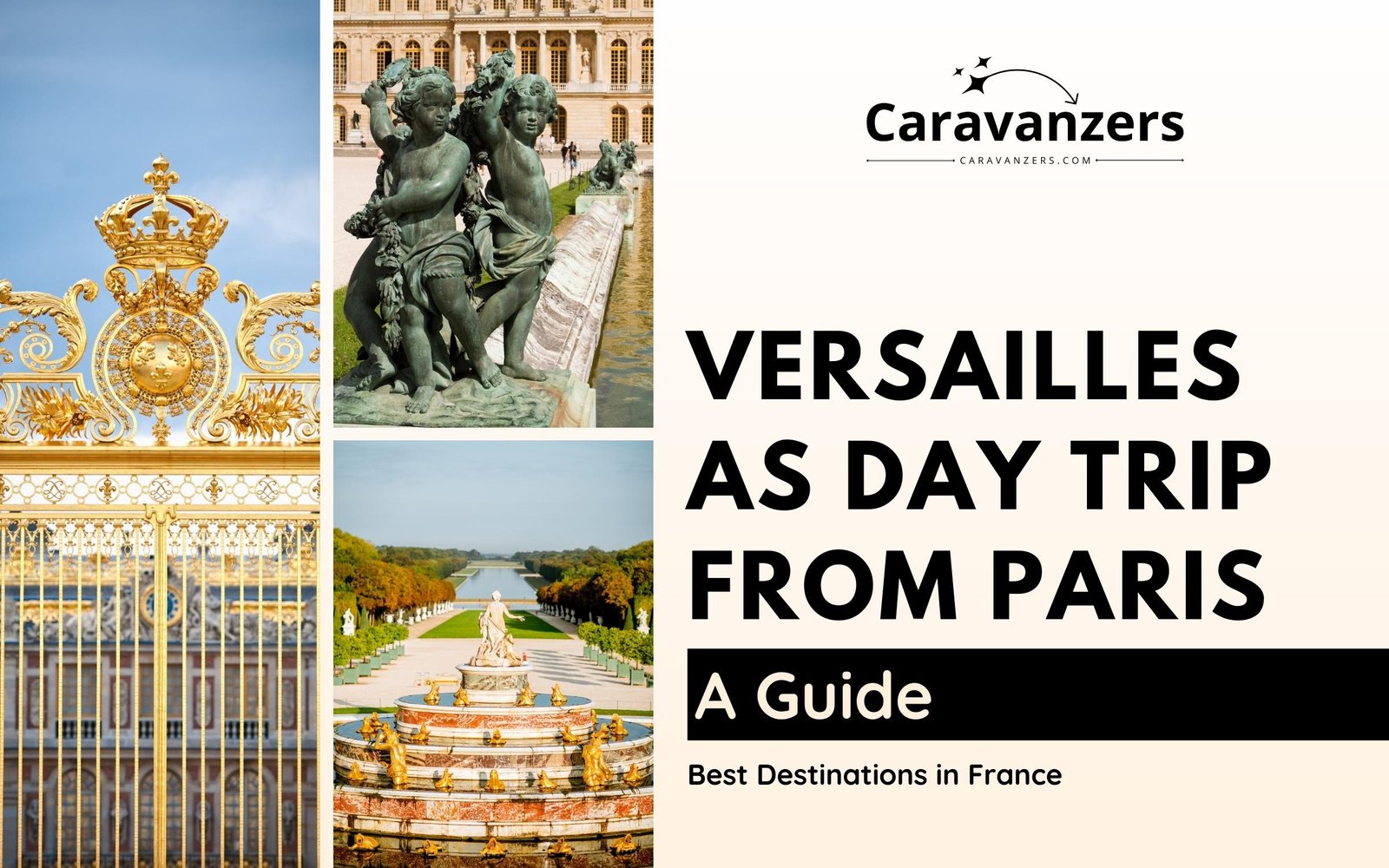 Paris to Versailles day trip is one of the most common activities for tourists, and I've got all the details for you in this guide.
Versailles is a beautiful royal palace outside of Paris.
It was finished in the 17th Century, and French kings like Louis XIV lived here ever.
Throughout time, it embodied the monarchy's grandeur and wealth.
Today, the palace stands as an immensely popular tourist attraction with its gorgeous architecture, vast gardens, and a remarkable reputation for its historical and cultural importance.
So, to learn everything you need to know to go there, keep on reading.
How long is a day trip to Versailles?
The duration of a day trip to Versailles from Paris can vary depending on your preferences and the time you want to spend exploring the palace and its grounds.
If you have limited time, like my first time there, you can choose a half-day trip.
Generally speaking, this typically includes a guided tour of the main highlights like the Hall of Mirrors, the State Apartments, and the Gardens.
Including transportation to and from Paris, this is usually around 4 to 5 hours.
Honestly, though, to fully immerse yourself in the Versailles experience, I'm recommending opting for a full-day trip.
This allows for a more relaxed exploration of the palace and its extensive gardens.
You can take a guided tour of the palace, spend time in the gardens, visit the Grand Trianon and the Petit Trianon, and even witness the renowned musical fountain show (availability varies with the season).
A full-day trip typically lasts around 8 to 10 hours, including transportation.
It's advisable to consult tour operators or travel agencies for more accurate information and to plan your visit accordingly.
Best Time to Visit Versailles
The best time to visit Versailles largely depends on your personal preferences and priorities.
You really should know that Versailles is a highly popular tourist destination.
As a result, the crowds can be overwhelming, especially during peak tourist seasons like summer and holidays.
If you prefer a quieter experience with fewer crowds, consider visiting during weekdays or in the shoulder seasons (spring or fall) when the number of visitors is relatively lower.
Versailles experiences four distinct seasons.
Spring (April to June) and fall (September to October) generally offer pleasant weather with mild temperatures, making them popular seasons to visit.
The gardens are in full bloom during spring, and the fall foliage adds a beautiful touch to the landscape.
Summer (June to August) can be hot and crowded, but it's an excellent time to enjoy the musical fountain shows and outdoor events.
This is a great season to sample the French food, too!
Winter (December to February) is the least crowded period, but the weather can be cold, and some parts of the gardens may be closed.
Versailles often hosts special events, exhibitions, and cultural performances.
Check the official website or local tourism resources for any upcoming events that may enhance your visit.
These events can add an extra layer of interest and provide unique experiences.
Finally, I would say to consider your interests and priorities to determine when to visit.
Day Trip to Versailles from Paris by Train
I've talked to a lot of travelers, and it seems like taking the train is the best way to go about your Paris to Versailles day trip.
So, the RER stands for Réseau Express Régional or Regional Express Service.
There are many starting points, but if you were to start your trip at the Austerlitz station in the 13th District, the RER C line provides a convenient and direct route to Versailles, offering a hassle-free journey.
The train ride to Versailles-Chantiers station typically takes around 39 minutes, depending on the specific stops and train schedule.
So, the train tickets on the RER C line are generally affordable, making it an economical choice for travelers.
It is recommended to purchase your tickets in advance to avoid any last-minute price increases or availability issues.
One downside is that the RER C line is a popular mode of transport, and it can experience high passenger volumes, especially during rush hours or tourist seasons.
This might lead to crowded train compartments and the possibility of standing during the journey.
To minimize discomfort, consider planning your trip outside peak hours, if possible.
Likewise, the train schedule operates on a fixed timetable, with departures occurring at specific intervals throughout the day.
With approximately 13 stops along the way, the train ride is an opportunity to relax and enjoy the scenic surroundings before arriving.
When you arrive, you're still about 1 mile or 1.7 kilometers away from the location.
You can bike for 10 minutes, walk 20, or get a local taxi and pay about €5.
So, yeah, the RER C line offers a fast and affordable means of transportation from Paris to Versailles.
Day Trip to Versailles from Paris by Taxi
So, taking a taxi from Paris to Versailles is an appealing option because of its convenience and flexibility.
One major plus point is the comfort and door-to-door service.
You can also enjoy the convenience of being picked up directly from your location in Paris and drop off at your desired destination in Versailles.
This eliminates the need for additional transfers or navigating public transportation with luggage or other belongings.
Taxis offer a relatively quick journey, especially when compared to other options like buses or trains.
Meanwhile, the ride from Paris to Versailles typically takes around 30-60 minutes, depending on traffic.
This allows you to maximize your time exploring the beautiful attractions in Versailles.
Unfortunately, taxis are generally more expensive than taking public transportation.
If you plan on just getting a one-way service, a taxi ride should cost you approximately €50.
Considering the round trip, including tips and any additional charges incurred, I would recommend budgeting around €150.
While taxis can provide a relatively speedy journey, traffic congestion in Paris can lead to delays during peak hours or in busy areas.
Sadly, because of a huge immigration problem, there are a lot of unlicensed taxis running on these streets.
So, look for official taxi stands or request a taxi through a trusted app or call center to ensure a safe and reliable experience.
Tipping is not an expectation in France, but they will expect a tip if they realize you're an American or British, typically around 10% of the total fare.
That's about it with taxis.
What to Do at Versailles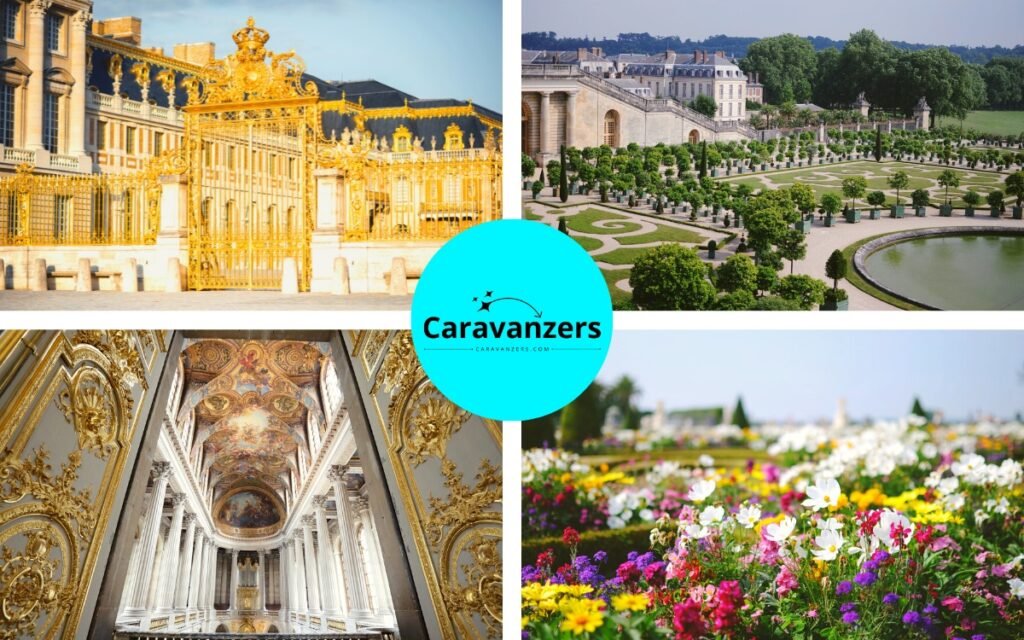 Arriving at Versailles is effortless, and once you're there, plan your visit based on your entrance ticket.
Check the time slot indicated on the ticket, and begin your day by exploring the iconic palace.
Allocate around 90 minutes to fully appreciate the grandeur of the palace.
On other summer days, the gardens close at 8:30 pm, and the groves are accessible until 7:00 pm.
After immersing yourself in the palace, step outside and wander through the stunning gardens.
On days with Musical Fountain Shows, water features operate from 11:00 am and again from 3:30 pm.
Explore the Estate at your own pace or join a guided tour, which you can book online.
For convenient garden exploration, consider renting a small electric vehicle from rental points on the north terrace of the Water Parterre.
On specific days, prepare for a spectacular experience in the evening.
These events offer the Royal Serenade in the Hall of Mirrors, followed by the Night Fountains Show in the Gardens, concluding with a fireworks display.
That's it!
You've visited Versailles.
Final Thoughts
So, the Paris to Versailles day trip is a widely favored activity among tourists, and this guide gave you all the necessary information.
We figured out the best time to visit there, what type of transportation to use to get there, and even some of the activities to do at the palace.
If you're planning a trip to Paris, I would encourage you to add this destination to your list.
I know day trips can be stressful, but it's definitely worth the headache.
You will be glad you did when you are in front of that beautiful palace.
Sebastian Clark is a traveler from the UK and writes about Europe for Caravanzers.
Follow us on Pinterest.