Paris places to stay for solo travelers, couples, families, seniors, on a budget, and more, and I've got all the details.
I've been visiting Paris since I was pretty young, and over the years, I realized the city is really meant for us all.
You just have to find the part of the City of Lights that best fits your trip.
In this guide, I will zigzag through the city, including nearby destinations, and will share with you why certain places are important to different travelers.
Use the table of contents to jump to an area that's more useful to your trip, or if you're anything like me, digest everything for future knowledge.
Finally, when I choose Paris places to stay for certain travelers, I will make sure to recommend others ones that you can choose instead.
So, if you're ready to start planning your trip and learning everything about the neighborhoods you will stay, let's get started.
Where to Stay in Paris
Paris has a diverse range of experiences catering to different types of travelers, and the plethora of accommodation choices is due to several factors.
As a popular global tourist destination, the high influx of visitors necessitates a diverse range of options to cater to varied preferences and budgets.
Additionally, the city's rich history, architecture, and culture attract different types of travelers, leading to accommodations in diverse neighborhoods with unique atmospheres.
The city's preservation of heritage contributes to charming boutique hotels in converted old buildings.
With a well-developed transportation system, accommodations are conveniently dispersed across neighborhoods, allowing travelers flexibility in choosing suitable locations.
So, from individuals to couples and from families to seniors alike, I'm here to give you a glimpse into the multitude of options available.
The Marais neighborhood in the heart of Paris is recommended for solo travelers, offering a blend of history, culture, and modernity.
The area is inclusive and welcoming for LGBTQ+ travelers.
La Chapelle neighborhood in the 18th district is perfect for budget travelers, with a multicultural ambiance, affordable eateries, and budget-friendly accommodations.
Other budget-friendly neighborhoods in Paris include Belleville, Canal Saint-Martin, and Butte-aux-Cailles.
For couples, the Gros-Caillou neighborhood near the Eiffel Tower provides a romantic atmosphere, with charming streets and elegant hotels.
Other romantic neighborhoods include Montmartre, Île Saint-Louis, and Saint-Germain-des-Prés.
Disneyland Paris has nearby towns like Coupvray, Magny-le-Hongre, and Serris for family-friendly accommodations.
Montparnasse, Auteuil, and the Latin Quarter are great for families with their cultural attractions and amenities.
Seniors can consider staying in Saint-Germain-des-Prés, Bastille, Canal Saint-Martin, or Oberkampf, which offer accessibility, cultural richness, and convenient amenities.
So, keep reading for more details of everything I just mentioned.
Paris Places to Stay for Solo Travelers
Nestled in the heart of the 3rd and 4th districts of Paris, the Marais neighborhood is a great place for solo travelers.
This vibrant and captivating area effortlessly blends history, culture, and modernity.
Young travelers especially love the exciting and enriching experience the Marais leaves on visitors.
Without a doubt, the Marais in the Place des Vosges is a highlight. This picturesque square exudes an air of elegance and tranquility.
So, throughout the Marais are trendy cafes and restaurants.
I would say take your time savoring delicious French cuisine and mingling with locals and fellow travelers alike.
Traditionally, the Marais was a Jewish neighborhood. So, if you love Jewish culture, there are a few places to check out.
The Notre-Dame de Nazareth, the oldest great synagogue in Paris, the Agoudas Hakehilos, and the Grande Synagogue des Tournelles are all great places to check out.
Meanwhile, the Marais is inclusive and celebrates diversity, making it a welcoming destination for solo LGBTQ+ travelers.
Hotels in this area include the Sully Hôtel Sté. This is a pretty cheap 1-star hotel that you can usually get for $100 or so, depending on the season.
Auberge de jeunesse Fourcy is the heart of the district, offering affordable stays at usually less than $150.
If you can spend $200 or so a night, check out Hôtel de la Bretonnerie, close to Picasso Museum.
Le 1er Etage Marais is usually around $300, and this is a really lovely place to stay!
The Marais remains a top choice for solo travelers with its mix of history, art, and contemporary flair.
Places to Stay on a Budget
If you're a budget-minded traveler, then the La Chapelle neighborhood in the 18th district is the perfect spot.
La Chapelle is in the northern part of the city, and what sets it apart is the multicultural ambiance and lively street life.
Marché de l'Olive, for example, is a local market. Here, you will find fresh produce, spices, and a variety of international foods at reasonable prices.
African, Asian, and European shoppers are strolling through it, and you really feel like you're in a global metropolis.
When it comes to dining, La Chapelle won't disappoint budget travelers.
There's an abundance of inexpensive eateries serving delicious cuisine from around the world.
From North African tagines and Middle Eastern falafels to Asian noodle shops and French boulangeries, there's something to satisfy every palate without breaking the bank.
In terms of accommodation, La Chapelle offers a range of budget-friendly options.
There are cozy guesthouses, affordable hotels, and budget-friendly hostels that provide comfortable and clean rooms at reasonable rates.
HI Hostel Paris Yves Robert is usually less than $65 a night, whereas Café Hôtel de la Poste is generally about $50, and Reims Hôtel is usually $100 a night.
By the way, I previously said it's in the north, but don't let that stop you. A metro (subway) ride from La Chapelle to Châtelet is 10 minutes!
So, believe me, you're in the heart of Paris here.
La Chapelle proves that you don't have to compromise on experiencing the magic of Paris even when traveling on a tight budget.
Other Budget-Friendly Paris Places to Stay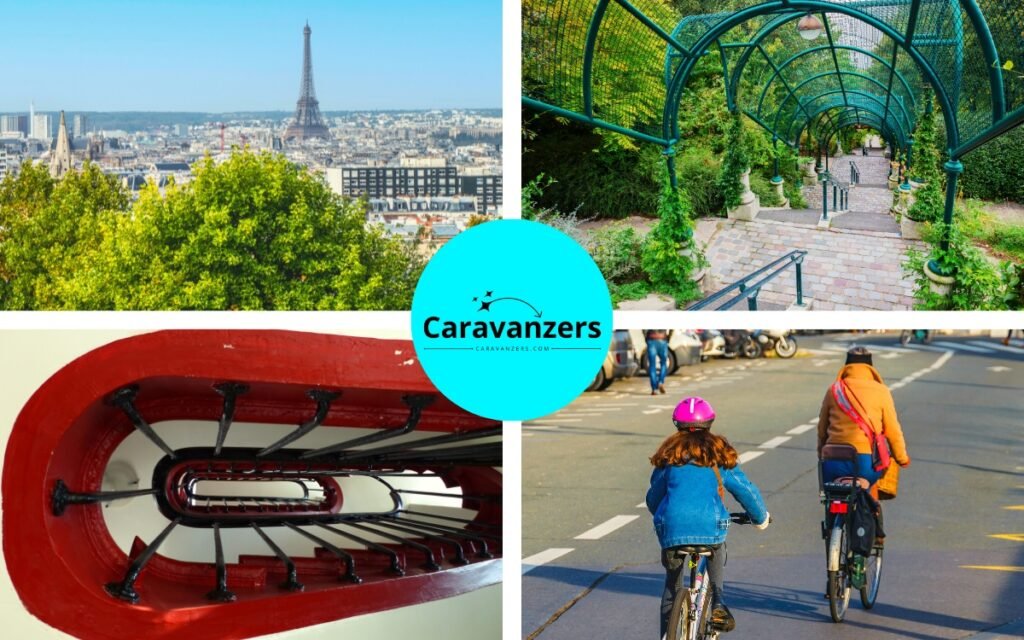 Of course, there are more budget-friendly neighborhoods in Paris.
Belleville, Canal Saint-Martin, and Butte-aux-Cailles showcase the affordable and vibrant side of the city.
So, Belleville is in the northeastern part of the city, in the 20th district.
This is a multicultural neighborhood that has a vibrant atmosphere and affordability. It has a diverse range of ethnic cuisines, street markets, and cozy cafes.
And with its bohemian vibe, art galleries, and street art, Belleville attracts artists and creative individuals.
Canal Saint-Martin is in the 10th and 11th districts, and this is a charming and trendy neighborhood that exudes a laid-back and artistic ambiance.
The neighborhood comes alive in the evenings with locals gathering for picnics and impromptu music sessions by the water.
Enjoy a leisurely stroll along the canal, indulge in affordable street food, and soak up the bohemian vibe of Canal Saint-Martin.
Butte-aux-Cailles is tucked away in the 13th district, and this truly is a hidden gem.
This village-like neighborhood has a unique charm with its cobblestone streets, colorful houses, and street art.
Butte-aux-Cailles has great affordable restaurants, cozy wine bars, and lively nightlife.
These neighborhoods offer a more affordable side of Paris while still providing a wealth of experiences, cultural diversity, and local charm.
Why Is Paris So Expensive?
Why is Paris so expensive? Paris is expensive due to a combination of factors.
First and foremost, its status as a global tourist destination drives up prices for accommodation, dining, and attractions.
Unfortunately, most people who can afford international travel tend to have money, which makes it harder for budget travelers.
Likewise, high demand and limited space contribute to the high cost of real estate and rental properties.
Similarly, Paris has a way higher standard of living than many other European capitals, and its taxes and regulations drive up the cost of goods and services.
For example, London's minimum wage starts at less than $7 (5.28 British pounds), whereas Paris pays about $13 (11.52 Euros).
So, yeah, a bunch of factors.
Meanwhile, as you see throughout this guide, there are budgets for everyone. However, don't expect Paris to be like Bangkok or Nairobi.
One way to cut costs is to stay in hostels, boutique hotels, or even rent apartments on platforms like Airbnb.
In other words, yes, Paris is expensive, but there are ways to get around it.
Paris Places to Stay for Couples
If you're planning a romantic getaway to Paris with your significant other, the Gros-Caillou neighborhood in the 7th district is an ideal destination.
This neighborhood has a blend of romance, charm, and convenient access to famous landmarks since it's near the iconic Eiffel Tower and is bordered by the Seine River.
Imagine taking leisurely walks along the Seine River, hand in hand, with glimpses of the majestic iron lattice structure in the distance.
In the evening, as the tower sparkles with lights, you can find a cozy spot on the Champ de Mars, a large public green space nearby, to have a picnic or simply enjoy the magical ambiance.
Aside from its proximity to the Eiffel Tower, Gros-Caillou also boasts a delightful array of quaint streets and charming Parisian architecture.
Rue Cler, a lively market street, offers a romantic setting for a morning coffee or a leisurely breakfast at one of the many cafes.
Gros-Caillou is also home to several romantic restaurants where you can savor exquisite French cuisine and fine wines.
For those of you who also love culture and art, the Musée d'Orsay, housed in a beautifully renovated train station, is just a short walk away.
When it comes to accommodation, Gros-Caillou offers a selection of elegant hotels and charming boutique accommodations that cater to couples seeking a romantic retreat.
Consider staying at Hôtel de la Tour Eiffel (usually at $150 a night), Relais Bosquet by Malone ($350), or La Bourdonnais ($450).
Gros-Caillou is the perfect backdrop for a romantic escape. So, embrace the romantic spirit of this enchanting neighborhood and create lovely memories.
Other Romantic Paris Places to Paris
Other neighborhoods of Paris that embody romantic vibes include Montmartre, Île Saint-Louis, and Saint-Germain-des-Prés.
Montmartre is nestled on a hill in the 18th district, and this neighborhood exudes a romantic and bohemian atmosphere that has captivated artists and lovers for centuries.
Its winding streets, charming cafes, and the famous Sacré-Cœur Basilica create a magical ambiance.
Take a stroll hand in hand through the Place du Tertre, where artists showcase their talents, and visit the iconic Moulin Rouge cabaret.
Île Saint-Louis is in the heart of Paris, right between the left and right banks of the Seine River. Indulge in delectable ice cream from the famous Berthillon and enjoy a leisurely stroll along the river, admiring the view of Notre Dame Cathedral.
The peaceful and romantic ambiance of Île Saint-Louis makes it a perfect setting for couples. Saint-Germain-des-Prés is in the nearby 6th district, and this is a neighborhood synonymous with art, literature, and romance.
Hey, this is where Catherine Deneuve lived for a long time. Enough said, right?
Its intellectual history, elegant architecture, and cozy cafes make it a favorite among couples. Explore the charming streets, browse through antique bookstores, and visit the iconic Café de Flore or Les Deux Magots, where famous writers and philosophers once gathered.
The Jardin du Luxembourg is also nearby, offering a romantic setting for a leisurely stroll or a picnic under the shade of trees.
Each of these neighborhoods has its own unique charm and romantic appeal, providing couples with an enchanting backdrop for their Parisian adventures.
Disneyland Paris Places to Stay
Disneyland Paris is actually not in Paris. This popular theme park is approximately a 45-minute drive or train ride away.
Hop in your vehicle or board a train, sit back, and enjoy the journey to an enchanting adventure filled with beloved characters, thrilling rides, and unforgettable experiences.
As a huge family attraction, there are a few places to consider to stay. First of all, you could, in fact, stay in the city and commute.
There's nothing wrong with that, and Paris has a bunch of family-friendly hotels.
You could, however, also stay near the attraction. Coupvray, Magny-le-Hongre, and Serris are all small towns that surround the theme park.
Hotel Cheyenne, Santa Fe, and Newport Bay Club are all places you could stay that bear the Disney name.
Disney Newport Bay Club is an incredible place where the kids can sleep in beds with Mickey Mouse headboards.
What I really love about these hotels is that they are all great places to recover from all those park activities.
So, if you can, opt to stay there rather than commute, even if you only stay for a few days.
For those of you commuting, I got you covered in the next section, which talks about neighborhoods that are great for families!
Family-Friendly Paris Places to Stay
Believe it or not but Paris is actually a great city for families, and I invite you to take a closer look at Montparnasse, Auteuil, and the Latin Quarter.
Montparnasse is on the left bank of the Seine, and this is a lively neighborhood with rich artistic history.
This is an ideal combination of cultural attractions and amenities suitable for families.
For instance, families can check out the Catacombs of Paris, where children can learn the city's history in an exciting way.
Moreover, Montparnasse Tower has breathtaking panoramic views of the city that kids really love.
Likewise, this district features beautiful parks like Jardin du Luxembourg, where children can enjoy playgrounds, puppet shows, and pony rides.
Auteuil is in the 16th district, and this is a serene and upscale neighborhood perfect for families seeking a peaceful getaway.
It has charming streets, elegant townhouses, and abundant green spaces.
Families can venture to the Parc des Princes, a famous football stadium, where kids can attend matches or take guided tours.
Close by, Jardin d'Acclimatation is a delightful amusement park with rides, attractions, and a zoo.
The Latin Quarter is in the historic heart of Paris, and this is a vibrant neighborhood with a bohemian atmosphere and intellectual legacy.
Families can take leisurely strolls along charming streets, visit the famous Pantheon, or explore the picturesque Jardin des Plantes.
By the way, Jardin des Plantes houses a zoo, botanical gardens, and a Natural History Museum.
Moreover, the Latin Quarter has many family-friendly restaurants and creperies where children can indulge in delicious treats.
In Montparnasse, Auteuil, and the Latin Quarter, families can enjoy a mix of cultural landmarks, green spaces, and attractions tailored for children.
Paris Places to Stay for Seniors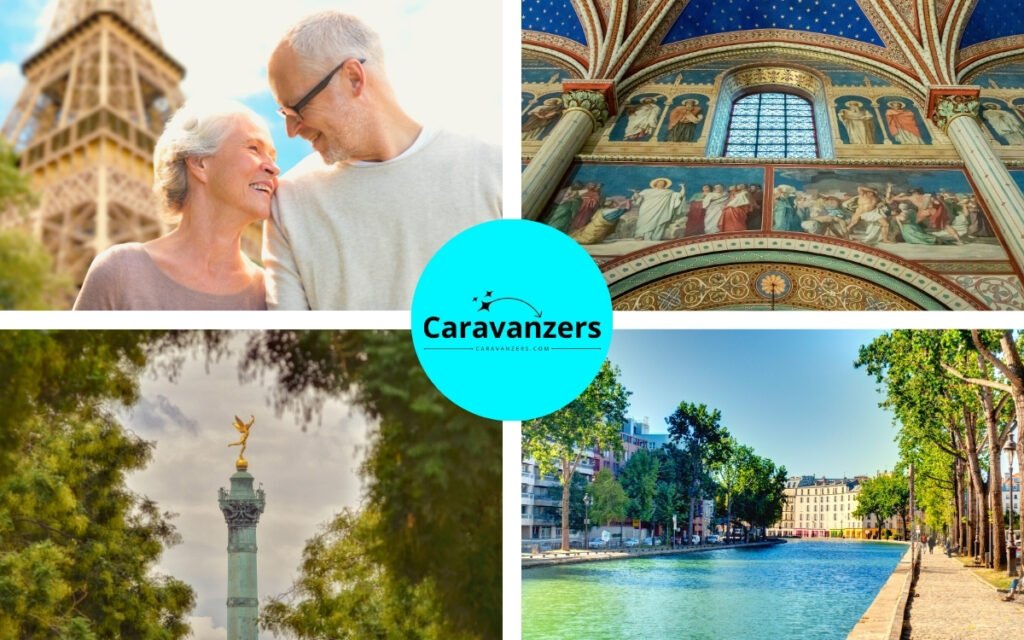 In terms of senior-friendly Paris places to stay, I would highly recommend Saint-Germain-des-Prés in the 6th district.
This neighborhood has a serene and sophisticated atmosphere. Of course, this makes it an ideal choice not just for seniors but anyone who desires a tranquil experience.
Since it's on the left bank of the Seine, it stands out as an exceptional destination for seniors due to several notable reasons.
The pedestrian-friendly streets of Saint-Germain-des-Prés create a pleasant environment, perfect for leisurely walks that seniors can enjoy.
Moreover, the neighborhood truly has excellent accessibility with convenient public transportation options such as metro stations and bus routes.
When it comes to amenities, Saint-Germain-des-Prés provides easy access to essential services.
Seniors will find pharmacies, grocery stores, banks, and medical facilities conveniently within the neighborhood.
This makes it particularly appealing, considering that it is the district with the highest concentration of affluent seniors in the city.
The neighborhood also has a wealth of cultural attractions that cater to seniors' interests. For example, there are museums that showcase art, history, and captivating exhibits.
Finally, Saint-Germain-des-Prés has beautiful parks and gardens, including the renowned Luxembourg Gardens with its lush greenery, picturesque pathways, and comfortable seating areas.
In addition to all these advantages, the neighborhood is replete with charming cafés and restaurants, and this allows you to indulge in delightful French cuisine and fully embrace the café culture.
So, yeah, Saint-Germain-des-Prés harmoniously combines accessibility, cultural richness, green spaces, convenient amenities, and a peaceful atmosphere.
Other Senior-Friendly Paris Places to Stay
Other great neighborhoods for seniors in Paris are Bastille, Canal Saint-Martin, and Oberkampf.
Bastille is in the 11th and 12th districts of the city, and this neighborhood has a blend of history, culture, and convenient amenities.
It has a relaxed ambiance, with beautiful parks and squares where seniors can enjoy leisurely strolls or simply sit and soak in the atmosphere.
Moving on to Canal Saint-Martin, this charming neighborhood is in the 10th district and has a tranquil and picturesque setting.
The tree-lined canal and its surrounding pathways provide a peaceful escape from the bustling city.
Finally, Oberkampf is a lively neighborhood in the 11th district that strikes a balance between vibrant energy and a welcoming atmosphere for seniors.
Seniors can enjoy the lively ambiance without feeling overwhelmed, as the neighborhood has quieter streets and squares as well.
There are also several cultural venues, such as theaters and galleries, where seniors can engage in artistic activities or attend performances.
All three neighborhoods provide seniors with a mix of tranquility and activity, ensuring that they can enjoy a fulfilling and enriching lifestyle.
Whether it's exploring historical landmarks, indulging in delicious cuisine, or simply savoring the vibrant atmosphere, Bastille, Canal Saint-Martin, and Oberkampf offer a diverse range of experiences for seniors in Paris.
Final Thoughts
Naturally, there are diverse Paris places to stay for different types of travelers.
For instance, solo travelers, couples, families, seniors, on even those on a budget can find their own Paris in the City of Lights.
Since I've been visiting Paris for many years, I realized different neighborhoods have become more important to me over time.
When I was a backpacking solo traveler, I had no trouble sharing a room with a bunch of others in hostels.
I also didn't mind the loud party scenes in certain parts of the city.
However, as I got older, I needed to stay in quieter neighborhoods with more stability to them.
So, that's all to say that Paris is one of those cities where you simply have to find your spots.
In this guide, I went through the city, even included nearby destinations, and shared with you how certain places fit different travelers differently.
And, of course, when I chose Paris places to stay for certain travelers, I also included other ones that you can decide to go with instead.
So, now you have everything to start planning your awesome trip to Pars, and I truly wish you all the best.
Enjoy Paris!
Sebastian Clark is a traveler from the UK and writes about Europe for Caravanzers.
Follow us on Pinterest.