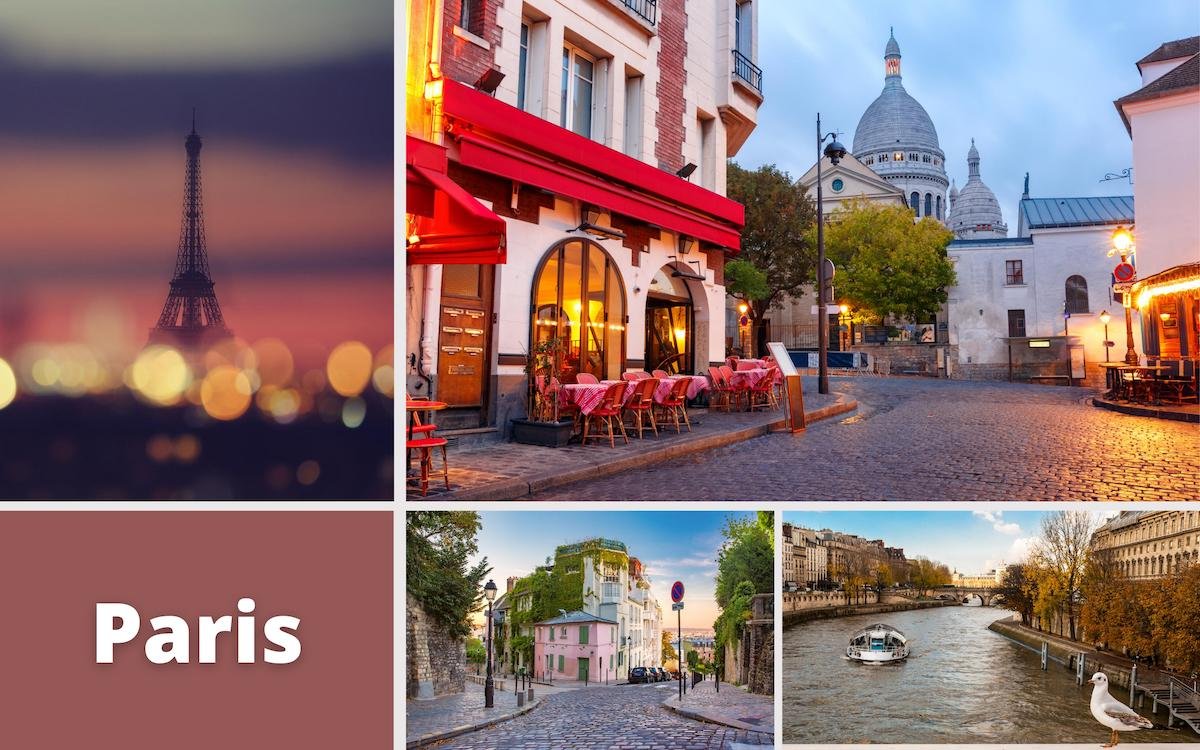 Paris travel has it all, from the Eiffel Tower to Disneyland, and from historical architecture to museums, and here is your ultimate guide.
The city captivates travelers worldwide, and its allure lies in landmarks, charming neighborhoods, exquisite gastronomy, fashion, art, and historical significance.
All of that contributes to its universal appeal as one of the most popular destinations globally.
In this guide, I will share with you travel tips such as when to go, where to stay, what to eat, and what to do.
So, if you're ready to plan your incredible trip to the City of Lights, come along for a detailed guide!
VIDEO – Paris Travel
Paris Travel
If you're planning to visit Paris, there are a few travel information to keep in mind. First and foremost, you may need a visa depending on your nationality, so it's important to check the specific requirements for your country beforehand.
The French capital is in the Central European Time (CET) zone. That means the City of Lights is about six hours ahead of New York City.
Paris has two main airports: Charles de Gaulle Airport (CDG) and Orly Airport (ORY). CDG is about 22 miles (or 35 kilometers) from the city center, while ORY is 12 miles (or 19 KM).
Currency-wise, the official currency in France is the Euro (€). There are a ton of currency exchange services in various locations, including airports, banks, and exchange offices throughout the city.
Both airports also have a lot of ATMs. Some ATMs, such as the Crédit Agricole and Société Générale, do not charge fees.
Paris also has an excellent public transportation system that makes getting to the city quite convenient. The RER lines (Réseau Express Régional) are the Regional Express Network operating in the airports.
RER Costs less than $15 to go from CDG or ORY to the city center. In the case of the ORY, you will need to take Orly's self-driving train to the nearby Anthony station.
There are also taxis ($60 from CDG and $45 from ORY), as well as Rideshare (Uber costs $30 from ORY and $45 from CDG) and buses ($7 from CDG and $10 for ORY).
So, yeah, there you have it. That's the essential information you will need to arrive, and now all you have to do is go enjoy Paris!
Why People Visit Paris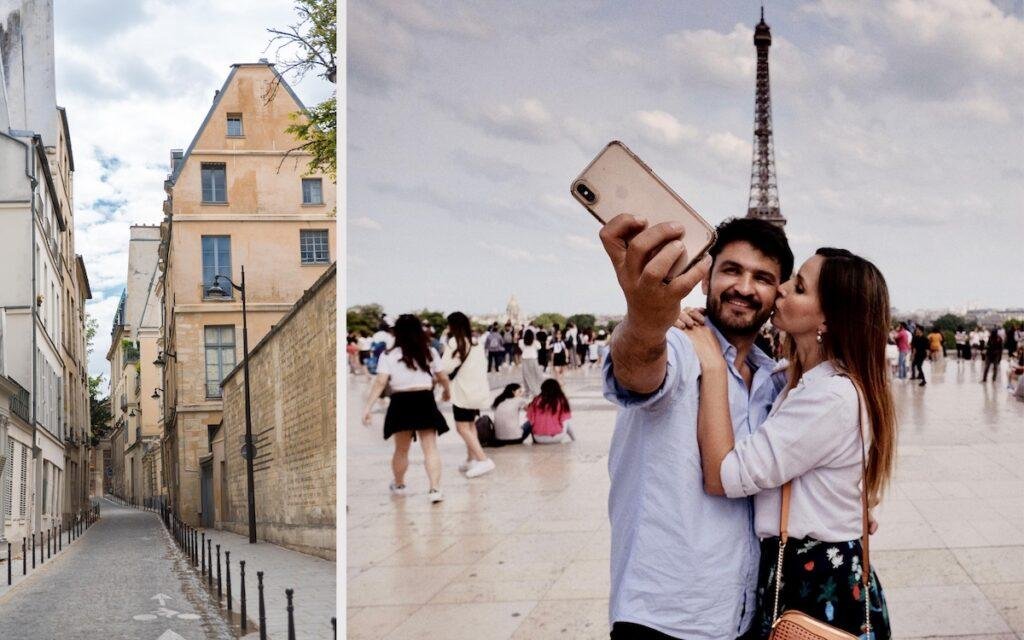 Paris has been a consistent contender in the top travel spots for many, many years.
So, what makes people want to go to this French city?
"Because Paris inspires you," says Alexandre Michel, a travel expert here in France. "Paris is perfect any time," he adds. "It can be freezing in the winter and very hot in the summer, but you will still enjoy it. I think it is not easy to say that about many cities."
Yes, it is fascinating that way.
Alexandre says that another reason to visit Paris is that it has a lot of beauty.
For instance, as you will see below, there are many beautiful buildings!
"It is also because the city is very romantic," Alexandre explains. "So, couples love to come here because they know they will never forget the experience. And, of course, they will return many times!"
We previously did an article that talked about this very reason. See our romantic things do piece.
Finally, a big reason to visit is that it is a very walkable city, says Alexandre.
"The big boulevards, the parks, the great restaurants, it is all of it," he says.
So, let's dig deeper and find out all the reasons to fall in love with the City of Lights.
Paris Travel Story
Although facts and figures help, it is our Paris travel story that will probably help you most.
Amanda is a thirty-something American woman from New York.
"Many years ago, I met a French man from Paris, and we fell in love," says Amanda. "Of course, my interest in Paris was way back and predated my relationship with the guy," she explains.
However, it was with her relationship with the Parisian that put Paris on her mind.
So, of course, they went there together.
Now, years after they broke up, Amanda still goes back to Paris!
"Paris is everything you imagine and more," she says.
We wanted to know from more Amanda. We asked her favorite places.
"I love weird spots in Paris," she says. "For example, I love the old cinemas. I just feel like I'm back in time when Paris was even more glorious."
Meanwhile, we also asked her to tell us some of the places she thinks you should check out.
"Definitely, start with the obvious: the Eiffel Tour!" she laughs. "The neighborhoods, the restaurants, the museums, Paris is amazing."
So, here we go!
Before You Go
Paris is a city in the heart of France, which is now part of the European Union.
However, and more importantly, for travelers, it is part of the Schengen Area.
Schengen Area includes most EU countries, as well as several non-EU countries such as Norway and Switzerland.
Americans don't need a visa to go to this area and can stay up to 90 days.
This visa waiver includes both personal and business travel.
So, if you are from another country, please make sure to check if you can go.
Regardless, you will need a passport that won't expire for six months and a couple of empty pages on your passport.
Paris Basics
Before we jump into our extensive guide, let us first examine a few basic things about the City of Lights.
For example, let's see how to pronounce Paris, what time zone, and what type of currency awaits you.
Paris in French
In American English, the pronunciation of Paris is "pear-riss."
But I have been asked many times.
In French, Paris is called "Paris." However, it is pronounced as "pear-ree." That is, in French, the "s" is silent. Meanwhile, the "r" in French sounds like a "qh." You will have to hear it to get it correctly.
Of course, if you come from certain parts of France, it might be a little different.
Another discussion for another day.
Paris History
Human activity in the Paris area dates back to the Mesolithic period.
In more recent history, it was sometime in the mid 200 BC when things started to form.
A Celtic tribe named Parisii began creating a settlement around what is now Paris.
Over time, they became wealthy and had organized systems, including a monetary system.
When the Romans arrived in the area, the city was called Civitas Parisiorum, which means the "City of the Parisii."
However, the Romans imposed another name, Lutetia.
During the reign of Clovis I, the name of the city was shortened to Paris.
Paris Population
Paris is a city full of exciting characters.
However, you might have a question related to people.
The population of Paris is a little over 2 million in the city itself, and there is another 10 million in the Greater Paris Region. In other words, Métropole du Grand Paris includes both Paris and its suburbs. Paris is different from other major cities in the world in that the more impoverished populations live in the suburbs while the wealthier communities are in the city center.
Paris is a diverse city. Of course, France is diverse, having around 75 languages that are all from its former colonies.
Meanwhile, that includes 24 languages that are of European origin.
A sizeable Arab community lives in the city, mostly North African, and Arabic is the second mother tongue in France.
Paris Currency
No, there is no "Paris currency."
The currency used in Paris, as well as all of France, is the Euro. Because France is part of the European Union, like most EU countries, it adopted its currency. France started using the Euro on January 1, 2002. Before that, France used its own currency called franc. From 2002 to 2005, both of the currencies were in circulation.
The Euro has coins and notes, not very different from the American Dollar.
Paris Time Zone
Believe it or not, but there are seven time zones in Europe.
The time zone in Paris is the Central European Summer Time zone. That is, it GMT+2, or 2 hours plus the Greenwich Mean Time zone.
I don't know why you would use a London-based time zone to know what the Parisian time zone is, but there you have it.
Paris Weather
Paris weather is as moody as the Parisian flair.
The weather in Paris is warmest in summer, and August is the most humid. Winter is cold and can sometimes be damp and snowy. Spring and fall are chilly, with spring lasting into May and fall being as early as September.
The rainy season runs from November to February, with January having the most rain.
So, there you have it.
Paris Map
Of course, you might want a map if you're not satisfied with the one installed on your mobile telephone.
The map of Paris shows the city in its entirety. The best place to get maps in Paris for travelers is from the city's official tourist offices. They have several maps for you, including neighborhood maps, street plan maps, and more!
So, if you want to get one, visit their website.
Paris Flights
So, you decided to go to Paris.
Congratulations!
But, of course, you might be asking yourself, a question: where can I get good deals on flights?
The best flights to Paris are on Air France website. Air France usually is more expensive than some other airlines, but it also has the best flights to Paris.
The airline works with several networks of airlines to haul passengers from around the world in direct flights.
The government owns part of the airline, and the company that owns airline gets subsidized.
As a result, it has more direct flights because it saves on fees that others typically incur.
However, if the price is an issue for you, then let's throw the question back to you.
Where are you coming from?
If you're coming from London, then obviously RyanAir will be your cheapest flight.
Trust me, I once took a flight from London to Paris with this airline, and it cost about the equivalent of $10.
I know!
However, if you're coming from New York, well, then perhaps Norwegian Air will be your best bet.
Depending on the time of the year, the costs of flights with this airline can be as low as $150!
Meanwhile, if you're coming from Beijing, LOT Polish Airlines will probably be your cheapest choice.
If you're coming from other major capitals of the world, check with your best source for flights.
In case you don't have any, try SkyScanner.
Paris Airport
Many people say "Paris Airport" when they are talking about one of the few.
Paris has several airports to serve its visitors. There is CDG, short for Charles de Gaulle, or Aéroport de Paris-Charles-de-Gaulle in French. It is the leading international airport in the city. Then there is Aéroport de Paris-Orly. Finally, there is the Aéroport de Beauvais-Tillé.
The Aéroport de Paris-Charles-de-Gaulle airport, named after a former president, is located in a suburb called Roissy-en-France.
"I chose to use this airport because of Air France," says Jennifer, an American traveler. "I'm with Delta back home, and they are in the same network."
Yes, both Delta Airlines and Air France are part of SkyTeam Airline Alliance, which has been around since 2000.
"It seems like a world-class airport," says Jennifer, as she goes through baggage claim.
This airport is about 14 miles (or 23 km) northeast of Paris.
However, there is also another international airport, the Orly, or Aéroport de Paris-Orly in French.
Orly's location is in both Orly and Villeneuve-le-Roi, suburbs about 8 miles (or 13 km) south of Paris.
Orly is the airport that a large number of low coast airlines use.
There are direct trains to both of these airports.
Finally, there is Paris-Beauvais, or Aéroport de Beauvais-Tillé in French.
It is about 53 miles (or 85 km) northwest of Paris.
Popular with the ultra-low-budget crowd, one needs a bus service to connect to the city.
Paris Neighborhoods
Paris is a city of historical importance. As a result, there are many neighborhoods within neighborhoods across the city.
In Paris, there are 20 significant neighborhoods, called arrondissements in French, which are administrative districts. For instance, they come with their mayors and city halls! However, they are still part of the city of Paris, and major tourist attractions are all within their borders.
Numbered from 1 to 20, they also have colloquial names attached to them.
In order, they are: Louvre, Bourse, Temple, Hôtel-de-Ville, Panthéon, Luxembourg, Palais-Bourbon, Élysée, Opéra, Entrepôt, Popincourt, Reuilly, Gobelins, Observatoire, Vaugirard, Passy, Batignolles-Monceau, Butte-Montmartre, Buttes-Chaumont, and Ménilmontant.
"They are all beautiful," says Jack, a traveler from Ireland. "Every part of this city gives you something special, something unique," he adds. "I admit that sometimes it can take a little getting used to, but each will eventually win you over."
Of course, first impressions aside, there are some specific spots for travelers.
For example, favorite tourist neighborhoods include the 7th, which is where you will find the Eiffel Tower.
Likewise, the 1st, which is home to the Louvre museum, is another popular area.
Similarly, the 18th, which is home to the famous Montmartre quarter, is another area that gets a lot of tourists.
Meanwhile, the 15th is the one with most population while the 1st has the least.
However, the 11th is the most densely populated.
On the other hand, the 12th has the most area or is the largest.
Paris Accommodation
Paris is home to some of the best accommodation money will buy.
"You have to know what you like and what you can afford," explains Alexandre, our travel expert friend. "I always say anyone can afford Paris. You will find your place. I would say visit Booking.com."
Yes, there are many types of accommodation in Paris.
For instance, there are luxury hotels.
Likewise, there are budget hotels.
Of course, there are also hostels, as well as apartments.
So, let's explore more.
Hotels Near Eiffel Tower
Let's start with a bang.
We know many of you want to stay near the Eiffel Tower.
There are so many hotels near the Eiffel Tower.
In fact, there are over a hundred!
So, what do you choose?
It depends on you.
For example, if you're after luxury, try Hotel de Sers, Sofitel Paris Baltimore, La Clef, or Pullman Paris.
Those are hotels that cost over $200 per night.
Likewise, for midrange, try Hotel Chambiges Elysees, Hotel Eiffel Seine, Hôtel de la Tour Eiffel, or Villa Hotel Saxe Eiffel.
Those are hotels between $100 and 200 per night.
Similarly, for low budget, try Hôtel Hameau de Passy, Campanile Paris 15, Hôtel Eiffel Turenne 3 étoiles, or Amiral-Fondary.
Those are hotels that cost less than $100 per night.
Luxury Hotels
Now that you know some hotels near the Eiffel Tower at every budget, what about the entire city?
Well, Paris is full of luxury hotels.
There are many luxury hotels in Paris. For instance, there is La Réserve Paris Hotel and Spa, Hôtel National Des Arts et Métiers, Hôtel Particulier Villeroy, La Résidence Paris, and Hôtel Plaza Athénée.
They are all top-rated hotels, and they generally cost $500 or more per night!
For instance, the Hôtel National Des Arts et Métiers, which costs over $1,000 per night, is a top hotel in a Haussmann building.
So, you're not just getting a place to put down your head at night, but actually, you're part of history!
Meanwhile, the La Résidence Paris, in the suburb of Neuilly-sur-Seine, is a whole another level.
Although you the luxury of a palace, it gives you the comfort and intimacy of a private mansion.
It will cost you over $3,000 per night.
Finally, the Hôtel Plaza Athénée, which is just a short walk from the Grand Palais, will leave you breathless.
And, it should, as it will cost you over $5,000 per night.
So, there is plenty to choose from in luxury.
Budget Hotels
Of course, a lot of hotels in Paris are midrange-priced.
However, you might be asking yourself…
There are many budget hotels in Paris. For instance, there is Best Western Hôtel Aramis Saint-Germain, Holiday Inn Paris – Auteuil, and Okko Hotels Paris Porte De Versailles are all budget hotels.
Budget hotels range from $75 to $125.
Americans will be familiar with brands like Best Western and Holiday Inn, which cost around $100.
However, Olivier Devys-owned Okko Hotels are excellent, costing less than $150.
They give you a feel of "local" experience, even though they are just cool hotels.
Meanwhile, there are unique spots, too.
For instance, Edmond Hôtel – Paris 17ème – 4 étoiles and Hôtel Maison Athénée will give you that local feel.
So, look around and don't settle for less than an exceptional experience!
Paris Hostels
As you know, Paris is for all, which means there are many spaces for the traveler who doesn't have much.
There are many hostels in Paris. For instance, there is Hôtel Beaunier, Hôtel de l'Europe, Trendy Hostel, and St Christopher's Inn are all great places!
Now, mind you, Beaunier and de l'Europe are low-budget hotels.
But they are all $50 or less.
So, St Christopher's Inn is an ideal spot, as it is close to a bunch of stuff.
For example, it is close to Gare du Nord, which is probably the busiest train station in France.
Not far from there is Peace and Love Hostel, another popular spot.
In other words, Paris has a lot of good hostels.
Just ask around and find something that works for you.
Paris Apartments for Rent
While some people love to stay in hotels, others like to be in an apartment.
Yes, some people want to be in their own "home away from home" situation.
There are many apartments for rent in Paris. To find them, you will need to hire a real estate agency. There are several well-known real estate agencies in the city. For example, there is Paris Attitude, Paristay, Lodgis, and more.
Paris has a lot of short-term apartments, and you can book one night or several weeks.
It all depends on you, your budget, and the time of the year you visit.
For example, there are many more apartments available in August when the majority of Parisians flee the heat.
The same is true during the holiday seasons, especially Christmas when a lot of people go back to their home areas.
So, if you can think ahead for your trip, you could have that Parisian experience by having an apartment.
With an apartment, you can shop locally and cook French food!
Prices range from $50 per night, as well as weekly rates as low as $200.
Therefore, invest in an apartment if you can.
Paris Eateries
Whether you decided to stay in a hotel, a hostel, or an apartment, you are all settled.
But, of course, a traveler needs to eat, right?
One of the best sources for eateries is Paris By Mouth.
Paris has a lot of restaurants. There are a lot of French eateries at various levels, for example. Meanwhile, as the capital of the francophone world, Paris has some of the most exciting restaurants. There are many North African, West African, and island eateries.
So, choose a restaurant type, and then you will find excellent restaurants.
For instance, there are traditional French restaurants.
Then, of course, there are modern French restaurants.
Once you had your French tastes out, then try the francophone stuff.
Start with North African, then try West African, then islands, and so on.
French Restaurants
Any of the L'Entrecôte restaurants are good places to taste French cuisine, especially the L'Entrecôte Porte-Maillot in the 17th district.
They are famous for the entrecôte, a premium beefsteak that one typically enjoys with fries.
Another thing you must try is the brasserie, which is a type of a relaxed neighborhood spot.
A brasserie often features a cozy and casual atmosphere, and they are also great places to grab a beer.
So, Brasserie Flo in the 10th district is an excellent spot.
Likewise, Chez Jenny Brasserie, in the 3rd district, is also very relaxed.
After that, maybe you want to try a café, which is all about coffee and other cool things.
So, try Café de Flore in the 6th district, which is a historic institution.
Likewise, try Café de la Paix in the 9th district, another historic spot.
Of course, there is also the French fast food!
For that, try O' délices spots around the city, as there is one in the 12th and one in the 13th.
They have delicious stuff.
Speaking of the 13th, check out the La Crêpe D'Or in this area, too!
Go there for a crepe you won't forget.
North African Restaurants
North African nations like Algeria, Morocco, and Tunisia were French colonies.
As a result, Paris has a lot of them!
So, check out Chez Omar in the 3rd district, a great place to try couscous.
Algerian Omar Guerda opened the place in the 1970s, and it is one of the most popular North African restaurants.
Likewise, Le Souk in the 11th district is another fantastic place for North African food.
This Moroccan place is an excellent spot to try tajine.
West African Restaurants
West African nations like Senegal, Benin, and Ivory Coast were French colonies.
And, so, there are excellent West African restaurants to visit.
For instance, the Senegalese Le Petit Dakar in the 3rd is a great place to try the famous thieboudienne.
This fish and rice dish is part of the tiep or thieb, a popular dish found in the Sahel.
Likewise, the A La Banane Ivoirienne in the 11th district is an excellent place to try mafé boeuf riz.
It is a beef and rice dish that comes with peanut sauce, and it is prevalent in West Africa.
Island Restaurants
Island nations like Réunion (Africa), Martinique (North America), and French Polynesia (Oceania) are all part of the Francophone.
As a result, there are several spots to get your island fill!
For instance, île de la Réunion in the 14th district is a great place to try Créole dishes.
Try the rougail saucisse, a delicious sausage, and a prevalent dish from back home!
Meanwhile, head to the Moé Poké restaurant in the 8th district to try some Polynesian poke, which is a bowl.
Paris Attractions
One tourist once joked that all of Paris is an attraction, and he was not lying!
Paris is home to some of the most iconic tourist attractions in the world. They include the Metro, the Eiffel Tower, the Seine, the museums, the parks, the historic buildings, and more!
After all, this is the City of Lights, where it looks magical, whether in rain or sunshine.
Therefore, let's dive deeper into some of these locations.
Paris Métro
The Paris Métro, short for métropolitain, is the city's subway or underground transportation system.
Because there are 16 lines, chances are you will find a station not far from where you are staying.
After all, there are over 300 stations!
With over 4 million daily riders, it is one of the busiest subways in the world.
Since there are 700 subway cars, you never have to wait long to get to your next destination.
As a result, it is by far the best way to get around Paris.
Meanwhile, most of the stations have their unique characters, which is why they are tourist attractions.
Eiffel Tower
Can you think of anything else that represents Paris more than the Eiffel Tower?
Of course, not!
This global icon holds the record as the number one visited paid monument on the planet.
At 1,063 feet (or 324 meters) in the sky, it is also one of the most breathtaking sights you will ever see.
Its name comes from Gustave Eiffel, the engineer whose company built the structure.
The Eiffel Tower is in the 7th district on an ample green public space called Champ de Mars.
Because of its popularity, it is open from 9 am to 12:45 am.
Paris River
The Seine is probably one of the most used rivers in Europe.
Because it goes through the city, tourists love to view the city from the river.
As a result, there is a whole industry of bateaux mooches, open-air boats that take tourists around.
So, the Seine originates in the eastern region of Côte-d'Or and ends in Seine-Maritime, a northeastern region.
Meanwhile, in the Paris Basin, the river acts as a commercial route, as well.
Therefore, definitely a good tourist attraction!
Paris Parks
So, with over 420 parks and gardens, Paris is a green-lover's heaven.
The Luxembourg Gardens, called Jardin du Luxembourg in French, is probably the most popular.
This garden is in the 6th district.
However, Bois de Boulogne, in the 16th district, is the largest park in Paris.
Other popular parks include Parc des Buttes-Chaumont in the 19th district and Parc Monceau in the 8th.
As far as gardens go, check out Tuileries Garden in the 1st district and Jardin des Plantes in the 5th.
Meanwhile, the Palace of Versailles in the suburb of Versailles is probably the most luxurious.
Of course, there are tons more, but that will keep you busy.
Disneyland
Speaking of parks, Paris has some theme parks, including two owned by the famous American brand Disney.
Disney has two theme parks in Paris. Disneyland Park and Walt Disney Studios Park are top-rated tourist attractions. The parks are in Chessy, which is a town about 20 miles outside of Paris.
Disney opened its first theme park in 1992. Meanwhile, Disney opened its second theme park in 2002. They have both amassed around 15 million visitors a year.
As a result, Disneyland Paris is one of the top destinations for tourists, especially tourists from Asia.
Paris Churches
Remember that mythical tourist that we mentioned and who said all of Paris is attractions?
Well, it was probably about the buildings!
For instance, there are incredible church buildings such as the Madeleine in the 8th district.
It looks like an ancient Greek or Roman temple!
Another impressive church is the famous Notre Dame, which is in the 4th district.
However, you need to be specific when talking about this church.
Why, might you ask?
Because notre dame, which translates to "Our Lady," is the name of as many as 36 other churches!
Likewise, the Sacred Heart, a basilica known locally as Sacré-Cœur, is in the 18th district and majestically overlooks the city.
Then, there is the Saint Stephen church, known in French as Saint-Étienne-du-Mont, which is in the 5th district.
Of course, there are so many more, as the city has around 200 churches.
Paris Art
Paris is definitely a city for art because there is so much for artists and art lovers in general.
There are over 1,000 art spaces in the city, showcasing the world's best in art.
So, as you will see soon, Paris is the spot to go for art shopping, art visits, and more.
Paris Museums
Paris is home to a large number of museums and is the best place to enjoy Francophone art.
Top museums in Paris include the Louvre, Musée d'Orsay, and Rodin. Meanwhile, there are many others, such as the Paris Museum of Modern Art, Quai Branly, Musée de l'Orangerie, Musée National Picasso-Paris, and more.
Remember, Paris has around 130 museums.
In other words, it is a top destination for museums.
If you're looking to check out French artists like Monet, Cézanne, Matisse, and others, focus on specific museums.
For instance, Cézanne is best enjoyed at Musée d'Orsay, because you will find most of his work there.
Likewise, Monet lovers will enjoy Musée Marmottan Monet, which features most of this artist anywhere in the world!
Similarly, Matisse fans love Musée d'Art Moderne de Paris, which has an entire room dedicated to his work.
Keep in mind; this is different from the Musée National d'Art Moderne, which is in the Centre Pompidou.
The later is the largest for contemporary art.
Meanwhile, if you want to enjoy art from the Francophone, head to Musée du Quai Branly.
Therefore, first, figure out who you want to see and then figure out the best place to see them.
Paris Art Galleries
Paris has a lot of art galleries, and it is impossible to name all.
Best art galleries in Paris are mostly in the Right Bank of the Seine River. The galleries include Modus, Thaddaeus Ropac, Marian Goodman, Gagosian, Tornabuoni, and Brissot. Each art gallery has a specific focus.
In other words, like the museums, it depends on what you want to see.
For instance, Kifah Yehia-owned Modus Art Gallery is all about modern and contemporary art.
On the other hand, the Marian Goodman Gallery represents mature artists.
Sometimes, the gallery is a location-focused.
For instance, Tornabuoni Art is a gallery centered on Italian art.
However, Galerie Thaddaeus Ropac is all about international contemporary art.
So, choose what you would like to see, and chances are there is an art gallery for that.
Paris Opera
Opera is an integral part of Parisian art life, and it is definitely one of the oldest in Europe.
Paris opera is at two venues. Palais Garnier, which is in a grand historic building, is primarily an opera venue. Then, of course, there is the newer Opéra Bastille, which is more on ballet.
Each location has its uniqueness.
For instance, Palais Garnier is the one that is typically for traditional operas, as it dates back to the early 1900s.
Because its building is beautiful and old, many people go there as a tourist attraction, too.
Meanwhile, Opéra Bastille is from the 1980s and is a contemporary building.
Likewise, Opéra Bastille primarily features ballet and some operas.
Paris Cinemas
The French absolutely love their cinema.
And that is why there are plenty of them in Paris!
Best Paris cinemas include Cinéma du Panthéon, La Cinémathèque Française, La Pagode, Studio 28, and Le Champo. These more than movie theaters because the French people see them as places where art comes to life.
Did you know there are 88 cinemas in Paris?
Yeah!
So, Cinéma du Panthéon is the oldest, having been in operation for over 100 years.
However, most uniqueness goes to La Pagode, which looks like an East Asian temple!
Unfortunately, La Pagode has not been in operation for a few years, though it's due to make a comeback soon.
Then, of course, there is La Cinémathèque Française. It is in a Frank Gehry-designed building and has daily screenings.
Located in the Bercy quarter of the 12th district, La Cinémathèque Française is a nonprofit film organization.
Studio 28, in the Montmartre quarter of the 18th district, is a very old and a loved institution in itself.
Finally, Le Champo, in the 5th district's Sorbonne quarter, is a real Parisian cinematheque.
Paris Shopping
Experience a truly captivating shopping adventure in the enchanting city of Paris!
Start your shopping expedition by indulging in the thrill of treasure hunting at the famous flea markets.
Explore the massive Saint-Ouen Flea Market, also known as "Les Puces de Saint-Ouen," where you can discover antique treasures, vintage items, and quirky souvenirs.
Boulevard Saint-Michel in the Latin Quarter is another great place to find classic Parisian souvenirs.
Explore upscale streets like Rue Saint-Honoré and trendy areas like Rue des Francs-Bourgeois to discover the latest fashion trends.
You can also visit the iconic Montmartre neighborhood, known for its artistic charm and unique shops.
Take day trips from Paris that offer a blend of history and vibrant shopping experiences.
La Vallée Village, located near Disneyland Paris, is an outlet shopping destination where you can find luxury and designer brands at discounted prices.
Versailles and Rouen also offer charming shopping experiences with their boutique streets and local markets.
For art lovers, Paris is a treasure trove of artistic finds.
Explore galleries like Deyrolle, Galerie Daniel Templon, and La Galerie de l'Instant to discover intriguing and unconventional art pieces, from historical artifacts to contemporary photography.
If you're in search of French chic home decor, visit stores like Merci, La Trésorerie, and Astier de Villatte.
These places offer a curated selection of stylish and elegant home goods that combine contemporary design with vintage charm.
Embrace the cultural diversity of Paris by exploring Francophone shopping experiences.
Visit markets like Marché des Enfants Rouges and Marché Barbès to discover the rich diversity of African cultures through vibrant textiles, spices, and traditional crafts.
Explore neighborhoods like Château Rouge and Belleville to find shops that celebrate the cultures of West Africa and North Africa.
Paris Safety
Paris is beautiful, no doubt, but it can also be dangerous.
Like many big cities, Paris has a lot of crime.
Paris safety requires being aware of pickpockets, robberies, assaults, and terrorism. Each of these is very different. However, they are all present danger in Paris.
So, what can you do?
Learn the specifics.
Pickpockets
Yes, you should be concerned about pickpockets in Paris, because it is a real problem.
The city is truly a breeding ground for thieves.
"Americans in Paris should be particularly alert to thieves who commonly work near tourist attractions," warns the US Embassy in Paris.
They are not joking.
Rachel was just admiring the beautiful Sacre Cour (Sacred Heart) church in Montmartre when someone came up to her.
"He asked if he could take my picture professionally," remembers Rachel, an American. "I turned him down and moved on. Then, suddenly I realized my phone was gone."
Yup.
He brushed up against her so cool and calm that she didn't even realize what had happened.
A similar thing happened to Javier from Spain.
"I was waiting for the subway, and a child came up to me and asked for me," says Javier. "His father came from behind me and bumped into me, apologizing. Then my wallet was missing."
It is sad, but there are so many stories like that.
So, what can you do?
The authorities say you must be aware. Make sure you are always using products meant to ensure the safety of your stuff.
For example, use bags with body belts that you can securely put to the front of your body.
Use your intuition because, generally, your gut will tell you if something is off.
Be careful!
Robberies
No, it wasn't just Kim Kardashian.
So many people get robbed in Paris.
It is really insane.
Sometimes, robberies affect groups. For example, 40 Chinese tourists were tear-gassed and robbed at a hotel by four men. This incident took place at a tourist hotel, too.
And it also happens to individuals. For instance, a 30-year-old Japanese man was robbed of an $850,000+ watch right outside of his hotel.
Likewise, blogger Nastasia Yakoub woke up to a robbed hotel room.
"My camera, lenses, laptop… everything I require for my livelihood.. gone," she says.
So, what can you do? Stay mega alert! Make sure to keep your valuables inside. If you're out, keep everything within your sight.
Sexual Assaults
Believe it or not, but France is one of the top spots for rape in Europe. For example, women's groups say that one in eight French women are raped.
Recently, one of the big cases in Paris was the rape of a Canadian tourist. What was most disheartening about this is that the men accused of the rape are police officers.
That case ended in positive because the officers were convicted.
"My friend got raped in Paris this weekend," wrote Fernanda Sapiña on Medium.
So, what can you do to protect yourself? One of the best things you can do is to trust your instincts, say some experts.
If you need to go out at night alone, make sure to take rideshare if you can afford it. Rideshares have tracking in case if something goes wrong. Also, make sure the place you're going to is reputable.
If you're not going out, make sure your windows and doors are safely locked.
Of course, it is tough to "prevent" everything in life, but these tips will keep you safer.
Terrorism
Paris has had several terror attacks in the recent past.
France has had terror attacks every single year since 1972.
They total nearly 3,000 attacks.
November 2015 was the worst, where 131 people plus seven terrorists were killed.
In other words, terrorism is a real and present danger.
"Terrorist groups continue plotting possible attacks in France," warns the US Department of State. "Terrorists may attack with little or no warning, targeting tourist locations, transportation hubs, markets/shopping malls, local government facilities, hotels, clubs, restaurants, places of worship, parks, major sporting and cultural events, educational institutions, airports, and other public areas."
We are not telling you that to discourage you. Not at all. Instead, you must know that. A well-informed person makes well-informed decisions.
Paris Tours
There are both pros and cons to hiring tour guides through a company or as an individual.
When you hire through a company, you can have peace of mind knowing that the guide is licensed and insured.
The company will also have a screening process for their guides, ensuring their qualifications.
There are several ways to hire a private tour guide in Paris.
You can contact a local tour company, search online for private tour guides, or ask your hotel concierge or tourist information center for recommendations.
Discuss your budget in advance to avoid any surprises.
Some recommended individual tour guides in Paris include Michel Faul, Pamela Breit Foncillas, and Taisir Al Halabi.
As for companies, Mon Petit Paris offers a range of tours, including popular attractions like the Eiffel Tower and the Louvre Museum.
Big Bus Paris provides semi-private tours with the flexibility to hop-on and hop-off at different sites.
Bateaux Parisiens offers various types of cruises, allowing you to explore the city from the water.
Consider the pros and cons of different options and choose a guide or company that suits your preferences and budget.
Paris Travel – Final Thoughts
Paris is beautiful.
Whether you are interested in history, art, or culture, the City of Lights has something special for everyone.
In this article, we covered everything from why you should go to how to get there. We described the attractions, as well as where to stay and eat, what to do, and more.
Of course, we also covered the safety aspects, making sure your trip is safe and memorable.
AJ Paris is a travel photographer based in New York. He is the editor of Caravanzers.
Follow us on Pinterest.