The pyramids of Giza are some of the most historically important structures in the world. Here's a travel guide to get the most out of your visit.
Some of these Egyptian pyramids were built over 4,500 years ago, and one of them is considered to be part of the Seven Wonders of the Ancient World.
Today, they are UNESCO heritage sites, and millions of people visit them each year.
The Pyramids are located in a beautiful setting not far from Cairo. Seeing them in person is an incredible experience.
So, this article will cover history, relevance, budget samples, safety, and even frequently asked questions!
Let's go!
VIDEO – Pyramids of Giza Travel
Pyramids of Giza – A Brief History
The Pyramids of Giza Complex is a historical site outside of Cairo. The site is home to three Egyptian pyramids.
The pyramids of Giza are the pyramid of Khufu, the pyramid of Khafre, and the pyramid of Menkaure. Each of them houses a specific pharaoh's final remains.
Most historians believe that the Pyramid of Khufu, also known as the Great Pyramid of Giza, is the resting place of Khufu. He was a pharaoh from the Fourth Dynasty, reigning for about 63 years between 2629 BC and 2566 BC. Khufu's pyramid is the largest in Egypt.
The pyramid of Khafre is the second-largest of the three pyramids of Giza. Scholars believe it is the tomb of Fourth-Dynasty pharaoh Khafre, who ruled from 2558 BC to 2532 BC.
The Menkaure pyramid is the smallest of the three. Historians believe it is the resting place of Pharaoh Menkaure, who was the pharaoh from 2548 BC to 2530 BC.
In other words, all of these pyramids are pretty old.
How to Get There
The Pyramids of Giza site is about 13 miles or 20 kilometers from Cairo, and it typically takes about thirty minutes if traffic isn't heavy.
Cairo's international airport has direct flights from all over the world, including the United States. Washington, DC, and New York City both have nonstop flights to Cairo.
Once in Cairo, you would want to hire a local tour guide to get you to the site of the pyramids.
There are tickets for the site. A general admission ticket allows you to go to the main space, but specific tickets allow you to enter or do more things. It costs about 200 Egyptian Pounds or $10 (see below).
Please, make sure to talk to your guide about current prices, including what is offered (for example, the Solar Boat used to be at this site but has since moved!).
Meanwhile, the pyramid complex is usually open from 8 AM and will typically close around 5 PM.
Pyramids of Giza Are Worth It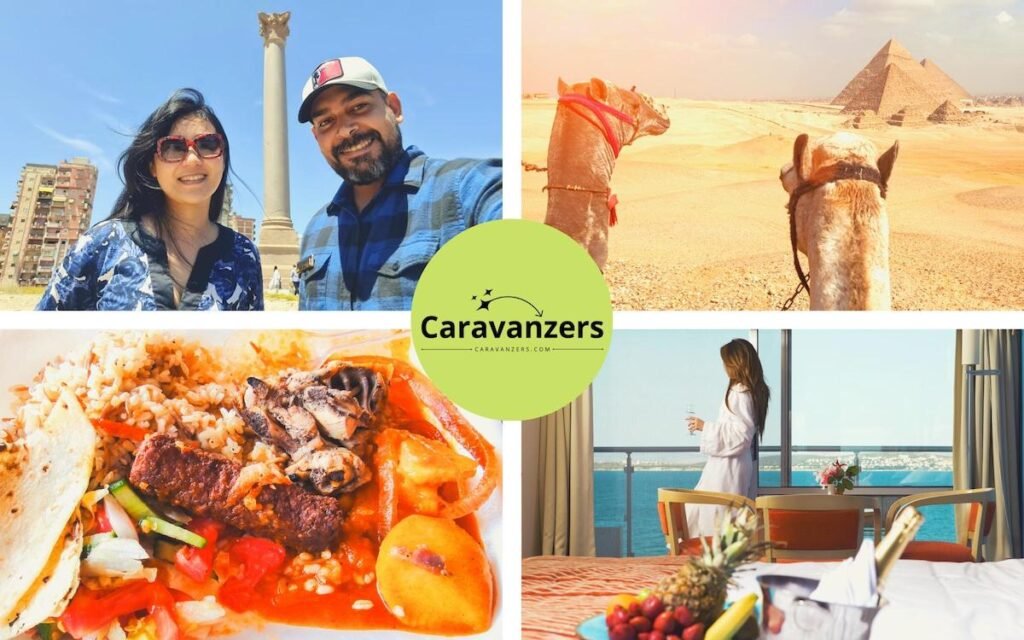 The Great Pyramid of Giza is a historically important site. It was one of the ancient wonders of the world, and today it is a UNESCO heritage site.
The pyramid was built over 4,500 years ago and is the only remaining wonder of the ancient world.
It is the largest and oldest of the three pyramids in Giza. The other two pyramids, Khafre and Menkaure, are also UNESCO heritage sites.
Like the Taj Mahal, the Roman Colosseum, and Chichén Itzá, the Great Pyramid of Giza is a must-see attraction in the world today.
"Tourists can get inside the pyramids," says Tarek Kouta of Cairo Private Tours. "It's like an option for any travel want to try this adventure."
However, Tarek warns to keep in mind that walking up the narrow corridors and through the grand gallery is not easy for everyone.
Moreover, he says that once you reach the burial chamber, it only has an empty sarcophagus.
It doesn't have colorful paintings or hieroglyphs carvings like the other tombs in Saqqara or Luxor.
Nevertheless, it truly is an incredible experience. So, if you can, go for it.
Safety for Tourists
Despite terrorist attacks you might hear in the news here and there, Egypt is actually a safe country for tourists.
To give you a comparison, it's five times safer than the United States. And Cairo is ten times safer than US cities like Chicago.
"Egypt is a very safe country to visit," confirms Tarek. "The security is very strict and so strong, especially for tourists.
Tarek says that tourism is one of Egypt's top income sources, and because of that, tourists are untouchable.
"There's security everywhere, and the law here doesn't even allow us to carry a knife," he says. "And since travelers are following a professional guide, they definitely will avoid any unpleasant situation, including hassle from the vendors at the pyramids area."
And that is really why I would recommend hiring a guide. They just know how to handle things, and your safety is that much more guaranteed to fair a lot better than doing it on your own.
Sample Budgets
The first time I was in Cairo, I was a broke tourist. I had no money to spend on tour guides, and I honestly can tell you that I missed a lot!
Although there are many parts of the world I would agree to pass on tour guides, Egypt isn't one of those.
Egypt is a very unique culture, and the sites here are extremely important. You really want to take advantage of the training and experience of a tour guide!
We asked Tarek, our friend, what sample budgets would look like.
First of all, our guy says that you must keep in mind that what is budget in Egypt and in Europe or North America isn't the same.
He recommends going with a reputable tour, staying in a nice place, and being safe.
"You can start with a short break 4-day package, which starts from $500," says Tarek. "For one week, that would be about $700."
For more luxurious packages, you can expect to pay from $1100 and up to $2,000, according to the itinerary.
"If you want to get a more premium luxury package, the prices are, of course, higher," says Tarek. "Premium luxury, including VIP services at the highest categories for hotels, will start from about $3,000 for a week."
Hey, when you visit an ancient world wonder that was built 4,500+ years ago, what's $3,000, right?
Frequently Asked Questions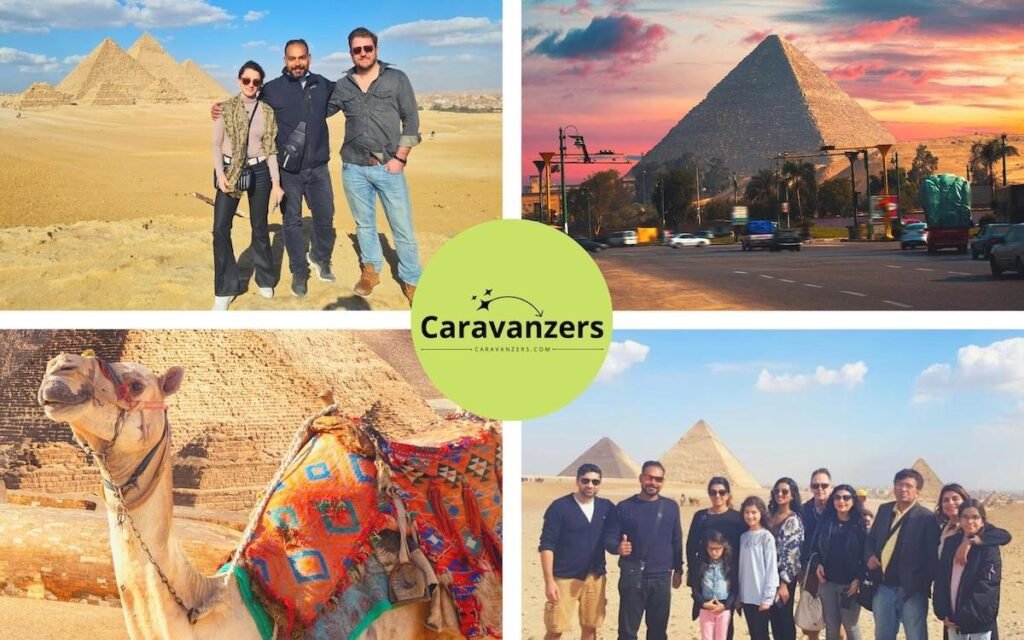 The Pyramids of Giza are a worldwide phenomenon. With millions of people visiting each year, so many travelers are asking questions. Let's answer some of these:
What are the Pyramids of Giza?
The pyramids of Giza are a group of three structures that house the remains of Egyptian pharaohs. They were built over 4,500 years ago and are essentially tombs. The largest pyramid, the Great Pyramid of Giza, is the oldest of the three. It is also the only one of the Seven Wonders of the Ancient World that is still standing.
When was the great pyramid of Giza built?
The Great Pyramid of Giza was built as a tomb for Pharaoh Khufu of the Fourth Dynasty of Ancient Egypt. He died in 2566 BC, which means it is at least 4,500 years old.
Where are the pyramids of Giza?
The pyramids of Giza are in Egypt. They are in the Giza Governorate, which is next to Cairo. They're about 15 miles or 20 kilometers outside of Cairo.
How tall is the Great Pyramid of Giza?
The Great Pyramid of Giza is one of the tallest structures in the ancient world. It stands at 456 feet or 139 meters tall. Built over 4,500 years ago, this is still one of the most impressive feats of engineering. It was one of the reasons it was included in the World Wonders of the Ancient World.
Who built the Great Pyramid of Giza?
There is still debate over who exactly built it. One theory is that slaves were used, probably based on Biblical influences. However, historical evidence shows that they were actually workers. Some of the builders, especially the leaders, are buried in nearby honorary cemeteries.
Can you touch the pyramids of Giza?
The pyramid of Giza is one of the most popular tourist attractions in Egypt. And yes, you can touch it! There are designated areas where you can climb, and taking selfies is also allowed. Just be careful not to touch any of the prohibited items – they're priceless!
What do you wear to the pyramids of Giza?
When visiting the pyramids of Giza, it is important to dress weather appropriately. This is because the pyramids are located in the desert, and temperatures can vary greatly, from being extremely cold in the winter to hot in the summer. Additionally, Egypt is a Muslim country; so when packing your clothes, be sure to include items that are modest and respectful of the local culture. For men, it means not showing anything between your belly button and knees. For women, generally wearing long sleeve top and fully clothed legs are acceptable.
Are the pyramids mentioned in the Bible?
No, the biblical writers didn't include the pyramids of Giza. It is possible they did not know about them. Or they didn't want to admit the Egyptians were so advanced.
What is under the pyramids of Giza?
There is a lot under the pyramids of Giza. First of all, Egyptian tombs always have caves and layers. In the case of the Great Pyramid, for example, there are even tunnels under it! The first layer is the pharaoh's tomb. Under that, there's the queen's chamber. Under that is the subterranean chamber. It is possible Ancient Egyptians believed that one day there would be water in there.
AJ Paris is a travel photographer based in New York. He is the editor of Caravanzers.
More Egypt
Like Egypt? Here are more articles: