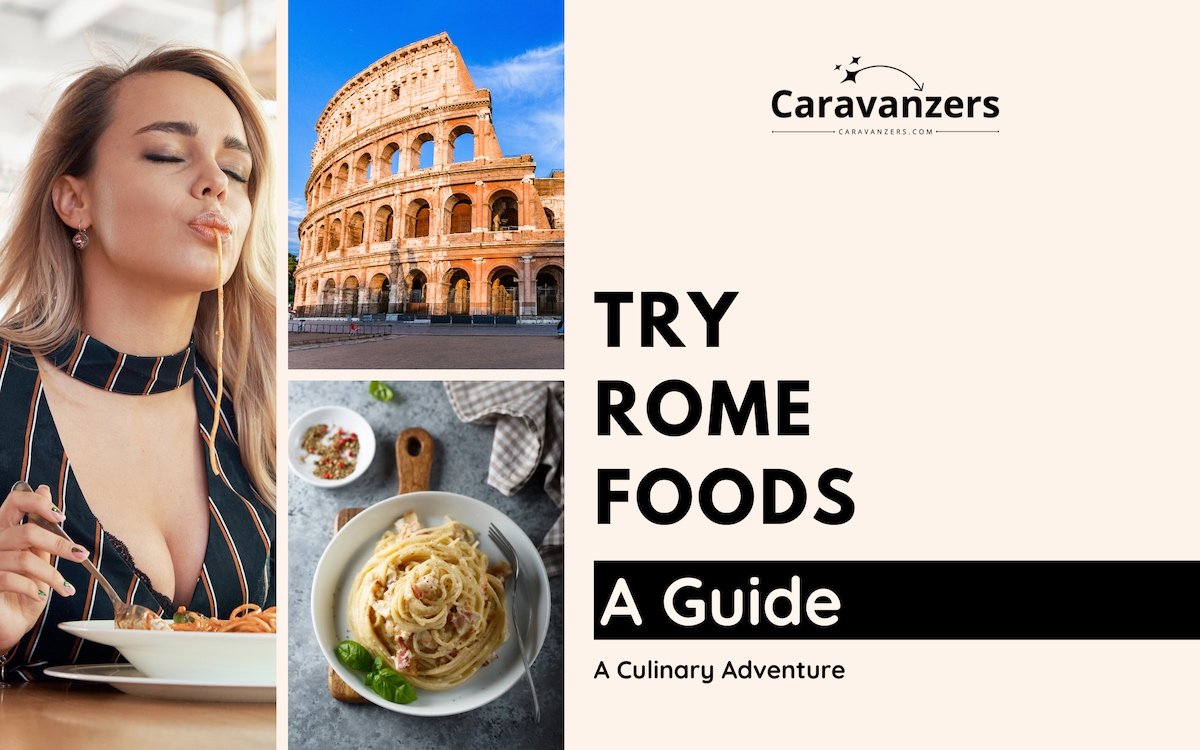 Rome food is amazing. There is a great variety available in the city, including Roman, national, and international foods.
The first time I was in Rome, I was really jumping from one restaurant to the next. It's such a walkable city, and you keep eating because the food is delicious.
In this guide, I will talk about practical dishes to try at various levels of city, national, and international.
I will also link the restaurants I talk about, and I will describe some of the dishes I mention.
Grab your trip planning notes and put some of these on your list!
Food In Rome
Romans have been around for thousands of years, and they have a rich and incredible eating culture.
One thing you must know about food in Rome is that you can't rush it. Take your time, and enjoy the meal in its courses.
Typically speaking, there is a 3-course meal at most restaurants, although some fancy ones can go as high as 9 courses.
If you're in a group, especially with Italians, don't forget to wish them a good appetite by saying, "buon appetito!"
So, when I talk about Rome food, I'm talking about the layers of food you find in the Italian capital. That is, I'm thinking about Roman, national, and international foods.
Roman food is the traditional cuisine of the city and can be found in many restaurants.
National food is also available, as there are restaurants from all over Italy represented in Rome.
International food is also an option, with restaurants serving cuisine from all over the world.
No matter what you're in the mood for, you'll be able to find something to eat in Rome.
Roman Foods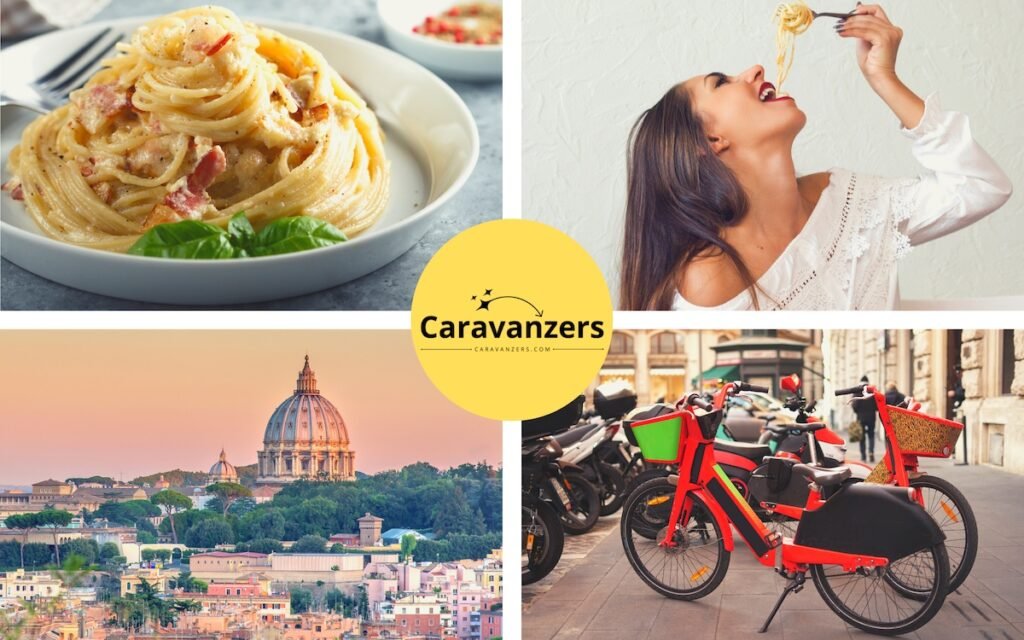 Rome food has evolved throughout the thousands of years alongside the city. So, naturally, travelers are surprised about some of its habits.
What food is Rome famous for? When it comes to Roman foods, pasta alla carbonara is truly the one. This is a light and easy pasta spaghetti. It originated in the region, and the Romans are very proud of it. Carbonara was invented by the carbonai or coal miners.
It's one of those foods that every Roman can make, even if you can also find it in fancy restaurants.
There are many places to try this dish, but I would recommend Taverna Romana. This classically Roman establishment is in Monti. The address is Via della Madonna dei Monti, 79.
Another classic Roman food is "trippa alla Romana." This tripe dish is made differently in different neighborhoods. Generally speaking, it needs red sauce and mint.
If you have the chance to try it on a Saturday, you will probably get a fresh batch. Romans usually eat this for lunch on a Saturday.
So, a great place to try this dish is at Ristorante la Campana. This old restaurant is very close to the river. The address is Vicolo della Campana, 18.
For some dessert, I would recommend "torta antica Roma." This is an ancient Roman cake that you can find in many places.
My favorite place to enjoy this is at Armando al Pantheon. As the name suggests, it's really around the corner from Pantheon. The address is Salita de' Crescenzi, 31.
Of course, there are tons of Roman foods, but each of the menus from those restaurants will give hints on what to try.
To live the "la bella vita" in Rome, you just have to experiment and have fun!
Italian Food in Rome
Rome is home to many restaurants that serve food from other regions of Italy. Some of these include Sicilian, Tuscan, and even Sardinian.
For some traditional Sicilian flair, head to Art Cibò Ristorante dai Pupi. The address is Via Leccosa, 59. Go there hungry and order the "casarecce alla Siciliana," which is a very typical dish of their home area.
Casarecce is short pasta, which is generally twisted. The Sicilians add tuna, olives, and capers. If you're not familiar, capers are flower buds that come from the caper tree.
For some Tuscan yummies, visit Al Vero Girarrosto Toscano. The address is Via Campania, 29. I would recommend you order "pappardelle al ragù di lepre."
Pappardelle is a type of pasta that originated in Tuscany. It's usually wide and not very different from other ribbon pasta.
However, I need to tell you that the meat in this dish is a hare. If you ever had rabbit, hare meat is just a little on the strong side with its flavors.
Finally, to satisfy your Sardinian cravings, I recommend that you visit Ristorante Sardegna Roma. The address is Via Sardegna, 34-36. Order "Risotto rosato alle delizie di mare."
Sardinian cuisine is famous for its seafood, and this risotto dish is pinkish and comes loaded with goodies.
There will be a full shrimp on the top with its head, eyes, and legs on. If you're squeamish, you can ask them to "clean it," but be ready for the disappointed stare.
Remember there are about 20 different regions in Italy, which means this is just your taste in the Italian cuisines.
Enjoy exploring!
Non-Italian Food in Rome
Rome is a global city. With over half a million foreigners living in the city, it's no surprise that Rome has tons of great international restaurants.
Whether you have a craving for Indian, Mexican, or Ethiopian, Roma has got you covered.
For some delicious Indian food, head to Taste of India. The address is Via Principe Amedeo, 237. I would recommend ordering "biryani con agnello."
This is a rice dish with lamb. It has amazing flavors, and this place will have you go back for more.
Mexican food lovers will enjoy La Punta Expendio de Agave. The address is Via Santa Cecilia, 8. I would say check out the "tacos de picanha."
These are beef tacos, and they are delicious! Picanha is a type of beef steak cut from close to the romp area. It's juicy.
For some Ethiopian favorites, head to Asmara Restaurant. The address is Via Cernaia, 36. I would suggest you order "kitfo con injera."
This is a beef tartare dish. I asked, and the restaurant only serves fresh beef here, in case you're worried about the raw bit.
There you have it. International cuisine fixes in Rome!
Rome Food Tour
There are so many Rome food tours. This is a city where people really take their time with food, enjoy it, and share their love.
Some of my favorite food tours include Eating Europe, Withlocals, and one by Raphael Tours in Rome.
Eating Europe has a Rome food tour that you will absolutely love. They have been around since 2011, and one of my favorite tours with them is the Trastevere one. It takes around 4 hours to complete it and costs around $120, but it's so worth it!
Withlocals is another great tour. They have several, but I really like the one that lets you sample 10 tastings! It takes about 3 hours and costs about $140, which is a bargain for all the food you get to try!
Raphael Tours in Rome is another favorite. He has several ones to offer, but I really enjoyed the one with the Jewish quarter! It takes about 4 hours and costs around $90, and you won't be disappointed.
Of course, there are so many different Rome food tour individuals, agencies, and companies. If you want to explore more, just ask your hotel, and they will tell you.
Final Thoughts
Rome is the Eternal City for a reason. Even after several thousands of years, it keeps fascinating us.
Like many capitals in Europe, there is a local tradition of eating, which every traveler should definitely try to follow.
However, the Romans are really cool people, and they are open to national and international foods, too.
So, get out there and enjoy it!
AJ Paris is a travel photographer based in New York. He is the editor of Caravanzers.
More Italian Food
Here are more articles: