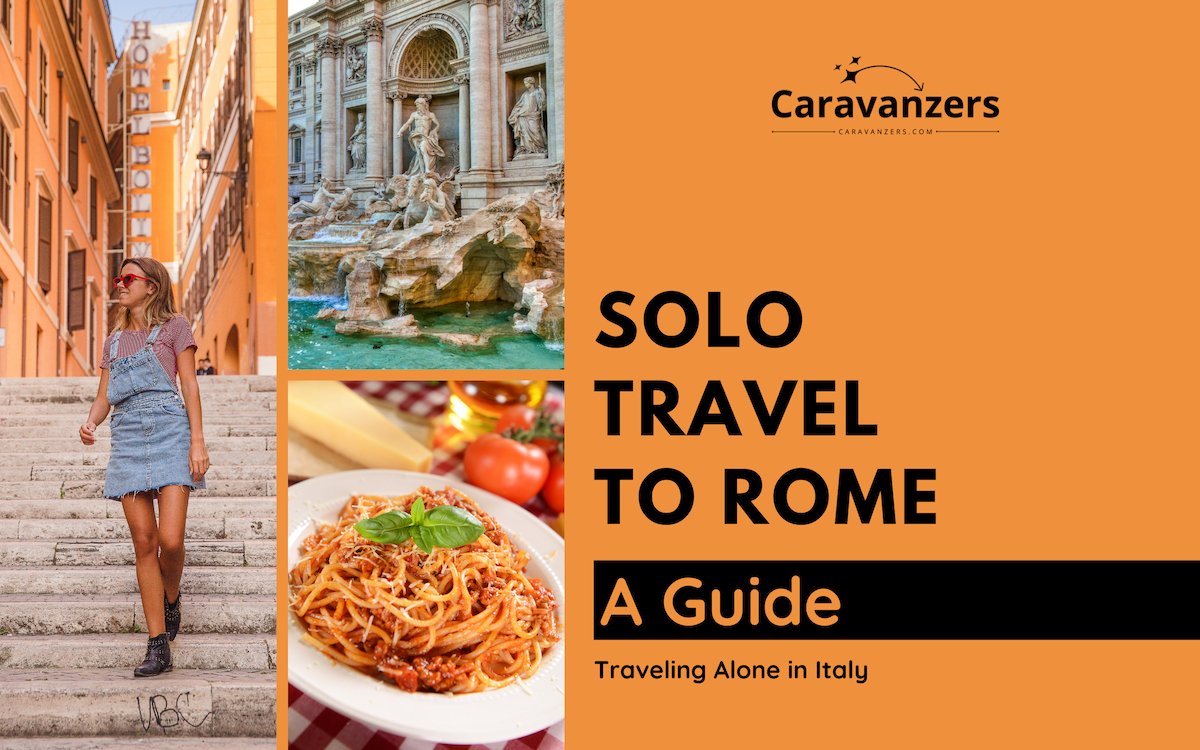 If you're looking for an incredible trip to a historical city, come solo travel to Rome! Here's a guide to discovering the Italian capital all by yourself.
Rome is one of the oldest cities in the world. It's filled with tourist attractions like the Colosseum, Vatican City, and the Trevi Fountain.
Naturally, it has become one of the most visited cities in our world today, consistently outranking many other European capitals.
So, what's included in this guide? Everything from how to prepare to where to stay, what to see, and even what to eat!
Of course, I also talked to other solo travels to get you the most relevant Rome information.
Let's go!
Introduction to Italy
Italy is a beautiful country with a rich history. It's one of the most popular tourist destinations in the world, and there is a lot to see and do.
This country has a lot of places to visit, including Rome, Milan, Venice, Florence, and Bologna.
If you are traveling solo, you will learn a lot about the culture and the people. It will be an unforgettable trip that you will always remember.
And that is exactly why Italy was one of my top destinations for solo travelers.
With 20 regions, there's something for everyone.
You can think of the country as north, central, south, and islands.
The north is home to cities like Milan and Venice. It's typically colder, and the north tends to be economically better off.
Italy's central area is known for its history and culture, including the famous Rome. This part of Italy is warmer, and it has a lot of workers.
The south is full of beautiful beaches and unique cultures. However, it tends to be poorer, too.
The islands offer a relaxed and laid-back lifestyle. However, when the tourist seasons die, the islands tend to get boring.
You can easily find your niche in Italy, whether you're looking for adventure, relaxation, or something in between.
Italy is part of the European Union, meaning once you arrive in the country, you won't have to "cross" the border if you decide to visit other areas.
Nearby countries of interest include France and Spain––and these two are some of the top tourist countries in Europe, too.
Now, let's get to know Rome a little more…
Rome Solo Travel Guide
Rome is a great city for solo travelers. There are a lot of tourist attractions, so you'll never get bored. It's also safe, so you don't have to worry about your safety.
Traveling in Rome is also very affordable, so you can save money while you're there.
And finally, Rome is a great place to meet new people. You'll quickly make friends with other travelers and locals alike.
Two airports serve Rome. Leonardo da Vinci International Airport in Fiumicino is the main one. Its IATA code is FCO.
This airport is simply called Fiumicino, and it's about 20 miles outside of Rome. However, it's the best airport to fly into. It has the easiest access to Rome.
Then there's Ciampino, which is an airport that's about 12 miles away from Rome's city center.
For the average traveler, Ciampino will have you take a bus to a train station and from there to the city.
Meanwhile, Rome's currency is the Euro, and the city is on Central European Time, which is about GMT+2.
Coming up are some answers to urgent questions.
Rome is Safe for Solo Travel
When tourists travel to a new city, safety is often a concern, and Rome is no different. However, you don't have to worry.
Is Rome safe to travel solo? Rome is a safe city to travel solo. The most important safety feature in Rome is the presence of police officers and security guards. There are also plenty of public transportation options, so you can avoid walking alone at night. Rome is safe.
"As far as large capital cities are concerned, Rome is no more dangerous than London, New York, or Paris," says Erica Stewart, the author of Rome.
Although the city has petty crime like most major cities, you'll be able to enjoy all that Rome has to offer without having to worry about your safety.
Rome is Perfect for Solo Travel
Just because a city is safe doesn't mean it's good for solo travelers. However, Rome isn't one of those.
Is Rome good for solo travel? Rome is good for solo travel. There are many reasons why this is the case. For example, there are plenty of things to do and see that can be enjoyed alone. The city is probably one of best solo travel destinations in Europe.
The city is full of historical landmarks and artistic treasures that can be appreciated without company.
Additionally, there are plenty of restaurants and cafes where solo travelers can enjoy a meal or a drink.
And finally, because this is a city where unmarried adults often live at home with family, Rome allows solo travelers to feel comfortable.
Rome is Affordable for Solo Travel
Now that you know it's both safe and good for solo travelers, you're probably wondering what it would cost to go there, right? Well, I got you.
How much does a solo trip cost? Rome is a city that has something for every budget, so it's possible to visit the Italian capital on a solo trip for less than $1,000 per week on average. Of course, you can go much higher and a lot lower, too.
There are a lot of great reasons to visit Rome, and one of them is that it can be relatively inexpensive compared to other destinations.
There are plenty of budget-friendly options for airfare, hotels, and food, so you will find something that works for you.
Of course, how much you'll spend will depend on your personal travel style and what you want to do while you're in the city.
But with a little planning, it's definitely possible to have an amazing time in Rome without breaking the bank.
There are hostels that can cost less than $50 a night, as well as luxury hotels that cost thousands––just to give you an example.
With that out of the way, let's go find a place to stay in Rome!
Best Places to Stay in Rome for Solo Travelers
Rome is a beautiful and historic city that has something to offer everyone. When deciding where to stay in Rome, the best place for solo travelers is in the center of town.
In Italian, this is called "Municipio I." In it, there are 11 subdivisions, called "suddivisioni" in Italian. Within the subdivisions, there are 21 neighborhoods called "rioni" in Italian.
This is where most tourist attractions are, so you won't have to travel far to see them. It is also where most police are, so you will feel safe walking around by yourself.
There are plenty of hotels, Airbnbs, and hostels to choose from in this area, so you're sure to find something that fits your budget.
Best Hotels for Solo Travelers in Rome
Once you are in the city, you will want to find a good hotel.
Best hotels for solo travelers in Rome include Artromano, Flavia, and Romano. These are all in the center, and they are all affordable and perfect for those traveling alone.
Hotel Artromano is near the Central Station, which means your day trips from Rome are going to be super easy.
The staff at Hotel Artromano speaks English, and they're more than happy to help you with any needs that you might have.
Meanwhile, the rooms are clean and comfortable, and the rates are very reasonable at about $350 per week.
For a little more at $650 per week, head to Hotel Flavia. This is another hotel in the center, near the Church of Santa Maria Della Vittoria, and the staff speaks English.
Hotel Romano is another option. It will cost you around $850 per week, but it's also in the center, near the Colosseum.
At all of these hotels, you'll also have the opportunity to meet other travelers staying in the same place, which is great if you're looking to make new friends during your trip.
Best Airbnb for Solo Travelers in Rome
One of the best things about traveling solo in Rome is that you can stay with locals, thanks to Airbnb.
The best Airbnb for solo travelers in Rome includes Anna Maria's, Fausto's, and Francesco's. These are all super hosts that offer different prices in the city center.
Anna Maria's Airbnb is very close to the Spanish Steps. The place offers a private room with a bathroom for about $85 per night in the low season.
"I have chosen not to put TV in the room," she writes on the rental's page, noting because the city is too beautiful.
Fausto's Airbnb is near the Colosseum. For about $115 per night during the low season, you will have a nice private room in a cozy place.
However, Fausto's place isn't for budding chefs.
"Cooking is not possible," he explains on the rental page, saying that everything you need is nearby, though.
Francesco's Airbnb is near the Termini, the central station. It's another great unit, and it comes in at $125 per night during the low season.
Meanwhile, Francesco notes that there are several beds in this apartment. That means you could actually hook up with other solo travelers and pay less.
Airbnbs is definitely one of the greatest ways to get to know Rome, so don't be afraid to try it.
Best Hostels for Solo Travelers in Rome
If you're looking for a safe, affordable place to stay in Rome, then a hostel is a great option.
The best hostels for solo travelers in Rome include YellowSquare, RomeHello, and the Beehive. Because they are all top rated and in the city center, they're perfect places to stay.
YellowSquare is very close to the central station. The staff speaks English, so you won't have any communication problems. The cost for a bed at this hostel is about $50 per night, which is very reasonable.
RomeHello is another hostel near Termini, the main train station. The staff speaks English, and the cost is about $300 per week in the low season.
The Beehive is also close to the central train station. The staff speaks English, and the cost for the week is about $375 in the low season.
And, since these hotels all have dorm rooms, you'll have the opportunity to meet other travelers from all over the world.
Dining Alone in Rome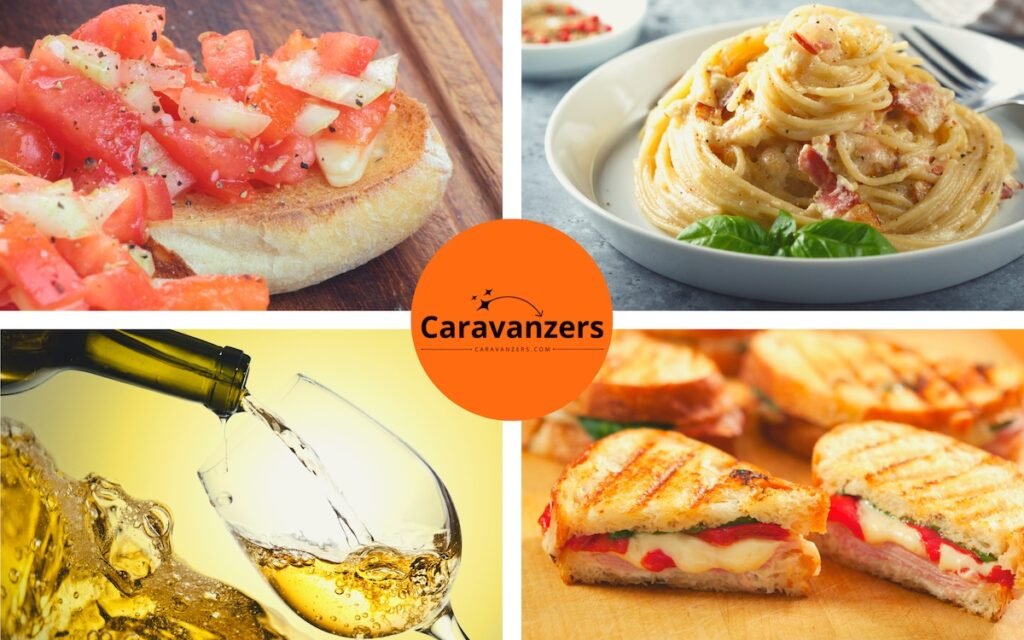 One of the things some people don't like is eating alone. And, of course, that feeling is even more stressful when traveling in a new city. So… the question is…
Is it weird to eat alone in Rome? Although Italians often eat in groups, it's not weird to be alone in Rome. In fact, if you're dining solo in Rome, there are a few things you can do to make the most of your experience. You've got options here!
For lunch, try to find a spot where you can mingle with office workers.
"Weekday is perfect," says Nina Walker, our food writer. "Italian workforce is out there, and you simply mingle."
This will give you a chance to meet new people and maybe even learn a thing or two about the city.
"Remember, lunch is the biggest meal of the day for Italians," says Walker.
In other words, set time aside for this. It shouldn't be a quickie. However, for quickie meals, head to a paninoteca, which is usually a place that has "panini imbottiti" or sandwiches.
If you're looking for a more uppity spot, try sitting at the bar booth. This will give you a good view of the restaurant and maybe even some of the people working there.
And finally, don't be afraid to eat on the streets. This is a great way to save money and get a taste of the local cuisine.
Italian Foods Perfect for Solo Travelers
There are plenty of Italian foods that are perfect for solo travelers. So, if you're traveling alone, you can easily order a few different dishes to try.
Some of my favorites include bruschetta, pasta carbonara, and tiramisu.
Bruschetta is the perfect in-between food when you're running around the city. Trust me, Rome will make you hungry!
So, just stop in any of the small places and order bruschetta. This is grilled bread, olive oil, tomatoes, and cheese––all perfect for giving you that boost of energy.
For something heartier, go for pasta carbonara. This Roman dish is light enough that it won't weigh you down, but it's filling enough to get you through the day!
Lazio has many popular white whines, but my favorite to pair with a carbonara is the chardonnay from Cantina Villafranca.
Finally, make sure to have some tiramisu with coffee in the late afternoon.
Another great thing about Italian food is that it's relatively inexpensive. So, you can save money by eating out instead of cooking while you're on vacation.
Nightlife in Rome
Believe it or not, Romans come alive at night. During the day, they may be hiding from the heat or working behind a desk.
When the sun sets, however, they head to the streets.
In fact, Italians have a word for this; la passeggiata. It literally means "the walk" in Italian.
This is an ancient tradition of going out into the city center for a walk after the sun has slowed down.
You will find many people going for dinner, enjoying dessert on the streets, and strolling around.
Although it's mostly families and couples, you can stroll in with the crowd because there are other singles, too!
"I'm single," says Stefano, a young man in Rome. "Of course, if I see a single girl, I will naturally smile," he adds.
So, it can be a chance to meet a local!
Meanwhile, there are many bars and nightclubs where being single is actually a perk.
For a woman, you will definitely find yourself guys buying you drinks all night, which can be economically savvy!
Some cool bars to grab a drink include Freni e Frizoni in Trastevere, Salotto42 near Campo de Fiori, and the French-inspired Chez Moi Rome near the Spanish Steps.
For dancing, head to nightclubs like Notorious near Palazzo Barberini, the gay spot Company Roma in Piazza Manfredo Fanti, and the fun Spazio Novecento near Obelisco di Marconi.
How to Get Around in Rome
There are several ways to get around in Rome as a solo traveler. The most popular options include public transportation, private car hires, and ridesharing apps.
Public transportation in Rome includes the subway, tram, and bus systems. These are great options if you're on a budget, but keep in mind that they can be very crowded during peak hours.
Private taxis or cars for hire are a more expensive option, but they can be more convenient, especially if you're carrying luggage.
Ridesharing services like Uber, Blacklane, or MyTaxi are becoming increasingly popular in Rome. They offer a convenient and affordable way to get around the city.
Taking the Subway in Rome
The Rome Metro is a great transportation option for solo travelers. With three lines and 77 stations, it's easy to get around the city.
It's also relatively cheap, so you can save money on other activities while in Rome.
Plus, with millions of riders, you're sure to meet some interesting people while riding the metro.
The two main lines (blue and orange) meet at Central Station (Termini), with the blue line going north-south and orange serving east-west.
At some point, the orange line connects to the green line, which goes even more east.
The metro stations have a giant red M, which stands for "Metropolitana."
To get around Rome, you will need a BIT ticket. BIT stands for "Biglietto Integrato a Tempo" or "Integrated Timed Ticket."
One ticket costs about $1.75 (€1.50), and a weekly one is about $30 (€24). There are also 24-hour, 48-hour, and 72-hour tickets.
You can purchase tickets from an app, automated machine, or by going to the window and getting it from an agent. All tourist offices will also be able to sell you tickets.
The metro is a great way to get around because you don't have to be stuck in traffic, which sucks in the morning and evening.
Rome Tours for Solo Travelers
If you're planning a trip to Rome and you're traveling solo, there are plenty of tour options available to help you make the most of your time in the city.
Walking tours are a great way to see the sights and get some exercise, while wine tours let you sample some of the local wines.
Social media buddies tours connect you with other travelers in Rome so you can explore the city together.
Whatever type of tour you choose, you're sure to have a great time in Rome.
So, let's explore some of these.
Walking Tours in Rome
There are plenty of options for solo travelers looking to explore Rome. Walking tours are available from the city, tech companies like Google, and self-guided ones. There are free and paid ones.
The city's official traveler information organization is Turismo Roma. They offer guidance in many areas, depending on your interest.
For example, they have a multifunctional space for tourists called Roma Free Lounge. The address is Piazza D'Aracoeli, 16––not far from the famous Piazza Venezia.
From the Roma Free Lounge, you will be able to get a free or a paid walking tour information.
Google Maps is virtually a great partner for walking around Rome. I really like the app version because it allows you to download the entire city and use it offline. That way, you won't have to depend on being online.
Finally, self-guided walking tours are deciding on your own what's important to you. For example, maybe you're into history and want to see the ancient sites, which there are plenty of.
On the other hand, maybe you love art and making your trips to the museums is more important to you.
Similarly, you might be into food, and trust me, there is so much food touring you can do in Rome!
In other words, no matter what you're into, there's possibly something you will love with a walking tour in Rome.
Rome Solo Wine Tour
Rome wine touring offers solo travelers the opportunity to explore the city's food scene, take half-day trips to nearby towns, and even day trips to other regions.
City food tours give visitors a chance to sample local wine and learn about the region's wine history.
Restaurants like Da Cesare al Casaletto, Ristorante Al Moro Roma, and Settimio al Pellegrino are all Roman favorites.
Half-day trips to nearby towns provide an opportunity to visit wineries and learn about the wine-making process.
Frascati Superiore is a winemaker that offers tourists a chance to sample regional wine. This family-owned business is in Frascati, which is about 20 minutes outside of Rome's city center.
Another great one is La Luna del Casale. What makes them great is that they make organic wine! This family-owned business is in Lanuvio, which is about 30 minutes from the center of Rome.
Finally, check out Donne del Vico. This is a little far, but it's only half a day. Donne del Vico is in Latina, which is about an hour and a half away from Rome's city center.
Day trips to other regions allow travelers to explore different parts of Italy and taste wines from different producers.
For those, you can plan a trip to Tuscany, for example, which means you will spend about 8 hours back and forth.
If you leave at 6 AM, you will return in time for dinner, even though you might be a little tipsy!
That said, you might consider spending the night!
Social Media Buddies Tour
If you're thinking about taking a walking tour of Rome by yourself, you may be wondering how you'll meet people.
Luckily, there are plenty of ways to connect with other solo travelers before your trip.
Facebook Groups and Twitter are great places to start. There are also many travel-related hashtags on Instagram that you can follow.
Once you're in Rome, don't be afraid to strike up conversations with people you meet along the way.
You might just make some new friends!
Meanwhile, there are Facebook groups where travelers and expats talk, meet, and have fun.
For example, if you're a female solo traveler, then the Ladies Social Club Rome Expats Facebook group will be perfect. They have social events, which are perfect for joining when you don't know anyone in town.
There are so many Rome groups on Facebook that you will definitely find your tribe.
Rome Shopping for Solo Travelers
If you're looking for some great shopping opportunities while in Rome, you won't be disappointed in this Italian city.
There are plenty of options for solo travelers, whether you're looking for Italian leather goods, souvenirs, or handicrafts.
"Try malls," says Lena Wilson, our fashion writer. "Young and single Italians love malls."
But if you want to do some serious shopping, I've got you covered.
Leather Shopping
When most people think of shopping in Italy, they think of the many Italian high-end companies like Gucci, Armani, and Prada.
Although it's true this country produces more top fashion brands than any other, Italy is actually good at making quality products.
One of those is leather!
Good news? There are so many stores selling Italian leather products, from handbags to shoes and everything in between!
Check out Sophia Roma (Via dell'Arco del Monte, 96), Mancini (Via della Palombella, 28), and Cuoieria Fiorentina (Via dei Due Macelli, 116/117).
If you start with Sophia Roma, you can walk up to Mancini and then Cuoieria Fiorentina––all done with a 30-minute walk!
Of course, between them all, you will find even more leather goods stores!
Souvenirs Shopping
And, of course, no trip to Rome would be complete without picking up a few souvenirs.
From Vatican-themed trinkets to Roman coins, you'll find plenty of options to take home with you.
Roma Imperium (Via di Sant'Andrea delle Fratte, 3), Amor Roma (Piazza Giuseppe Gioachino Belli, 9c), and Galleria Mariana (Via di Porta Angelica, 69) are all great choices.
The perfect Roman memorabilia is at Rome Imperium, which has cute little items. A bottle opener with the Italian flag? Why not!
Meanwhile, Galleria Mariana is right by the Vatican and has all the religious souvenirs you will ever need.
Handicraft Shopping
If you're looking for something truly unique in Rome, be sure to check out the many handicraft shops around the city.
You'll find everything from hand-painted pottery to finely crafted jewelry.
Studio Forme Roma (Via Santa Cecilia, 30/B), Percossi Papi (Via di S. Eustachio, 16), and Pinocchietto (Via del Lavatore, 93) are all great places.
For the best ancient-inspired ceramics and glass, Studio Forme Roma is truly a place you don't want to skip.
If you're more into gorgeous and handmade jewelry, Percossi Papi is the spot.
And for those of you who have kids or want to bring goodies back to kids, Pinocchietto is the place. Their handmade toys will make any kid smile!
Rome Day Trips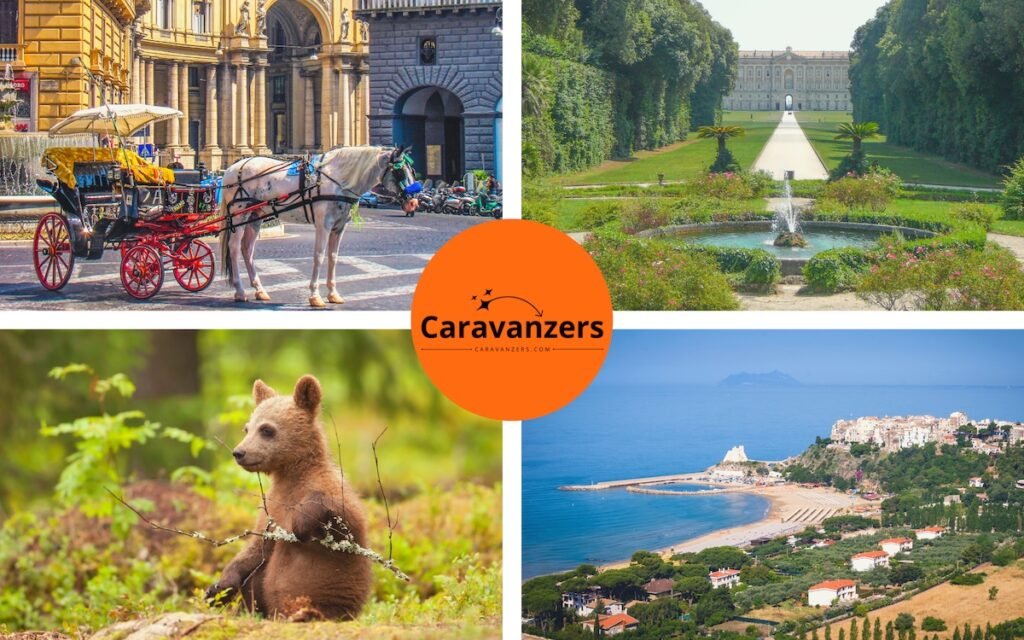 If you're visiting Rome and looking for some great day trips to take, consider heading to some of Lazio's great attractions.
"Many people don't realize there's so much here," says Amanda, a British expat in Rome.
With 6,657 square miles (or 17,242 square kilometers) area, the region is pretty big.
Meanwhile, Lazio is central, which means you may have equal distances to other regions, too!
"I spent a day in Naples, and I thought it was amazing," says Jeff, an American traveler.
So, let's explore some of these!
Lazio Day Trips
Lazio has plenty to do, but my favorites include a visit to Bracciano Castle, a hike in Monti Simbruini Park, and some sea fun at Sperlonga Beach.
These destinations are perfect for solo travelers as they offer plenty of opportunities to explore and take in the sights.
If you want to discover the gone-by traditions of Lazio, head to Bracciano. Castello Orsini-Odescalchi is its castle, and it will give you a feeling of being back in the medieval era.
Monti Simbruini Park is a great place to hike and take in the stunning views of its many valleys. It's also a great place to see the famous Marsican brown bear.
And Sperlonga Beach is perfect for a day of sunbathing, swimming, and people-watching.
Other Regions for a Day Trip
Lazio is a region with many great neighbors. To the north, there are Tuscany, Umbria, and Marche.
And to the south, you have Campania, while the east gets you Abruzzo and Molise.
My favorite day trip to other regions from Lazio is Campania! In this region, you will get to visit Naples, Pompeii, and the Royal Palace of Caserta.
Naples is a beautiful city with a lot to do! A 90-minute train ride will get you there, and there's so much to explore!
Pompeii is a UNESCO heritage site that you really should go check out. A 30-minute train ride from Naples Central Station (Napoli Centrale) will get you there.
If you prefer, you can get a 2-hour train from Rome to Pompeii, as well.
Finally, a 1-hour nonstop train ride from Rome to Caserta will lead you to one of the most beautiful royal places in the world!
If you prefer, you can get a 40-minute train from Naples to Caserta, too.
Meanwhile, if you want to explore another region, just ask your hotel or tour guide, or even the city's tourist office.
Solo Travel to Rome – An Example
Tina started planning her Rome trip six months before she went there, which she says was as soon as she decided on going to the Italian capital.
"Before that, I wasn't sure if I was going to Madrid or Paris instead," she explains.
Thanks to her quick decision, though, Tina was able to find cheap tickets and great rates for hotels.
She also did a lot of research on the best places to see and things to do in Rome, deciding to go the artsy route for her first trip.
"I knew I had to pick one type of travel," Tina says. "I've always been into the arts, and that really helped me to narrow down what I'd want to see."
So, long before her flight to Rome, Tina already knew what some of the sites she wanted to visit, including famous museums like the Vatican, were.
When she arrived, she was not disappointed. Tina was able to see all of the sights she had planned on seeing and more.
She even got to try some authentic Italian food, and she credits falling in love with white in Rome.
"I never was into them, but my trip helped me to try it since it was everywhere," she says, laughing.
Tina had an amazing time on her trip and would recommend it to anyone looking for a great solo travel destination.
Since she was a first-time solo female traveler, Tina has some suggestions for others…
Flight Tips for Solo Female Travelers
When you're booking your flight, make sure to choose an aisle seat, says Tina.
Aisle seats give you the freedom to get up whenever you want.
Sadly, she didn't, and she says she had to go around this guy when he would pretend to be sleeping, and she thinks he was a creep.
Yeah, ladies! It starts on the flight.
Hotel Tips for Solo Female Travelers
Tina says to book a hotel that isn't far from a police station.
If that isn't possible, then make sure it's on a major road, she adds.
Sometimes, the more a hotel is far from the main drag, the cheaper it is.
You want to be able to go out for dinner, for example, says Tina, reminding you that it isn't always about "going out"––sometimes, it's the necessity.
So, that means picking a hotel in a safe neighborhood, near a police station, and on a prominent road.
Socializing Tips for Solo Female Travelers
Tina says not to trust anyone you meet on the trip, no matter how nice they sound.
And that includes other female travelers.
"I'm not saying be rude, but just be cautious," she explains.
If someone wants to go to an offbeat place, don't do it. If you have to do it, then make sure your hotel knows it, and that traveler knows you told the hotel about it!
This is because female trafficking is a huge problem, and they often use other women to lure victims.
Tourism Tips for Solo Female Travelers
Tina says not to try to think "outside of the box" when it comes to being a solo traveler.
Get a reputable guidebook, make sure to follow your country's recommendations, and don't "explore" beyond what is already encouraged.
If you follow those rules, the chances are you are going to limit the possibilities of you becoming another victim.
Solo Travel to Rome – Final Thoughts
Rome is one of the most popular tourist destinations in the world. People visit Rome for its rich history, beautiful architecture, and delicious food.
Rome is also a great place to shop for souvenirs and gifts.
In this guide, you had the opportunity to learn everything to have a great time on your solo travel to Rome!
You learned how to find great food and hotels, nightlife adventures, and even ventured out of the town.
So, you probably feel like you got a real sense of the city and its people without even arriving, right?
Yes, you're going to plan and enjoy the trip of a lifetime to Rome!
AJ Paris is a travel photographer based in New York. He is the editor of Caravanzers.
More Solo Travel
Interested in Solo Travel? Here's More: