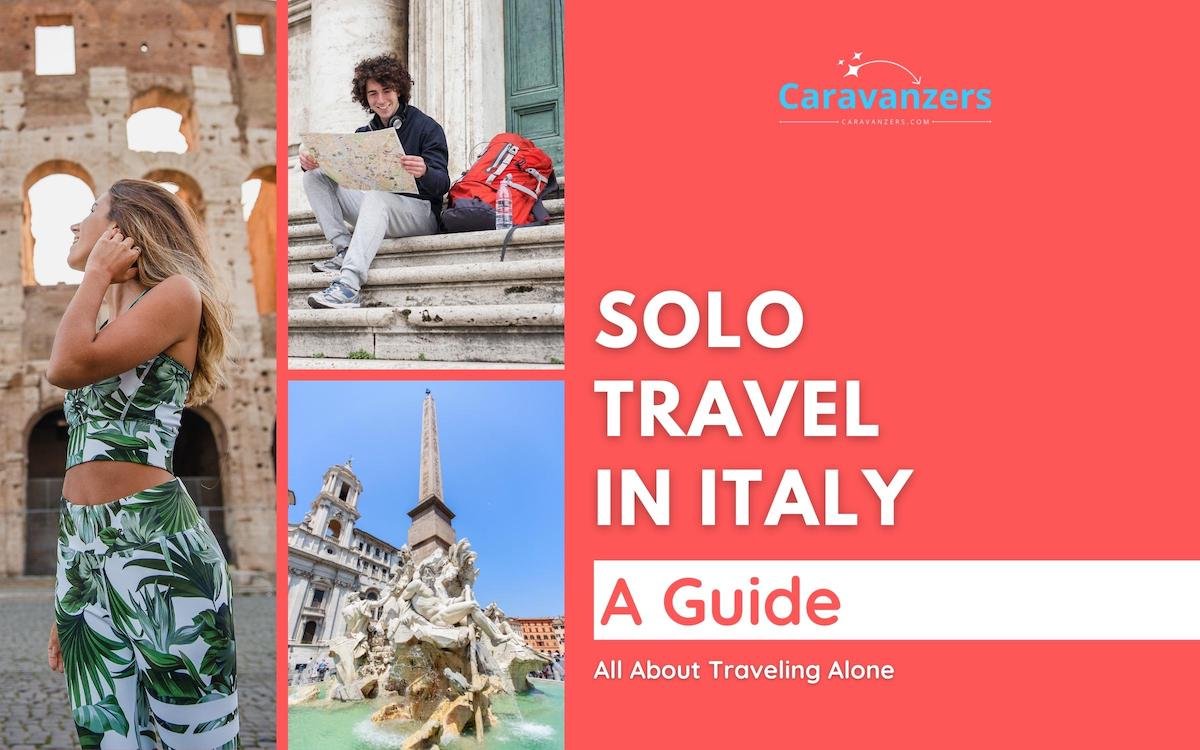 From big cities to rolling hills in the countryside and even islands, solo travel in Italy gives you a lot to choose from.
There's a reason why Italy consistently tops the list of best countries to visit. This country is beautiful and has an incredible history.
Imagine walking around Rome, sleeping in villages in Tuscany, or swimming in the warm waters off the islands.
Yes, Italy is amazing, and this article will show you how to go and enjoy it all by yourself!
Video – Solo Travel in Italy
Italy Travel Basics
Italy is a beautiful country with a rich history. If you're planning a trip to Italy, there are a few things you need to know before you go.
The country is in the European Union and uses the Euros as its currency. However, most of its bank ATMs will accept non-Euro bank cards, giving you a chance to withdraw money conveniently.
It uses the Central European Time or CET, which is GMT+2. That's about six hours ahead of Eastern Standard Time.
Italy has about nine international airports, including those in Rome, Milan, and Naples.
This country is equipped with state-of-the-art traveling facilities, including buses, trains, and local flights.
Tourism is huge in Italy, accounting for about 15% of the workforce.
Is it Safe to Travel Alone in Italy?
Thanks to the entertainment industry, a lot of travelers know about the Italian Mafia and think Italy isn't safe.
Italy is a safe country to travel alone in. It ranks very high on the Human Development Index or HDI at 29 and has a low crime rate. In 2021, for example, Italy saw less than 300 murders in a 60-million population.
Additionally, Italy is much safer than most developed countries, including the United States.
Because the tourism industry brings so many economic benefits to the country, Italy has always taken travel safety seriously. There are many layers of law enforcement trained to prevent crime against tourists.
So if you're looking for a safe place to travel, Italy should be at the top of your list.
Popular Solo Travel Destinations in Italy
Italy is a beautiful country with many different attractions to explore. Whether you want to experience city life or take in the beauty of the countryside, there are plenty of places to solo travel in Italy.
Italian villages are often thought of as picturesque, peaceful, and romantic. They have a certain charm that is hard to replicate in other places.
"The villages are small and intimate," explains Giovanni, a local tour guide. "You can walk around them without feeling suffocated by the crowds."
This is so true!
Of course, some people like going to the cities. Italian cities are popular destinations for solo travelers because they offer a lot of culture and history.
The architecture is beautiful, and the people are friendly. Many of the city's attractions are free to visit, and there are also a lot of restaurants and bars where you can have a drink or eat a meal.
"Cities give you a feeling of being in the moment," says Giovanni. "There will never be another Rome, so it demands your entire attention."
Meanwhile, there are those that like islands, too. Italian islands are popular for a reason – they offer a unique and beautiful experience that is hard to find elsewhere.
So, let's look at these options more closely.
Italian Villages to Visit
In every region, there is always that one village that solo travelers love.
If you're looking for a stunning Italian destination to explore on your own, consider spending some time in a village.
On top of having a relaxing time, you will also get to know a real, local community.
Some of my favorites are Portofino, Bosa, and Tropea.
Each village has its own unique charm and attractions that are sure to delight the tourist in you.
Portofino is part of the string of beautiful coastal villages in Cinque Terre, in Liguria. This town has beautiful and colorful buildings.
"I feel right at home here," says Tom, a traveler from London.
Yeah, Portofino is the quintessential Italian Riviera spot to unwind.
Bosa is on the gorgeous island of Sardinia. It's a historical town that dates back to the Phoenicians.
A great place to get a fantastic view is the Castle of Serravalle. The medieval castle is open to tourists.
From there, the colorful homes, the town, and the sea all look magical.
Tropea is in the Calabria region and has picturesque coast with crystal clear water.
One of the beautiful things about the town is that its historic neighborhood is on top of a cliff.
From there, you get unforgettable views of the world below.
Italian Cities to Visit
There are many famous Italian cities to visit for solo travel. Some of the top choices include Rome, Florence, Venice, Milan, and Bologna.
Each city offers its own unique attractions and experiences that are sure to delight any traveler.
If you're looking for a location with a rich history, then Rome is an excellent choice. It's home to some of the world's most famous landmarks, including the Colosseum and the Vatican.
Florence is another top pick for visitors who want to see some of the best art in the world. Its museums are full of priceless sculptures and paintings.
Venice is known for its canals and gondolas, while Milan boasts some of the world's most iconic shopping districts.
Bologna is an excellent choice if you're looking for a relaxing vacation escape. Its historic center is full of charming restaurants and cafes.
Italian Islands to Visit
Italian islands offer a relaxed and beautiful environment for travelers looking to explore by themselves.
Although the country has many islands, there are three I think you can add to your list. These are Sicily, Sardinia, and Elba.
Sicily is the largest island in the Mediterranean Sea and is home to beautiful beaches, exciting history, and vibrant cities. With its Arabic influence, this is a distinctly different region to visit in Italy.
"I was able to visit all of the seven UNESCO World Heritage Sites," says Adriana, a traveler from Madrid.
Adriana says Mount Enta was her favorite. This is one of the tallest active volcanos in Europe.
Sardinia is full of crystal-clear waters, lush mountains, and charming villages. With nearly 10,000 square miles, this is a rather sizable island… and a tiny bit smaller than Sicily. Its capital is Cagliari, which is one of the best cities in Italy to visit.
"My family and I come here every summer," says Alessandro, a traveler from Venice. "It's warm," he adds. "And it's still in Italy."
Elba is a Tuscan island that solo travelers love for its dramatic cliffs and misty valleys. History buffs will love it as a place where Napoleon was exiled for a few years.
Italian islands offer solo travelers a lot. You just need to investigate.
Solo trip to Italy cost
As a top travel destination, Italy has many levels of tourism, which means there are also many budget types available.
Generally speaking, $100 USD per day is enough to enjoy Italy, especially if you booked it in advance. That should allow you to stay in a moderate hotel, eat okay, and visit top attractions.
However, you can go higher and lower than that. For example, there are hostels where you can find a bed for about $10 per night if you book in advance.
On the other hand, Italy also has some super-luxury travel experiences. There are villas you can rent for about $100,000 per night.
If you're willing to fly coach, stay in a 3-star hotel, and eat at regular restaurants, you can book a 21-day trip to Italy and spend less than $5,000 on your entire trip, including airfare and hotel.
Example Budget Solo Travel in Italy
If you're looking to explore Italy on a budget, but don't want to compromise on quality or enjoy the company of others, then you should consider booking a flight through Skyscanner.
This low-cost airfare finder can get you cheap flights from major US cities, and you can often pay less than $200.
For example, a flight from New York City to Rome in mid-October will cost around $165 one way.
With your flight in hand, head onto Booking.com and grab a bed at Sunshine Hostel in Rome. A 7-night stay at this place will cost you around $110 in the fall or spring. Sunshine Hostel is in the city center, about a 20-minute walk from the famous Colosseum.
If you don't want to share a room at a hostel, head to Hotel Patria and pay $75 a night. This hotel is in the city center, too.
Meanwhile, you can find delicious food in Rome for very cheap. For example, you can eat pasta at Pastificio Guerra for $6 (the local price is €5) per plate.
Eating in Rome shouldn't have to cost more than $30 per day, including a nice glass of wine with your dinner.
Rinse and repeat the same in Naples and Milan, flying back home for about the exact cost.
You'll be able to see all of the beautiful sights without having to worry about spending too much money, and who knows – you might even make some new friends along the way!
Final Thoughts
Are you ready to book your ticket and explore the best solo travel in Italy just yet?
Of course, you are!
Italy is an incredible country to visit for anyone, but I do think solo travelers enjoy it the best.
You will get to explore the land, get to know the people, and enjoy the culture.
And the best part? You don't have to "coordinate" with anyone; you will be free as a bird!
Benvenuto in Italia!
AJ Paris is a travel photographer based in New York. He is the editor of Caravanzers.
Follow us on Pinterest.
More Solo Travel
Interested in solo traveling? Read more: