Solo travel to Florence to experience one of the most artistic cities in the world. Tuscany's capital is also known for its rich history, culture, and contribution to modern Italian life.
When exploring Florence on your own, you'll have the freedom to go at your own pace. This means you will get to choose what you want to see and do.
You can also take advantage of all the great restaurants, cafes, and bars the city has to offer.
A solo trip to Florence is an unforgettable experience, and this guide has got everything you need.
From when to go to where to stay and what to do, I've got the details to make your trip a rich experience.
Let's go!
Florence Solo Travel Basics
Florence dates back to the Roman Era, about the 1st century BCE. It was supposed to be a military colony, but it has proved unique in history.
Over time, Florence has had many identities, including being the capital of Italy in the 1800s. And it was later one of the richest cities in Europe.
Florence is an important city in Italy because it was the birthplace of the Renaissance. The Renaissance was a period of great cultural and artistic achievement.
Many of the world's greatest artists and architects, such as Leonardo da Vinci and Michelangelo, came from Florence.
Today, the Tuscan capital is also respected as the city that has given birth to many of the world's top luxury fashion houses. Brands like Gucci, Cavalli, and Ferragamo are all from Florence.
Is Florence Good for Solo Travel?
Like many destinations around the world, Florence is a place that may not appeal to everyone. As a result, it's natural to wonder if it's even worth it.
Is Florence good for solo travel? Florence is perfect for solo travel. There are many reasons to consider solo travel to Florence. For one, this is an incredibly rich and vibrant city with a wide array of historical and cultural attractions. Plus, it's easy to explore on your own.
Although it can be overwhelming to take all in, going solo is the perfect remedy for this.
It means that you can go at your own pace and really take the time to immerse yourself in everything that Florence has to offer.
Plus, with its convenient location in the heart of central Italy, Florence makes a great base for exploring this part of the country.
Is Florence Safe to Travel Alone?
Safety is important when we travel because it can help us avoid potentially dangerous situations. And, of course, not all destinations are created equal.
Is Florence safe to travel alone? Florence is relatively safe compared to many other Italian cities. This makes it a great option for solo travelers who might feel nervous about venturing out on their own. By being aware of your surroundings and taking precautions, you can reduce your risks.
When traveling solo in Florence, it's important to be vigilant and take extra care to protect yourself in tourist areas.
Sadly, like many major cities in Europe, Florence attracts a large number of poor people. Some are beggars, and some end up becoming petty thieves.
Keeping your belongings close to you at all times, avoiding isolated areas, and being cautious when meeting new people are all good practices.
That said, this is one of the safest cities in Europe. So, be careful but enjoy your trip!
How Many Days is Enough for Florence?
As travelers, we always want to make sure we plan our trips to the dot. Although this is generally a good rule of thumb, some cities require more days than others.
How many days is enough for Florence? While it's possible to see some of its major attractions in two to three days, I recommend spending at least five days in Florence. This will give you enough time to really explore the city and see most it has to offer.
Remember, you will visit Florence for Renaissance art, architecture, food, and more. Each of these takes time.
For example, you could spend several days going through art galleries and museums.
Likewise, you could spend a day checking out some of its architectural wonders.
Similarly, you can easily go through several days of trying out some of its popular foods.
So, take your time and really enjoy Florence.
When to Go to Florence
Summer is the best time to visit Florence solo. The weather is warm and sunny, making it ideal for exploring the city on your own.
However, it's also the busiest time of year, so be prepared for large crowds––not to mention pricey fees.
Shoulder seasons (spring and fall) are also great times to visit. The weather is pleasant, and there are fewer tourists.
Remember that Florence is inland, which means you will expect rain because the land is between two bodies of water.
That means shoulder seasons will be wet. November is probably the month with the most rain when nearly 30% of the month is rainy.
In other words, pack for a wet solo trip if you happen to go on shoulder seasons.
Winter is not the best time to visit Florence, as many attractions aren't fun. However, if you're only interested in visiting museums, then winter can be a good time to go.
If you love Christmas, winter is also a great time to visit. The city has a charm to it during the holidays that you certainly won't feel in the summer.
So, decide when you want to go and plan for it!
How to Get to Florence
There are several ways to get to Florence. For the sake of point of interest, let's say you're going from Rome. The most direct route is by car, which takes about four hours.
Of course, you could cut down about thirty minutes if you don't stop at all, which is really not easy.
This part of the country is beautiful!
You can also take a train from Rome, which takes around 90 minutes. The type of trains that go to this area is very relaxing.
If you're looking for the quickest option, there are flights available that take just an hour. You will feel like the plane took off and landed––very quick.
Florence has its own airport.
Meanwhile, there are European flights and trains that go directly into Florence, especially during the high season.
For American travelers, you will typically have a stopover in a major European airport. For example, Lufthansa will stop in Frankfurt, and KLM will stop in Amsterdam.
It's usually the same for the rest of the world.
No matter how you choose to travel, you'll be able to enjoy the beautiful scenery of central Italy along the way.
Where to Stay in Florence
Florence's historic center is the best place to stay. The area is called "Centro Storico" or "District 1" (Quartiere 1). It's a UNESCO World Heritage Site because it contains many incredible attractions.
Of course, this is the most expensive area of the city, too.
There are plenty of hotels to choose from, depending on your budget. The luxury hotels are located near the Duomo and Piazza della Signoria.
Hotel Lungarno, Palazzo Vecchietti, and Palazzo Portinari Salviati are all luxury places to stay. These will generally go for $500 or more per night.
The moderate hotels can sometimes be a bit further away from these attractions, but you'll still be within walking distance of them.
Hotel Torre Guelfa, Firenze Suite, and Hotel Pierre are all moderately-priced. They're usually less than $500 per night.
The budget hotels are located in less touristy areas, but you can still get around easily by bus or taxi. For example, there are usually less than 5 hotels that you can get for $75 or lower in the city center.
Horto Convento, Hotel Arcadia, and Hotel Masaccio are all budget hotels for less than $150 per night.
Hostels and Airbnbs are also available, but they tend to be located in the more residential areas outside of the historic center.
Santa Monaca Hostel, YellowSquare Florence, and PLUS Florence are places where you can get a bed for less than $75 per night.
I know you will find a great place to stay to enjoy your solo travel to Florence!
What to Eat in Florence
Florence is a great place to sample the food of the region. As the capital of Tuscany, the Florentines are proud of their city and cuisine.
What foods is Florence famous for? The most popular dish is bistecca alla Fiorentina, a steak served with a Tuscan-style sauce. Another favorite is pappa al pomodoro, a bread soup made with tomatoes. For dessert, be sure to try cantuccini, biscotti dipped in Vin Santo, a dessert wine.
Bistecca alla Fiorentina is something you don't want to miss, says Nina Walker, our food writer.
"It's a sirloin and usually has the bone in it," she explains. "However, it's a delicious steak you simply must try.
Like many Italian cuisines, Florentine cuisine is very regional. Pappa al pomodoro soup is a good example.
"This is a region known for its use of bread," Nina says. "So, it's no coincidence that the locals invented a soup in which you repurpose leftover bread!"
Finally, Nina recommends ending your meal by ordering some cantucci with Vin Santo wine.
"It sounds crazy, but it's really delicious," she says.
Of course, national Italian dishes like pasta and pizza are also plentiful in Florence. There are many wonderful restaurants to sample them.
Likewise, there are tons of international cuisine spots to get your Chinese, Indian, and Mexican fix.
Things to Do in Florence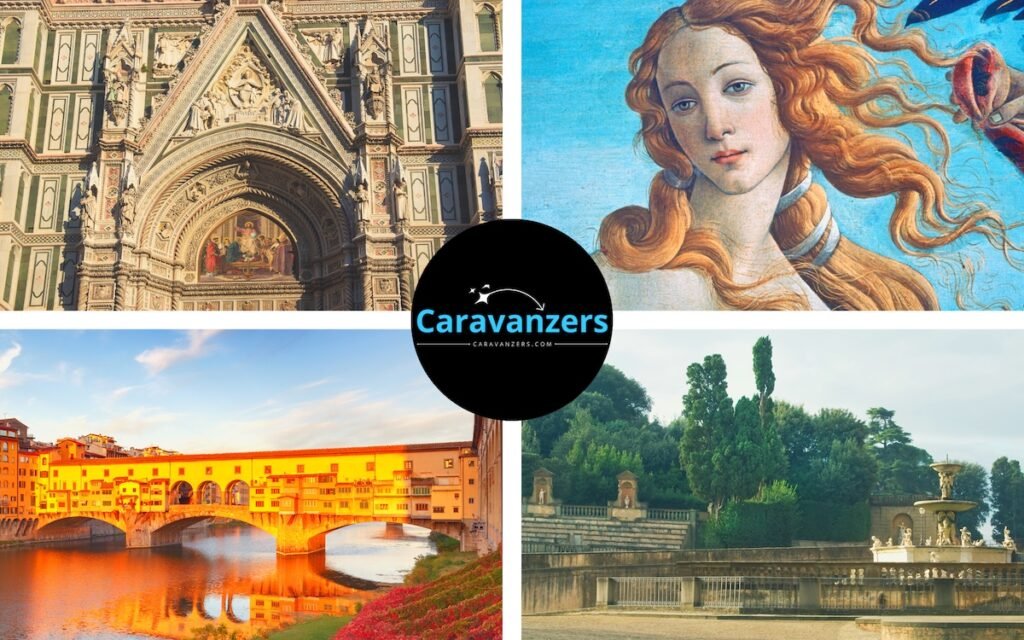 If you're looking for things to do in Florence, you won't be disappointed. The city is home to some of the most iconic Renaissance art, including Michelangelo's "David."
You can also visit ancient buildings like the Florence Cathedral and the Palazzo Vecchio. The atmosphere will transport you back to the past.
And if you're feeling fancy, why not window-shop at luxury brands like Gucci and Cavalli?
Whatever you choose to do, you're sure to have a memorable experience in Florence.
For my favorite spots, I will start with architecture, then places to see art, and finally, other attractions.
Cathedral of Santa Maria del Fiore
The Cathedral of Santa Maria del Fiore is a must-see for anyone visiting Italy. The cathedral is located in Florence, and it is the third largest church in the world.
"I was blown away by this church," says Adrian, a tourist from Spain. "There were so many emotions I felt. It's a powerful place."
When it was completed, the cathedral was really an impressive thing. It's a beautiful example of Italian Gothic architecture.
Of course, the inside of the cathedral is just as impressive as the outside, with its many intricate sculptures, frescoes, and mosaics.
Visitors can even climb its 463 steps to the top of the cathedral for a stunning view of the city.
>> Learn more about this church, including getting tickets, at its website.
Palazzo Vecchio
The Palazzo Vecchio is a medieval palace in Florence. It's another Gothic structure and was completed in 1314 AD.
It has been the seat of government in Florence for centuries. Today, it's a museum that welcomes travelers from all over the world.
The Palazzo Vecchio is worth visiting for its architecture, art, and history.
The palace has a beautiful exterior and an impressive interior. It is decorated with many works of art, and it contains a lot of historical significance.
For example, the Equestrian Monument of Cosimo I will welcome you. It's a bronze statue completed in the late 1500s.
Ponte Vecchio
The Ponte Vecchio is a very cool bridge over the Arno River. It's notable for being the oldest bridge in Florence, as well as for the shops that are built on it.
It was completed in 1345 AD, and its name means "Old Bridge."
With about 105 feet (32 meters) wide and 98 feet (30 meters) long, it's an impressive sight.
Meanwhile, the shops make it a popular tourist destination, as does its location near other attractions such as the Palazzo Pitti and the Uffizi Gallery.
Statue of David
The Statue of David is a world-renowned sculpture located in Florence. It was created by the Italian artist Michelangelo between 1501 and 1504.
As a Renaissance piece, the statue is more than a life-size representation of the Biblical figure David. Measuring 17 ft (517 cm) by 6.5 ft (199 cm), this is a massive sculpture.
The statue has been on display at the Accademia Gallery in Florence since the 1800s. Visitors to the gallery can view the statue up close and admire its intricate details.
Meanwhile, there are second and third replicas, meaning you will have plenty of time to encounter it!
Piazza della Signoria is home to the second replica, while you will find the third at Piazzale Michelangelo.
>> Visit the Accademia Gallery's official website for opening hours, tickets, and more.
Uffizi Gallery
The Uffizi Gallery is a world-renowned art museum located in Florence. It's probably the most important museum in all of Italy.
With a large collection of Renaissance artwork, including paintings by Leonardo da Vinci, Michelangelo, and Botticelli, it's an art lover's paradise.
If you saw the Statue of David at Accademia Gallery, then you will visit Sandro Botticelli's Birth of Venus at Uffizi.
It's hard to imagine a city that has more iconic art pieces than Florence.
>> Visit the Uffizi Gallery's official website for opening hours, tickets, and more.
Musée Salvatore Ferragamo
Although housed in a 13th-century palace, the Salvatore Ferragamo Museum is very modern. It's dedicated to the life and work of the 20th-century Italian fashion designer.
With thousands of shoes, images, and memorabilia, this is a great place to visit to really appreciate why Italian design is loved the world over.
Ferragamo died in 1960, but his vision of quality is unmistakably Italian. And what this museum does is give you a chance to really see how Italy is more than ancient things.
>> Visit the museum's website to learn more about exhibitions, visiting, and more.
Giardino di Boboli
The Giardino di Boboli are gardens clustered in a park on the other side of the Arno River. It's the perfect place to sit and think about how much Florence has given us.
As you walk through the park, you will certainly encounter mini gardens within it.
And, of course, you won't miss the fact that many other European gardens were inspired by this place, which has been open since the 1700s!
Tourists will need to pay €10 (about $12), but the locals can enter for free.
Solo Travel Florence Example
Mary Ann loves art so much that she studied it in college. The American traveler has been making solo trips around the world.
When it came to her solo travel to Florence, Mary Ann knew she would want to go in the summer.
"I booked my July flight the November before," she says. "I finalized my hotels in January. Everyone thought I was crazy, but I had done my research and knew to get it done ahead of time!"
In fact, some of the new friends she made in Florence said they ended up paying nearly double simply because they waited until April.
About two months before Mary Ann arrived in Italy, she purchased several books, including an entire travel guide on Florence.
"I also bought books on artists I wanted to see," she says. "My book on Michelangelo really paid off because I was able to track every piece!"
By the time Mary Ann landed in Paris (she had flown with Delta, serviced by Air France), this solo traveler was ready for her trip.
For the three weeks she spent in Florence, Mary Ann says she had a blast.
"Waking up every day in Florence was like a dream come true," she says. "I did everything and was always exhausted by the evening."
Of course, that meant she was able to rest perfectly every night.
The best tip Mary Ann has for you is to book your flight and hotel in advance.
Final Thoughts
If you're considering a solo trip to Florence, I say go for it! I visited the city myself several times and always had an incredible time.
Florence is a great city to visit for any solo traveler. I loved being able to explore the city at my own pace and discover all its hidden gems.
I can't wait to go back!
For this guide, I provided tips on when to visit, how to get there, and what to do while you're there.
I even included a story from another solo traveler.
I hope you enjoy your time in Florence!
AJ Paris is a travel photographer based in New York. He is the editor of Caravanzers.
More Solo Travel
Here are more articles for you: