Solo travel to Venice and experience one of the most interesting cities in the world. This Italian destination has something for everyone.
With its famous canals, old art, and a unique setting, Venice has lured legions of travelers over its many centuries.
The first time I was in Venice, I was immediately in love with this colorful city. I remember walking down its tiny streets and thinking, "Wow, there's so much history here."
In this guide, I will introduce you to the city, its people, and many of its iconic attractions.
I will even include a solo travel example, helping you envision your own trip to this old city.
Although the guide is geared toward solo traveling, it really does work for any travelers, too. It will include specific information that you can use, no matter what type of traveling you intend to use it for.
So, without further ado, let me share with you everything you need to make a memorable solo trip to this awesome destination.
Let's go!
Venice Solo Travel Basics
Venice is a city in northeastern Italy, famous for its canals and gondolas. It has a very unique vibe that you won't find anywhere else.
The city is also home to the world-famous Carnival of Venice, which usually takes place in the month of February.
Although originally religious, the carnival is now a celebration of music, dance, and color and attracts visitors from all over the world.
Other popular tourist attractions in Venice include San Marco Square, the Rialto Bridge, and the Doge's Palace.
Venice's citizens are called Venetian, and they have a long history as fiercely independent people.
Today, the city welcomes millions of tourists. It has a lot of infrastructures to help you enjoy a great trip.
Venice As a Destination
Although the city is known for its romance, a lot of solo travelers miss out by discounting it. In reality, that is a disservice.
Is Venice good for solo travel? Venice is a great destination for solo travelers. There are plenty of things to see and do, and it's easy to get around. Plus, there's no need to worry about crowds or lines. Solo travelers can explore at their own pace and enjoy.
Like Rome, Venice has a lot of personalities and can offer you a chance to experience something unique.
Even though you will be surrounded by tons of crowds, there is still so much you will be able to do on your own here.
Venice Solo Travel Safety
Solo travel is like any other subcategory in traveling. That means there are many people in this industry that deter people from visiting certain places.
Are there any areas of Venice to avoid? There is always some level of risk when traveling to any new place, but solo travelers don't have to worry when visiting Venice. The city is very safe for tourism and both its people and government respect travelers. Follow the rules.
Of course, like any major city in the world, there have been reports of pickpocketing and other petty crimes in Venice. This is specifically the case at Santa Lucia, the main train station.
The best way to beat that is to be aware of your surroundings at all times. Keep your valuables close to you, and don't flash them around in public.
If possible, try to befriend another traveler so that you can watch each other's backs.
When to Visit Venice
Venice is one of those cities that seems to offer something for everyone. That is, at least some part of the year. Deciding when to go is, therefore, highly personal.
What is the best month to go to Venice? February. Carnival is the best time to visit Venice. The festival starts on the Thursday before Ash Wednesday and ends Tuesday, lasting six days. During the carnival, the city comes alive, and you will enjoy a town full of other travelers.
Other popular dates include summer and Christmas. The summer season is from May through September.
Summer is great if you want to do the gondola rides, taste the food, and mingle with the locals.
Christmas time is also a great time to visit Venice, and the city is colorful for the holidays. This is also a good time for museum visits.
Venice Trip Schedule
Venice is about 160 square miles (or about 415 square kilometers). Just to give you a reference, that is about 3 times the size of San Francisco.
How long do you need to see Venice? Venice is a city that can easily be enjoyed in just three to four days. A day can be dedicated to exploring the canals. A second day to visit San Marco square. Finally, a third day to check out the museums.
Of course, there are many other things to do in Venice, but these are some of the most popular ways to spend your time.
That said, this is a city where you can easily spend months exploring its culture. Its food alone can hold you there for weeks!
Getting There
Venice can be reached in a few different ways. If you start your solo trip to Venice from Rome, things are a little direct.
The quickest way to get there is by flying into Venice airport, which is only an hour away from Rome.
If you want to spend less on flights, there are connecting ones, too.
Another option is to take the 4-hour train ride from Rome, which is a bit cheaper than flying.
Or, if you're feeling adventurous, you can drive yourself! It'll take about 6 hours, but you'll get to see some beautiful scenery along the way.
Of course, there are also those that arrive by boat. Cruise ships are now banned since August of 2021.
Where to Stay
Venice offers a variety of accommodation options to suit any solo travel budget. Resorts and luxury hotels are the most expensive option but offer the best amenities and service.
If you ever saw "The Tourist" film, then the lavish place they stayed is a luxury hotel. They usually have great views over iconic attractions.
The Gritti Palace, Aman Venice, and Cipriani are all good examples of top-level spots.
General hotels are a mid-range option and are plentiful in Venice. Just remember that mid-range here is more expensive than in other cities.
Venezia Canal View, Hotel Palazzo Martinelli Dolfin, and Hotel alle Guglie are all mid-level places to stay.
Hostels are the least expensive option and are a good choice for budget-minded solo travelers.
The Pescheria Backpackers, Anda Venice Hostel, and Foresteria Sociale San Marco are all good options.
Airbnbs are also available in Venice and can be a good option for those who want more space or want to cook their own meals.
No matter where you decide to stay, the chances are you will have a great solo trip to Venice!
What to Eat
When in Venice, there are a variety of foods to try. Venetian cuisine is definitely something you must give a chance.
This old cuisine includes dishes such as risotto alla Veneta, which is a risotto. This is a delicious thing you must try here.
"Risotto dates back to the Arab rule in Spain," explains Nicole Walker, our food writer. "By the time it reached Italy, they definitely made it their own."
Walker notes that Venice (and the rest of northern Italy) had the longest relationships with the Arabs in Spain.
Another Venetian item to try is the baccalà alla Vicentina, which is a seafood dish. It has onions, cheese, and tons of other goodies!
Finally, make sure to try crostoli, which is a Venetian dessert that is crispy and delicious.
Of course, many famous Italian items, in general, are here, too. Pizza, pasta, and gelato are plentiful.
There are also international eateries, such as Chinese restaurants and fast food chains with American vibes.
My advice is to start with Venetian cuisine and work your way from there.
Things to Do in Venice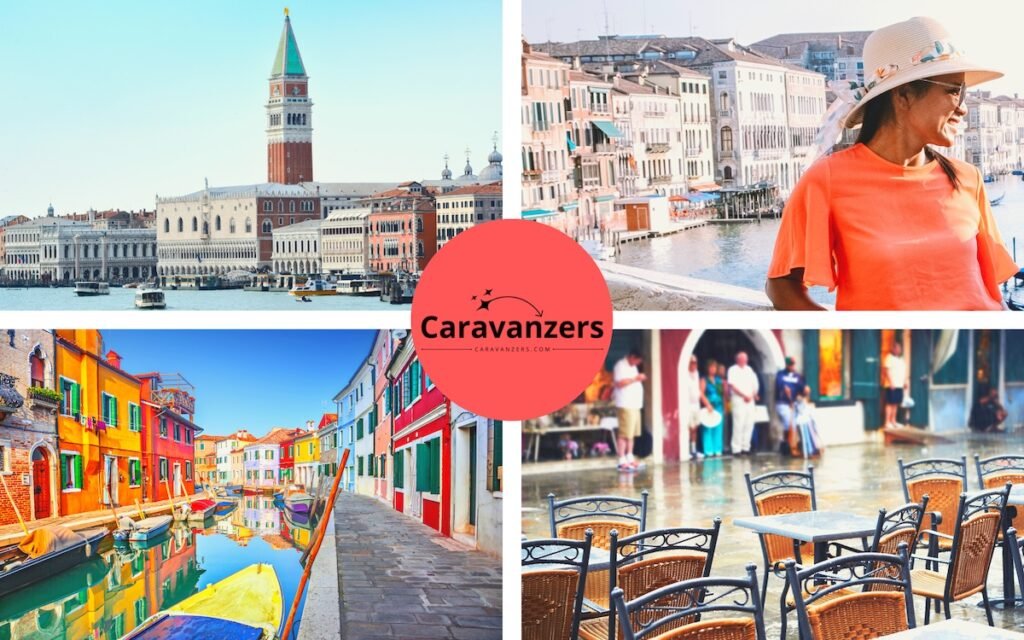 There is plenty to see and do in Venice. Solo travel to Venice is incomplete without a visit to San Marco square, with its beautiful Basilica and stunning architecture.
The canals are a defining feature of the city and are well worth a stroll.
Another thing solo travelers can do is check out the bridges that are also lovely, particularly the Rialto bridge.
The city's museums are excellent, with many world-famous paintings on display.
Lido beach is a great spot for relaxing, and there are also many other interesting day trips to take from Venice, such as to the island of Murano.
I will go into more of these deeply now.
San Marco Square
San Marco Square is one of the most popular tourist destinations in Venice. In fact, you could argue that this is the heart of Venice.
The square is known for its beautiful architecture and for being the home of many important landmarks, such as Saint Mark's Basilica and the Doge's Palace.
The Basilica is a beautiful church. As the cathedral of the Roman Catholic Patriarchate of Venice, it holds a lot of importance in the city's history. Its construction dates back to the early 800s AD.
Doge's Palace is Venetian Gothic at its best. This is the former residence of the Venetian leaders, and it holds a lot of historical importance. Its construction was completed in 1424 AD.
People come from all over the world to see these sights, and the square is always buzzing with activity.
The best time to visit is early in the morning before the crowds start to fill up the space.
During the winter, it can be foggy, which is a great view––some would even say perfect for selfies.
Venice Canals
Venice's canals are a popular tourist destination in Italy. They are a series of canals that wind through the city, and people can take boat tours or rent boats to explore them.
The Grand Canal, Cannaregio Canal, and Giudecca Canal are some of the most popular ones.
Although the canals are especially beautiful at night when they are lit up, you can actually enjoy them any time of the day.
The best time to visit is in the spring or fall when the weather is cooler.
Venice Bridges
Venice's bridges connect the different sections of the city. No solo travel to Venice is complete without crossing them!
The bridges are a popular tourist destination because of their unique design and the views they offer of the canals below.
Rialto Bridge, Bridge of Sighs, and Constitution Bridge are some of the most famous ones.
The best time to visit the bridges is during the daytime when you can see the sunlight reflecting off of the water.
Venice Festivals
Although most of the items in this section are open all year long, the city's carnival is kind of a rare occasion.
The Venice Carnival is an annual event that takes place in the city. It is one of the most popular tourist attractions in Italy and attracts millions of people from all over the world.
The carnival typically takes place in February and is a time when people can enjoy traditional Italian food, music, and entertainment.
Many people also dress up in costumes for the occasion, especially with a mask. This is the perfect event for solo travel to Venice because you will meet many cool people.
If you're thinking of visiting the city during this period, I would say plan quickly. You must book your tickets and accommodation early as prices tend to go up quick.
Other major festivals include its film and art festivals. These are all great and happen across the year, giving you a chance to sample diverse stuff.
Talk to your hotel in advance to find out what might be happening during your visit.
Venice Museums
Solo travelers love going to museums because you can learn a lot about the area. By visiting one of the city's acclaimed spots, you will get caught up.
Gallerie dell'Accademia is one of the best museums in Venice. It houses a collection of art from different periods, including paintings by Titian, Tintoretto, and Veronese.
Pietà by Titian is one of the most important paintings in Italy. It was actually completed by Palma Giovane. Nevertheless, it's a wonder you must visit if you can.
The Peggy Guggenheim Collection is another great museum in Venice. It has a collection of modern art, including works by Pablo Picasso, Salvador Dali, and Wassily Kandinsky.
Finally, check out the Museo Correr. It has a collection of art and artifacts from the history of Venice, including paintings, sculptures, and furniture.
With about 100 museums, Venice has more art than you will be able to see on one trip. However, if you visit those three, you will get a good grasp.
Venice Lido Beach
Many solo travelers can't imagine going to a city surrounded by water and not being at a beach. Sadly, that's the case with Venice.
Lido Beach (Lido di Venezia) is the closest beach to the tourist parts of the city of Venice. It takes about an hour to get there if you use public transportation, jump from boats to buses, as well as walk.
A 17-minute ferry ride from Vallaresso at San Marco leads you to Lido. After a quick walk, a 7-minute bus ride from Santa Maria Elisabetta to Malamocco Occhi takes you about a 5-minute walk from the beach.
It will take about 90-minutes or so if you drive, and that includes about an hour on a ferry. Oddly enough, many tourists prefer this option.
The beach is a great place to relax and enjoy the sun during the summer months. There are plenty of restaurants and cafes nearby, as well as a few shops.
During the winter, though, this is a dead area.
Day Trips from Venice
Solo travelers enjoy several day trips from Venice. Remember that this is a region in the northern part of the country, giving you access to more than inner sections.
There are many beautiful places to see in the Veneto region, and Venice is the perfect base for exploring them.
Likewise, there are nearby attractions that you might go for.
For example, just a short 2-hour drive from Venice, you can find the Treasures of the Dolomites, a UNESCO World Heritage Site.
This is the Italian Alps at its best. If you plan to take a train, it will be around 3 hours.
Or head to Ljubljana, the capital of Slovenia, for a taste of Central European culture. That will cost you about a 2-hour drive.
If you want to go by train, it will take you around 6 hours to reach Ljubljana from Venice.
Ljubljana has great attractions like its castle, the famous Dragon Bridge, and the fun Prešeren Square.
Meanwhile, if you have a bit more time, Lake Maggiore is a beautiful spot for a day trip. It takes about 4 hours to drive there or up to 7 hours by train.
Lake Maggiore is a large body of water that both Italy and Switzerland share. In fact, the lake is the second largest in all of Italy.
So, you have plenty of day trips from Venice!
Solo Travel Venice Example
John is a solo traveler from the United States, and he has always wanted to go to Venice ever since he saw it on "Days of Our Lives" as a child.
The popular American soap opera featured a long storyline around the city in the mid-1990s, surrounding Marlena Evans and Stefano DiMera.
"My mother watched these shows, but when I saw the masks, I knew I had to go there," says John.
When the time came for John to visit his childhood dream destination, he says he read he had to book it in advance.
"I got my tickets and hotel about seven months before the Carnival," says John.
John went to Venice as a solo traveler and says he had a great time. He arrived in early February and was able to enjoy the weeks-long event.
Although the actual Carnival date is about six days before Ash Wednesday, the celebrations start weeks before.
During the carnival, visitors and locals wander through the city's streets masked up in colorful designs.
"One of the highlights was watching the mask competition," John says.
"La maschera più bella," which seeks to award the most beautiful mask, is a central event that usually takes place toward the end of the carnival.
In 2015, when John was in the city, the title went to Lorenzo Marco, a man from Senigallia. Senigallia is in the Marche region, about a 3-hour drive south of Venice.
While he was in Venice, John had the chance to try Venetian food, went to the museums, and had a very unexpected experience.
"I fell in love," he says.
John met Fiona, a British woman who was writing a book.
How awesome is that?
Now, I'm not saying that will happen to you, but amazing, right?
Final Thoughts
Venice is a unique city that has something for everyone. This is a city full of history, culture, and scenic beauty.
The canals and bridges make it a picturesque city perfect for solo travelers who want to explore at their own pace.
There are plenty of things to see and do in Venice, so you will never be bored.
Whether you want to visit the museums and art galleries or just wander around the city, Venice is the perfect destination for a solo traveler.
Use this guide to help you plan and enjoy your Venetian trip!
AJ Paris is a travel photographer based in New York. He is the editor of Caravanzers.
More Solo Travel
Here are more articles: