Solo travel to Bologna and discover one of Italy's historical and popular Cities. Bologna has everything for a memorable trip!
From ancient streets to historical landmarks, from great neighborhoods to traditional eateries, this guide will show you why Bologna should be on your solo travel list!
Meanwhile, a travel experience is included, giving you a chance to plan your trip mimicking theirs.
Finally, I will link to other related cities in Italy for a more in-depth Italian experience!
Whether you are interested in history, culture, or food or just want to explore a lovely city, Bologna is sure to have something for you.
Let's go!
Bologna Solo Travel Basics
Like Rome, Milan, Florence, and Venice, this Italian city is super popular with solo travelers. I had a really good time when I visited.
To give you some background, Etruscans were the original inhabitants of Bologna, and these proud people called their city Felsina.
That was in the 500s BC. The Etruscans had a unique culture and language, and some historians believe they were Greeks.
Bologna is today one of the most popular tourist destinations in Italy, and for a good reason. This historic city is full of culture and charm, and there is plenty to see and do.
Bologna is in Emilia-Romagna, and the city is the capital of this northern region. With a population of around 1 million people, Bologna is a sizable city––and certainly the largest city in the area.
This city is about 55 square miles (or 141 square kilometers), making it an easy place to walk around.
Like many other cities in this part of the continent, Bologna keeps Central European Standard Time. This is GMT+1, meaning it's about an hour ahead of London.
Italy uses the Euro, and there are plenty of banks and ATMs for travelers to get cash.
When you arrive, it will probably be through Bologna Guglielmo Marconi Airport. This international airport is within the city, about 4 miles (or 6 km) from the center of town.
When to Go to Bologna
Bologna has a lot to offer visitors, and there are a few different things to consider when deciding when to go.
Keep in mind that it is in the northern part of Italy, which means mountains, cold winters, humid summers, and a rainy fall season.
Spring is probably the best time to visit Bologna. The weather is pleasant, and there are many fun things taking place.
Fall is also a good time to visit, as the weather is still nice and the crowds are not as large. That said, though, be ready for some rain!
Summer can be very busy in Bologna, as many Italians take their vacations then. So, if you don't mind waiting in lines, go for it.
Winter can be cold, but it is a good time to visit if you are interested in skiing or other winter activities. This is a city that really loves its Christmas season, too!
How to Get to Bologna
Like I've said before, Bologna is in the north. It's about 230 miles (or 375 kilometers) from Rome.
That equates to about a 4-hour drive from the Italian capital to Bologna. The road is pretty nice and scenic, too, if you prefer to drive.
For those of you who don't mind trains, it's about a 2-hour train ride from Rome to Bologna. It's definitely faster than driving! The best train is from Rome's Termini to Bologna Centrale, nonstop.
Of course, the fastest travel from Rome to Bologna is flying. It takes only 55 minutes to get to Bologna on a nonstop flight.
So, you've got options!
Where to Stay in Bologna
Like many old cities, Bologna's important tourist sites are within its old city center. As a result, this is probably the best place to stay.
Grand Hotel Majestic già Baglioni is probably the most luxurious hotel in town. Its address is Via dell'Indipendenza, 8. This hotel costs $500 or more per night.
Hotel Corona D'oro, on the other hand, is a mid-range hotel. The address is Via Guglielmo Oberdan, 12. It costs $250 or more per night.
Albergo delle Drapperie is a budget. Its address is Via Drapperie, 5. This hotel costs $100 or more per night.
There are also guesthouses, hostels, and Airbnbs.
What to Eat in Bologna
Solo travel to Bologna and eat like a local. If you are looking for a place to enjoy some delicious food while you are in Bologna, then you will not be disappointed.
The city is well-known for its cuisine, and there are plenty of restaurants to choose from.
Some of the local specialties include the name "bolognesa" (Bolognese), including some famous pasta!
Consider trying mortadella, which the locals invented by curing meat with heat! It's typically pork, but you can find some in other varieties, too.
Likewise, consider tasting a parmigiano reggiano, which is a local Parmesan cheese.
Of course, this is a major city in Italy. It means you will be able to find popular Italian foods like all types of pasta, pizza, and ice cream.
With less than 10% of international people living in this city, Bologna isn't exactly a global city like Rome or Milan. However, there are still tons of restaurants to sample.
So, just walk around and find lovely places to eat!
Things to Do in Bologna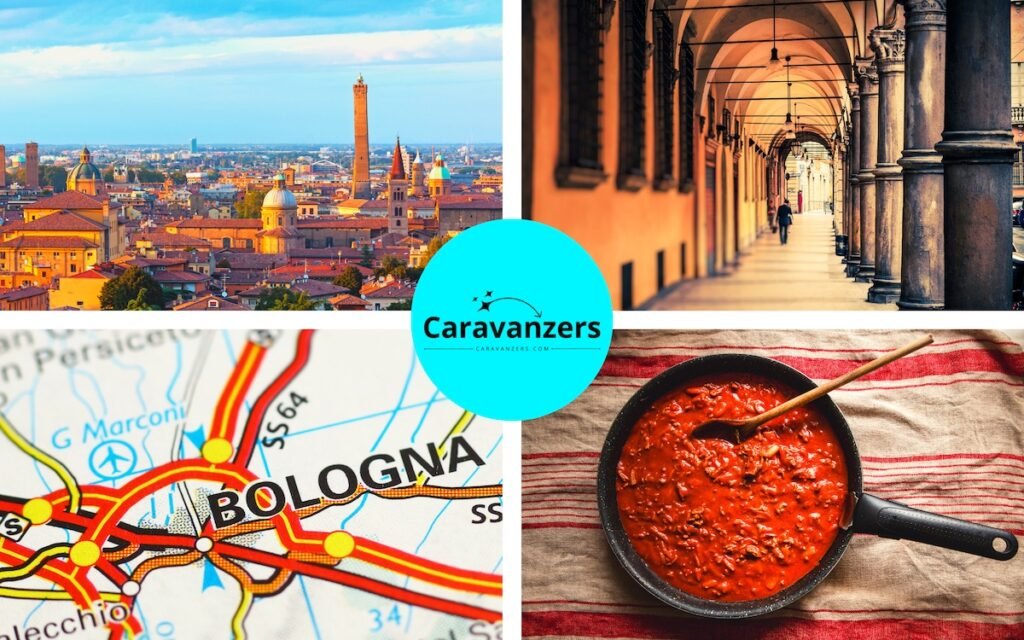 This city is home to many historical landmarks and attractions, including the University of Bologna, which is the oldest university in the world.
Other popular tourist destinations include the Piazza Maggiore, the Basilica di San Petronio, and the Palazzo Re Enzo.
Solo travelers will find plenty to keep them busy during their stay in this vibrant city.
Here are some of my favorite things to do there:
Piazza Maggiore
Piazza Maggiore is the most popular square in town, located in the historic city center. The Bolognese love this square.
Many attractions are within walking distance, including the Palazzo del Podesta, Palazzo d'Accursio, and the Basilica of San Petronio.
The Palazzo del Podesta houses the Civic Museum, which contains a collection of medieval and Renaissance art. If you love art, this building is great.
The Palazzo d'Accursio is the seat of the municipal government, including a library. It's a gorgeous building that you should definitely visit.
And, of course, the Basilica of San Petronio is a large church with a beautiful interior. Great place for selfies, for sure!
Palazzo Re Enzo
Palazzo Re Enzo is a historic building in the city center. The beautiful Gothic palace dates back to the 13th Century.
It was once the home of the city's prisoner, Enzio of Sardinia. Enzio was the son of Frederick II, Holy Roman Emperor.
Today, it puts together lavish parties for charity, cultural events, and, of course, exhibitions.
Definitely a must-see site.
Giardini Margherita
The Giardini Margherita is a great park in the city. Locals love this park, and it might feel non-tourist to travelers used to more global vibes.
It has a lake, as well as beautiful paths that are perfect for strolling. Many locals go there for a run, too, especially in the morning or evening.
The park is at the southern tip of the city center and is easily accessible by public transportation. If you decide to walk, it will be around 20 minutes from Piazza Maggiore.
There are many benches and trees that provide shade and make the park a perfect place to relax on a hot day.
The lake is also a great place to cool off on a hot day.
Day Trips from Bologna
Bologna is surrounded by picturesque countryside and is within easy reach of several major cities.
The nearest major city to Bologna is Florence, which is about a 90-minute drive away. Florence is south of Bologna and is renowned for its art and architecture, and there are many famous landmarks to visit, too.
Another nearby city is Venice, which can also be reached in around 2 hours by car. This iconic city is built on a network of canals and is home to some of Italy's most famous tourist attractions, as well.
Meanwhile, there are also many beautiful places to see in the countryside around Bologna.
The Apennine Mountains provide a stunning backdrop to the area, too, and there are plenty of opportunities for hiking and cycling in the area.
Or you could head out to one of the many lakes in the region, such as Lake Como or Lake Garda, for a day of relaxation.
Solo Travel Bologna Example
Guilherme is from Lisbon and had his first solo travel to Bologna three years ago. He had since returned once, too.
"I purchased my tickets in October, and I arrived in Bologna in April," he says.
Yeah, that's what I like to see––get your tickets at least three months before.
Guilherme's childhood friend was marrying a woman from the region. So, Guilherme decided to go about two weeks before the wedding.
"I had a great time and was really relaxed before the wedding," he explains.
He recommends deciding what you do ahead of time. For example, Guilherme says he was interested in art.
"I made appointments with tour guides in advance, and it was such a good idea," he says. "If you know what you want to see, you can get help ahead of time. Maybe buy a book."
That's a great idea, actually. If you love food, this is a city that has tons to explore. So, getting a guidebook in advance sounds really great.
Finally, Guilherme recommends not overwhelming yourself. He says to take your time and plan no more than two to three activities per day.
Solo Travel to Bologna – Final Thoughts
Solo travel to Bologna means a chance to explore one of Italy's greatest cities. This historic city truly has a lot to offer.
Whether you're into art, history, or food, the chances are that you will find something to make you happy there.
Remember that the best time to visit is spring or fall, although fall is rainier.
Also, keep in mind that Bologna is different from Rome, Milan, or even Venice. It doesn't have a lot of international people there.
That means being prepared to get to know the local people and culture, which is great.
Enjoy Bologna!
AJ Paris is a travel photographer based in New York. He is the editor of Caravanzers.
More Solo Travel
Here are more articles: