Solo travel to Milan and discover why this Italian city is one of Europe's best destinations for those traveling alone.
For starters, Milan is relatively small and easy to navigate, making it ideal for exploring on your own. It's about the same size as San Francisco or about twice the size of Manhattan.
Additionally, there are plenty of things to see and do in Milan in this historic city. From visiting world-famous museums and art galleries to strolling through beautiful parks and enjoying the city's vibrant nightlife, Milan has it all.
In this guide, I will cover things like when to go, what to do, and even what to eat.
I will also throw in an example of solo travel, so you can plan your own trip!
Milan Solo Travel Basics
Milan is a large metropolitan city in northern Italy. It's the capital of the Milan province and the Lombardy region.
With a population of about 10 million people in its metro area, it's one of the largest cities in Italy. The city has huge industries, ranging from fashion to finance.
Milan is one of the world's top fashion capitals and is also famous for its high-end restaurants and shops. Armani, Prada, and Versace are all from this city.
In Italy, the city is also an important financial and business center, with many large banks and corporations headquartered here. As a result, Milan is home to Italy's stock exchange.
This is an old city that dates back to the 6th century BC when the Celtic tribe of the Insubres found the settlement that later became Milan. Over the centuries, it came under Roman rule, too.
Today, this Italian metropolis has a lot to offer.
Let's cover some basics…
Is Milan Worth Visiting?
Milan is one of the most popular tourist destinations in Italy, and for a good reason. Yet, over the years, many solo travelers asked me whether they should even bother.
Is Milan worth visiting? Milan is definitely worth a visit. This city has historical attractions, world-famous fashion brands, and unique local culture. It's a modern city with a lot to offer, including great hotels, restaurants, incredible public transportation, and more. You certainly will not regret visiting this destination!
Milan is home to some of the world's most famous museums and art galleries, as well as a wealth of other historical and cultural attractions.
If you're interested in fashion, design, or cuisine, Milan is also a great place to visit. With its chic boutiques, world-renowned restaurants, and lively nightlife scene, it will definitely impress you.
Meanwhile, the city has a unique blended culture that dates back thousands of years, from Celtic to Roman and more!
In short, there's something for everyone in Milan – so it's definitely worth a visit!
Is Milan Good for Solo Travel?
Just because a destination is great to go to doesn't mean it works for everyone. When it comes to Milan, solo travelers have nothing to worry about.
Is Milan good for solo travel? Milan is perfect for traveling alone. It's a safe city, with plenty of public transportation and things to do on your own. Milan is also a city where you can easily meet people, both local and foreign. Definitely a destination you must visit!
Tourists have plenty of things to keep them safe. For example, the local police are everywhere.
It's well-lit and easy to navigate, and there are plenty of cafes, restaurants, and shops to keep you entertained.
You can also find plenty of museums and art galleries to explore.
How Many Days in Milan is Enough?
I convinced you to visit Milan, and now you're probably wondering about the amount of time necessary to go enjoy it. Well, I've got you.
How many days in Milan is enough? Although Milan is a city with a lot to offer, three days should be enough. If you've got a few days, then a day at the museums, one for shopping, and another exploring its foods (and types of culture) will do it.
If you've got more time, take advantage of Milan's outdoor culture and just go walk around in the neighborhoods.
Also, Milan's close proximity to Lake Como makes it a perfect place to base yourself while you check out nearby.
Is Milan Walkable?
Many people get intimidated by Milan's famous name, leading them to think that this is a giant city. Worse, many travelers assume it's spread out.
Is Milan walkable? Milan is one of the most walkable cities in Europe. There's a reason why it has a 100% walk score. With its flat streets, small city center, and neighborhoods easily linked, Milan is a walker's paradise. Plus, the city is one of Italy's friendliest to foreigners!
A walk from the historic center's Arco della Pace to Guastalla Gardens takes about 30 minutes.
It's within that octagon-shaped region that you find most tourist attractions, making Milan an easy city to walk around.
So, pack some walking shoes and prepare to get your feet grounded on these beautiful streets.
When to Go to Milan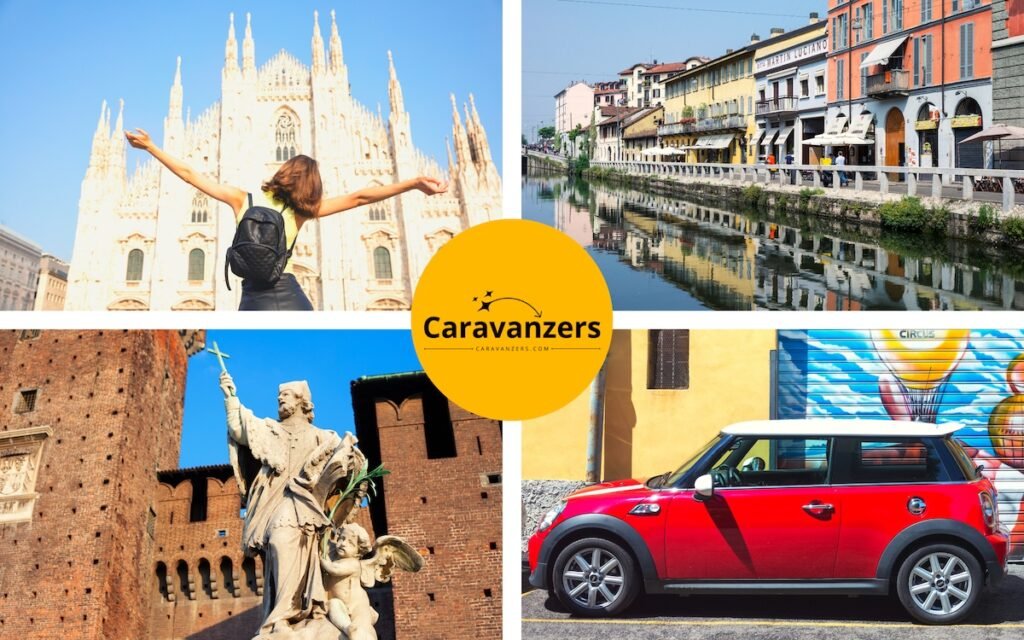 Spring and fall are the best times to visit Milan. The weather is milder, and the city is less crowded than in summer.
However, suppose you're looking to experience Milan's famous nightlife. In that case, you may want to visit during the summer when the clubs and bars are open late.
Winter is very cold, but it's also a great time to visit, especially if you want to see what Christmas is like. Trust me; it's beautiful!
In other words, there are different times of the year to experience different things. Milan has something for everyone, depending on the season!
When is the Best Month to Visit Milan?
Milan is famous for its summers. After all, the city is warm, and many of its famous sites are in operation.
What is the best month to visit Milan? Although it's great all year long, September is the best month. It tends to be warm but not as hot as July or August. Family tourists have gone back home to school children, and so Milan tends to be somewhat quieter.
If you can, try to avoid August. This is the month when most Italians plan their holidays, and many locals stay indoors from the heat.
So, Milan will generally feel "empty" during this time.
How to Get to Milan
Milan is in northern Italy and is easy to access by flight, driving, train, and other public transportation.
The city is served by two international airports, as well as a number of smaller regional airports in nearby provinces.
Driving to Milan is also a relatively easy task as the city is well-connected to the rest of Italy via a network of highways.
And finally, getting there by train or bus is a breeze thanks to an excellent public transportation system.
How Do You Get to Milan from the US?
Solo travel to Milan from the United States is easier than many people think. The Italian city is super easy to visit from the US.
How do you get to Milan from the US? There are many flights from the United States to Milan, but if you're looking for a nonstop flight, you'll need to fly from New York, Atlanta, or Chicago. Of course, these flights are usually more expensive, but so worth it.
Airlines that offer nonstop flights include the Italian IT Airways, Delta, UAE's Emirates, and American ones such as United and Delta.
Of course, most major airlines offer flights that have a stopover, usually in a bigger city in Europe.
Check online to see the options.
Where do you fly into for Milan?
With over five airports in these parts, it's hard to choose where to fly into. Solo travel to Milan will generally mean flexibility, but each airport has unique options.
Where do you fly into for Milan? Milan has three major airports. Malpensa, Linate, and Orio al Serio. Each of these airports has advantages and disadvantages, so figure out early which one you need for your trip. Linate is the closest to the city but also the least international.
Malpensa Airport is the largest in the area. Its AITA airport code is MXP, and it serves northern Italy, as well as parts of Switzerland.
Most major international flights, including direct flights from the United States, are through Malpensa.
Malpensa is in the province of Varese. At 30 miles (or 49 km), Malpensa is the farthest airport from Milan, though.
Orio al Serio is in Bergamo, which is about 28 miles (45 km) outside of Milan. Its code is BGY. Its non-European international flights tend to be geared to Africa and Asia.
Linate Airport is a smaller airport, and it mostly has European flights. Its airport code is LIN.
This airport is within Milan's city limits, making it an easy choice.
Where to Stay in Milan
Milan has nine boroughs. Each of these boroughs has something to offer. The most tourist neighborhood is probably Centro Storico, which is the oldest part of the city.
Centro Storico is part of Borough 1 or "Municipio Uno di Milano." Along with Centro Storico, this borough includes Brera, Conca del Naviglio, Guastalla, Porta Sempione, and Porta Tenaglia neighborhoods.
The hotels in this area are the most expensive in the city because of their proximity to iconic attractions.
Some of the top places to stay in this area include Hotel Pierre, Galleria Vik, and Sina The Gray. They're all over $5,000 per week.
Middle-range hotels include Sonder Missori, Imperiale Suites, and Rosa Grand. These hotels will cost you at least $1,500 per week.
Budget hotels include Ritorno alle origini Suites, Cà Bèla, and Il Riccio. They're all at least $5,00 per week.
Where is the Main Part of Milan?
Keep in mind that Milan is actually a province with several cities in it. Solo travel to Milan will usually take you to the heart of it.
Where is the main part of Milan? The town of Milan (comune di Milano) is the "main" part of the city. This is home to the historic city center, the artistic Pirelli HangarBicocca, and Parco Lambro, which is the largest green space here. Tourist attractions are within this area.
That said, many will argue that the main part is the inner circle of Centro Storico. This neighborhood is home to several landmarks.
So, it depends on who you ask.
What to Eat in Milan
When it comes to food, Milan has a lot to offer. You can find local Milanese dishes, traditional Italian fare, and international cuisine all throughout the city.
If you're looking for a taste of the local flavor, be sure to try some of the classic Milanese dishes.
One of the most popular is "risotto alla Milanese." This creamy rice dish has tons of goodies, including spices and cheese!
A great place to try Lombardian cuisine is Al Cantinone. This traditional restaurant is a beautiful 17th-century building in the historic city center. The address is Via Agnello, 19.
For a more traditional Italian dining experience, you'll find no shortage of options in Milan. Pizza and pasta are, of course, widely available, but there are also plenty of other delicious options to choose from.
Try the Roman "spaghetti Amatriciana" at Volemose Bene. The address for this restaurant is Via della Moscova, 25.
And if you're craving something from back home, you'll be happy to know that Milan has no shortage of international cuisine options as well.
Whether you're in the mood for Chinese, Indian, Japanese, or anything in between, you'll be able to find it in Milan.
One of my favorites is Taj Mahal, which serves transregional Indian food. Order "Marg Madras" (Chennai-style chicken) for some tasty delight. The address is Via Luigi Porro Lambertenghi, 23.
What is the Milan Food?
Milan is an old city within an even older region. Naturally, there are tons of local food.
What is the Milan food? The region gets very cold in the winter, so Milanese cuisine is characterized by heartiness. Whether it's fried and breaded goodies or creamy, the food here is heavier than you might find in the south. The local dishes use yellowing ingredients like saffron, too.
"Milan saw a lot of diverse rulers over the centuries," explains Nina Walker, our food writer. "Saffron is very Milanese, but this is primarily grown in India."
The famous "risotto alla Milanese" uses saffron, which is what makes the rice yellow.
And what do you pair with risotto?
"Ossobuco alla Milanese," which is a beef stew.
If you have the chance, try this combo!
Things to Do in Milan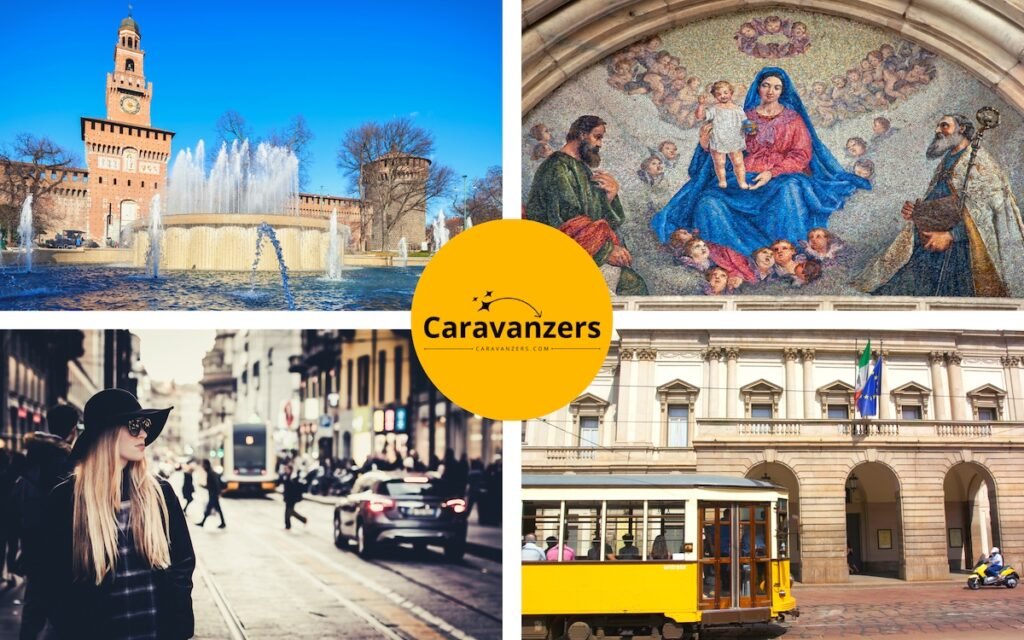 When traveling to Milan solo, you want to keep in mind that this is a world-class city. There are a number of different things to do in order to make the most of the trip.
One of the best things to do is to explore the city and see all of the different sights that it has to offer. This can be done by walking around or taking public transportation.
Additionally, visiting some of the famous museums and attractions is a great way to learn about the culture and history of Milan.
Another great way to spend time in this Italian city is by indulging in some of the delicious food and shopping that the city has to offer.
No matter what interests someone has, there are plenty of activities and attractions that can be enjoyed during solo travel to Milan.
Here are some of my top must-do things.
Duomo di Milano
The Duomo di Milano is one of the most iconic and popular tourist attractions in Italy. It's also perhaps one of the more recognized sites in the whole world.
Although the massive cathedral dates back to the 1300s when it was originally designed by Simone da Orsenigo, it was only completed in the 1960s.
This Roman Catholic Church has an exterior made of brick with Candoglia marble accents, and it's the largest church in Italy. Saint Peter's Basilica only surpasses it, but it's in the Vatican, which is in another country.
It truly is a beautiful site. Today, the Duomo di Milano is a huge tourist attraction known for its beautiful spirals and stunning architecture.
If you plan to travel solo to Milan, be sure to add this amazing landmark to your list of places to see!
The church's address is P.za del Duomo.
Sforzesco Castle
The Sforzesco Castle is a medieval fort in the heart of Milan. The castle was built in the 1400s for Francesco Sforza, Duke of Milan at the time.
It was in use until the 1800s, with residents always being in the House of Sforza. Although the family ceased to rule with Francesco II in 1535, it still belonged to them.
The castle is a great example of Renaissance architecture. It has a moat, towers, and a drawbridge.
It was once the envy of many in Europe as one of the most beautiful castles on the continent.
Sforzesco Castle is now a museum and is open to the public. No solo travel to Milan is complete with a stop at this gorgeous palace!
The address is P.za del Duomo.
Pinacoteca di Brera
The Pinacoteca di Brera is the top public gallery in Milan and one of the most famous and popular art sites in Italy.
It was founded in the early 1700s by Maria Theresa, the ruler of the Habsburg dominions. She has the honor of being the only female ruler of her era.
The museum houses a large collection of paintings from the 1300s to the modern age. Visitors can see works by some of the most famous Italian artists, such as Caravaggio, Tintoretto, and Raphael.
Some of the paintings are very intimate. For example, Francesco Hayez's "The Kiss." Other artworks, however, are more on a larger scale. One of those is "St. Mark Preaching in Alexandria" by brothers Gentile and Giovanni Bellini.
Today, the Pinacoteca di Brera is one of Milan's most popular tourist attractions.
Pinacoteca di Brera's address is: Via Brera, 28.
Galleria Vittorio Emanuele II
The Galleria Vittorio Emanuele II is a gigantic art shopping space inside a massive building in the heart of Milan.
It's a great place to visit because it has a lot of importance to the locals as well as the art world. For example, its name celebrates the first king of the Kingdom of Italy. The locals sometimes refer to it as "il salotto" (the drawing room).
It also remains the largest place to shop for art in all of Italy! This shopping arcade is full of high-end shops, restaurants, and some of the world's most interesting works of art.
If you're looking for a truly unique shopping experience, this is definitely worth a visit.
The address is P.za del Duomo.
Teatro alla Scala
Teatro alla Scala is a famous opera house in Milan, dating back to the 1700s. It has distinctly neoclassical features and seats about 2,000 people.
Giuseppe Piermarini was the designer, which is why sometimes it's referred to as "il Piermarini."
This is one of the most important opera houses in the world. It has hosted many of the greatest opera premieres over the centuries, including Giuseppe Verdi, Vincenzo Bellini, and Giacomo Puccini.
Since its major renovations in the early 2000s, the opera house has become some sort of a tourist sensation.
If you're in Milan during winter, be sure to go to one of its shows! The season usually starts on December 7.
The address is Via Filodrammatici, 2.
Costume Moda Immagine
There isn't a city in the world synonymous with fashion as much as Milan. Palazzo Morando is home to a fashion museum that holds exhibitions about the history of fashion in the city.
This is a great place to learn about how fashion has evolved over the centuries and to appreciate the work of art that goes into creating each piece.
Milan's Costume Moda Immagine has a wide variety of exhibits, ranging from ancient clothing to modern-day couture.
Plus, the palace is a beautifully ornate building dating back to the 1700s. It was the last heiress that donated it to the city in 1945 upon her death.
There is something for everyone at this museum, and it is a great way to spend an afternoon in Milan.
Palazzo Morando's address is: Via Sant'Andrea, 6.
Corso Buenos Aires
It's one thing to learn about fashion, but what about actually buying lovely outfits? Corso Buenos Aires is the answer. This is a boulevard in Milan, lined with fashion boutiques.
It is the largest shopping street of its kind in Europe, and fashionistas come from all over the continent to find the latest trends.
Corso Buenos Aires is also a popular tourist destination, as the street is also known for its lively atmosphere, with many cafes and restaurants dotting the sidewalks.
It's the perfect stop to get a few cool items during your solo travel to Milan! You will find unique boutiques and name brands.
The address is Corso Buenos Aires, between Porta Venezia and Piazzale Loreto.
Day Trips from Milan
There are many beautiful places to see in the area surrounding Milan. Solo travel to Milan means a chance to check out these nearby areas.
One popular day trip destination is Lake Como. With its stunning blue waters and picturesque mountain backdrop, Lake Como is a must-see for any visitor to the area.
Venice is another popular day trip from Milan. Take a romantic solo gondola ride through the canals or simply enjoy the architecture and atmosphere of this unique city.
Lugano is another great option for a day trip from Milan. This Swiss city is located on the shores of Lake Lugano and offers stunning views of the surrounding mountains.
Here are some of my favorite day trips from Milan.
Lake Como
If you're looking for a breathtakingly beautiful lake to relax by on your next vacation, look no further than Lake Como in Italy.
What is so special about Lake Como? Lake Como is very special because it's nestled in the foothills of the Alps and surrounded by picturesque villages. And when you factor in the luxury hotels, high-end restaurants, and chic boutiques, it's no wonder it has become a favorite spot.
Lake Como is a popular destination for tourists from all over the world, especially those with deep pockets.
The lake's dramatic setting is enough to take your breath away. It's probably why it has become a favorite spot for the rich and famous.
Whether you're looking to splurge on a luxurious getaway or simply enjoy the stunning scenery, Lake Como is sure to exceed your expectations.
Bergamo
Solo travel to Milan often centers on the famous city, but there are other towns nearby. One of those is Bergamo.
Is Bergamo worth visiting? Bergamo is a beautiful city that's close to Milan. It has a rich history dating back to the Roman era, and its architecture and art are some of the best in Italy. Plus, it has a great airport, meaning it's great for planning an exit.
Bergamo is about an hour's drive from Milan.
The city center is full of medieval buildings, churches, and squares, and Bergamo also has two lovely walled cities – the Città Alta (upper city) and the Città Bassa (lower city).
The upper city is ancient and has the famous Rocca di Bergamo fortress, as well as gorgeous Venetian walls.
The lower city is more modern, although a lot of it dates back centuries old, too.
If you're looking for a charming Italian city to add to your travel itinerary, Bergamo is definitely worth a visit.
Turin
Turin is about an hour-and-half drive away from Milan, but it's a cool city you should try to visit.
Can I travel from Milan to Turin? Yes. A train from Milano Centrale Railway Station to Torino Porta Susa takes about 50 minutes. These trains run throughout the day. You can also take an hour-and-half bus, as well as drive. Tour operators have many services here, too.
In Turin, solo travelers visit the Egyptian Museum or any of its other 40 museums.
Likewise, visits to the gorgeous La Venaria Reale and the Royal Palace are a must.
The Basilica of Superga is on a nice hill, and this gorgeous church dates back to the 1700s.
Meanwhile, Turin is in Piedmont, and this region is famous for its delicious food. One of the dishes to try is "vitello tonnato," which is a combination of beef and tuna and is simply to die for.
So, as you can see, Turin is worth a visit!
Venice
Although it's a bit farther than Bergamo and Turin, with a 3-hour drive, Venice is definitely one of those you must visit.
How do I get from Milan to Venice? The best way is to take the train, which is only a 2-hour ride. However, you can also take a 3-hour bus, drive a car, or embark on 20-hour scenic biking. Finally, there are tour operators, as well.
Yes, it's a little far, but I think you should add Venice to your itinerary. This is one of the most fascinating cities in the world.
In Venice, you will be able to ride the gondolas, sample local cuisine, and see iconic attractions at Piazza San Marco.
Of course, there are tons of things to do in Venice. If you need more details, see my other article on this subject at the bottom of this article.
Cinque Terre
Whereas you had to go east to visit Venice, Cinque Terre is south of Milan. This picturesque hill area is one of the most popular travel images on social media.
Can you do a day trip from Milan to Cinque Terre? Yes, but you do have to get up super early to make the 6-hour roundtrip journey and still enjoy your day trip. If you get on a train at dawn, you will be there for breakfast.
After breakfast, you might stroll the villages and end up at the beach for lunch.
These villages have insane views, tons of places to take selfies, and accommodating locals.
After an early dinner, you can jump back on the train to get home to Milan, bone tired.
Lugano
By now, you've had a few Italian getaways, but what about some international quickies? You can!
What is the closest Swiss city to Milan? Lugano is the closest Swiss city to Milan. It's only an hour's drive north, and voila, you're in Switzerland! Keep in mind, though, that the locals in this area happen to be ethnic Italians and speak their mother tongue, as well.
The Italian language is one of the three official ones in Switzerland. Although this is no longer Italy, the signs are in Italian.
Lugano is a gorgeous city with a lake of the same name, as well as two beautiful mountains in the background.
You will definitely get your Swiss fix with Lugano!
Solo Travel Milan Example
Mumbi is a die-hard traveler from Kenya. She works in finance by day, but at night she plans her extensive travels throughout the year.
"I work at home, which gives me a chance to travel more than my office-bound colleagues," she admits.
This twenty-something Kikuyu girl grew up in Nairobi, the capital. Her parents are from a small village not far from Mount Kenya.
"My mother's mother still lives there," Mumbi says. "I show her pictures and videos from my travels, and she's always amazed."
Mumbi is a self-described fashionista, and she's always known Milan would be on the list of her destinations.
A few years ago, she had the chance to visit the city, and she spent a month devouring everything from unique boutiques to cozy eateries.
"I love everything about Milan," she says. "I know I will go back many times."
She decided to fly with Kenya Airways, where she collects her Flying Blue miles with other airlines in the SkyTeam alliance.
Thanks to her frequent flights, Mumbi gets free flights, as well as a chance to enjoy lounges from Delta Airlines to Air France, KLM, and more.
Although she makes good money, she says she likes to travel on the budget side.
"Save the money for enjoying the trip!"
Mumbi suggests booking your flights and hotels in advance, at least six months. She also says you want to avoid having to stay in the center of town.
"It's too expensive," she says. "You can get to town on trains easily, but live nearby."
She also suggests eating outside the Centro Storico.
Solo Travel to Milan – Final Thoughts
There is so much to do in Milan that it can be hard to know where to start for your solo trip.
I gave you some ideas for things to do in the city, as well as day trips and examples of other travelers.
Milan is a beautiful city with a lot to offer visitors. The Duomo, one of the most iconic landmarks in Italy, is a must-see.
The city also has great shopping, delicious food, and stunning architecture.
If you're looking for a solo travel destination that has it all, Milan is a perfect choice.
I hope you have a great time exploring all that Milan has to offer!
Use this guide to help you plan and enjoy your Venetian trip!
AJ Paris is a travel photographer based in New York. He is the editor of Caravanzers.
More Solo Travel
Here are more articles: