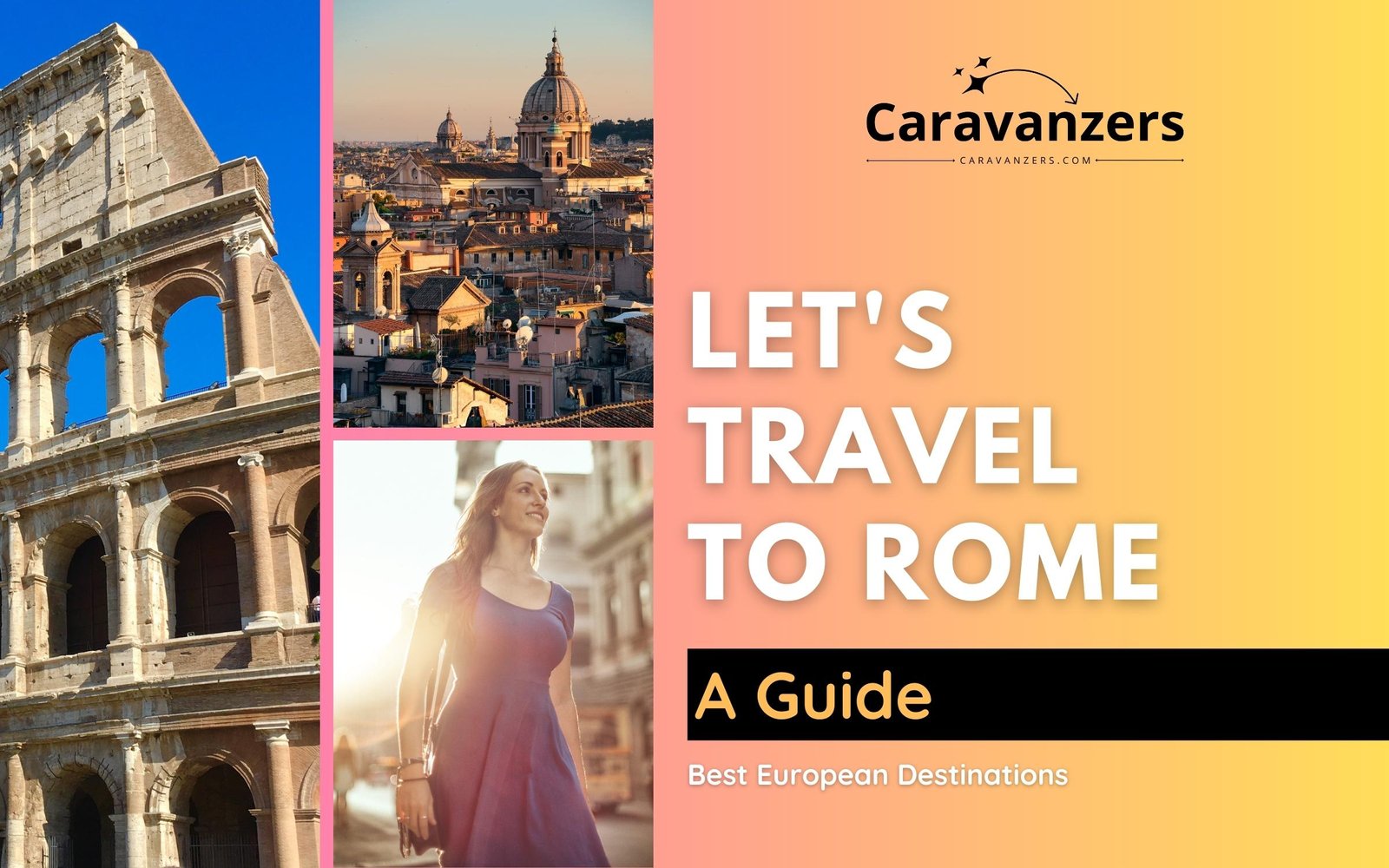 Rome travel is a chance to turn back time and experience an Eternal City where the past and the present are in harmony.
In this guide, I'll take you on a virtual journey through the captivating streets of the Eternal City, offering insider tips and insights to make your visit unforgettable.
From ancient wonders to mouth-watering cuisine, I'll cover a range of topics to help you navigate Rome with ease and make the most of your time in this incredible destination.
So, get ready to dive into the rich history, vibrant culture, and tantalizing flavors that await you in Rome.
Let's begin our adventure together!
VIDEO – Rome Travel
Welcome to Rome
Rome is a city that effortlessly blends its rich historical heritage with a vibrant modern atmosphere, offering visitors an unforgettable experience.
The first thing you need to do to prepare for your trip to Rome is to check your entry requirements. You may need a visa.
Rome's time zone is Central European Time (CET). This is UTC+1 during standard time and UTC+2 during daylight saving time.
The city has two airports: Fiumicino and Ciampino. Leonardo da Vinci-Fiumicino Airport (FCO) is the main airport.
Another option is Ciampino Airport (CIA), which is smaller and mostly serves budget airlines.
Both airports have transportation options connecting them to the city center, including trains, buses, and taxis.
The official currency in Italy is the Euro (€), and you can easily exchange your currency for Euros at banks, exchange offices, or ATMs.
Credit cards are widely accepted in most establishments, but it's always handy to carry some cash for smaller purchases and to be prepared in case you come across places that only accept cash.
The city has a ton of transportation options. At the airports, you can jump into a taxi, go on a rideshare, or take advantage of public transportation like buses, trains, and so on.
Finally, let's touch on the seasons in Rome. The city experiences a Mediterranean climate characterized by mild winters and hot summers.
Spring (March to May) and fall (September to November) are generally pleasant, with mild temperatures, making them ideal times to explore Rome.
Summers (June to August) can get quite hot and crowded, while winters (December to February) are milder but can be chilly, especially in the evenings.
That should be it for the basics, and more will follow in the upcoming sections.
When to Go to Rome
Deciding when to visit Rome isn't as difficult as you would think. It's all about finding the perfect balance between favorable weather, crowd levels, and personal preferences.
Spring (March to May) is a delightful time to be in Rome. The weather starts to warm up, and you'll witness the city come alive with colorful flowers and blossoming trees.
So, spring is a great time to visit Rome if you're into outdoor attractions, stroll through its charming streets, or indulge in some gelato while basking in the pleasant temperatures.
If you prefer milder temperatures and want to avoid the peak tourist season, consider visiting Rome during the fall (September to November).
The weather remains pleasant, and the city begins to calm down after the busy summer months.
You'll still get to experience Rome's charm without feeling overwhelmed by large crowds.
Summers in Rome (June to August) can be hot and bustling with tourists.
Just be prepared for larger crowds, longer queues at attractions, and the need to stay hydrated during your explorations.
If you're someone who appreciates a quieter ambiance and doesn't mind cooler temperatures, winter (December to February) in Rome might appeal to you.
Although it's the off-season, you can still enjoy the city's historical sites and museums without battling throngs of tourists.
Just remember to pack some warm clothing, as evenings can get chilly. In the end, the best time to visit Rome depends on your personal preferences. Rome has something to offer year-round.
Where to Stay in Rome
Rome has a variety of neighborhoods to cater to different types of travelers.
To narrow it down, I will discuss the best neighborhoods to stay in if you're a couple with families, solo travelers, or seniors.
For couples seeking a romantic getaway, the historic center of Rome is a popular choice.
Here, you'll find charming neighborhoods like Trastevere, known for its narrow cobblestone streets, lively atmosphere, and cozy restaurants.
Families traveling with children may prefer to stay in areas that offer a mix of attractions and kid-friendly amenities.
The area around the Villa Borghese Park is a great choice, with its spacious gardens, playgrounds, and the Bioparco zoo nearby.
Solo travelers often seek a vibrant and social atmosphere where they can easily meet fellow travelers.
Areas like Monti and Testaccio are known for their lively nightlife, trendy bars, and a wide range of budget accommodations.
For seniors or travelers who prefer a quieter and more relaxed environment, the Prati neighborhood near the Vatican can be a good choice.
Remember, Rome is a city with a comprehensive public transportation system, so even if you don't stay in the city center, you can easily reach the main attractions by bus, tram, or metro.
Of course, the best place to stay in Rome depends on your personal preferences and the type of experience you're seeking.
What to Eat in Rome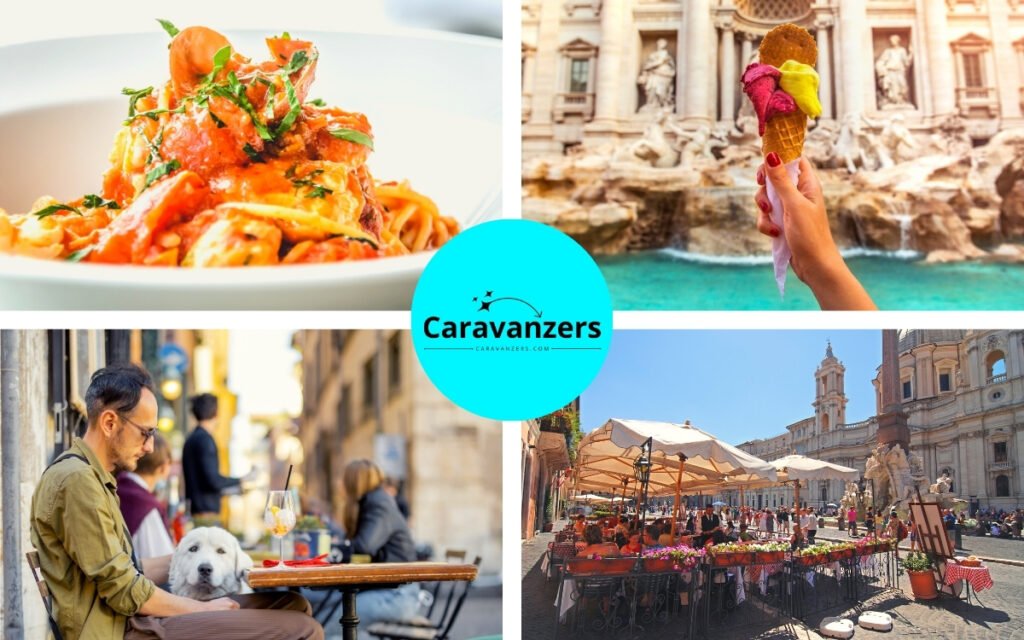 Rome is a foodie's paradise that caters to all taste buds. From traditional Italian dishes to international flavors, the city offers a delightful culinary experience.
You can't visit the city without indulging in a plate of pasta. From classics like spaghetti carbonara to hearty dishes like lasagna and gnocchi, Rome has it all.
Taverna Romana (Via della Madonna dei Monti, 79) is a great place to try local dishes.
Meanwhile, you'll find a diverse range of European options in Rome. From Greek souvlaki or Spanish tapas to traditional French croque-monsieur to Bavarian spots, Rome has it all.
The Italians have a historical enmity toward the Austrians, but a great place to check out is Antica Birreria Viennese (Via della Croce, 21). You'll find typical Austrian stuff.
Now, let's talk about global eats. Craving some sushi? Head to one of the city's excellent Japanese restaurants. In the mood for some spicy flavors?
Hamasei (Via della Mercede, 35/36) is a great place for an authentic sushi experience.
There are also numerous Indian and Thai restaurants offering aromatic curries and flavorful stir-fries.
You can also find Middle Eastern cuisine, including delicious falafel, hummus, and kebabs.
So, whether you're in the mood for traditional Italian delicacies or global eats, Rome has something for everyone.
Buon appetito!
What to Do in Rome
In Rome, there is an abundance of things to do and explore, catering to different types of travelers. Let's delve into some recommendations for couples, families, solo travelers, and seniors.
For couples, Rome offers a romantic and enchanting ambiance. Enjoy a romantic picnic in the Villa Borghese gardens or take a sunset walk along the Tiber River.
Families visiting Rome can embark on exciting adventures together. Start by exploring the ancient ruins of the Colosseum and Roman Forum, bringing history to life for children.
Solo travelers can fully immerse themselves in the vibrant atmosphere of Rome. Wander through the lively, charming streets, quirky shops, and local markets.
Dive into the buzzing nightlife scene, visit trendy bars, enjoy live music, or attend cultural events happening around the city.
For seniors seeking a more relaxed pace, Rome offers plenty of options. Take leisurely walks in the tranquil courtyard of the Palazzo Doria Pamphilj.
Join a guided tour that offers transportation and skip-the-line access, allowing you to explore the city's treasures without the hassle.
Be it marveling at historical landmarks, savoring authentic cuisine, or simply enjoying the vibrant atmosphere, Rome offers a captivating journey for all types of travelers.
Tourist Attractions in Rome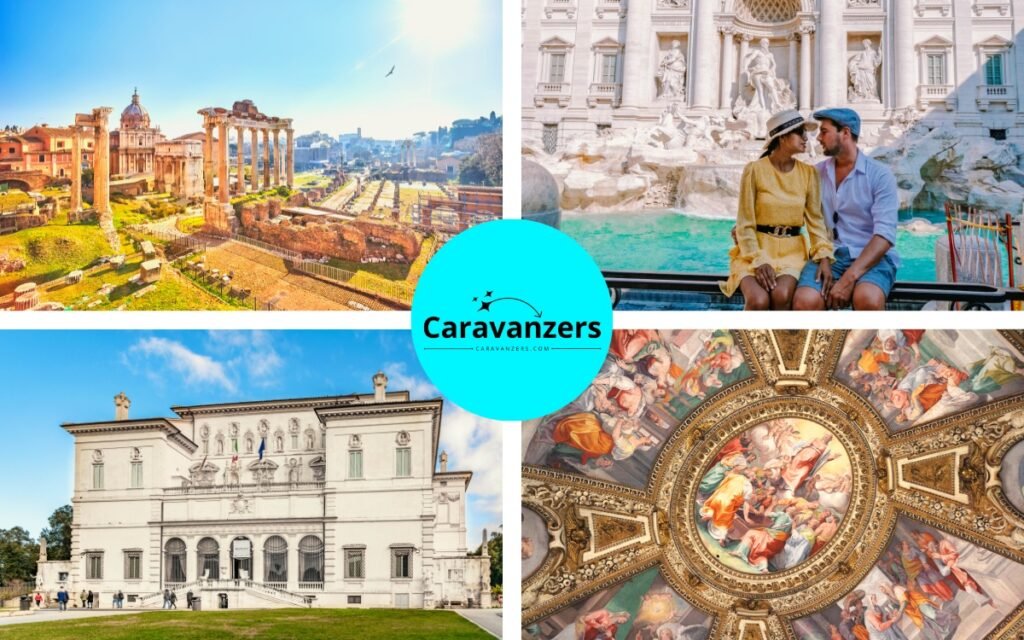 The first time I visited Rome, I felt like this was one of those cities that throws a lot at you.
It has a ton of tourist attractions that truly remind you of its rich history, art, and culture.
You can't miss Colosseum. This is an absolute must, and its iconic amphitheater is a reminder of the grandeur of the Roman Empire.
Not far from there lies the Roman Forum. This sprawling archaeological site is the remains of what was once the heart of ancient Rome.
No visit to Rome is complete without setting foot in Vatican City, the world's smallest independent state and the spiritual center of Catholicism.
For art enthusiasts, the Galleria Borghese is a true gem.
This gallery houses an extraordinary collection of masterpieces, including sculptures by Bernini and paintings by Caravaggio and Raphael.
The Trevi Fountain is another must-see attraction, where you can toss a coin over your shoulder and make a wish.
Marvel at the grandeur of this Baroque masterpiece, which depicts Neptune, the god of the sea, surrounded by mythical creatures.
To escape the bustling city, head to the peaceful Villa Borghese gardens. Enjoy a leisurely walk, rent a bicycle or a rowboat, and revel in the serene atmosphere.
Rome has a lot more attractions, and at times, it can feel like history is at every corner.
Day Trips from Rome
When you're in Rome, you have the perfect opportunity to venture out and explore the stunning surroundings through exciting day trips.
One popular day trip is to the enchanting city of Florence. Florence's charming streets, historic sites, and artistic treasures make for a truly memorable day trip.
Another captivating destination is the ancient city of Pompeii, located near Naples.
Wander through the remarkably preserved ruins, marvel at the once-thriving streets and buildings, and gain insights into daily life during the Roman Empire.
If you're a history enthusiast, a visit to the archaeological site of Ostia Antica is highly recommended.
Explore the ruins of the amphitheater, the baths, and the residential quarters, and imagine the bustling activity that once took place here.
For a dose of natural beauty, head to the stunning Amalfi Coast. Discover the picturesque towns of Positano, Amalfi, and Ravello.
Tivoli is a fantastic choice for history buffs. Visit Villa d'Este, known for its splendid Renaissance gardens and intricate fountains.
These are just a few examples of the remarkable day trips you can take from Rome.
So, creating lasting memories is just a short journey away from the Eternal City.
Final Thoughts
As you conclude your journey with me, I hope you're feeling inspired and excited about all that Rome has to offer.
This city gives you a chance to immerse yourself in its rich history and vibrant culture, where ancient wonders coexist with modern marvels.
From the magnificent Colosseum to the mouth-watering cuisine, I've provided you with insider tips and insights to enhance your experience and ensure you make the most of your time in the Eternal City.
So, prepare to go on a remarkable trip filled with captivating history, delicious flavors, and unforgettable moments. Let Rome's timeless allure captivate you as you create memories that will last a lifetime.
Enjoy your journey through this magnificent city!
Sebastian Clark is a traveler from the UK and writes about Europe for Caravanzers.
Follow us on Pinterest.