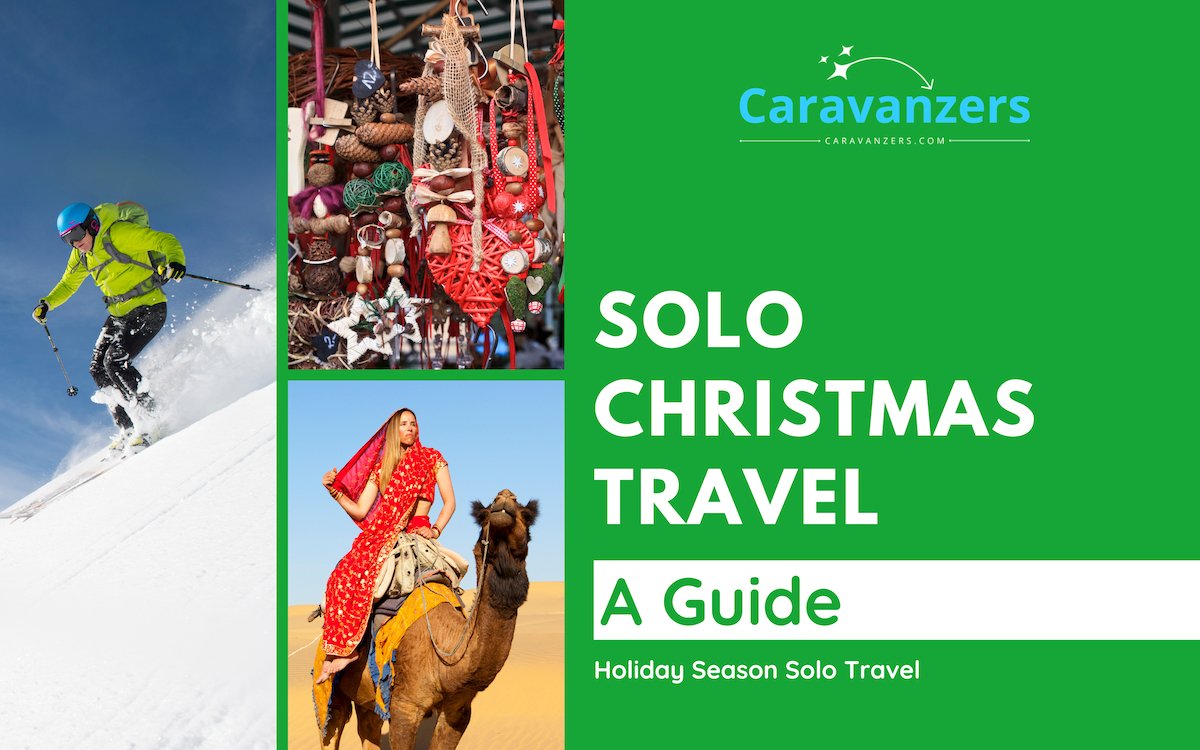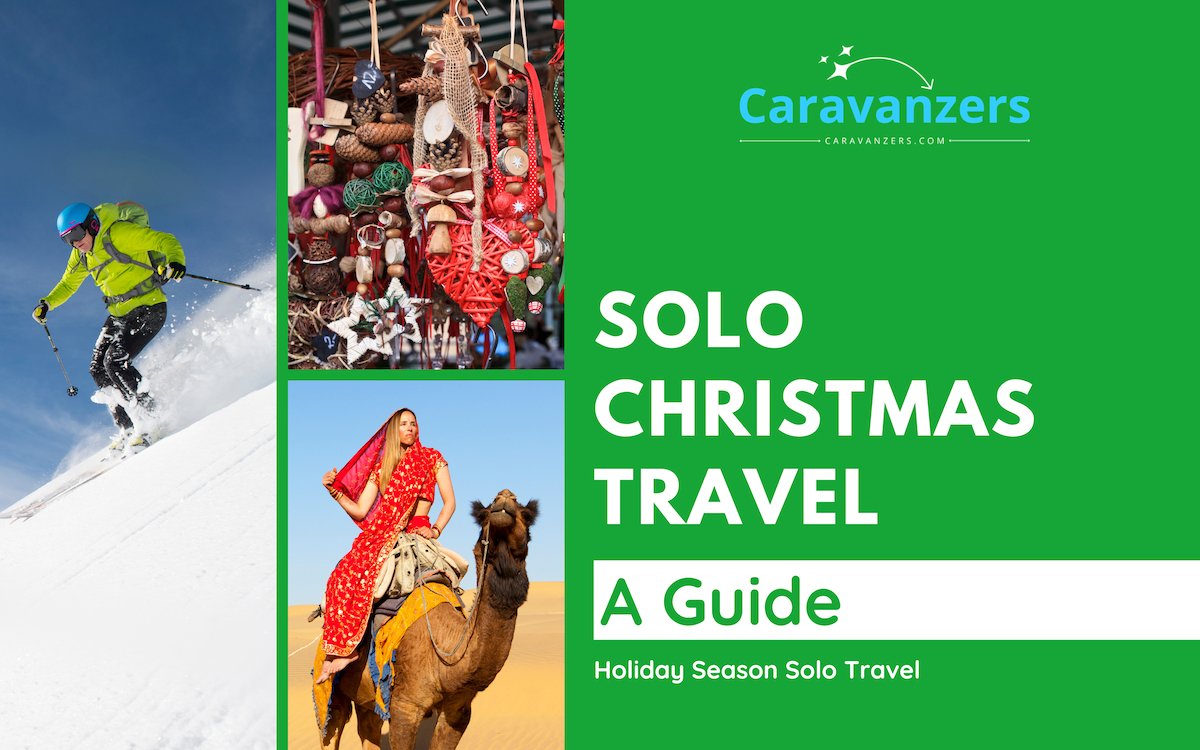 Solo travel during Christmas can be a great way to relax and escape the hustle and bustle of the holiday season.
And this guide gives you everything you need to go enjoy it!
First, I will explore some ideas to get you going. This type of travel isn't for everyone, and I just want to make sure you have all the information.
Then I will discuss solo travel destinations for the Christmas season to include in your list. Some of these are amazing!
So, without further ado, let's get into this guide!
Solo Christmas Travel Ideas
There are many reasons why someone might want to travel solo during Christmas. Maybe they don't have any family or friends nearby, or maybe they just want to get away from the hustle and bustle of the holiday season.
Of course, there are those who want to experience the season in a new setting, too.
Regardless of the reason, there are plenty of great solo travel options out there for those looking for solo travel during Christmas.
One idea is to head to a warm destination like Hawaii or Mexico. There's no need to deal with cold weather or snow when you're relaxing on a beach!
Those two destinations aren't for people wanting to escape the holidays because they are both predominantly Christian. However, they do offer unique experiences for people coming from cold areas.
Another option is to visit a city that you've always wanted to see. If you're normally stuck at home during the holidays, this is a great time to finally explore that place you've always dreamed of visiting.
As you will see later, there are specific spots that are either awesome to experience Christmas or escape from it.
Whatever you decide to do, make sure you have a plan so that you can enjoy your solo Christmas adventure to the fullest!
Solo Female Christmas Trip
When planning a solo trip for Christmas, female travelers have a few things to think about. First and foremost, it's important to consider your safety.
Some destinations can be beautiful during the holidays, but they may be more challenging for female solo travelers.
For example, there are countries with a high rate of rape, including South Africa, India, and Sweden.
Remember to research local customs and dress appropriately to avoid unwanted attention. What you may consider normal could end up getting you into trouble.
For example, a visit to traditionally-conservative countries that celebrate Christmas, such as Ethiopia, Egypt, and Lebanon, is worthy of research.
Finally, it's also wise to avoid couple-oriented destinations and activities, as you may feel out of place and uncomfortable. Instead, focus on finding places and things to do that you're interested in and will enjoy.
With a little planning, you can have a safe and enjoyable trip.
Male Solo Travel During Christmas
Like females, male solo travelers have a few things to keep in mind, too. First, safety is always a priority. Be sure to research your destination ahead of time and familiarize yourself with the local customs.
For example, traveling to traditional countries may require you to figure out how to address local women. In some countries, such as India, you really shouldn't just approach and strike up a conversation with women.
Secondly, remember that Christmas is a time for couples and families, too. Avoid destinations that are known to be romantic getaways. The last thing you need is to feel like everyone is taken.
Finally, don't forget to pack your own holiday cheer! Solo travel can be a great opportunity to meet new people and learn about different cultures.
So, plan it ahead of time!
Where to travel in Christmas Alone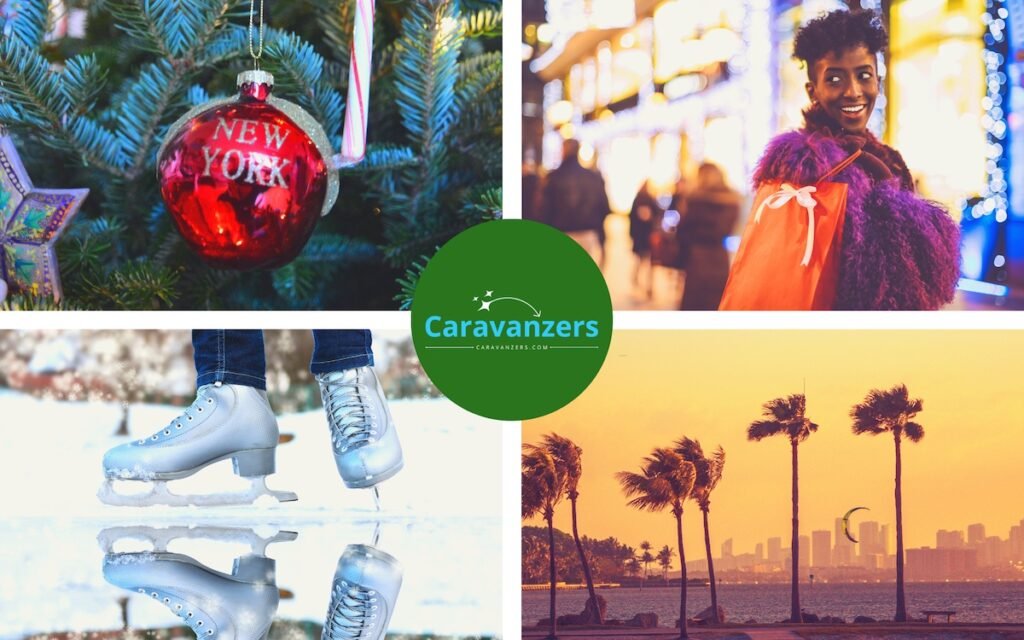 Christmas is a great time to travel, even if you are alone. There are many places that are festive and fun to visit by yourself.
Where to travel in Christmas if you are alone? One option is to head to a big city like New York or London. The good thing about big-city Christmas travel is that there's always something going on, and you'll never feel alone. And they have pretty Christmas markets!
Or, if you're looking for a more relaxed trip, try somewhere like Hawaii or the Caribbean. When it comes to sunny destinations, they are sure to put you in the holiday spirit… in the sun!
For those of you seeking thrills, some popular islands like Ibiza and Mykonos have great Christmas parties. Imagine all the lights, festive mood, and, well, partying!
Of course, there are great other solo travel destinations you can check out, too.
The most Christmassy place in the world
There's no place like home for the holidays, but if you're looking for a festive destination to travel to during Christmas, there are a few options that stand out.
Where is the most Christmassy place in the world? One of the most beautiful places to visit during Christmas is Lapland, Finland. You can experience all the winter wonderland activities, visit a Christmas market, and hang out with Santa Claus at his workshop, including a reindeer sleigh. Oh, what fun!
If you're looking for a warmer Christmas option, Rio de Janeiro, Brazil, is a great choice. The city comes alive during Christmas with its huge outdoor celebrations and parties.
Oh, and did I mention it's Summer in Rio at that time?
Best Place for Christmas in the US
Christmas is a wonderful time to travel solo through America. There are so many festive activities to enjoy and plenty of opportunities to meet new people.
What is the best place to spend Christmas in the United States? If you want to experience a traditional American Christmas, then head to New York City. This city offers plenty of holiday cheer, from Christmas markets and concerts to ice skating rinks and Santa Claus sightings. And food!
However, the best place to spend Christmas in the United States depends on what you're looking for. States like those on the East Coast and Midwest offer a lot of Christmas fun, including snow.
If you're looking for a warm Christmas, then head to California or Florida. These destinations give you a chance to be in the sun, even if it's a little chilly.
Or, if you want to escape the cold altogether, Hawaii is a great option. This paradise is warm throughout the winter.
No matter where you spend Christmas, make sure to enjoy all that this festive season has to offer.
How to Spend a Solo Christmas
Many people travel during the holidays to be with family, but what if you don't have any family to visit? Or what if you're just not in the mood to be around a lot of people? Solo travel during Christmas can be a great solution.
How do you spend a solo Christmas? Go to a new destination where no one knows you. There are plenty of festive activities to keep you busy, from Christmas markets to holiday concerts. And if you're feeling really adventurous, you could even try spending Christmas with new foreign friends!
If you're spending Christmas alone this year, there are plenty of things you can do to make the most of it. First, take some time for yourself and relax. Maybe take a long bath, read your favorite book, or watch a holiday movie.
You can also use this time to get things done around the house that you've been putting off. For example, this is a great season for interior design.
And finally, don't forget to treat yourself! Get yourself a nice present or make your favorite holiday meal.
Just because you're alone doesn't mean you can't have a great Christmas… at home or elsewhere!
Where to Go to Avoid Christmas
Let's face it, not everyone loves the Christmas Season. Some don't believe in it, others are annoyed by all the commercials, and there are those who get sad and lonely.
Where can I go to avoid Christmas? If you're looking to escape the Christmas festivities, try visiting a country where the holiday is not a traditional one. Consider Morocco, India, or Japan. These destinations offer a reprieve from the holiday season, although each has the option to experience it, too.
Morocco is home to stunning architecture, vibrant markets, and friendly locals. This predominantly Muslim nation doesn't have a lot of Christians, which is perfect for someone escaping the season. There's plenty to keep you busy in Morocco, and you're sure to avoid most of Christmas.
Japan is another great option because you can experience traditional Japanese New Year celebrations. This Buddhist nation has a tiny minority of Christians. Plus, this is really one of the most interesting countries to visit in general, so you're sure to have tons of fun!
Finally, India is a fantastic spot for Christmas. This predominantly Hindu nation does have Christians, but they are a small minority. So, you will be able to explore its great history and architecture without Christmas vibes.
Whatever your preference, there's sure to be a solo travel destination that's perfect for you.
Final Thoughts on Solo Travel During Christmas
Some people love the idea of solo travel during Christmas, while others find it a bit daunting. There are pros and cons to both, but ultimately it depends on your own personal preferences.
If you enjoy having lots of alone time, then solo travel during Christmas can be a great way to relax and escape the hustle and bustle of the holiday season.
On the other hand, if you prefer being around people during this time of year, then traveling solo may not be for you.
Whatever you decide, there are plenty of amazing places to see and things to do during Christmas, so get out there and explore!
AJ Paris is a travel photographer based in New York. He is the editor of Caravanzers.
More Solo Travel
Love solo traveling? Here are more articles for you: