Spring in New York is an incredible time, with temperatures warming up and the city's parks and gardens bursting with colorful blossoms.
This is definitely a season of transformation and celebration.
As winter's chill fades away, spring breathes new life into the streets of New York City.
From the enchanting Cherry Blossom Festival in Central Park to the lively St. Patrick's Day Parade and the joyous gatherings of Mother's Day and Memorial Day Weekend, I've got all the details for travel during this vibrant season.
So, if you're planning a trip to the Big Apple, keep on reading.
Spring in the USA
Spring in the United States is a season of transformation and rejuvenation.
Generally, spring typically spans from March 20th to June 20th, encompassing a period of approximately three months.
As temperatures begin to rise, nature awakens from its slumber, and those cold nights start to slowly disappear.
Blooming flowers, budding trees, and chirping birds bring vibrant colors and lively melodies back to the landscapes.
So, spring is often associated with Easter and its traditions, such as egg hunts and religious celebrations.
It is a time for outdoor activities, from gardening and hiking to picnics and sporting events.
With longer daylight hours and milder weather, spring is is a beloved tradition in diverse regions of the United States.
New York in the Spring
As spring in New York blossoms, it presents a cornucopia of enticing events and festivals.
That said, though, amidst the festivities, spring is also the perfect time to go exploring.
Discover the iconic landmarks and vibrant neighborhoods that define the city's unique character.
Meanwhile, with mild weather and a refreshing ambiance, spring sets the stage for pleasant walks and outdoor adventures.
Start with a leisurely stroll through the bustling streets of Times Square, where neon lights illuminate the energetic atmosphere.
Absorb the vibrant energy emanating from the myriad of billboards, theaters, and bustling crowds.
Hop on a ferry and set sail to Lady Liberty, an enduring symbol of freedom and opportunity.
Ascend to her crown or simply revel in her majestic presence.
This is while learning about the millions of immigrants who passed through Ellis Island, shaping the nation's history.
Embracing the spirit of spring, venture beyond the well-trodden paths.
Likewise, uncover the hidden gems nestled within the city's diverse neighborhoods.
Similarly, wander through the tree-lined streets of the West Village, where charming brownstones and cozy cafes create an enchanting ambiance.
Explore the artistic enclave of Chelsea, home to contemporary art galleries and the enchanting High Line park, an elevated urban oasis.
In Brooklyn, lose yourself amidst the vibrant energy of Williamsburg, where trendy boutiques, artisanal eateries, and bustling street markets await.
Or venture further to DUMBO. This neighborhood nestled between the Manhattan and Brooklyn Bridges, offering breathtaking views of the skyline and delightful cobblestone streets.
Spring in New York City is not merely a season of events and festivals.
No, this is a call to explore, wander, and uncover the city's timeless landmarks and vibrant neighborhoods.
Cherry Blossom Festival in Central Park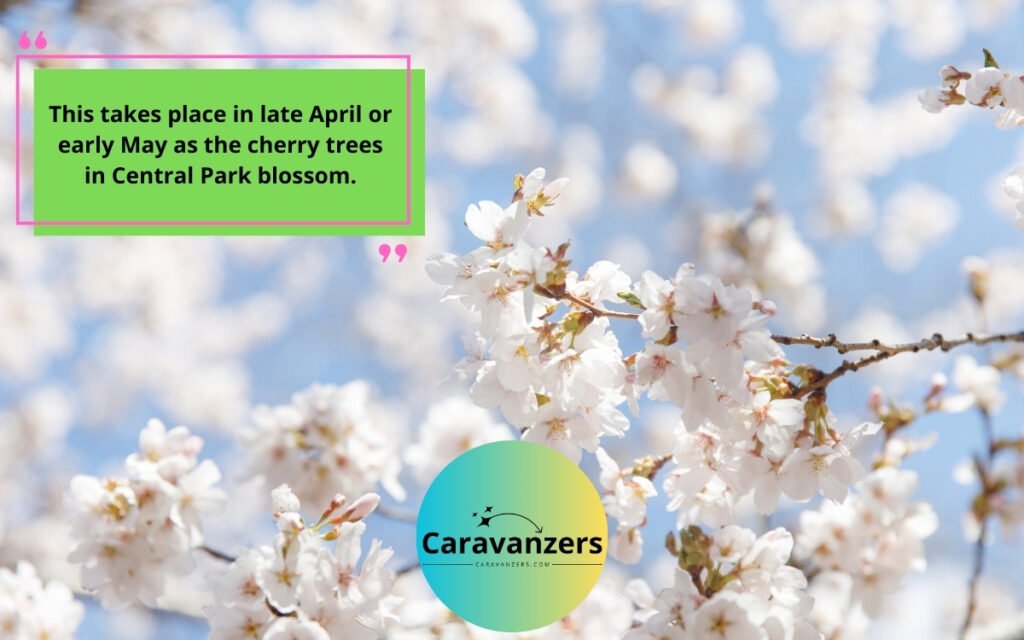 In New York City, the Cherry Blossom Festival in Central Park stands out as a captivating spring event.
As the cherry trees within the park burst into full bloom, a mesmerizing pink canopy blankets the landscape, creating a scene of unparalleled beauty.
So, the Cherry Blossom Festival in NYC typically takes place in late April or early May when the cherry trees in Central Park bloom in full splendor.
This enchanting sight is truly unforgettable, and witnessing it is a must-do experience.
During the festival, take a leisurely stroll along the park's pathways, which are adorned with delicate blossoms.
As you walk amidst this floral wonderland, immerse yourself in the awe-inspiring beauty of nature's renewal.
Capture this ephemeral beauty through photographs or simply pause to admire the delicate petals dancing in the gentle breeze.
You will see many New Yorkers and travelers alike taking photos, selfies, videos, and more. It really is a merry time in the city.
Without a doubt, this is one of the many reasons I love spring in New York.
Spring Equinox in New York City
The Spring Equinox is celebrated by various communities, including Persians, Wiccans, and New Age enthusiasts.
It holds profound significance as it marks the official arrival of spring and symbolizes renewal and rebirth.
If you aren't familiar, the spring equinox is the astronomical event that occurs twice a year.
It happens once in each of the two hemispheres.
This is when the tilt of the Earth's axis is inclined neither away from nor towards the sun.
It results in roughly equal lengths of day and night.
It marks the official beginning of spring.
In New York, this is in March, whereas in Sydney, it's in September.
So, yeah, spring in New York brings not only the blossoming of nature but also a vibrant surge of spiritual energy.
In this city, travelers have the opportunity to immerse themselves in the spiritual essence that permeates during this time.
Joining in the festivities, you can embrace the transformative energy of the Spring Equinox.
Explore the diverse spiritual communities of New York City, where practitioners come together to celebrate the Spring Equinox.
Attend meditative gatherings in serene parks, where the gentle warmth of the sun infuses a sense of serenity.
Embrace the transformative energy of the Spring Equinox by taking part in rituals that celebrate nature's cycles.
You can participate in ceremonies that honor the elements, such as fire or water.
Likewise, you can engage in practices that promote balance and harmony within oneself and with the Earth.
I would say that this is a unique opportunity to connect with the city on a spiritual level.
Embrace the renewal and rebirth that spring brings, and let the city's spiritual pulse guide you on a transformative journey.
St. Patrick's Day in NYC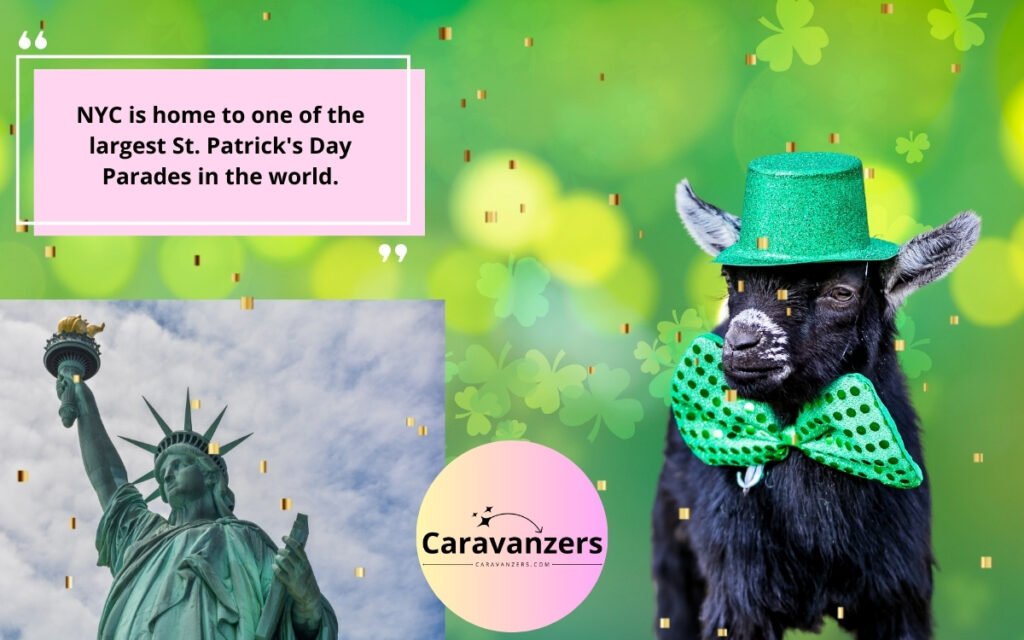 On March 17th, NYC becomes awash in a vibrant sea of green as people from all walks of life.
They gather to celebrate St. Patrick's Day.
This cherished holiday holds deep significance as it commemorates the rich culture and heritage of the Irish community.
So, the city proudly hosts one of the largest St. Patrick's Day Parades in the world.
It attracts locals and visitors alike.
I would have to say that this is probably the biggest event in the spring in New York.
The parade is a spectacle that should not be missed. The streets come alive with colorful floats, marching bands, and exuberant participants, all showcasing their Irish pride.
For instance, traditional music fills the air, and the lively atmosphere is infectious. Donning your favorite shade of green, you'll be immersed in a spirited celebration that transcends boundaries and unites people from diverse backgrounds.
New York City's St. Patrick's Day Parade offers a unique experience to connect with Irish traditions and immerse yourself in the festivities.
Travelers visiting New York City during St. Patrick's Day can take part in various activities beyond the parade itself. Indulge in Irish culinary delights, from hearty stews to freshly baked soda bread.
Beyond the festivities, delve into the rich Irish history and heritage that permeates New York City. Explore the vibrant neighborhood of Woodlawn in the Bronx, known for its strong Irish community and historic landmarks.
As you revel in the festivities, you'll witness the harmonious blending of cultures as people from all backgrounds come together to honor and embrace the Irish heritage.
So, don your green attire, join the parade, and experience the lively ambiance of this beloved celebration in the heart of Manhattan.
Easter in New York
Easter in New York City is a joyous and vibrant celebration.
The city comes alive with a festive spirit as Easter Sunday approaches.
One of the iconic events is the Easter Parade and Bonnet Festival, held on Fifth Avenue.
Participants showcase their creativity by wearing elaborate and whimsical hats and parading along the street for all to admire.
This colorful procession attracts crowds of onlookers, creating a lively and festive atmosphere.
Many churches throughout the city hold special Easter services and Masses.
I would say it's an invitation for people to gather and commemorate an important Christian moment.
These religious ceremonies provide a sense of spiritual unity and reflection during this important Christian holiday.
Families and friends come together to celebrate Easter with festive meals and gatherings.
Many restaurants offer special Easter brunch menus, allowing guests to indulge in delicious cuisine while enjoying quality time with loved ones.
In addition to the traditional celebrations, numerous cultural institutions and attractions in New York City organize Easter-themed events and activities.
From egg hunts in local parks to Easter-themed performances and exhibitions, there are plenty of opportunities to engage in family-friendly festivities.
Easter in New York City blends traditions, creativity, and a vibrant atmosphere.
Mother's Day in New York City
In the vibrant city of New York, the arrival of spring brings with it an occasion filled with appreciation and gratitude—Mother's Day.
This heartfelt day, dedicated to honoring the incredible mothers and maternal figures in our lives, offers a perfect opportunity to express love and appreciation in a special way.
The city's celebration of this day is so strong that there are movies about it.
In New York City, travelers can make this day truly unforgettable for their moms.
With a ton of amazing restaurants scattered across the city, treating your mom to a leisurely brunch is a delightful way to start the day.
Indulge in delectable cuisine while basking in the cozy ambiance and sharing heartfelt conversations.
Beyond culinary delights, New York City offers a myriad of enchanting experiences.
Embark on a leisurely stroll through charming neighborhoods, such as Greenwich Village or SoHo, and discover hidden gems while creating lasting memories together.
Explore the iconic Central Park, where blooming flowers and lush greenery provide a serene backdrop for meaningful conversations and quality time.
For those seeking cultural enrichment, the city boasts world-class museums and art galleries.
To truly make your mom feel cherished, consider planning a surprise outing or pampering session.
Whether it's a scenic boat ride along the Hudson River, a rejuvenating spa treatment, or tickets to a Broadway show, the options are endless in this dynamic city.
New York City is definitely one of my favorite places to celebrate Mother's Day.
Memorial Day Weekend in NYC
Memorial Day is huge in New York City for several reasons.
First of all, as spring progresses and the temperature rises, the bustling city starts to get eager.
Both locals and visitors eagerly await the arrival of Memorial Day Weekend.
This highly anticipated extended holiday weekend, typically at the end of May, holds a special significance as it unofficially ushers in the summer season.
The city buzzes with excitement as New Yorkers and travelers alike embrace the opportunity to revel in outdoor activities, delightful barbecues, and joyful gatherings.
During Memorial Day Weekend in NYC, travelers can immerse themselves in the vibrant energy and explore the city's iconic landmarks.
Marvel at the grandeur of the Empire State Building.
You could also experience the serenity of the Brooklyn Bridge while enjoying breathtaking city views.
For those seeking relaxation and natural beauty, New York City's parks offer a serene escape.
Spread a picnic blanket in Central Park, where lush greenery and tranquil ponds create a perfect backdrop for unwinding and enjoying quality time with loved ones.
Prospect Park in Brooklyn or the High Line park, with its elevated walkway, offers equally enchanting retreats.
Embracing the carefree spirit of the season, travelers can also indulge in delightful barbecues and outdoor gatherings.
Join locals at community events, rooftop parties, or waterfront festivities.
Memorial Day Weekend in NYC is a celebration of the transition into summer, where the city embraces the outdoors and offers an array of activities and experiences.
It's a time to create cherished memories, soak up the vibrant atmosphere, and make the most of the extended holiday weekend in the heart of the city that never sleeps.
Welcoming the Summer
In late spring, as New Yorkers eagerly anticipate the arrival of summer, many begin planning trips to escape the bustling city and seek relaxation in idyllic destinations.
Affluent individuals, in particular, often have their sights set on the Hamptons, a renowned and exclusive retreat located on the eastern end of Long Island.
As the temperature rises and the days grow longer, affluent New Yorkers take advantage of their resources to secure coveted summer rentals or arrange stays at luxurious hotels and resorts in the Hamptons.
This process typically begins well in advance, with individuals leveraging their networks and connections to secure the most desirable accommodations and amenities.
Meanwhile, during the summer, many young New Yorkers flock to Miami for its vibrant atmosphere and sun-soaked beaches.
Meanwhile, the gay community is renowned for making their way to Fire Island, a popular destination known for its inclusive and lively environment.
Both Miami and Fire Island offer unique experiences that attract different crowds, reflecting the diverse interests and preferences of individuals seeking unforgettable summer adventures.
Keep in mind that the summer goes all the way to late June, which means it's already warm in New York City!
Spring in New York – Final Thoughts
So, spring in New York is a time of vibrant transformation and celebration because, as the temperatures rise, the city awakens with the beauty of blooming parks and gardens.
From the enchanting Cherry Blossom Festival in Central Park to the lively St. Patrick's Day Parade and the heartwarming celebrations of Mother's Day and Memorial Day Weekend, travelers have a chance to enjoy a lot!
In this guide, I walked you through how there are abundant opportunities to immerse yourself in the spirit of this lively season.
Whether you're captivated by the mesmerizing pink canopy of cherry blossoms, seeking cultural enrichment through parades and festivals, or longing to express love and appreciation to the special people in your life, spring in New York City offers a ton of experiences.
As you arrive and enjoy your trip, I would say let the city's vibrant pulse guide you through discovery, connection, and joy!
Happy spring!
AJ Paris is a travel photographer based in New York. He is the editor of Caravanzers.
Follow us on Pinterest.