There are plenty of things to do in London for Christmas. Here are some you can add to your trip planning.
Experience the holiday magic in London with colorful Christmas lights, traditional carol services, and tree-lighting ceremonies.
In this guide, I will tell you how to explore festive wonderlands, shop for unique gifts, and enjoy ice skating in historic surroundings.
You will also learn to savor traditional Christmas afternoon tea and take a leisurely stroll along the riverbank.
So, if you're planning a Christmas trip to London, you will love this guide.
London Christmas
Christmas in the United Kingdom is a festive time marked by decorations, carol singing, and traditional meals, such as roast turkey.
In London, the city truly comes alive with dazzling light displays, ice skating rinks, and Christmas markets, with iconic landmarks like Trafalgar Square hosting a giant Christmas tree.
Travelers should care about Christmas in London because this is really a unique blend of tradition and modernity.
I would have to say that the city's historic charm shines through with festive markets, carolers, and iconic displays, while contemporary elements like cutting-edge lighting and shopping experiences make it a fascinating destination for a memorable holiday season.
So, definitely plan a trip at least once in a lifetime. Make sure to get a travel insurance, though, because winter is super risky.
Street Christmas Lights
A travel essential is strolling Oxford Street, Regent Street, and Covent Garden to admire dazzling Christmas lights and decorations.
Plan by checking the lighting ceremony dates and enjoying the displays during the evening.
Generally speaking, it gets dark by 4 p.m. So, if you plan an hour or two of walking starting at 5 p.m., it means you will have a good time before dinner.
English Carol Service
Attending a Christmas carol service at St. Paul's Cathedral or Westminster Abbey is a must.
Plan by checking service times, arriving early for a good seat, and being respectful during the service.
This is by far one of my favorite things. "O Holy Night," "Silent Night," and "In the Bleak Midwinter" are some of the most popular in London.
For American travelers, especially, "In the Bleak Midwinter" is usually a unique one to hear!
Trafalgar Square Tree Lighting
Attend the Trafalgar Square Christmas tree lighting ceremony and join in carol singing with locals and tourists.
Plan by checking the event date and arriving early for a good view.
Just so you know, Trafalgar Square is super important to Londoners… since the Square helped us with the victory over Napoleon.
Meanwhile, make sure to add the National Portrait Gallery, Savoy Theatre, and the Saint Pancras Renaissance Hotel to your list since they are there.
Hyde Park Winter Wonderland
A must-do during Christmas in London, Winter Wonderland in Hyde Park is a festive wonderland featuring ice skating, Christmas markets, and thrilling fairground rides.
Plan your visit by checking their website for event schedules and booking tickets in advance.
Hyde Park is London's Central Park, and it truly acts as the heartbeat of the festive season with this awesome experience.
Shopping at a Christmas Market
Shop for unique gifts at Leicester Square or Southbank Centre Christmas markets because there's nothing like a holiday fun shopping.
Plan to visit during the day to explore the crafts and festive stalls.
My favorite is Kingston Christmas Market, which is in Ancient Market Place, not far from High Street.
Expect to find unique things like figurines, which are absolutely great.
Thames Christmas Cruise
Experience a Christmas-themed afternoon cruise along the River Thames.
Plan by booking cruise tickets and enjoying the festive scenery from the water.
You deserve a little pick me up with this experience after having been walking and shopping around the city.
Sit back and enjoy an intimate dinner cruising down on the city's most famous river.
Ice Skating at Tower of London
Don't miss ice skating at the iconic rink in front of the Tower of London.
Plan by booking skating sessions, especially during peak times, and taking in the historic surroundings.
Next day, maybe head to town for some fun in the day. Keep in mind the Tower of London closes around 4:30 p.m. in the winter, though!
Winter Afternoon Tea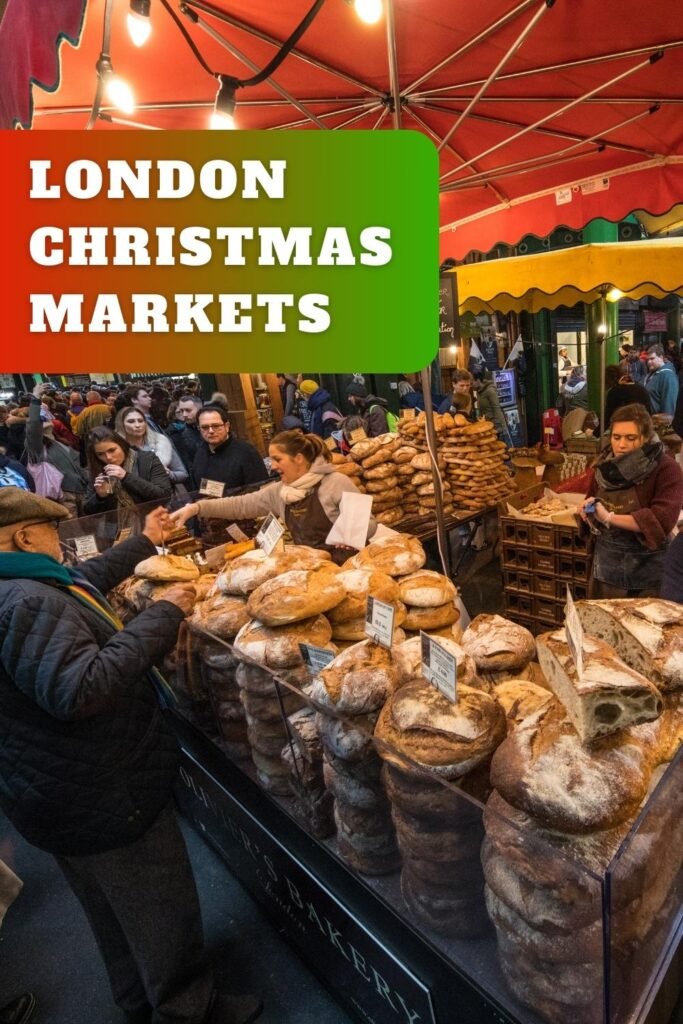 Savor traditional Christmas afternoon tea in historic hotels.
Plan by making reservations well in advance, and don't forget to try the mince pies and festive treats.
After an exhausting skating event, maybe you will want to sit down and have some tea. The Ivy Chelsea Garden, on 197 King's Road, is a great place for this.
In the winter, you will find warming teas to help you unwind!
Personally, I love white Earl Grey tea in the winter. This is aromatic but still light. And don't forget the cookies!
South Bank Stroll
Take a leisurely walk along the South Bank of the Thames to enjoy Christmas markets and stunning riverside views.
Plan for an evening visit when the lights create a magical ambiance.
After tea and before dinner is a great time to do this, but I would say you could also do that after dinner.
Regardless of when you do it, this is a great London tradition for winter.
Festive Pub Meal
Enjoy a cozy, festive meal at a traditional London pub with a roaring open fire.
Plan by researching pub options, making reservations if required, and indulging in classic British dishes.
The Churchill Arms, on 119 Kensington Church Street, is my absolute favorite. This is a wonderful place for this. It has Thai food, and you will really have that London global feel!
The Seven Stars, on 53 Carey Street, is the oldest pub in town in case you want to experience something traditional.
Natural History Museum Ice Rink
Glide on ice at the Natural History Museum's rink, set against the museum's backdrop.
Plan by booking skating slots, especially during peak hours, and dressing warmly.
Hey, you might as well skate several times since you will be in winter, right?
I love this experience because you get to have two amazing things in one place!
Christmas Pantomime Experience
Immerse in the magic of a Christmas pantomime at a London theater.
Plan by booking tickets early for preferred dates and enjoying the interactive, family-friendly show.
Christmas pantomime is an old tradition because this smart, British comedy is perfect for the entire family!
Hogwarts Express Ride
Take a ride on the Christmas-themed Hogwarts Express at Warner Bros. Studio Tour.
Plan by booking tour tickets in advance and experiencing the enchanting world of Harry Potter.
You will absolutely love this experience if you are a fan of the Harry Potter series like me!
Kew Gardens Illuminations
Wander through Kew Gardens' illuminated trail.
Plan by checking opening hours, purchasing tickets, and enjoying the enchanting light installations.
Charles Dickens Museum
Explore the Dickensian charm of the Charles Dickens Museum in Holborn.
Plan by checking museum hours and immersing yourself in the Victorian world of the famous author.
This event is really great for authors and readers alike or anyone interested in history.
Final Thoughts
London has a myriad of enchanting holiday experiences, from festive wonderlands and traditional carol services to ice skating in historical settings and indulging in cozy pub meals.
You really have a lot to choose from.
For example, you can enjoy the magic of Christmas lights, tree lighting ceremonies, and unique gift shopping, along with the charm of traditional Christmas afternoon tea and leisurely riverbank strolls.
Just be ready to throw yourself into it by partaking in interactive Christmas atmospheres during your visit to the city.
Enjoy London!
Sebastian Clark is a traveler from the UK and writes about Europe for Caravanzers.
Follow us on Pinterest.