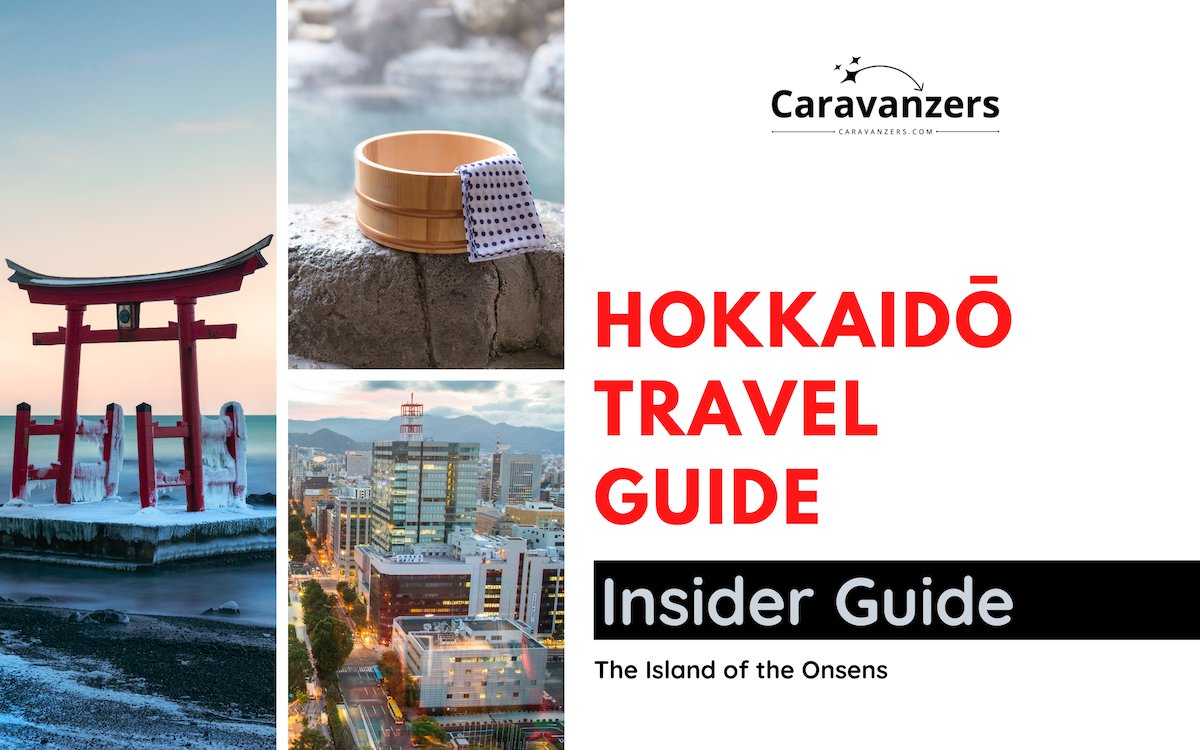 Consider this your Hokkaidō travel guide. Learn more about one of Japan's popular islands.
Hokkaidō is the northernmost large island.
In this article, you will learn about Hokkaidō's many tourist attractions, such as its food, mountains, cities, and hot springs.
How to Get to Hokkaidō
There are four main ways to get from Tokyo to Hokkaidō – by air, by bullet train, by ferry, or by driving.
Of course, I'm talking about traveling from Tokyo to Sapporo, the capital of Hokkaidō.
Flying is the quickest option, taking just 1 hour and 40 minutes. However, it is also the most expensive option.
Taking the bullet train is a cheaper option, but it takes longer – 3.5 hours.
The cheapest option is to take the ferry, but this takes the longest – about 20 hours.
Finally, you could drive, but it will take about 17 hours.
Hokkaidō Tourist Attractions
Many Japanese people love to travel to Hokkaidō. Tourist attractions include its delicious food, beautiful cities, volcanic mountains, and hot springs.
Hokkaidō Food
When you get to Hokkaidō, you will probably be hungry. The food on Hokkaidō island is very seafood-centric.
The most popular seafood dishes are sushi, sashimi, and other seafood.
Seafood donburi (海鮮丼) is very popular here. Donburi is a rice bowl.
Ramen noodles are also very popular. A famous local one is the ramen miso (味噌), which is delicious.
The climate on the island is perfect for growing fresh produce, so fruits and vegetables are also very common in Hokkaidō cuisine.
Major cities on Hokkaidō will also have international restaurants and foods.
Best Cities
Sapporo is the largest city in Hokkaidō and is located in the southwest corner of the island. It's one of my favorite cities in Japan.
Hakodate is located on the southern tip of Hokkaidō and is known for its unique architecture. A huge mountain is also near the city.
Asahikawa is located in the center of Hokkaidō and is known for its cold winters.
Abashiri is located in the north of Hokkaidō and is known for its beautiful scenery. Here the snow is very interesting to watch because it drifts.
Wakkanai is Japan's northernmost point and is known for its rugged coastline. It's very close to Russia!
Kushiro is on the eastern coast of the island. Very beautiful town.
Volcanos and Skiing
Asahi-dake, Tomuraushi, and Yōtei are all mountains with volcanos on this island!
Asahi-dake is the tallest mountain on the island. It's in the center of the island, not far from Asahikawa.
Close to Asahi-dake is Mount Tomuraushi. This volcanic mountain is part of the Daisetsuzan National Park.
Mount Yōtei is very famous for looking a lot like Mount Fuji! It's between Hakodate and Sapporo.
And there are a lot more!
Its many mountains make it a great place to go skiing. Across the island are many ski resorts.
Hot Springs
Thanks to its many volcanos, Hokkaidō is known for its hot springs or onsen (温泉). Mizunashikaihin, Nakadake, and Seseki are all popular hot springs.
Mizunashikaihin is close to Hakodate. Locals wait when it's low tide, and they get into the thermal spring.
Nakadake is near Asahikawa. This central hot spring is so beautiful. Rocks are around it, and usually, there are beautiful flowers in the summer.
Seseki is in the north, on the Shiretoko peninsula. It's a very popular one. The big rocks around it make it very bearable when it's chilly.
Remember, you can find many private ones at traditional hotels!
Hokkaidō Travel Final Thoughts
Japanese travelers love to go to Hokkaidō, and so can you.
This island is so beautiful and has many gorgeous cities, mountains, and hot springs.
All of this already invite tourism, but its food is really what many can't do without.
So take the time to get to know Hokkaidō.
Yuri Takahashi writes about Japan for Caravanzers.
More Japan
Love Japan? Here are more articles:
Japan Tourism – Visit the official website of the tourist office.