Mexico City solo travel offers an exhilarating experience in a metropolis bursting with energy and a distinctive cultural charm.
As the capital of the country, this dynamic city has a ton for solo adventurers.
With its mind-boggling history, awe-inspiring architecture, yummy cuisines, vibrant nightlife, and warm hospitality, I can tell you that you will have an amazing trip.
Whether you're a history enthusiast, a food lover, or simply seeking a diverse and exciting destination, Mexico City has it all for the solo traveler.
So, in this guide, you're basically learning about all of that, and I'm pretty you will need to take some notes.
Let's get started.
Welcome to Mexico City
Mexico City is a lively capital with an incredible history, gorgeous architecture, and delicious food.
This is a city full of super busy markets, lively nightlife, and friendly people.
Without a doubt, Mexico City is the best destination for solo travel adventures in this country.
Many travelers go to Mexico City because of its historical landmarks, such as the ancient ruins of Teotihuacan.
Since it was once the capital of a pre-Columbian culture, people want to experience that historical vibe.
Of course, Mexico City's diverse food scene, art galleries, museums, and thriving nightlife add a lot, too.
In fact, did you know that Mexico City has the most museums in any city in the world?
Yeah!
Solo travelers should plan on going to Mexico City because it offers a mix of cultural immersion, friendly locals, and a variety of experiences.
This is a city where you can explore and feel safe while navigating the city's well-connected public transportation system, including ridesharing apps.
Mexico City has two airports serving different purposes.
So, Benito Juarez International Airport (MEX) is the main airport.
This is close to the city center, and it handles both domestic and international flights.
A taxi ride from this airport is only about 20 minutes from the city.
On the other hand, Toluca International Airport (TLC) is situated further away, primarily serving low-cost carriers and charter flights, providing an alternative travel option for budget-conscious travelers.
Meanwhile, a taxi ride from this airport is more like an hour in traffic.
So, yeah, let's jump into this.
Safe Neighborhoods for Solo Travelers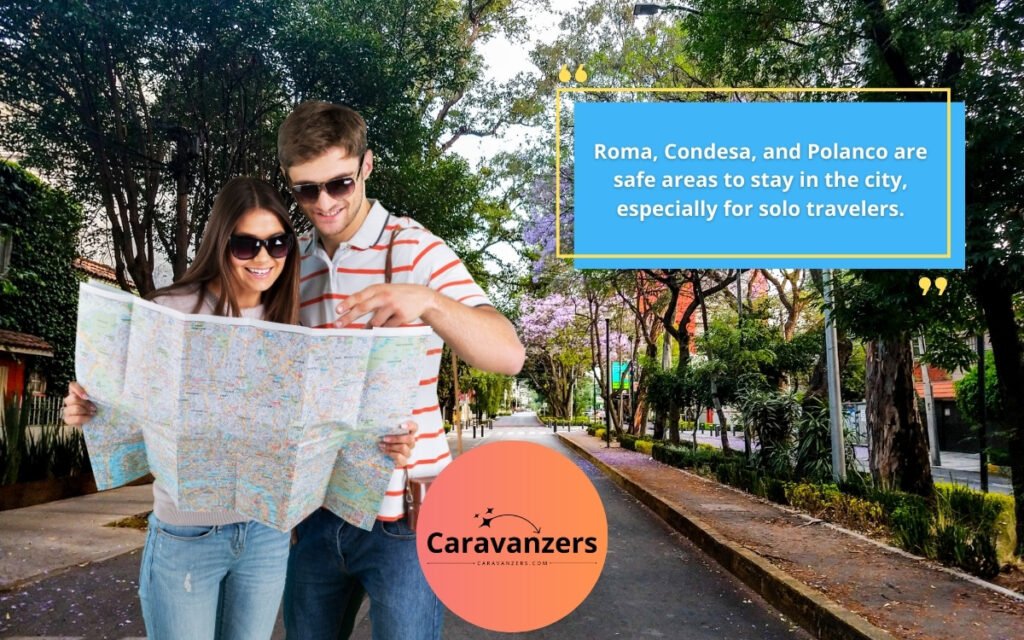 When it comes to choosing the perfect base for your Mexico City solo travel, safety is a priority.
Mexico City is famously dangerous.
With a murder rate of about 26 per 100,000, it leads the pack for the world's global cities.
The good news, though, is that the city has several neighborhoods that are not only vibrant and inviting but also have relatively low crime rates.
Roma, Condesa, and Polanco are three such neighborhoods that offer a plethora of amenities to enhance your solo travel experience.
Roma, the original ex-pat neighborhood, exudes a charming ambiance with its tree-lined streets and quaint cafes.
Here, solo travelers can immerse themselves in a laid-back atmosphere and explore the artistic and cultural heritage that defines this bohemian district of Mexico City.
Condesa, on the other hand, pulsates with youthful energy and a trendy vibe.
As a solo traveler, you'll be delighted by the plethora of hip cafes, stylish Airbnbs, and eclectic boutiques.
Condesa's vibrant parks and lively nightlife make it an ideal neighborhood for young adventurers seeking both cultural immersion and exciting social experiences.
For solo travelers with a taste for luxury, Polanco beckons with its upscale reputation.
This affluent neighborhood boasts high-end shopping, world-class restaurants, and renowned museums.
While indulging in a solo stroll along Polanco's elegant boulevards, you can admire the architectural beauty and revel in the refined atmosphere that characterizes this exclusive district.
Explore the City as a Solo Traveler
A Mexico City solo travel is filled with a ton of fun, including visits to some iconic attractions.
Museums like the iconic Frida Kahlo Museum and the impressive National Museum of Anthropology offer immersive cultural experiences, allowing you to delve into Mexico's rich heritage and artistic legacy.
To truly immerse yourself in the local flavor, visit the bustling markets such as Mercado de La Merced and Mercado Roma.
Meanwhile, from the ancient ruins of Teotihuacan to the ornate facades of the Metropolitan Cathedral, there are so many architectural marvels here!
Take a solo walk through the historic center, which is a very busy but otherwise safe area. Explore the Zocalo, the main historic square. You will see a bunch of colonial-era buildings.
Indulging in the local cuisine is a must for any solo traveler in Mexico City.
From mouthwatering street tacos to traditional dishes like mole and chiles en nogada, the city's culinary scene is a gastronomic delight.
Don't miss the chance to visit local food markets like Mercado San Juan, where you can savor authentic flavors and engage in conversations with passionate vendors.
As the sun sets, Mexico City transforms into a playground for nightlife enthusiasts.
Whether you seek pulsating dance clubs, cozy jazz bars, or live music venues, the city caters to every taste.
Joining a salsa class, attending a vibrant cultural festival, or enjoying a captivating theater performance are all solo-friendly activities that allow you to embrace the vibrant nightlife while forging connections with fellow travelers and locals alike.
By engaging with the city's vibrant community, you'll create lasting memories and gain a deeper understanding of Mexico City's soul.
Safety Tips and Precautions
While Mexico City solo travel is generally safe, I can't stress enough the importance of taking precautions to ensure a secure and worry-free solo travel.
This is especially the case if you decide against my previous advice to stay in safer neighborhoods like Roma, Condesa, or Polanco.
First of all, start your safety by registering with your government. For example, Americans should keep a close communication with the US Embassy.
Your government should know where to find you in case of emergency.
Mexico City is on a seismic plate, and there have been earthquakes, even in recent times.
So, yeah, be prepared.
After that, you must stay aware of your surroundings and avoid isolated areas in Mexico City at all times, especially at night.
Make sure to use reliable transportation options such as registered taxis or rideshare services to navigate the city.
Keep your important documents and valuables secure, preferably in a hotel safe or a concealed money belt.
Research and respect local customs and traditions to ensure cultural sensitivity throughout your travels.
Learning a few basic Spanish phrases can go a long way in facilitating communication and building connections with locals.
Stay informed about current safety conditions through official sources and exercise caution when planning excursions to remote areas or during periods of civil unrest.
By remaining vigilant and well-informed, you can enjoy your solo adventure in Mexico City with peace of mind.
Solo Day Trips from Mexico City
A Mexico City solo travel is an opportunity to go on exciting day trips to nearby destinations.
These destinations showcase the country's rich cultural and historical heritage.
Start with Teotihuacan.
Journey to the ancient city, just outside of Mexico City.
Marvel at the monumental pyramids of the Sun and Moon, explore the Temple of the Feathered Serpent and immerse yourself in the fascinating history of this pre-Columbian civilization.
Puebla is another amazing one. Discover the colonial charm of this UNESCO World Heritage site.
Explore the historic center, visit impressive churches, and indulge in the famous local dish, mole poblano.
Afterward, head to Taxco.
Venture to the picturesque town, which has the nickname of "Silver City." Wander through its cobblestone streets lined with silver shops.
Xochimilco is another escape from the city's craziness.
A trip to Xochimilco means a chance to float along the scenic canals in colorful trajinera boats.
Tepoztlan is a great place to experience the mystical vibes of the mountains.
Hike up to the pyramid for panoramic views.
Afterward, visit the "City of Eternal Spring," Cuernavaca.
It's famous for its pleasant climate and beautiful gardens.
Explore historical sites like the Palacio de Cortes.
Journey to Cholula, home to the largest pyramid in the world by volume.
Explore the archaeological site, climb to the top for breathtaking views, and visit the colorful Church of Our Lady of Remedies built atop the pyramid.
So, yeah, these day trips give you a range of experiences with Mexico's history, architecture, nature, and local traditions while returning to the comfort of Mexico City in the evening.
7-Day Mexico City Solo Travel Itinerary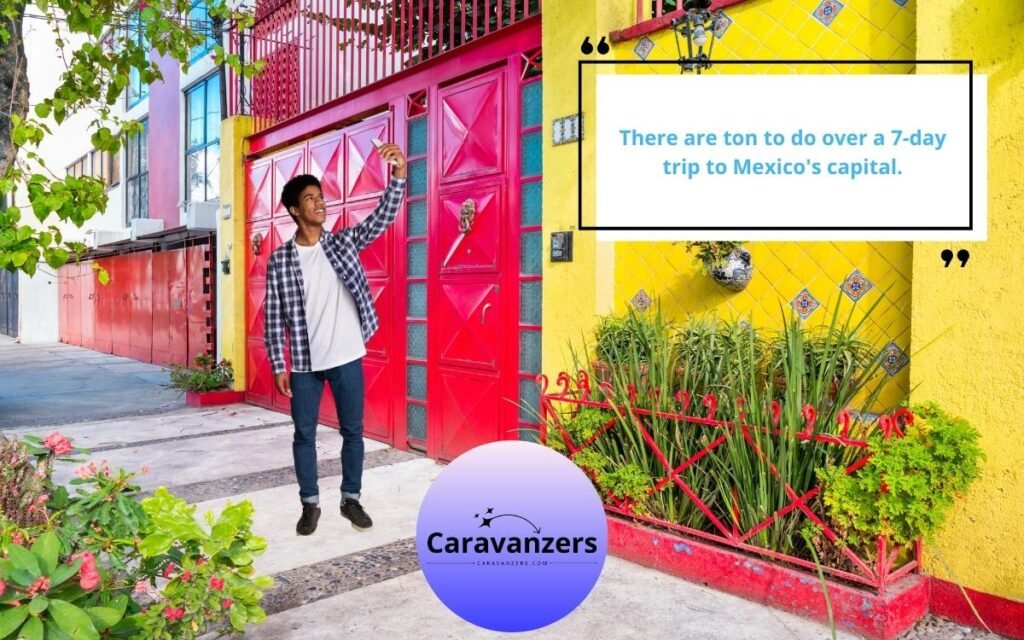 Are you ready for an unforgettable solo adventure in Mexico City?
Let's dive into a fantastic 7-day itinerary that will take you on a captivating journey through this vibrant capital.
In this itinerary, you will immerse yourself in the heart of Mexico City's historic center.
You will also explore vibrant neighborhoods like Coyoacan and Roma Norte, and you will discover ancient pyramids at Teotihuacan.
Of course, you will also indulge in the city's culinary wonders and take in art and culture at various museums.
You will also sail along the canals of Xochimilco and visit the mystical town of Tepoztlan, and end your journey with a mezcal tasting, celebrating the unforgettable experiences in this captivating city.
So, yeah, a busy 7-day Mexico City solo travel adventure!
Days 1-3
On your first day, start by exploring the heart of the city, the historic center.
Immerse yourself in the grandeur of the Metropolitan Cathedral and the National Palace, where you can witness stunning murals depicting Mexico's history.
Wander through the bustling streets and soak up the energy of the Zocalo.
As you embark on day two, visit the enchanting neighborhood of Coyoacan.
Begin your morning at the Frida Kahlo Museum, delving into the world of this iconic artist.
Afterward, explore the vibrant streets of Coyoacan, where you'll find the lively Mercado Coyoacan and its tantalizing array of local delights.
For a taste of Mexico's ancient past, day three calls for a trip to Teotihuacan.
Climb the magnificent pyramids of the Sun and Moon, marveling at the sweeping views of the surrounding area.
Discover the secrets of this ancient civilization at the Teotihuacan Museum before returning to the city.
Days 4-7
Day four is dedicated to indulging in Mexico's culinary wonders.
Embark on a food tour, where you'll navigate local markets, savor mouthwatering street tacos, and delight in traditional dishes bursting with flavor.
Continue your cultural exploration at the National Museum of Anthropology, where you'll gain insight into Mexico's diverse indigenous heritage.
Ready for a leisurely day?
On day five, venture into the trendy neighborhood of Roma Norte.
Meander through the charming streets, popping into boutiques and art galleries.
Take a tranquil walk in Chapultepec Park, visit the elegant Chapultepec Castle, and immerse yourself in modern art at the Museum of Modern Art.
As your journey nears its end, day six offers a mix of culture and entertainment.
Sail along the canals of Xochimilco, enjoying the lively atmosphere of the floating gardens and the melodies of mariachi bands.
In the afternoon, venture into San Rafael and La Roma, where colorful street art adorns the walls, telling stories of Mexico's creativity.
On your final day, take a day trip to Tepoztlan, known for its mystical energy.
Hike to the Tepozteco pyramid, perched atop a hill, for breathtaking views.
Explore the charming town, browse local craft markets, and indulge in Tepoznieves, a unique ice cream experience.
Get ready to raise a toast to your solo journey as you savor the last evening.
Treat yourself to a mezcal tasting in a trendy mezcalería, celebrating the memories and experiences you've gathered throughout your remarkable adventure.
So, pack your bags and get ready to immerse yourself in the captivating blend of history, culture, and flavors that Mexico City has to offer.
Solo travel in Mexico City promises an unforgettable experience that will leave you with lifelong memories.
Mexico City Solo Travel – Final Thoughts
Mexico City solo travel presents an exhilarating journey filled with a lot.
This is a city with incredible attractions, yummy foods, vibrant nightlife, and warm encounters with locals.
So, whether you're exploring Mexico City's historic sites, indulging in the local flavors, or immersing yourself in the culture of the city, this city offers a rewarding experience for solo travelers.
In this guide, I honestly gave you everything you need to go have fun!
So, pack your bags, embrace the spirit of adventure, and embark on a memorable journey to Mexico City, where the enchantment of solo travel awaits at every turn.
AJ Paris is a travel photographer based in New York. He is the editor of Caravanzers.
Follow us on Pinterest.