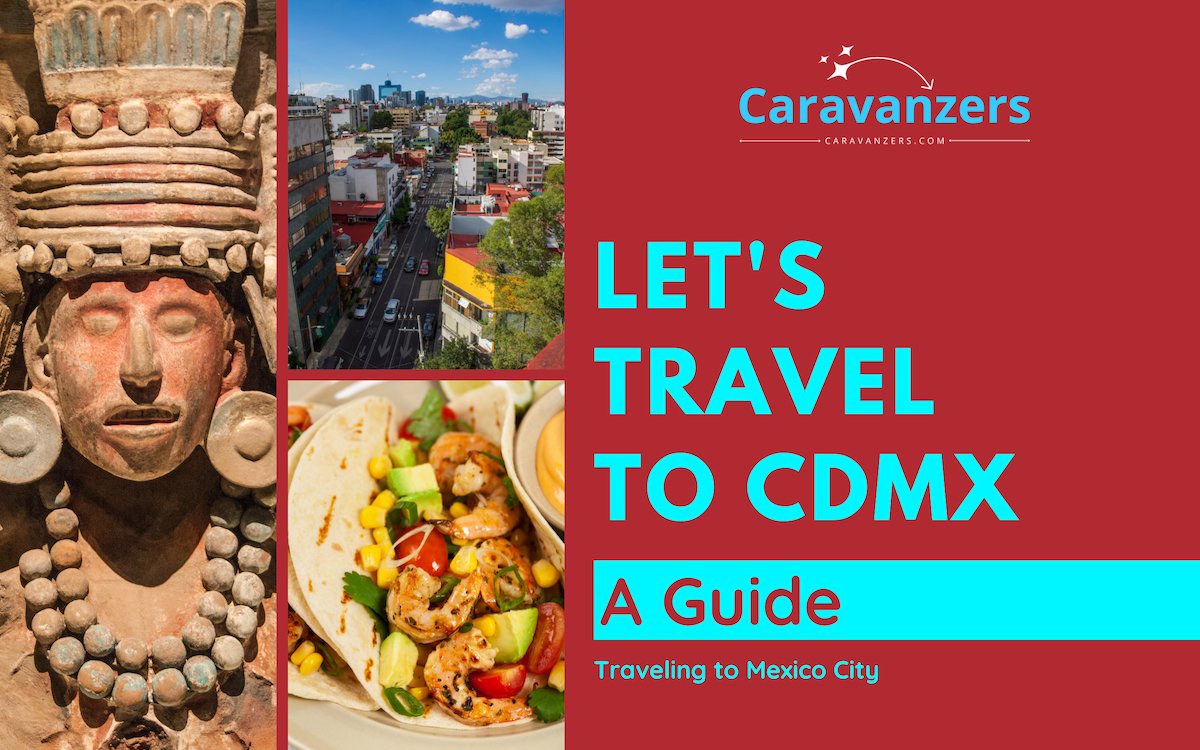 The things to do in Mexico City can range from the ancient to the futuristic. Mexico's capital has no shortage of incredible activities.
This bustling metropolis has a rich history. The city is home to some of the most impressive tourist attractions in the world. Visitors can explore Aztec ruins, colonial-era buildings, diverse neighborhoods, and unique food.
In this guide, I will walk you through the must-see sites you definitely want to add to your list.
I will also include examples of what to see on a 24-hour basis, in case you're passing through.
Let's go!
Welcome to Mexico City
Mexico City is the capital of the country. It's a huge city with millions of people, and you could say it can be loud.
The locals complain about its size and overpopulation, but there really isn't anything like it in Mexico.
From amazing cultural artifacts to modern skyscrapers, it has everything. It will please historical buffs and futuristic aficionados.
Mexico City keeps Central Standard Time. That is, when it's 5pm in New York, it would be 4pm in Mexico City.
The city has two major airports with nonstop flights to Mexico City and a lot of banks with ATMs that accept global cards.
Ridesharing apps, traditional taxis, and even subway systems will whisk you to your hotel immediately.
Although there are many boutique hotels, there are also brands you will recognize from back home.
With that introduction out of the way, let's explore some of the things to do in Mexico City!
Aztec Ruins
The Aztec people were a powerful indigenous group that lived in central Mexico before the Europeans arrived. In the 14th to 16th centuries, the Aztecs built a large empire.
Even after centuries, people are fascinated with them.
The Aztecs were known for their impressive architecture, their sophisticated art and literature, and their rich cultural heritage.
Tenochtitlan, as it was called, was the largest city in the Aztec Empire. It was in the city center of what is now Mexico City. It was chosen in 1325, and the city was built on an island in Lake Texcoco.
Historical records show there were myths about Tenoch being the emperor. He was supposed to be the human successor to Huītzilōpōchtli, the sun god.
Anyway, the city became a great center of trade and commerce, and it wowed the Europeans upon arrival.
Tenochtitlan may have been amazing in the past, but it's Teotihuacan that steals the show today.
Teotihuacan is outside of the city, about 25 miles (or 40 kilometers) northeast of Mexico City's center.
What can you expect to see there? The Pyramid of the Sun is an incredible complex of gorgeous Aztec buildings.
It was officially excavated in 1906, although there are rumors of people looting it as early as a century before.
The Nahuas are the descendants of the Aztecs. Although they are a large ethnic group, most of them are modernized.
Start with the Regional Museum Altepepialcalli in Villa Mile Alta. This is still in Mexico City proper, but southernmost. A great place to learn the language and culture.
Nahuatl was the language of the Aztecs, and there are still many people who speak it.
Villages around this part of Mexico still have people who are living their lives the way their ancestors did.
Colonial Mexico City
The colonial history of Mexico City is a long and complex one. As previously noted, Mexico City was an important city for the Aztec people, and it remained their capital until the Spanish arrived in 1519.
After the conquest, the Spanish immediately set about building a new city on top of the old Aztec one. They laid out a grid of streets and erected grand public buildings in the center of town.
For centuries, Mexico City was an important city in the Americas. The Spanish benefited from the hard work of the Aztecs, attracting multitudes of people.
Today, Mexico City is still home to many colonial-era buildings and monuments. It is also a bustling metropolis of over 20 million people, making it one of the largest cities in the world.
Here are five things to focus on.
Zócalo is the central square of Mexico City that functions as the heartbeat of the area. The name is a shortened version of "Plaza de la Constitución" (Constitution Plaza).
It's home to old buildings, government offices, popular markets, and a lot of human activity.
Some of the buildings around Zócalo were actually constructed long ago.
The National Place (Palacio Nacional) is an important building dating back to 1521. With 600 feet (or 200 meters) wide, it's by far the largest building in Zócalo.
Mexico's president lives here, and offices for the National Archives and the Federal Treasury are on site, as well.
This baroque building is simply beautiful. Its exteriors feature gorgeous red tezontle, as well as gorgeous carvings.
Also, check out the Metropolitan Cathedral and Jesús Nazareno Hospital. They're a great example of colonial architecture.
Mexico City Neighborhoods
If you're looking for the best Mexico City neighborhoods to stay in or explore, you can't go wrong with Centro, Roma, La Condesa, Polanco, or Coyoacán.
Each of these areas has something unique to offer visitors, whether it's historic architecture, trendy restaurants, and bars, or beautiful parks.
Centro is the city's historic center and one of the most popular tourist areas. It's home to some of Mexico City's most iconic landmarks, including the Palacio Nacional and the Metropolitan Cathedral.
Roma is another popular neighborhood for tourists and locals alike. It's known for its global atmosphere and abundance of hip cafes and bars.
La Condesa is a chic neighborhood that's perfect for people-watching. It's full of trendy restaurants, cafes, and boutiques. I would say it has a youthful vibe, though.
Polanco is an upscale neighborhood that's popular with business travelers and families. It's the Beverly Hills of Mexico City. We're talking about mansions, luxury malls, and more.
Coyoacán has had an artistic flair to it since Frida Kahlo lived here. But you will discover it's also a cute and quiet neighborhood.
You will just have to go to each neighborhood, walk around and find your crowd!
Mexico City Museums
If you're into museums, you will love Mexico City. This metropolis has more museums than any other city on the planet.
The National Museum of Anthropology, Frida Kahlo Museum, Soumaya Museum, Palacio de Bellas Artes, and Jumex Museum are all great.
For overall Mexican history and culture, head to the National Museum of Anthropology. Everything from Aztec to Mayan, and more. It's in the Miguel Hidalgo district.
Frida Kahlo Museum is in Coyoacán. This was once the house of a famous artist, and the blue building has become an icon for art in the city.
The Soumaya Museum is a modern museum on the northern edge of Polanco. It has a massive art, thanks largely to its billionaire founder. Floors and floors of goodies.
This museum also has a futuristic feel to it, so those of you who love modern things will love the Soumaya.
Jumex Museum is literally the opposite of Soumaya. It's another private collection shared with the public, and it's different.
Palacio de Bellas Artes is in the city center. It's a fun place to go hang out, check out the public sculptures, and take selfies.
If you can visit those five spots, it will definitely satisfy your artistic cravings!
Mexico City Food
As the capital of the country, Mexico City is hugely a foodie's paradise. You will love all the different food options here.
First of all, the city has its own local foods. There are tacos invented here, although some would even argue even chocolate is from there.
Meanwhile, there are tons of Mexican foods from all the other regions and states. Enjoy everything from burritos to quesadillas and yummies you won't find anywhere else.
Because it's a hugely popular tourist destination, Mexico City has become a global foodie spot, too. You can find almost all of the major cuisines of the world.
Mexico City Shopping
Mexico City has a wide variety of shopping to choose from. Whether you want to get local or national, or even global, it has it.
There are malls like the Antara in Polanco, which have name brands you will recognize, including high-end ones. But, there are also local ones, where you might not know any.
Meanwhile, Mexico City also has several markets, giving you access to everything from souvenirs to custom-tailored clothing.
Finally, there are also boutiques that will allow you to purchase unique items, whether locally made or globally sourced.
Talk to your hotel to find out what they recommend. In Mexico City, hotels are sometimes connected to a particular mall. You may get discounts you wouldn't score on your own!
Likewise, the locals are very helpful, and they have no problem telling you what they like or don't like about a specific spot. So, just ask.
One Day in Mexico City
If you wake up early at your hotel, you can jump on a taxi and be at the Aztec ruins of Teotihuacan. You can see everything and come back by noon, just in time to go to Centro for lunch.
There are tons of spots to eat in the city center, everything from high-end taquerias to hole-in-the-wall kinds of places. Let your nose guide you. Anything around Zócalo will be delicious.
Go to your hotel for a quick siesta, and be back on the roads at four. Perfect time for a stroll in your chosen neighborhood––Roma, La Condesa, or Polanco. Get a feel for the local vibe of the town.
By nightfall, you're ready for some dinner, and I think you should eat something in another neighborhood (not the one you explored). That way, it's like a two-for-one kind of thing. Also, if you had tacos for lunch, maybe try quesadillas for dinner.
End your evening by checking out some mariachi at Plaza Garibaldi. This Centro square is famous for mariachi music, and don't be surprised if it's packed––it's popular!
Final Thoughts
People visit Mexico City for a variety of reasons. Some come for the food, others for the culture and history.
Many people are drawn to the city because of its vibrant nightlife and array of tourist attractions.
Whatever the reason, Mexico City is a popular destination for travelers from all over the world.
I hope you found this guide helpful. If you have the time, make sure to check out our other Mexico guides.
AJ Paris is a travel photographer based in New York. He is the editor of Caravanzers.
More Mexico
Here are more articles: