The best places in Mexico for solo travel include Mérida, Playa del Carmen, and Puerto Vallarta. There are also a few more I will recommend.
Mexico is an amazing country to visit solo, with many breathtaking destinations and unique experiences to offer. However, it's also important to be mindful and careful when here.
So, in this guide, I will share with you basic information and destinations, as well as an example of solo travel to mimic for your own trip.
Let's go!
Mexico Solo Travel Basics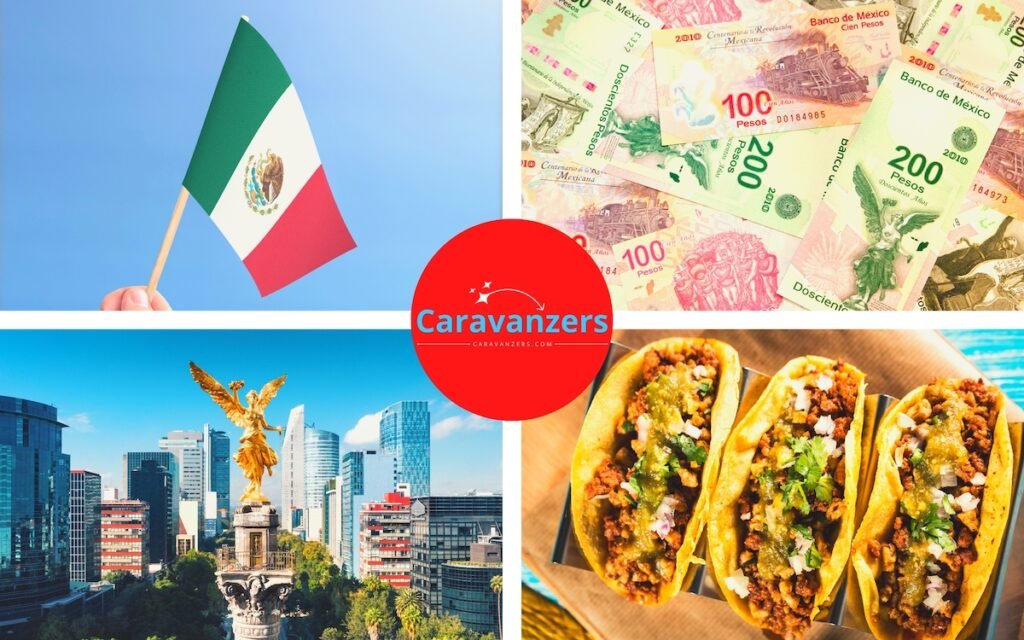 Mexico is a beautiful and interesting country to explore when traveling solo. It has a vibrant culture, historical sites, and breathtaking landscapes, and they are all easily accessible for a solo traveler.
This North American country is just south of the United States and has four time zones. As you will see soon, we will cover each of those with my recommendations.
Likewise, there are distinct climates and vibes across Mexico, and these range from desert to tropical. Mexico City, for example, has a San Francisco-like climate.
Although the American dollar is widely accepted, Mexico's currency is the peso. About 20 pesos equal to 1 dollar.
Here are a couple of more specific questions to answer…
Is Mexico Good for Solo Travelers?
Is Mexico good for solo travel? Although Mexico has diverse destinations, the country is good for solo travel. Like many parts of the world, each destination is different, and some are friendlier to solo travel than others. Follow the guidelines set by the government, and you should be good.
Where Can I Go Solo in Mexico?
Where can I go solo in Mexico? Top solo travel destinations in Mexico include Mérida, Playa del Carmen, and Puerto Vallarta. Mexico City and Veracruz are also great destinations. Each of these destinations has opportunities and challenges, and you need to examine them and decide what works for you.
Top Mexico Solo Travel Destinations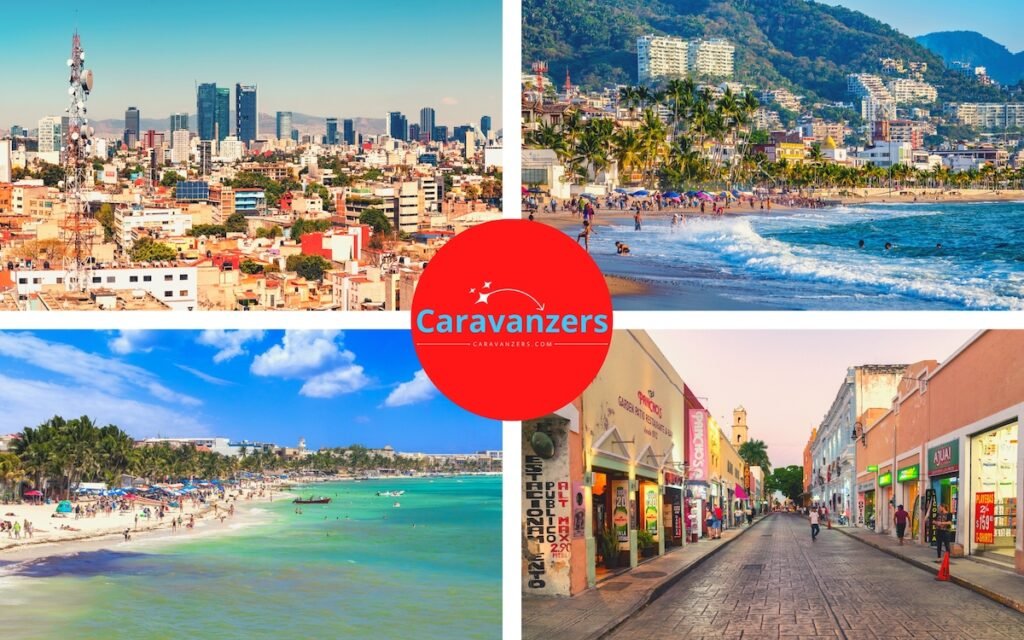 People visit Mexico solo for a variety of reasons. The country is a great destination for experiencing a unique culture, trying new food, and exploring ancient ruins.
The warm climate and friendly locals make it ideal for solo travelers looking for an adventure. Plus, it's easy to find accommodation and transportation to get around.
For many travelers, the chance to relax and explore at their own pace is a major draw.
No matter your reason for going, Mexico is the perfect spot for solo travelers looking for a memorable experience.
Here are my favorite solo destinations in Mexico.
Mexico City
Mexico City is an exciting and vibrant city with a unique culture and energy. It's probably the best destination in Mexico for solo travel.
As the capital of the country, Mexico City is full of amazing things to do, including history, stunning architecture, delicious food, great nightlife, and friendly people.
There's something for every solo traveler to enjoy, from fascinating museums to bustling markets, and it's a great place to explore.
Although it's a bustling metropolis of 20 million plus population, Mexico City has neighborhoods that are very safe. Plan to stay in neighborhoods like Roma, Condesa, and Polanco.
All three of these neighborhoods have relatively low crime rates and offer a variety of amenities, such as excellent restaurants, shops, and parks. Roma is the original ex-pat neighborhood. You will find a lot of older people here, too.
Condesa, on the other hand, has a vibrant youth culture. There are trendy cafes and cute Airbnbs. This neighborhood is perfect for a young person.
Polanco, meanwhile, is very wealthy. Solo travelers go to this neighborhood for its high-end shopping, restaurants, and museums.
If you're looking for a city to explore on your own that has it all, then Mexico City is the perfect place to go!
Mérida
Mérida is a beautiful and vibrant city in the Yucatán peninsula. As the capital of the state of Yucatán, it has colonial-style architecture and a welcoming culture.
Solo travelers go to Mérida because of its cultural attractions, great food, and beautiful nearby beaches. Yucatán foods such as cochinita pibil, puc choc, and dulce de papaya are all around.
What makes this city one of the best places in Mexico for solo travel is that it has a unique mix of Spanish and Mayan influences. As a result, Mérida is also a great place to explore all sorts of traditional Mexican culture.
For example, the oldest church in Mexico is here, but it was built on top of a Mayan temple.
Meanwhile, the most important reason many go there is its proximity to Chichén Itzá, which is one of the new wonders of the world.
No matter what you're looking for, Mérida is sure to have something unique and amazing to offer.
Playa del Carmen
Playa del Carmen is an amazing destination located on the Caribbean Sea in the Riviera Maya region of Mexico.
As you can imagine, it has stunning white sand beaches, crystal-clear waters, and vibrant nightlife. All of this makes Play del Carmen one of the best places in Mexico for solo travel.
Solo travelers come from all over the world to experience the beauty of Playa del Carmen, as well as to take in a unique culture.
The unique thing about Playa del Carmen is its proximity to the ancient Mayan ruins of Tulum and Cobá, providing visitors a unique opportunity to explore ancient civilizations.
There's something for everyone in Playa del Carmen, making it the perfect destination for a fun and exciting vacation!
Puerto Vallarta
Puerto Vallarta is a fun place to visit! This stunning beach town is on the Pacific Coast of Mexico. With a gorgeous backdrop of the Sierra Madre Mountains, it can have a spiritual vibe to it, too.
Solo travelers visit Puerto Vallarta for its beautiful scenery, amazing beaches, and vibrant culture. It's a popular spot for tourists from all over the world, who come to enjoy the unique combination of city, beach, and jungle.
When you're in Puerto Vallarta, try the famous birria. It's goat meat that will make you drool. Whether it's in tacos or soups, the yummy food is unforgettable.
Meanwhile, Puerto Vallarta is also a great spot for outdoor activities like hiking, kayaking, and mountain biking.
So come and check out why Puerto Vallarta is one of the best places in Mexico for solo travel – you won't be disappointed!
Veracruz
Veracruz is a city with a long and fascinating history. It's on the Gulf of Mexico and has rich colonial architecture, vibrant culture, and beautiful beaches.
Solo travelers come here to experience the culture, explore the city's rich history, and enjoy its natural beauty.
The city is full of life day and night, with a vibrant nightlife scene and plenty of restaurants, bars, and other attractions.
Try its Jorocho cuisine, which includes the famous lechero coffee. This coffee has milk in it and has a little burnt taste to it, too.
Meanwhile, the main beach of the city, as well as the nearby ones, make it a great place to tan, swim, or snorkel.
All in all, Veracruz is an amazing place to visit, full of unique sights and experiences. Without a doubt, it's one of the best places in Mexico for solo travel.
Mexico Solo Travel Example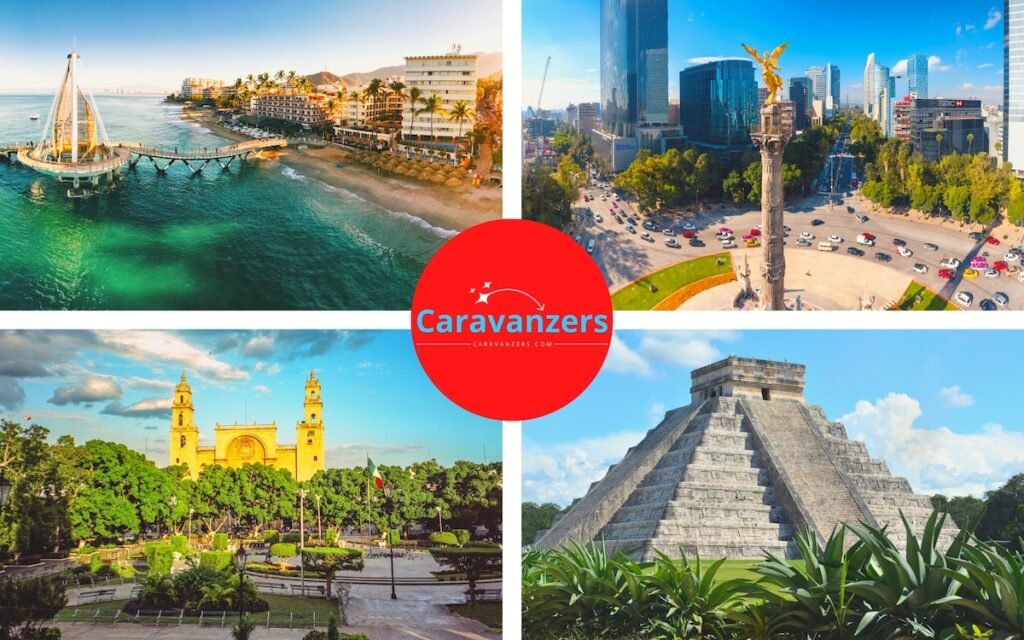 Bella flew from Los Angeles to Puerto Vallarta on her first solo trip to Mexico. She had just turned 18, and she says she needed to explore.
"Puerto Vallarta was amazing," she says. "But it felt like it was very similar to LA."
And, yes, there are some similarities.
It was a week later, however, when Bella arrived in Mexico City, that she felt like she was somewhere different.
"Mexico City was humongous and had all the amazing things you could ever want in a trip," she says, remembering the city fondly.
Bella stayed in Roma Norte, which is an area that has a lot of nice hotels. She stayed in an old hotel that had all of the necessary things.
"It had AC, which wasn't necessary at all since it was chilly."
Mexico City weather can be like that. Bella said it rained every evening during the summer, which is typical.
Finally, Bella arrived in Mérida, which she says was once again different. A few days of exploring the town led her to visit the famous site of Chichén Itzá.
"I had a really great time in Mexico for the five weeks I was there," she says.
Bella recommends booking your trip for one week in each city. She thinks Mexico City and Mérida are a must, but that's only because she comes from a beach town.
If you have the time, she says, include Play del Carmen or Puerto Vallarta in your trip.
Final Thoughts
Mexico is an incredible place to visit! Solo travelers go there to enjoy its vibrant culture, delicious cuisine, stunning beaches, and stunning landscapes.
What's unique about it is its rich cultural heritage, which includes ancient ruins, colorful festivals, and a strong sense of national identity.
The people of Mexico are also incredibly friendly, making it a great destination for anyone looking to experience a warm and welcoming culture.
That said, Mexico also has a dangerous side. While there are many beautiful destinations, there are also some you should avoid.
According to the US government, Mexican states like Colima, Guerrero, Michoacan, Sinaloa, Tamaulipas, and Zacatecas are very dangerous. They all have high crimes, including kidnappings.
The ones I recommended in this article are fine for tourism.
Stay safe and always explore.
AJ Paris is a travel photographer based in New York. He is the editor of Caravanzers.
More Solo Travel
Here are more articles:
More Mexico
Here are more articles: