Namibia travel often means an unforgettable experience. This African country has everything from incredible landscapes to beautiful animals.
As you will see throughout this article, Namibia is definitely an underrated destination.
In this guide, I will show you all that this gorgeous country has to offer you, including safari, beach, and desert.
Let's go to Namibia!
VIDEO – Namibia Travel
Namibia Travel Basics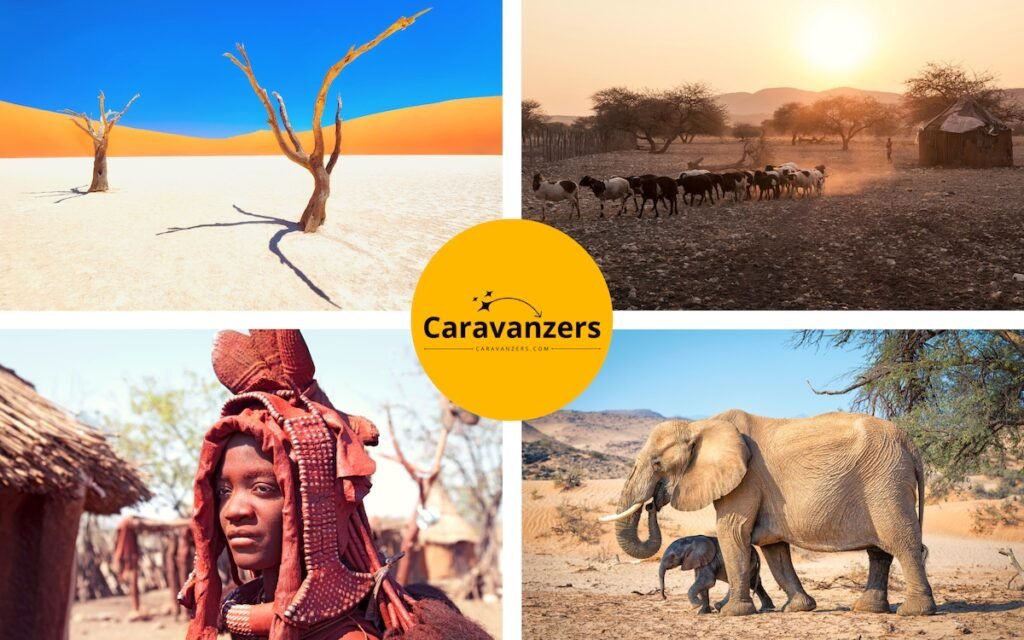 Namibia is in southwest Africa. It shares borders with Angola, Zambia, Botswana, and South Africa.
The country observes Central Africa Time, which is GMT+2. It means that it would be around 8 PM when it's 2 PM in New York.
Like many African nations, Namibia has several currencies in use. Its official currency is the Namibian dollar (NAD). It's usually represented as N$, and 1 US dollar equals about 20 Namibian dollars.
The cost of living is pretty comparable to that in South Africa. For example, a can of Coca-Cola will generally cost around 10 Namibian dollars.
Namibian climate is interesting because of its location. Winter starts in June, and the temperatures go down to 60 Fahrenheit (or 16 Celsius). It rains in Spring and Summer, from October to April.
Windhoek is the capital and largest city. The city is in the central part of the country and has 50% humidity because of its distance from the green north, the western desert, and the coast.
There are airports across the country, but the largest airport is in the capital city.
Is it Worth to Visiting Namibia?
Is it worth to visiting Namibia? With stunning landscapes, diverse wildlife, and beautiful people, Namibia has a lot to offer travelers. This is one of the underrated destinations in Africa. A trip to this country will leave you with unforgettable memories from nature to culture and everything in between.
So, is Namibia worth visiting? I think so!
Is it Safe to Travel in Namibia?
Is it safe to travel in Namibia? Namibia is generally a safe country to travel to. Of course, as with any destination, there are some risks involved. However, the risks in Namibia can easily be avoided by taking some simple precautions. But, yes, it's a safe country to visit.
The most common dangers that tourists face in Namibia are car accidents and wildlife encounters. By using common sense and being aware of your surroundings, you will easily avoid both.
If you choose to drive across this beautiful country, be sure to follow the rules and keep your eyes on the road.
For those of you planning a safari, be sure to go with a reputable tour company that has experience leading tours in Namibia.
In general, as long as you use common sense and take some basic precautions, Namibia is a safe place to travel to.
What is the Best Month to Visit Namibia?
What is the best month to visit Namibia? September is a great time to visit Namibia as the rains of spring haven't started, but it's warm. The days are long, and you can experience all the country has to offer without the crowds. If you can, avoid October forward.
Likewise, July and August are also great months because there aren't any rains just yet. Keep in mind these are winter months, though. If you plan to be in the desert, it will get cold at night.
In reality, Namibia is a great destination all year long.
How Long Do You Need in Namibia?
How long do you need in Namibia? If you're just looking to tick off the main tourist sites, then a full month is a good amount of time. However, if you don't mind to miss out on some of the less essential attractions, then two weeks should be enough.
Namibia is a vast and varied country, and how long you spend here will depend on what you want to see and do.
That said, Namibia is a place that encourages slow travel, so even if you have a month to spare, don't try to pack too much in.
Instead, take your time to explore each region properly and savor the experience.
Destinations in Namibia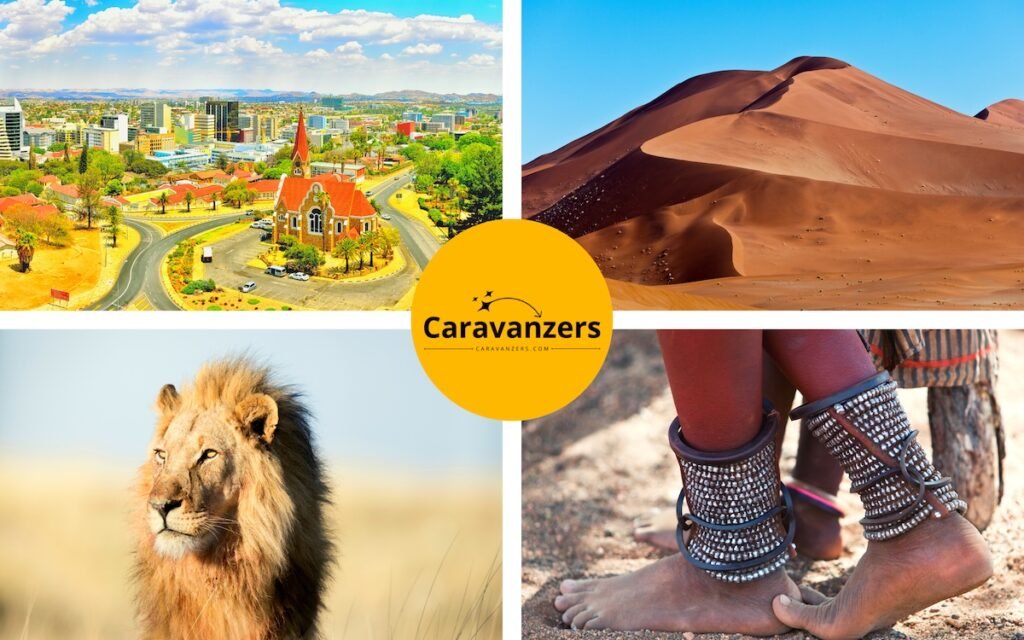 Namibia is a beautiful country in southern Africa that is home to stunning deserts, gorgeous beaches, and incredible wildlife.
Likewise, the country has amazing cultures you really will want to explore.
Whether you're looking for adventure or simply want to relax in a beautiful setting, Namibia has something for everyone.
In this section, I will describe some things that you should include in your list.
The Namib Desert
Why do tourists visit the Namib Desert? This is one of the most beautiful and unique deserts in the world and is a must-see for any traveler to Namibia. With towering dunes and desert-adapted animals, it's a great place to visit. It's a memorable trip, for sure.
It's in the coastal area of the country and has amazing, picturesque spots.
This is also a vast area that amounts to about 31,274 square miles (or 81,000 square kilometers).
It's not just all desert, though. For example, the Skeleton Coast, with its dramatic cliffs and shipwrecks, is a must-visit.
Namibian Cultures
How many tribes are there in Namibia? There are at least ten tribes in Namibia, the Ovambo accounting for the most. The Himba people are really famous and are one of the most photographed people in the world, famous for their unique hair and body that's adorned with mud.
Both Himba and Ovambo are from the northern part of the country, as are the Kavango.
The center of the country has the Baster, and the south is famous for the Nama people.
Each of the many tribes has its own unique culture that a traveler can explore far beyond the cliche.
>> Learn more about the Himba people at the Minority Rights website.
Namibian Safari
Is Namibia a good place for safari? Namibia is great for a safari because this African country has a wide variety of landscapes and wildlife, making it a great destination for this. Safari-goers can see elephants, lions, leopards, zebras, and many other animals in parks or natural habitats.
There are small airports everywhere, and the companies that plan these trips have perfected the safari system.
One of the most unique things to do is to stay at a park. Some are public, some are private, and the private ones are open all day long!
So, yeah, Namibia is great for a safari.
How to Get There
What is the biggest airport in Namibia? The biggest airport is the Hosea Kutako International Airport in Windhoek. Its IATA code is WDH. This airport is about 28 miles (or 45 kilometers) from the city, and it also acts as a hub for the rest of the country, too.
International flights have regional, continental, and global access via Airlink, Ethiopian Airlines, and Qatar Airways.
Airlink flights are from major South African cities like Cape Town and Johannesburg. This is great for those who want to visit South Africa first and then make an easy trip to Nambia.
Ethiopian Airlines hauls passengers across the continent and around the world to bring them to this southwest African nation via Addis Ababa.
Qatar Airways does the same as Ethiopian Airlines, except it uses Doha as its transit spot.
There are also discount airlines like Eurowings flying from Europe. Eurowings uses Frankfurt as its transit hub.
You can, of course, also drive through any of the neighboring countries.
In other words, there are several options.
Namibia Travel – Final thoughts
In this article, I shared the best things to do and see in Namibia, as well as why it's worth visiting and when to go, and more.
If you want to plan your own trip, consider deciding on getting a tour guide. Although a tour company will give you the best deals, individual guides are also a great option!
Likewise, I think you should consult with your country's travel department for the latest advisories.
Finally, think about land, people, and culture as you plan your trip!
AJ Paris is a travel photographer based in New York. He is the editor of Caravanzers.
More Africa
Here are more articles about Africa: