Places to visit in Hawaii include picturesque beaches, thrilling adventures, and hidden gems that will literally make you smile.
Welcome to the ultimate guide to the Hawaiian Islands!
Honestly, the secret about Hawaii is that even if you don't expect it, it wows you.
You could be a solo traveler, a couple on a romantic trip, or even a family enjoying a summer vacation.
So, pack your bags and join me as we unveil the wonders of the Hawaiian Islands!
In this guide, we will start with the basics by going through an introduction to the islands.
Then, we will get to the fun vacation stuff like beaches, state parks, romantic and adventurous things, and so on.
Let's get started!
Hawaiian Islands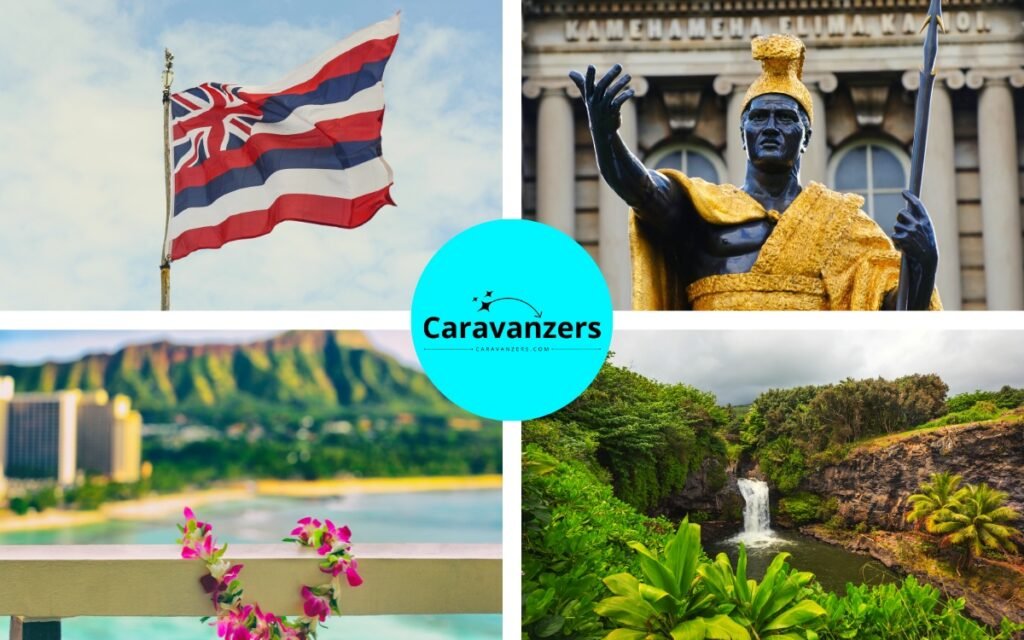 Despite the exotic name and culture, Hawaii is basically a group of volcanic islands in the central Pacific Ocean that's part of the United States.
For American travelers, this translates to visits without any need for a visa.
Likewise, these islands offer easy travel for those with a US-friendly passport, including tourists from the European Union, Japan, and South Africa.
So, the Hawaiian islands consist of eight main ones.
Hawaii or the Big Island, Maui, Oahu, Kauai, Molokai, Lanai, Niihau, and Kahoolawe together make up the state.
Each island possesses distinct geography shaped by volcanic activity over millions of years.
The landscape features towering volcanic peaks, lush rainforests, dramatic cliffs, deep valleys, and black sand beaches.
Hawaii offers breathtaking natural beauty with cascading waterfalls, colorful coral reefs, dense rainforests, and golden sandy beaches.
The islands hold a rich cultural heritage rooted in the Polynesian traditions of the native Kanaka Maoli people.
Visitors can experience the welcoming aloha spirit, witness hula dancing, listen to traditional music, and savor the unique blend of Polynesian, Asian, and North American cuisine.
Outdoor enthusiasts can enjoy a range of activities, including hiking through lush valleys, surfing world-class waves, ziplining over canyons, or embarking on helicopter tours to witness the islands' magnificent landscapes from above.
Dining options, shopping centers, and entertainment venues cater to visitors from around the world.
Hawaii is a tropical paradise that offers remarkable experiences through its natural beauty, outdoor activities, cultural heritage, and warm hospitality.
Hawaiian Cities
The cities are some of the best places to visit in Hawaii. They consist of ancient settlements spread across different islands, with variations in size among the islands and cities.
Honolulu, which is on the island of Oahu, is the largest city in Hawaii, and it also serves as the state capital.
Popular tourist attractions like Waikiki Beach and Diamond Head, as well as the Daniel K. Inouye International Airport (HNL), are all here.
Hilo offers a relaxed atmosphere and boasts a vibrant cultural heritage. This is the largest city on the island of Hawaii, AKA Big Island.
Kahului, on the northern coast of Maui, holds the distinction of being the largest town on the island, and it's great convenient access to popular attractions such as the Road to Hana, Haleakala National Park, and the renowned beaches of Kaanapali and Wailea.
Lihue, on the southeastern coast of Kauai, stands as the largest city on the island and has picturesque landscapes, including the stunning Wailua Falls, Kalapaki Beach, and the historic Kilohana Estate.
On the island of Molokai, Kaunakakai takes the title of the largest town.
Kaunakakai provides insight into the authentic local way of life and grants access to attractions such as Papohaku Beach, Halawa Valley, and the Kalaupapa National Historical Park.
Lanai City is the largest town on the island, and this is in the center of the island of the same name.
This tranquil and small community is recognized for its peaceful ambiance and natural beauty.
Niihau, the smallest inhabited island in the Hawaiian archipelago, lacks any incorporated cities.
This privately owned island has a small population whose primary focus is preserving traditional Hawaiian culture.
The descriptions provided above highlight the primary urban centers on each island.
Hawaiian State Parks
Parks are great everywhere in the world, but they are some of the best places to visit in Hawaii.
For example, the Big Island has Hawaii Volcanoes State Park.
Hiking, scenic drives, and exploring lava tubes and volcanic features are just a few of the exciting activities available there.
On Maui, the largest state park is Polipoli Spring State Recreation Area.
It's in the upland region of Kula and is a serene escape with lush forests, and it's the perfect place to immerse yourself in nature.
Heading to Oahu, you'll find Ka'ena Point State Park at the western tip of the island.
This park encompasses the Ka'ena Point Natural Area Reserve and showcases the rugged coastline, sandy beaches, and native Hawaiian plants and wildlife.
It's a paradise for hikers, birdwatchers, and those interested in observing the endangered Hawaiian monk seal and nesting seabirds.
Kauai's largest state park is Koke'e State Park, nestled in the uplands of the island.
This park covers diverse terrain, and it provides an abundance of hiking trails, camping facilities, and scenic vistas.
On the island of Molokai, the largest state park is Pala'au State Park.
This park boasts a variety of landscapes, from lush rainforests to dramatic cliffs and historic sites.
It's also home to the renowned Kalaupapa National Historical Park, which was once a leprosy colony.
This is really something I think you should add to your lists…
because visiting these state parks will make you feel like you traveled to a new part of the world.
Hawaiian Beaches
Did you know there are over 100 beaches in Hawaii?
I know!
Naturally, they are some of the best places to visit in Hawaii.
Anyway, let's start with Hapuna Beach.
This beach is on the Kohala Coast of the Big Island and is often making the list as one of the best beaches in Hawaii.
With soft, white sands and crystal-clear turquoise waters, I would say it's perfect for beaching.
Kaanapali Beach, on the western coast of Maui, is popular for its picturesque beauty and vibrant atmosphere.
It has a long stretch of golden sand, excellent swimming conditions, and a range of water activities, such as snorkeling and paddleboarding.
The beach is also home to luxurious resorts, shopping centers, and beachfront dining options.
Lanikai Beach, on the windward side of Oahu, is a hidden gem known for its serene beauty.
It has soft, powdery sands, calm turquoise waters, and picturesque offshore islands, making it a dreamy and photogenic spot.
Hanalei Bay is on Kauai's North Shore and is a beautiful crescent-shaped beach renowned for its natural beauty.
It has a breathtaking backdrop of lush green mountains, cascading waterfalls, and a peaceful bay.
The beach provides opportunities for swimming, surfing, boogie boarding, and beachcombing.
The charming nearby town of Hanalei has a laid-back atmosphere and a variety of local shops and eateries.
Papohaku Beach, or Three Mile Beach, is a beautiful and expansive stretch of shoreline on the west coast of Molokai.
It is one of Hawaii's largest white-sand beaches, offering solitude and tranquility.
With its untouched beauty and uncrowded nature, Papohaku Beach is a peaceful retreat on Molokai.
These beaches showcase the diverse beauty and unique experiences that can be found across the Hawaiian Islands.
First-Time Places to Visit in Hawaii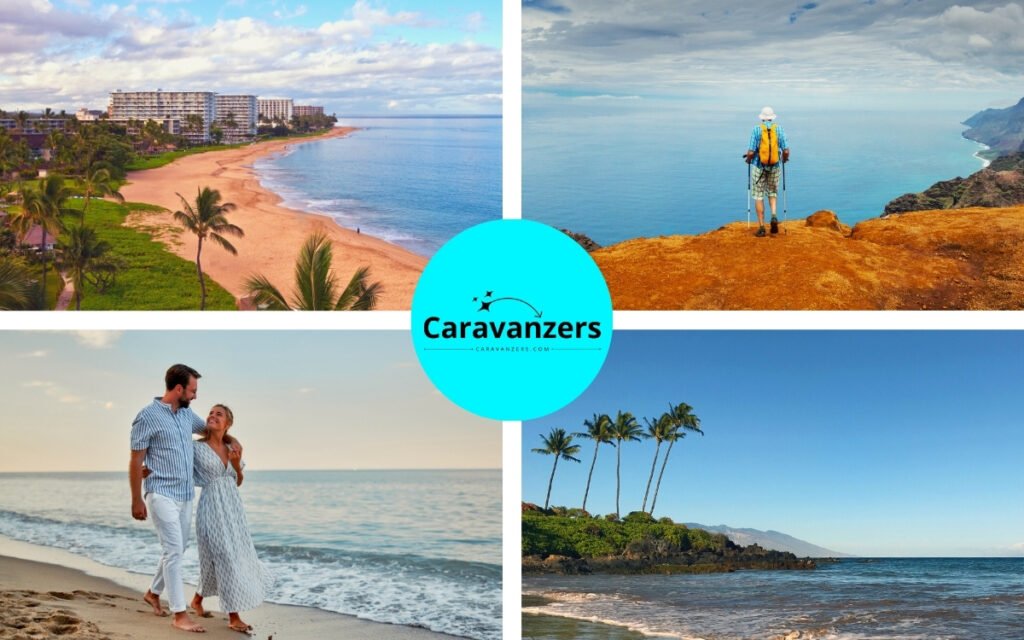 Hawaii is a great place for first-time visitors or even first-time travelers.
With its mesmerizing roads, stunning beaches, and iconic historic sites, Hawaii is a paradise experience.
Yet, this is still in the United States, which definitely makes it easier to travel to for Americans and Europeans.
I previously wrote a guide that emphasized the significance of preparation and gave you essential information for an unforgettable inaugural trip.
So, I tailored my recommendations for couples, families with kids, seniors, solo travelers, and young adults.
Whenever I discuss Hawaii, I always make sure to include important factors like distance, climate, and Hawaiian culture.
I highlight these because it lets me encourage respect and sustainability.
Hawaii is a unique state because this is a state with a specific culture and people, and they open their doors to non-Hawaiians.
The least we can do is respect their culture and land, right?
Meanwhile, Hawaii offers unique destinations for different types of travelers.
For example, the Road to Hana in Maui is one of the places to visit in Hawaii. It provides breathtaking views of waterfalls and lush landscapes.
Couples can enjoy romantic walks on the stunning Kaanapali and Wailea Beaches, while families can learn about history at the Pearl Harbor Historic Sites in Oahu.
The Honolulu Zoo and Waikiki Aquarium have interactive exhibits for both children and adults, and the Polynesian Cultural Center immerses visitors in the cultural heritage of Hawaii.
Seniors can witness the might of Kilauea at Volcanoes National Park, and solo travelers can explore the untouched beauty of Na Pali Coast in Kauai.
Young adults seeking adventure can hike Diamond Head for stunning views.
So, yeah, there really are a ton of places to visit for the first time!
Off the Beaten Path Places to Visit in Hawaii
So, after several trips to Hawaii, I discovered over the years that there are a lot of unique places to visit.
Discover the extraordinary in Hawaii by exploring spots, engaging in local traditions, and indulging in distinctive experiences.
Seek hidden beaches, hike volcanic landscapes, immerse in Hawaiian culture through hula or lei-making workshops, taste unique local cuisine, and embrace the spirit of aloha for an unforgettable island adventure.
I truly believe that cultural exploration, authentic experiences, and personal growth come with visiting these hidden gems.
Some of the unique things include unexplored islands like Lanai, Molokai, and Niihau, as well as hidden beaches and coves such as Makalawena Beach and Kaihalulu Beach.
Of course, there are also cool hikes and trails like the Kaena Point Trail and the Kilauea Iki Trail.
Honestly, Kilauea Iki Trail is one of the best places to visit in Hawaii.
Meanwhile, you will also find a ton of unique foods to eat in Hawaii, including poke, shaved ice, and malasadas.
It all starts with attitude.
Make sure to leave your ego at home when you go to Hawaii because everything is beautiful.
If you arrive with that type of thinking, you will be more open to receiving cool tips from locals and professional travel guides.
Romantic Places to Visit in Hawaii
Some of the best places to visit in Hawaii for couples are breathtaking beaches, incredible landscapes, and spots infused with a romantic atmosphere.
Let's start with Maui, which you will hear locals refer to as the "Valley Isle."
Maui has a perfect blend of natural beauty and luxurious resorts, making it an ideal romantic getaway.
Its coastal drives are scenic, with rainforests, waterfalls, and panoramic ocean views.
You can also explore the stunning beaches of Kaanapali and Wailea or take a romantic sunset cruise along the coast.
Dubbed the "Garden Isle," Kauai is a paradise for couples seeking a romantic escape.
The Napali Coast, with its dramatic cliffs and secluded beaches, is a top attraction, best explored by boat or helicopter.
Take a romantic hike through the lush landscapes of Waimea Canyon, often called the "Grand Canyon of the Pacific." The Wailua River offers the opportunity for a romantic boat tour, where you can visit the enchanting Fern Grotto.
For a more secluded experience, venture to the pristine beaches of Polihale or Tunnels Beach.
Meanwhile, if you're looking for a secluded and intimate getaway, Lanai is the perfect destination.
This small and tranquil island offers pristine beaches, luxury resorts, and an atmosphere of serenity.
Visit Hulopoe Bay, known for its clear turquoise waters and vibrant marine life, where you can relax on the beach or snorkel together.
For a unique experience, consider a guided horseback ride through the island's rugged landscapes and watch the sunset from a panoramic viewpoint.
Yeah, like I said, these Hawaiian islands are very romantic.
Adventurous Places to Visit in Hawaii
Travelers love going to Hawaii for adventure because this state has amazing landscapes, including greeny rainforests, awe-inspiring volcanoes, and gorgeous beaches.
So, what are some of the adventurous things you can do in Hawaii?
I mean, what can't you do; there are blood-pumping activities like surfing, hiking, and ziplining.
The unique cultural experiences, vibrant marine life, and breathtaking sunsets make Hawaii an irresistible destination for adventure seekers.
Experience the thrill of surfing at Hawaii's premier beaches.
"Waimea Bay on Oahu offers massive waves for seasoned riders," says Tom Larson, who writes about adventure for Caravanzers.
"And Peahi on Maui, known as 'Jaws,' presents epic swells," he adds.
For a different challenge, Larson says to conquer the breaks at Shipwreck Beach on Kauai.
Meanwhile, if you're brave enough, why not swim with dolphins?
Kaimana Ocean Safari is an exhilarating adventure experience in Hawaii that offers guided ocean excursions for enthusiasts.
"This was one of the best things I've ever done," says Lena Wilson, our style writer, who included Hawaii in destination weddings spots.
"It combines snorkeling, wildlife encounters, and exploration of the vibrant marine ecosystem."
Wilson says that participants go on thrilling boat rides, swim alongside sea turtles, dolphins, and tropical fish, and witness the beauty of Hawaii's underwater world.
With knowledgeable guides, Kaimana Ocean Safari provides an unforgettable adventure for nature lovers and those seeking an up-close encounter with the ocean's wonders.
And, of course, this is one of many of these events across the islands!
Final Thoughts
After reading this guide, the Hawaiian Islands seem to offer a captivating blend of picturesque beaches, thrilling adventures, and hidden gems that are guaranteed to bring a smile to your face, don't they?
Well, guess what? It really is true!
This is hands down the most beautiful state in the USA.
Whether you're a solo traveler, a couple seeking a romantic getaway, or a family planning a summer vacation, Hawaii will definitely have something to offer you.
With its awe-inspiring beauty and unexpected surprises, Hawaii never fails to amaze.
So, don't hesitate to pack your bags and go on your unforgettable trip through the wonders of the Hawaiian Islands.
This ultimate guide had you go through the basics, introduced you to the islands, and dived into the exciting vacation experiences, including beaches, state parks, romantic settings, and adventurous activities.
Get ready to embark on an extraordinary adventure in Hawaii!
AJ Paris is a travel photographer based in New York. He is the editor of Caravanzers.
Follow us on Pinterest.