Vacation trips are all about discovering new destinations, unwinding, and making memories that will last a lifetime.
But let's face it, planning a vacation can be stressful. With so many things to consider – from choosing the perfect spot to figuring out what to pack – it's easy to feel overwhelmed.
But don't worry, I'm here to help! My guide will take you through every step of the process, offering vacation trip ideas and destination recommendations that are sure to excite you.
I'll also provide you with detailed packing lists and outfit suggestions that will make packing a breeze. And if you want to create a beautiful vacation aesthetic, I've got you covered there, too, with plenty of tips and ideas.
So, let's make your dream vacation a reality!
Vacation Trip Basics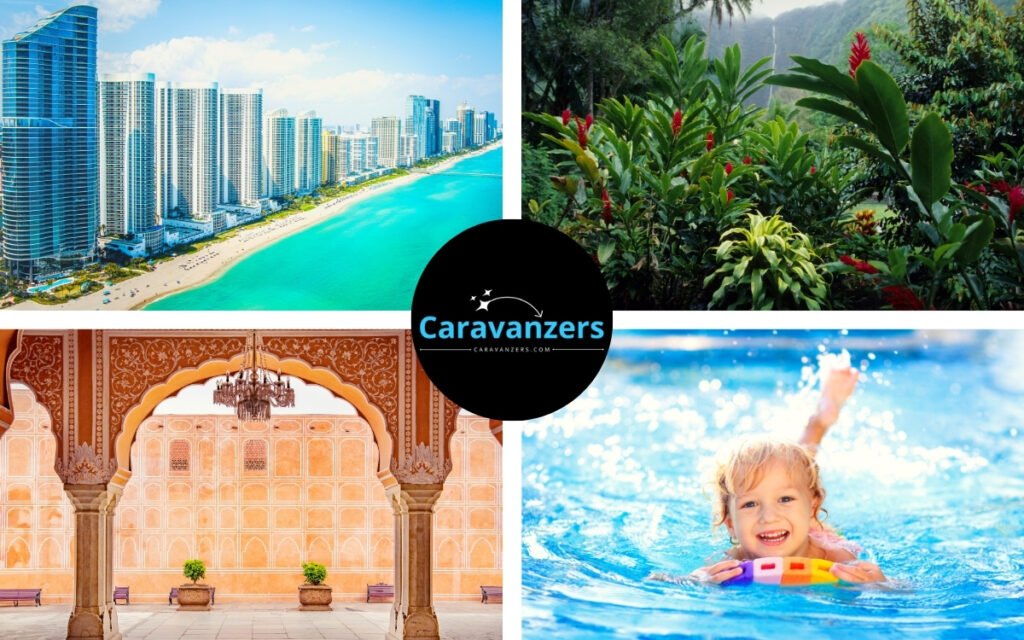 When you're gearing up for a vacation, there are a few things you absolutely need to have sorted out.
First things first: you gotta decide on where you're headed, and it helps to do a little research to make sure you're clued up on things like the local culture, weather, and sights.
Once you know where you're headed, you'll need to book your travel arrangements. This could mean snagging some plane tickets, reserving a rental car, or even just hopping on a train.
Be sure to book in advance to get the best deals and availability!
You'll also want to make sure you've got a place to crash once you get there. This could mean anything from a swanky hotel room to a cozy vacation rental or even a tent if you're hitting up the great outdoors.
And speaking of travel, don't forget your documents! Depending on where you're going, you'll likely need a valid passport or other forms of ID.
Last but not least, you'll need to pack the right stuff for your trip.
What that means will vary depending on where you're going and what you'll be doing, but some key items to keep in mind include comfy shoes, sunscreen, and a refillable water bottle.
When it comes to planning a trip, it's better to be safe than sorry. So take your time, do your research, and make sure you're fully prepped for your next adventure!
Vacation Trips ideas
When it comes to vacations, there are endless possibilities, and each individual or group has unique needs and preferences.
Some people love adventure, while others prefer to relax and unwind. Some prefer to travel with a partner, while others enjoy the freedom of solo travel.
For families, vacations can be an opportunity to spend quality time together and create unforgettable memories.
Theme parks, beach resorts, and national parks are some popular destinations that offer a wide range of activities for both adults and children.
For families with young children, all-inclusive resorts or cruises can be a convenient option as they provide entertainment and meals in one package.
For couples, vacations are a chance to reconnect and enjoy some romantic time together.
Destinations like Paris, Hawaii, and the Maldives are known for their romantic atmosphere and stunning landscapes.
Couples can choose from a variety of activities, such as sightseeing, spa treatments, or adventure sports, depending on their interests.
For singles, vacations can be a time to explore new places, make new friends, and have some fun.
Group tours, adventure trips, or solo travel can be great options for singles looking for a change of pace.
Cities like New York, Barcelona, or Bangkok offer vibrant nightlife, cultural attractions, and lots of opportunities to meet new people.
For seniors, vacations can be a chance to relax and enjoy their golden years. Cruises, beach resorts, or wellness retreats can be great options for seniors looking for some peace and quiet.
European river cruises, Hawaiian resorts, and Arizona spas are some popular destinations that cater to senior travelers.
Of course, there is no one-size-fits-all vacation for everyone, and the key is to choose a destination and activities that match your needs and preferences.
Vacation Destinations  
If you're planning a summer vacation, there are so many incredible destinations to choose from!
For those seeking a beach getaway, for example, popular spots include the Caribbean, the Maldives, and Bali.
Adventurers might want to consider Costa Rica, New Zealand, or Peru for stunning landscapes and outdoor activities.
And for those interested in history and culture, Europe is a great option, with cities like Rome, Paris, and Barcelona offering a wealth of attractions.
If you're specifically interested in Hawaii, you're in for a treat! This paradise on earth boasts breathtaking natural beauty and a laid-back atmosphere.
Surfing, hiking, snorkeling, and whale watching are just a few of the many experiences you can have in the Hawaiian islands.
And let's not forget about the world-class beaches, delicious cuisine, and traditional cultural performances.
If you're a traveler seeking a new adventure, Florida might be the perfect destination for you!
The warm weather, beautiful beaches, and world-renowned theme parks like Disney World and Universal Studios in Orlando make it a popular vacation spot.
On the other hand, Miami boasts a vibrant nightlife, art deco architecture, and mouth-watering Cuban cuisine.
For a unique travel experience, India is a land of contrasts with its rich culture, diverse landscapes, and bustling cities.
The majestic Taj Mahal, colorful bazaars of Jaipur, and ancient temples are just a few of the many attractions here.
If you're feeling adventurous, sample some delicious street food or take a yoga retreat in the Himalayas.
Of course, there are many more destinations out there that cater to your interests, whether you're looking for relaxation, adventure, or culture.
Vacation Trip Packing List  
When it comes to packing for a vacation, it can feel like there's so much to remember. But don't worry, it's not as hard as it seems!
I've got some tips for packing for your next trip, whether you're going solo or with someone else.
Ladies, it's a good idea to pack a mix of outfits that can be dressed up or down, depending on what you'll be doing.
Think about the activities you have planned and pack clothes accordingly. If you're going to be doing a lot of walking or hiking, bring comfortable shoes!
And don't forget your essential toiletries like sunscreen or makeup.
Guys, you'll want to pack versatile clothing that can be dressed up or down as well. Think about what you'll be doing and pack clothes accordingly.
If you're going to be attending any dressier events, make sure you bring a few dressier shirts. And of course, you'll want to bring comfortable shoes.
Singles, it's important to pack light and bring clothes that you can wear for a variety of activities. Make sure you have comfortable shoes and any necessary toiletries.
And if you're a bookworm, don't forget to pack a book or e-reader to keep you entertained during downtime.
Couples, you can coordinate your packing to make sure you have everything you need for your trip.
Consider the weather and any planned activities when packing. And it's always a good idea to bring a small first-aid kit, any necessary medications, and a camera to capture memories.
So, yeah, it isn't as scary as it sounds.
Vacation Trip Outfits   
Vacation is the perfect time to let loose and have some fun, and that includes what you wear! But if you're unsure of what to pack or how to look stylish on vacation, don't worry – I've got you covered.
First and foremost, consider the climate and activities you have planned when packing your vacation outfits.
If you're headed to a beach destination, for example, pack comfortable and airy clothes like sundresses, shorts, and tank tops.
A wide-brimmed hat and sunglasses are also a must to protect your skin and eyes from the sun.
For a more city-centric vacation, you can play with your style a bit more. Think about packing pieces that can be dressed up or down, like a simple white t-shirt that can be paired with both shorts and a skirt.
Comfortable shoes are important, especially if you plan on doing a lot of walking or exploring.
Looking to add some flair to your vacation outfits? Accessorize! A statement necklace or earrings can elevate even the most basic outfit.
And don't be afraid to mix and match patterns or colors – vacation is the perfect time to experiment with your style.
When it comes to summer vacation specifically, lightweight fabrics like cotton, linen, and silk are perfect for keeping cool in the heat.
Dresses and rompers are also great options, as they're easy to pack and can be dressed up or down. And of course, don't forget to pack a swimsuit!
Most importantly, make sure you feel comfortable and confident in what you will wear!
Vacation Trip Aesthetic
Going on vacation is not just about the destination but also the overall experience and aesthetic you create during your trip.
Whether you're traveling alone or with others, it's important to consider the vibe you want to create for your vacation.
For women, creating a vacation aesthetic can be as simple as choosing a color scheme for your outfits and accessories.
For example, if you're headed to a beach destination, you might opt for pastel colors like coral and baby blue.
If you're going for a more urban look, you might choose a monochromatic black-and-white scheme.
For couples, creating a cohesive vacation aesthetic can be a fun way to show off your partnership.
Consider coordinating your outfits, such as matching hats or sneakers, or choosing a specific color palette that you both like.
You might also consider creating a romantic ambiance by choosing intimate dining experiences, or sunset walks on the beach.
Singles can also create a unique vacation aesthetic by choosing activities and experiences that align with their personal style.
Consider choosing destinations and accommodations that fit your personality, such as a boutique hotel with a quirky vibe or a retreat center that focuses on wellness and self-care.
You might also consider creating a social media aesthetic to document your trip, such as using a specific filter or theme for your photos.
Ultimately, the key to creating a vacation aesthetic is to be intentional and thoughtful in your choices.
Consider the destination, your personal style, and the overall vibe you want to create for your trip.
With a little bit of planning and creativity, you can have a vacation experience that is both aesthetically pleasing and memorable.
Final Thoughts
Planning the vacation of your dreams might seem like a daunting task, but with the guidance and tips I have provided, it can be a lot easier than you think.
By adhering to the step-by-step process and advice I've shared, you can embark on an unforgettable and stress-free trip.
You have access to numerous vacation ideas and destination suggestions, have learned how to pack efficiently and fashionably, and have even gained knowledge on how to create a delightful vacation aesthetic.
Remember to allocate ample time for research, prioritize what you truly desire on your trip, and approach the planning process with the proper mindset.
If you prepare well, your vacation can be a fantastic adventure that you'll cherish for years to come.
I wish you a safe and fun vacation!
AJ Paris is a travel photographer based in New York. He is the editor of Caravanzers.
Follow us on Pinterest.