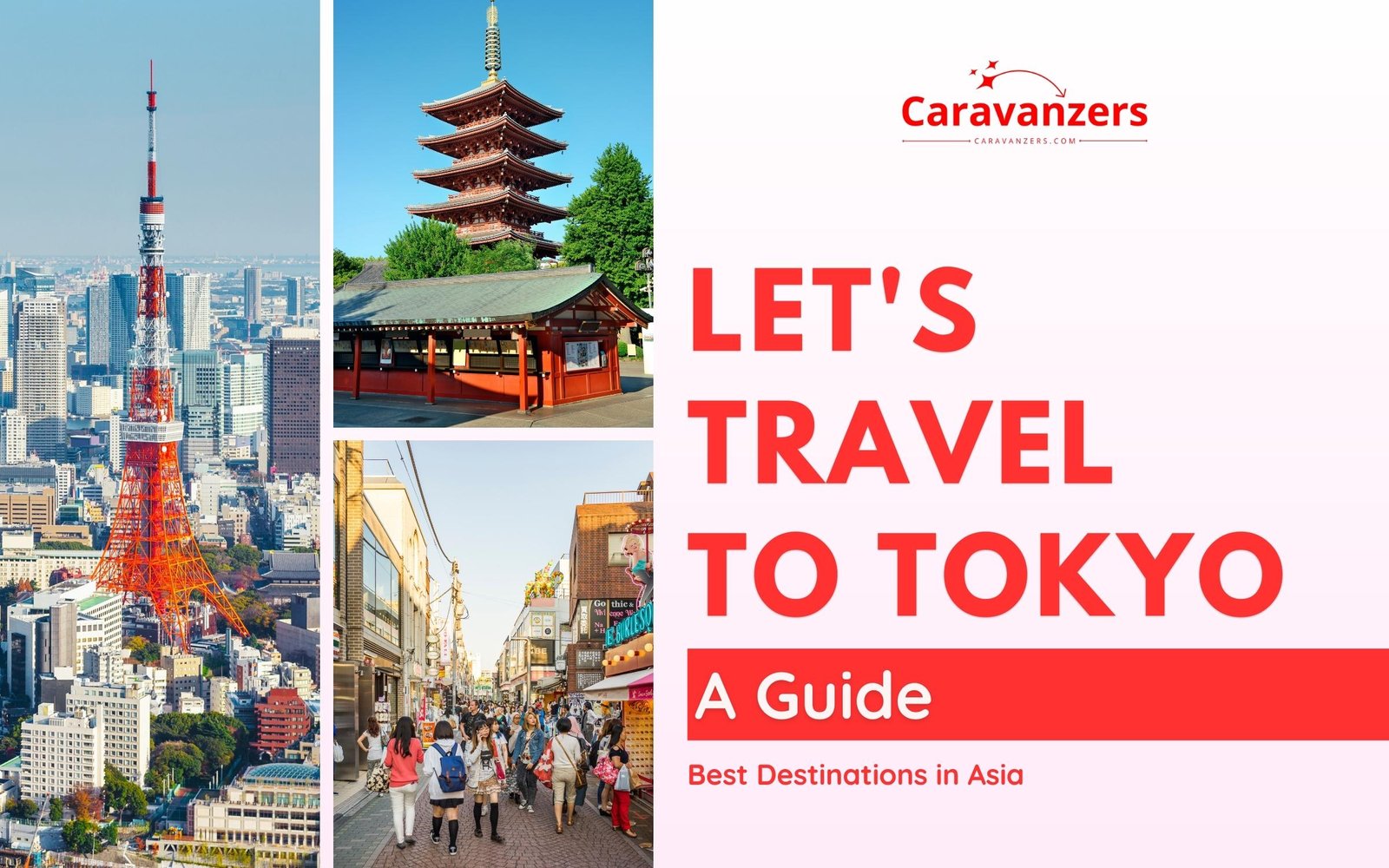 Tokyo travel. Let's travel to one of the most interesting cities in not just Asia but the whole world, and this guide has it all.
Tokyo, a metropolis where tradition and modernity seamlessly intertwine, presents an enchanting fusion of ancient allure and cutting-edge advancements.
The cityscape of Tokyo showcases a harmonious coexistence of towering skyscrapers and tranquil gardens, resulting in an unparalleled and lively atmosphere.
Tokyo's abundance of cultural richness, varied culinary delights, and thriving tourism sector ensure that it caters to the preferences of all visitors.
Be it the allure of historic temples, the bustling allure of shopping districts, or the iconic landmarks that beckon, Tokyo guarantees an unforgettable journey.
Prepare yourself to fully immerse in the vibrant vitality and ever-evolving lifestyle of this extraordinary city.
In this guide, I will describe how to get there, where to stay, what to do, as well as some day trips from the popular city.
Tokyo Tourism
Tokyo is definitely a unique city in the world because it defies logic, and yet it's perfectly rooted in common sense, tradition, and history.
Its towering skyscrapers, neon-lit streets, and advanced technology coexist harmoniously with tranquil gardens, historic temples, and serene shrines.
Rich in culture, cuisine, and innovation, Tokyo offers an unforgettable blend of old-world charm and futuristic dynamism.
It was once known as Edo, the political and cultural center of feudal Japan.
Its culture encompasses traditional arts like kabuki and ukiyo-e, while its history is marked by samurai traditions, the Meiji Restoration, and the resilience displayed during World War II.
The city's immense size and population create a vibrant energy and an unmatched urban atmosphere.
From crowded streets and bustling train stations to endless dining, shopping, and entertainment options, Tokyo offers a dynamic and fast-paced lifestyle that is truly unique.
Attempting to fully experience Tokyo in just a week is a daunting task due to the city's vastness and endless attractions.
Tokyo's tourist industry is robust and thriving, welcoming millions of visitors each year.
Its efficient transportation, excellent hospitality, and diverse cultural experiences make it a top destination for travelers worldwide.
If you can only do three things in Tokyo, consider visiting the iconic Tokyo Skytree for breathtaking views, exploring the historic Asakusa district with its Senso-ji Temple, and experiencing the vibrant energy of Shibuya Crossing, one of the world's busiest intersections.
These activities offer a taste of Tokyo's culture, history, and urban allure.
When to Go to Japan
Spring is one of the most popular seasons to visit Japan due to the cherry blossom season, known as "hanami."
The blooming cherry blossoms create stunning pink and white landscapes, especially in parks and gardens throughout the country.
This is an ideal time for nature lovers, photographers, and those interested in experiencing traditional Japanese culture.
Summers in Japan are warm and humid, with occasional rain showers.
This season is great for exploring Japan's beautiful coastal areas, enjoying vibrant summer festivals (such as Obon festivals), and hiking in picturesque mountain regions like Hokkaido.
Autumn is another excellent time to visit Japan, as the weather becomes cooler and the landscapes transform into a breathtaking palette of red, orange, and yellow foliage.
This season offers pleasant temperatures, making it ideal for outdoor activities like hiking, visiting temples and shrines, and exploring Japan's scenic countryside.
Winter in Japan brings colder temperatures, especially in northern regions like Hokkaido.
This season is perfect for winter sports enthusiasts, as Japan is renowned for its excellent ski resorts.
Additionally, you can enjoy winter illuminations, soak in hot springs (onsen), and indulge in seasonal delicacies like hot pot dishes and traditional New Year celebrations.
It's worth noting that Japan's weather can vary from region to region, so it's essential to research the specific destinations you plan to visit.
Additionally, major holidays, such as Golden Week in late April and early May, and the New Year period, can be crowded and may require advanced booking.
Ultimately, the best time to visit Japan depends on your personal interests, desired activities, and tolerance for crowds and weather conditions.
Consider these factors while planning your trip to ensure an enjoyable and memorable experience.
What to Know Before Going
Before heading out on your Tokyo adventure, consider these essential aspects for a smooth and enjoyable experience in the vibrant city.
Tokyo is deeply rooted in tradition and etiquette, so familiarize yourself with customs. Politeness and respect are highly valued, with bowing being customary. Mind personal space in crowded areas.
Language may be a barrier, as English proficiency varies. Learn basic Japanese phrases or use translation apps. Friendly gestures can bridge the language gap.
Tokyo's public transportation system is efficient. The subway and train lines make exploring convenient. Get a prepaid IC card for easy fare payments. Avoid rush hour for less crowded trains.
Book accommodation well in advance, especially during peak seasons. Choose a location that suits your interests and preferences, whether it's the bustling streets of Shibuya, the charm of Asakusa, or the upscale vibes of Ginza.
Tokyo's food scene is diverse, from sushi and ramen to street food and izakayas. Try local delicacies while following dining customs. Slurping noodles is acceptable and say "itadakimasu" before starting a meal and "gochisosama deshita" after finishing.
Respect local customs. Dispose of trash responsibly and use designated smoking areas. Be mindful of noise levels, particularly in residential areas.
Plan your itinerary wisely, prioritizing sights, neighborhoods, and experiences. Leave room for spontaneity and exploration. Interact with locals and create lasting memories.
Embrace Tokyo's unique culture, be respectful, adaptable, and immerse yourself in the city's vibrant energy. Make your visit truly remarkable and unforgettable.
Finally, make sure you get a trip insurance.
How to Get to Tokyo
Tokyo has two main airports. Narita International Airport and Haneda Airport.
Both airports offer modern facilities, efficient services, and convenient transportation options for travelers.
Most airlines from Europe and North America primarily use Narita International Airport in Tokyo.
Narita serves as the main international gateway and offers a wide range of flights connecting Tokyo to various destinations around the world.
Americans, Europeans, Australians, and other Western nations can enter Japan under the visa exemption program, which allows for tourism, business meetings, and certain other purposes.
So, the city operates on Japan Standard Time (JST), which is GMT+9, and the country uses the Japanese Yen (JPY).
Tokyo experiences a humid subtropical climate with four distinct seasons.
Summers (June to August) are hot and humid, while winters (December to February) are generally mild, with occasional snowfall.
Spring (March to May) and autumn (September to November) offer pleasant temperatures and beautiful cherry blossoms in spring, and colorful foliage in autumn.
The distance from Narita International Airport to Tokyo city center is approximately 60 kilometers (37 miles).
Taxis shouldn't take more than 90 minutes, and taking the train from Narita to Tokyo Station using the Narita Express (N'EX) or Keisei Skyliner takes about 60-75 minutes.
Now that you've arrived in the city let's figure out where in Tokyo you will stay… since this city has awesome neighborhoods!
Tokyo Neighborhoods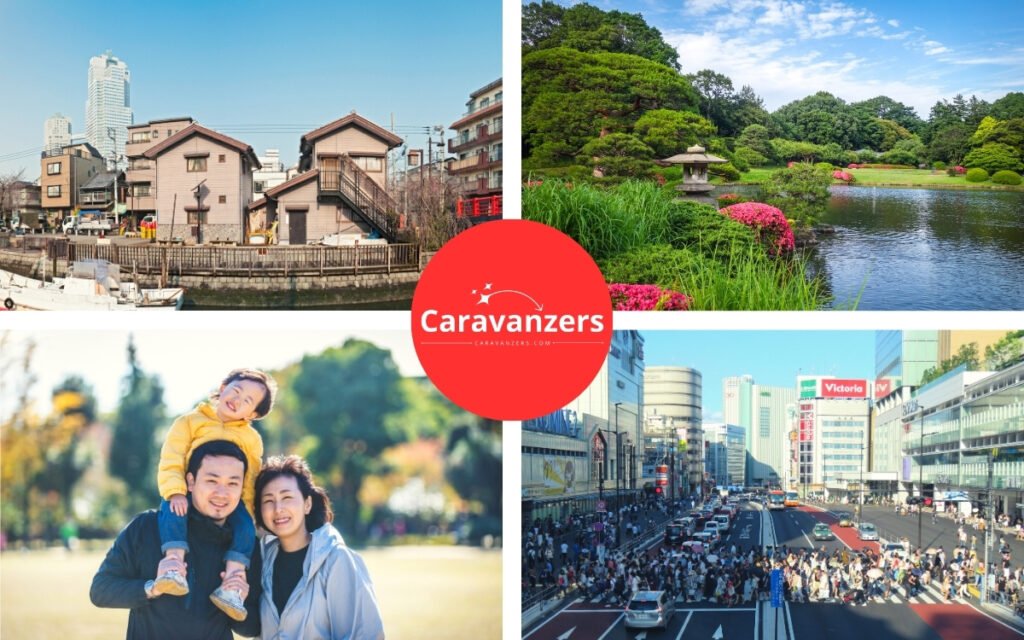 Tokyo has several lively neighborhoods for tourists to stay, depending on their preferences.
Every Japanese person will tell you about different neighborhoods they like, but some of my favorites include Shinjuku, Shibuya, and Ginza, among others.
Shinjuku, a vibrant neighborhood in Tokyo, is a bustling hub of entertainment, shopping, and dining.
It features the famous Shinjuku Station, skyscrapers, and neon-lit streets.
Visitors can explore Kabukicho, a lively entertainment district, enjoy panoramic views from the Tokyo Metropolitan Government Building, and experience a blend of modernity and traditional culture.
Shibuya is known for its iconic crossing and trendy atmosphere.
Shibuya is popular for its energetic and trendy atmosphere, anchored by the iconic Shibuya Crossing.
It offers a vibrant shopping scene, including the renowned Shibuya 109 department store.
The neighborhood is also known for its diverse dining options, lively nightlife, fashionable street fashion, and proximity to youth culture and entertainment.
Ginza, located in central Tokyo, is a prestigious district known for its luxury shopping and upscale atmosphere.
It features high-end department stores, exclusive boutiques, and renowned international brands.
Visitors can explore elegant galleries, dine at gourmet restaurants, and immerse themselves in the refined ambiance of this fashionable and sophisticated neighborhood.
Asakusa, a historic district in Tokyo, showcases traditional Japanese architecture and cultural heritage.
It is home to the iconic Senso-ji temple, bustling Nakamise shopping street, and traditional theaters.
Visitors can enjoy festivals, try local street food, admire the Thunder Gate, and experience a blend of old-world charm and modern attractions.
Other popular choices include Roppongi for nightlife, Akihabara for anime and electronics, and Ueno for museums and parks.
Food in Tokyo
Indulge in Tokyo's diverse and vibrant culinary scene!
The city's local cuisine offers a plethora of mouthwatering dishes, ranging from traditional Japanese delicacies to delectable Asian flavors and global favorites.
Experience the richness of traditional Japanese fare firsthand.
Delight in the savory pancakes of Monjayaki and the dipping ramen of Tsukemen.
Savor the artistry of Tokyo-style Sushi and the exquisite multi-course meal known as Kaiseki.
And, of course, don't miss the opportunity to sample the renowned Edomae-style Sushi.
Tokyo's local cuisine celebrates an abundance of fresh seafood, high-quality Wagyu beef, and the use of seasonal ingredients in regional dishes.
When exploring Tokyo, be sure to treat your taste buds to an array of authentic Japanese flavors.
From sushi, sashimi, and tempura to ramen, udon, and yakitori, the options are, honestly, endless.
Beyond Japanese cuisine, Tokyo also boasts a diverse range of Asian flavors.
Delight in the tantalizing dim sum, Peking duck, and map tofu from Chinese cuisine.
Experience the bold and vibrant tastes of Korean dishes such as barbecue, bibimbap, and kimchi.
Thai, Vietnamese, Indian, and other Asian culinary delights can also be found throughout the city, offering a true fusion of flavors.
Tokyo's cosmopolitan nature extends to its international food scene.
Embrace the global flavors that thrive in this city.
Indulge in Italian pasta, French delicacies, Spanish tapas, Mexican tacos, and American burgers and steaks, all with a unique Japanese twist.
As you wander through Tokyo, you'll discover a myriad of dining options that cater to your international palate.
In Tokyo, every culinary desire can be fulfilled.
Tokyo Attractions
When exploring Tokyo, you'll encounter a multitude of captivating tourist attractions.
The iconic Tokyo Tower and Tokyo Skytree offer breathtaking panoramic views.
So, Tokyo Tower stands 333 meters (1,093 feet) tall, and you really don't want to miss the selfies from this place!
Resembling the Eiffel Tower, it offers breathtaking city views from its observation decks.
Discover traditional culture at Senso-ji temple and Meiji Shrine.
Senso-ji, located in Asakusa, Tokyo, is one of the city's oldest and most revered Buddhist temples.
Steeped in history and tradition, it features a majestic entrance gate, the Thunder Gate, leading to a vibrant shopping street.
The temple's main hall, pagoda, and serene gardens provide a serene atmosphere for visitors to experience spiritual tranquility.
Explore vibrant neighborhoods like Shinjuku and Shibuya, renowned for their bustling energy and iconic landmarks.
Don't miss the tranquil beauty of Ueno Park and the fascinating exhibits at the Tokyo National Museum.
Ueno Park, a sprawling green oasis in Tokyo, is home to several attractions, including museums, temples, a zoo, and beautiful cherry blossom trees, offering a peaceful retreat amidst the bustling city.
Embrace the vibrant atmosphere of Tsukiji Fish Market and immerse yourself in shopping and entertainment in Ginza.
Tokyo Disneyland and DisneySea are also must-visit destinations for a dose of enchantment and fun.
Mount Fuji, though not located in Tokyo itself, is an unmissable nearby attraction.
This majestic volcano is only a short train ride away and has breathtaking views, picturesque hiking trails, and the chance to witness a sunrise above the clouds.
So, if you get a chance to see all of these, you will definitely feel like you've had a great trip to Japan's largest city.
Shopping in Tokyo
Explore the luxury shopping district of Ginza or venture to Akihabara for electronics and anime merchandise.
Don't forget to browse the unique shops in Harajuku and the traditional markets like Ameya-Yokocho.
Enjoy the shopping experience and discover the diverse range of offerings that Tokyo has to offer!
When shopping in Tokyo, there are several items worth considering.
You may want to explore Japanese fashion and pick up unique clothing pieces or accessories.
Japanese beauty and skincare products are also popular choices.
Ultimately, choose items that resonate with your personal interests and preferences, allowing you to bring a piece of Tokyo's culture and style back home.
Many Chinese, Korean, and Indian visitors choose to go shopping in Japan for various reasons.
Japan's fashion, electronics, cosmetics, and food products are highly regarded.
Additionally, favorable exchange rates, diverse shopping options, and availability of unique items not easily found in their home countries also attract these visitors.
The appeal of experiencing Japan's culture, fashion trends, and shopping districts further contributes to the popularity of shopping among these tourists.
So, as you go through shopping, expect there will be a lot of non-Japanese shopping along with you!
Day Trips from Tokyo
From Tokyo, you can embark on several captivating day trips.
Visit the historic city of Kamakura to explore its famous Great Buddha statue and serene temples.
Kamakura is about an hour south of Tokyo, and this cute place is on Sagami Bay.
Nikko offers beautiful shrines set amidst picturesque natural surroundings.
Meanwhile, Nikko is about a couple of hours north of Tokyo, depending on traffic, of course.
Hakone presents hot springs, scenic landscapes, and stunning views of Mount Fuji.
This is about an hour southwest of Tokyo, and the lush green of this place is really cool.
Yokohama showcases a vibrant waterfront, captivating museums, and a lively Chinatown.
It's actually the closest to Tokyo, just a 45-minute drive from the city center.
So, those of you who love Chinese food will absolutely adore Yokohama because there are generational restaurants.
These day trips provide an opportunity to discover different facets of Japan's rich cultural heritage and natural beauty, all within reach of Tokyo.
7-Day Tokyo Itinerary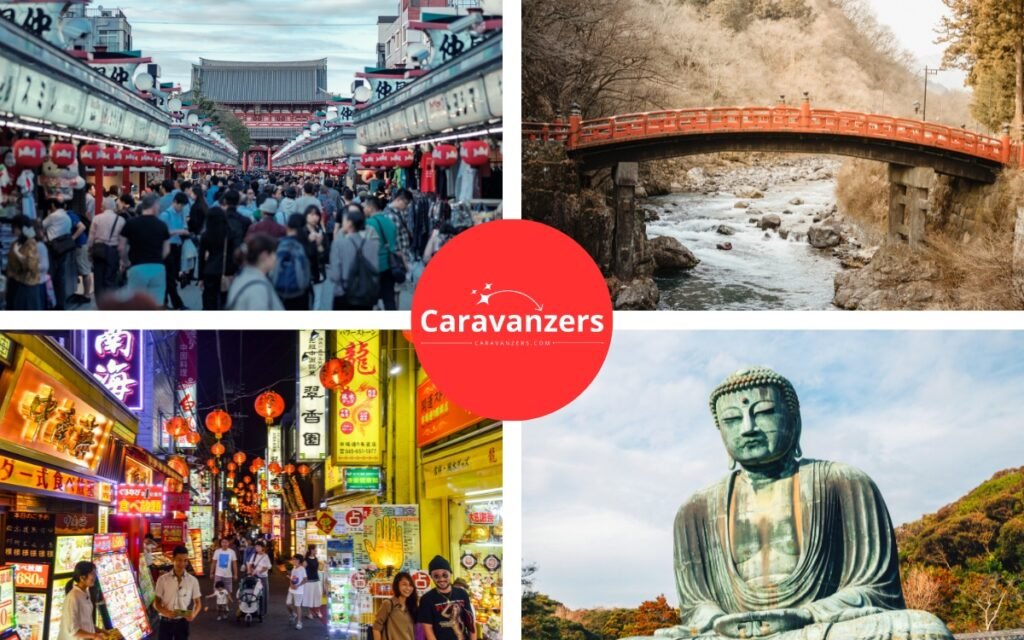 On Day 1, you will arrive in Tokyo at either Narita International Airport or Haneda Airport.
If you're staying in Shinjuku, immerse yourself in the bustling energy of this entertainment hub.
On Day 2, venture to the historic district of Asakusa.
Marvel at the temple's majestic entrance gate, the Thunder Gate, and soak in the serene atmosphere of the temple grounds.
On Day 3, delve into the modern marvels of Tokyo.
Start your day by visiting Tokyo Skytree, an iconic landmark that offers breathtaking views of the city.
On Day 4, take a day trip from Tokyo to the historic city of Kamakura.
Visit the iconic Kotoku-in Temple to see the towering bronze Buddha statue and explore the beautiful grounds of Hasedera Temple with its stunning views of the surrounding area.
Day 5 is perfect for a trip to Nikko, a picturesque destination known for its stunning shrines set amidst beautiful natural surroundings.
Discover the natural beauty of Nikko National Park, including the breathtaking Kegon Falls and Lake Chuzenji.
On Day 6, venture to Hakone, a scenic region famous for its hot springs and panoramic views of Mount Fuji.
Take a boat cruise on Lake Ashi, ride the Hakone Ropeway for stunning views of the surrounding volcanic landscape, and visit the Owakudani geothermal area.
For Day 7, visit Yokohama, a vibrant city just a 45-minute drive from Tokyo.
Don't miss the panoramic views from the Landmark Tower Sky Garden, one of the tallest buildings in Japan.
These day trips from Tokyo will allow you to discover different facets of Japan's cultural heritage, natural beauty, and neighboring cities, providing a well-rounded and unforgettable experience of the region.
Tokyo Travel – Final Thoughts
Tokyo is a lively metropolis where the old and the new seamlessly blend, and it truly is a captivating fusion of ancient charm and cutting-edge progress.
The cityscape of Tokyo presents a striking balance between towering skyscrapers and serene gardens, creating an unparalleled and vibrant atmosphere.
So, In this guide, I focused on where to stay because it can seem like there is a lot to choose from.
Tokyo's abundant cultural heritage, diverse culinary experiences, and thriving tourism industry ensure that it caters to the preferences of every visitor.
So, I shared with you the tourism industry here and some of the items to add to your Tokyo trip planning.
Whether you're drawn to the allure of historic temples, the lively energy of shopping districts, or the iconic landmarks that beckon, Tokyo guarantees an unforgettable adventure.
Prepare to fully immerse yourself in the dynamic energy and ever-changing lifestyle of this extraordinary city.
Enjoy Tokyo!
Yuri Takahashi writes about Japan for Caravanzers.
Follow us on Pinterest.