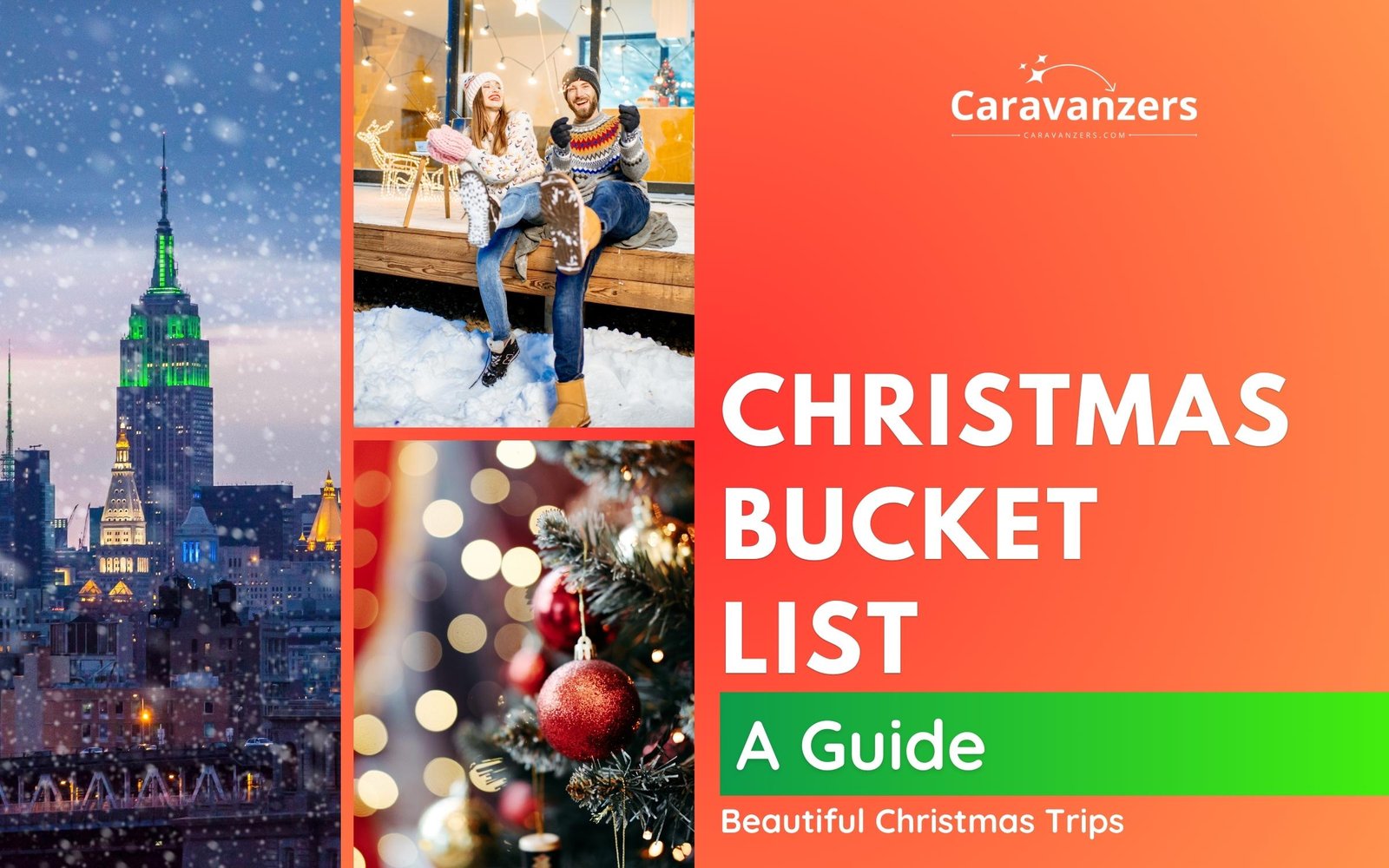 A Christmas travel bucket list represents a collection of dream experiences that travelers aspire to explore during the holiday season.
For many of us, this includes a desire to create cherished memories, embrace diverse traditions, and revel in the unique magic of Christmas in various corners of the world.
Christmas travel ideas vary greatly among travelers because of personal preferences and interests.
Some of us tend to seek snowy winter wonderlands, while others prefer tropical escapes.
Of course, some travelers favor cultural exploration, like European markets, while others focus on adventure.
The diversity in choices highlights how Christmas travel can be uniquely tailored to suit varied tastes and desires.
In this guide, I will recommend 10 things to add to your Christmas bucket list.
Visit Christmas Markets
Explore the charming Christmas markets in Europe, such as the ones in Vienna, Strasbourg, or Cologne. These markets offer festive treats, handmade crafts, and a wonderful atmosphere.
Experience the enchanting Christmas markets across Europe, including those in Germany, France, and Austria.
These markets immerse visitors in a magical holiday ambiance with their array of festive treats and handcrafted treasures.
Wander through beautifully decorated stalls, savor seasonal delicacies like gingerbread and mulled wine, and shop for unique gifts.
These markets are not just shopping destinations but cultural experiences, often featuring live performances and stunning light displays.
They provide a perfect opportunity to immerse oneself in the joy of the season, making them a must-visit for anyone seeking the true spirit of Christmas in Europe.
Santa Claus Village
Visit the official home of Santa Claus in Rovaniemi, Finland, and meet the man himself.
Journey to the official home of Santa Claus in Rovaniemi, Finland, where you can personally meet the legendary figure himself.
The Santa Claus Village offers a magical experience for all ages.
You can have a heartwarming encounter with Santa, enjoy sleigh rides pulled by reindeer, and witness the enchanting Northern Lights.
This Arctic wonderland also hosts activities like snowmobiling and husky safaris.
The village is a year-round Christmas destination, making it the perfect place to make lifelong memories and indulge in the holiday spirit, regardless of the season.
A trip to this snowy haven is a dream come true for many.
New York City
Witness the iconic Rockefeller Center Christmas Tree lighting ceremony and enjoy the dazzling holiday displays throughout the city.
Christmas in huge cities is an amazing experience that each traveler should have at least once in their lives, and New York is at the top of the list.
Visit New York City during the holiday season to witness the iconic Rockefeller Center Christmas Tree lighting ceremony, a spectacle that embodies the magic of Christmas.
Stroll through the city's streets and be enchanted by the dazzling holiday displays that adorn the storefronts, landmarks, and neighborhoods.
The city comes alive with festive lights and decorations, creating an unforgettable atmosphere.
Enjoy ice skating at Rockefeller Center, take in a Broadway show, or shop for gifts at famous holiday markets.
New York City during Christmas is a captivating and unforgettable experience that truly captures the holiday spirit.
Skiing in the Alps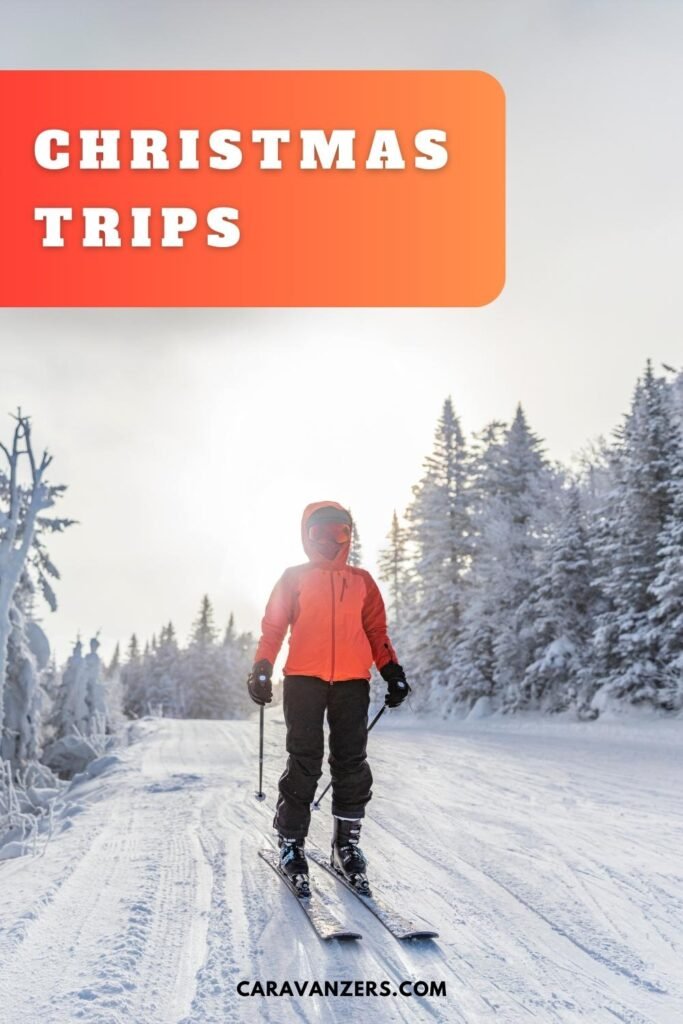 If you're a fan of winter sports, plan a skiing or snowboarding trip to the stunning Alpine resorts.
For winter sports enthusiasts, a skiing or snowboarding adventure in the breathtaking Alpine resorts is a must-do.
The Alps offer world-class slopes, stunning mountain scenery, and charming alpine villages.
Enjoy exhilarating days on the slopes, whether you're a beginner or a seasoned pro.
Afterward, unwind in cozy chalets, savor delicious mountain cuisine, and immerse yourself in the alpine culture.
The Alps provide the perfect backdrop for an unforgettable winter getaway, combining the thrill of winter sports with the beauty of the mountains and a warm, après-ski ambiance that's hard to beat.
Christmas Cruise
Book a holiday-themed cruise to enjoy Christmas festivities while exploring different destinations.
Embark on a Christmas cruise to blend holiday cheer with travel adventure.
Christmas-themed cruises offer a unique way to celebrate the season, allowing you to visit various destinations while reveling in festive activities on board.
Enjoy lavish decorations, special holiday menus, and entertainment.
Cruise itineraries may include sunny tropical destinations or European cities with charming Christmas markets.
Whether you're in the Caribbean, the Mediterranean, or other destinations, a Christmas cruise promises a memorable and convenient way to experience the magic of the holiday season while satisfying your wanderlust.
Christmas Island
Experience a warm-weather Christmas on Christmas Island in Australia, known for its unique red crab migration and diverse marine life.
Discover a different kind of Christmas on Christmas Island, a tropical paradise famous for its stunning natural wonders.
Swap snow for the sun as you celebrate the holiday in warm weather.
Explore the island's unique features, from the breathtaking red crab migration to the vibrant marine life found in its crystal-clear waters.
Snorkel in coral reefs, take in the lush rainforests and enjoy the island's tranquil beaches.
It's a Christmas getaway like no other, offering a perfect blend of relaxation and natural beauty that makes for a truly unforgettable holiday experience.
Christmas in a Tropical Paradise
Spend Christmas on a tropical island like Bali, Maldives, or the Caribbean, enjoying the warm weather and beachside celebrations.
Opt for a tropical Christmas in destinations like Bali, the Maldives, or the Caribbean, where warm weather and beachside celebrations create a unique holiday experience.
Embrace the sun and sand as you trade snow for palm trees. Celebrate Christmas with beach parties, outdoor dining, and water activities.
Many resorts in these destinations offer special holiday packages, ensuring you can still enjoy the festive spirit while relishing a relaxed island atmosphere.
It's a fantastic way to create cherished memories and a truly different Christmas experience.
Secret Santa Travel
This is where you travel to special locations and participate in Secret Santa experiences, which are sharing gifts anonymously.
Embark on a thrilling adventure with Secret Santa travel, a unique concept where you journey to special destinations and engage in Secret Santa experiences.
This involves the anonymous exchange of gifts with fellow travelers, creating an element of surprise and delight.
Share the joy of giving and receiving presents in exciting locations, adding an extra layer of magic to your travel adventures.
It's a fantastic way to connect with new people, spread holiday cheer, and make your trips even more memorable by adding a touch of mystery and generosity to the experience.
Volunteer Abroad
Consider spending your holiday giving back by volunteering abroad to make a positive impact on the lives of others during Christmas.
Make your holiday season truly meaningful by volunteering abroad.
Choose to spend Christmas giving back and making a positive impact on the lives of those less fortunate.
Volunteer abroad programs offer an opportunity to immerse yourself in a new culture while contributing to important causes.
Whether it's helping with community projects, assisting at orphanages, or supporting wildlife conservation, your efforts can bring joy and hope to others during the festive season.
It's a transformative way to celebrate Christmas and create lasting memories of selflessness and goodwill.
Christmas Staycation
Stay in your home area and enjoy Christmas by participating in local traditions!
In the United States, for example, Christmas traditions are diverse and influenced by regional and cultural differences.
Common customs include decorating Christmas trees, lighting displays, visits from Santa, holiday parades, caroling, and baking festive treats.
Nativity scenes, church services, and Advent calendars are observed by many.
Families also enjoy movies and TV specials, engage in charitable giving, and often travel to be with loved ones.
Additional customs involve the "Elf on the Shelf," outdoor activities, and the exchange of gifts.
The season extends into New Year's celebrations and includes traditions like ugly Christmas sweater parties.
---
Enjoy Christmas!
AJ Paris is a travel photographer based in New York. He is the editor of Caravanzers.
Follow us on Pinterest.