Christmas vacation is a chance to enjoy (or get away from) the holiday season elsewhere, and this guide has everything to plan this trip.
The guide covers Christmas vacation essentials, suggestions on diverse experiences, from European markets to volunteering abroad, and highlights festive atmospheres in big cities.
You will also learn to explore the subjective nature of solo holiday travel, winter activities for joyful family memories, and escaping winter chill with beach celebrations in diverse places.
So, if you're planning a Christmas trip, keep on reading.
Christmas Vacation Essentials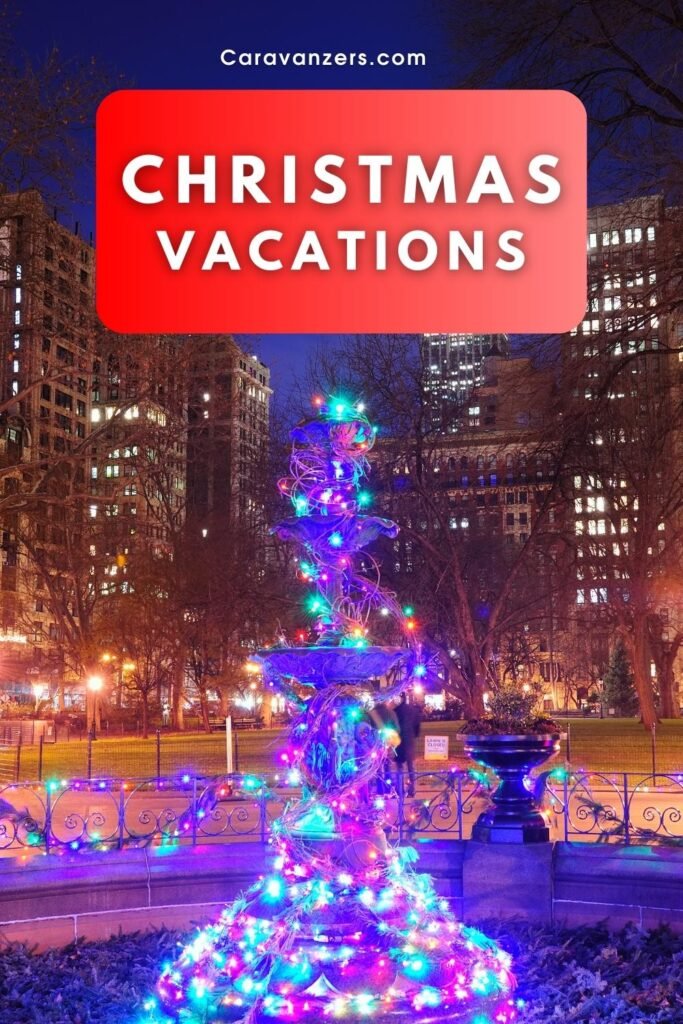 Christmas vacation has a lot of essential requirements. First of all, the need for a passport or visa depends on your destination and citizenship.
International travel typically requires a valid passport, and some countries may necessitate a visa. That said, domestic trips usually don't require a passport or visa, but carrying identification is essential.
Check entry requirements well in advance, as processing times vary.
Likewise, always research and comply with the specific travel regulations of your chosen destination.
My advice is to plan ahead, and then you won't have to worry.
Meanwhile, travel insurance for a Christmas vacation is crucial because it provides financial protection against unexpected events.
Think of trip cancellations, medical emergencies, or lost belongings … because that is exactly why travel insurance gives you peace of mind during travels.
Christmas Vacation Ideas
Christmas vacation ideas include things like enchanting European markets, Santa's village in Finland, and the dazzling lights of New York City.
You could, of course, also ski the Alps, go on a festive Christmas cruise, or opt for a warm-weather celebration on Christmas Island or a tropical paradise.
Similarly, you could opt to experience the joy of Secret Santa travel or make a meaningful impact by volunteering abroad.
Alternatively, enjoy a Christmas staycation, immersing yourself in local traditions.
These varied options cater to different tastes, ensuring a memorable holiday season.
I'm also going to give you some more specific ideas in the following sections.
Big City Christmas
Big city Christmas is a way to experience amazing lights, festive markets, iconic displays, and diverse cultural celebrations.
In my opinion, a big city Christmas creates a dynamic holiday atmosphere for memorable travel experiences.
In London, Christmas illuminates the city with festive lights, bustling markets, and iconic displays. The British really love their Christmas.
Likewise, New York transforms into a winter wonderland adorned with dazzling decorations, ice-skating rinks, and the famous Rockefeller Center Tree.
Similarly, Tokyo blends tradition and modernity, featuring dazzling illuminations, Christmas markets, and unique festivities. You can't miss the famous Roppongi Hills Christmas Market.
Meanwhile, in Cairo, Christmas is celebrated with church services, decorations, and joyous gatherings. This ancient Christian culture is unique!
Finally, Nairobi welcomes the season with cultural events, festive markets, and community celebrations. Matbronze Xmas Fest is my favorite in the city!
Solo Christmas Vacation
Are you thinking about going away for the holidays by yourself? This is really a great way to enjoy the Christmas Season, too!
So, solo Christmas travel is subjective; some relish solitude, finding it a serene escape from the holiday frenzy.
Conversely, those craving festive companionship may find solo travel less appealing.
Choose based on personal preferences, as countless fantastic destinations await exploration during the Christmas season.
Everything in this guide can be enjoyed on your own, but, of course, at the end of the day, it's what you personally like.
Solo Christmas travel appeals to those seeking tranquil escapes from holiday hustle, relishing the solitude to recharge, reflect, and explore destinations independently, free from festive obligations.
It works!
Adventure Christmas Trip
Go on a magical Christmas adventure with winter fun activities that definitely offer joy for all!
For instance, you may choose to glide down snowy slopes, master graceful figure skating, or experience the thrill of snowboarding.
From skiing to ice hockey, these festive activities bring families together, meaning you can create unforgettable memories amid the enchanting winter landscapes.
Dive into Christmas sports, learn the basics, and join local clubs for a jolly good time.
Most importantly, stay safe, stay warm, and let the holiday spirit guide your winter sports adventure!
Christmas Beach Trip
Many of us often wonder what we can do around the holiday, but you can really escape the winter chill with a Christmas beach trip!
Whether on Australia's sunny shores, California's Pacific waves, Mexico's colorful coasts, or the tropical paradise of Zanzibar, celebrate the holidays with sun, sand, and sea.
Swap snow for surf, and build sandcastles instead of snowmen by welcoming the warmth in the sun, creating festive memories, and enjoying a unique yuletide by the beach.
From Down Under to the Pacific, make this Christmas a coastal adventure in the sun-drenched beauty of these incredible destinations.
Final Thoughts
In this article, you learned to navigate Christmas vacation with essential considerations, from passport and visa requirements to the importance of travel insurance, ensuring a worry-free holiday.
You also explored diverse Christmas vacation ideas, from enchanting European markets to festive cruises, ensuring a memorable holiday season catering to various tastes and preferences.
Likewise, you had a chance to experience the magic of big city Christmases, from London's festive lights to New York's winter wonderland, blending cultural celebrations and iconic displays for dynamic travel experiences.
Similarly, you went on a solo Christmas travel and learned its subjective approach to enjoying the holiday season independently or with like-minded companions.
Meanwhile, you went on a magical Christmas adventure with winter sports and activities, creating unforgettable memories amid enchanting winter landscapes, ensuring joy for all and a jolly good time.
Finally, you learned how to escape the winter chill with a Christmas beach trip, swapping snow for surf in destinations like Australia, California, Mexico, and Zanzibar, creating festive memories by the sea.
AJ Paris is a travel photographer based in New York. He is the editor of Caravanzers.
Follow us on Pinterest.