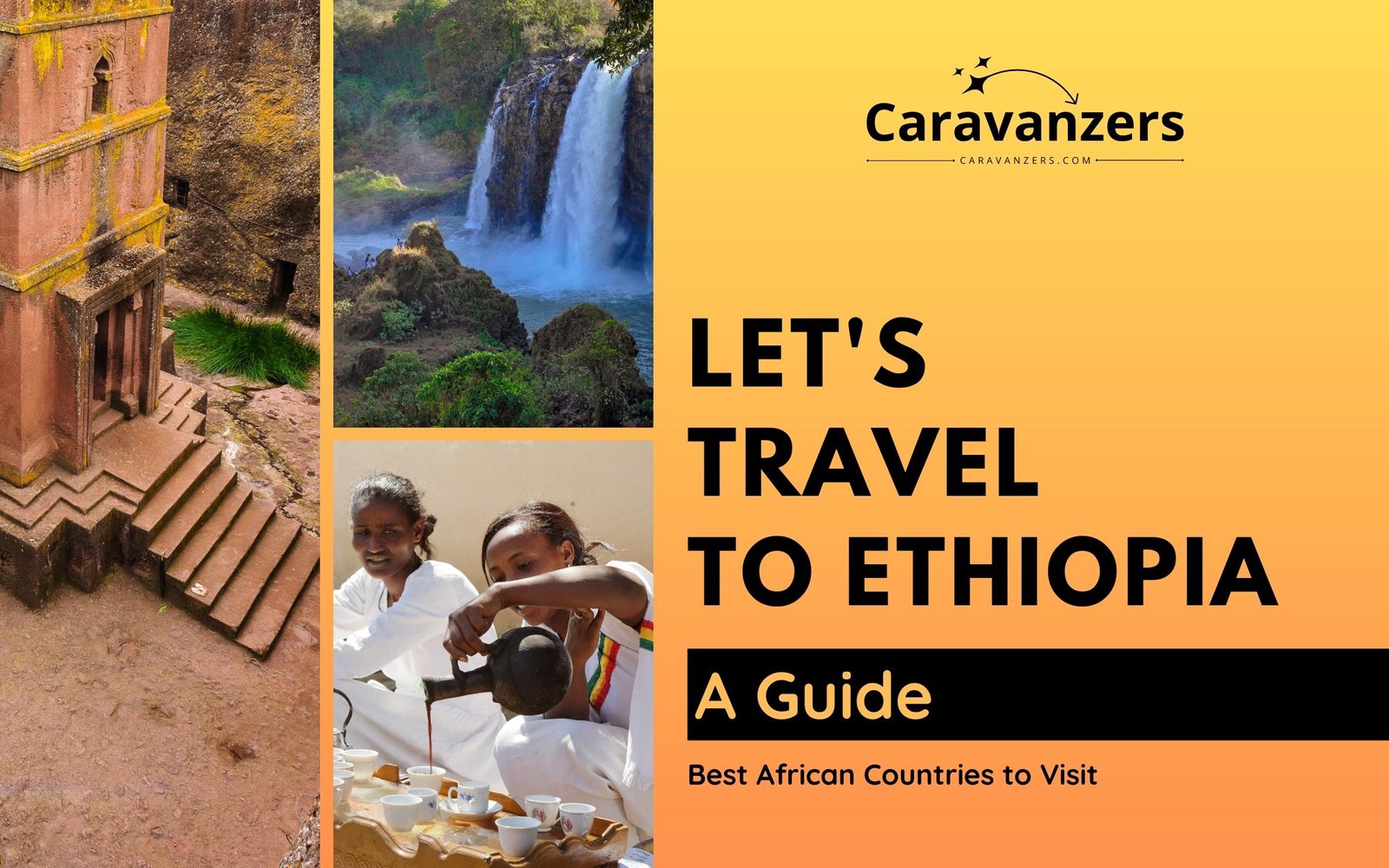 Ethiopia travel reveals a captivating tapestry of ancient wonders and vibrant cultures, and this guide has it all.
From the beautiful churches of Lalibela to the breathtaking landscapes of the Simien Mountains, this diverse nation has unforgettable experiences for its visitors.
Explore the historical treasures of Axum, taste the rich flavors of its cuisines, and embrace the warm hospitality of the Ethiopian people.
I love this country, which is why I included it in my recommendation for the top seven countries in Africa.
Meanwhile, this guide has practical information, destination guides, and even a unique 2-week itinerary to use as an example!
So, if you're ready to discover all the amazing things an Ethiopia travel has in store for you, keep on reading.
VIDEO – Ethiopia Travel
Tourism in Ethiopia
Ethiopian tourism is incredible because this is by far one of the oldest countries in the world.
This country is great for tourism because it's home to the most ancient human archeological finds, has over 80 ethnic groups, and has some of the oldest churches on the planet.
Ethiopia has a diverse landscape, including mountains, deserts, and unique wildlife.
The food in Ethiopia is diverse because of its various traditions.
Is Ethiopia good for tourists? Yes, Ethiopia is a fascinating and culturally rich country that offers a variety of attractions for tourists. With its diverse landscapes, ancient historical sites, vibrant cultures, and unique wildlife, Ethiopia has a lot to offer visitors.
The country is also good for all types of visitors, from solo travelers to adventure seekers and everything in between.
In my opinion, to really enjoy a trip to Ethiopia, you want to invest at least 2 weeks. Of course, ideally, a much longer time will be even better!
During your Ethiopia travel, you will be able to visit cities, try amazing food, hang out with wonderful locals, and venture into the countryside.
With an average of 20, this is a very youthful culture, and young people here are very respectful of the elderly, giving your Ethiopian trip a balanced experience.
Before You Go on Your Ethiopia Travel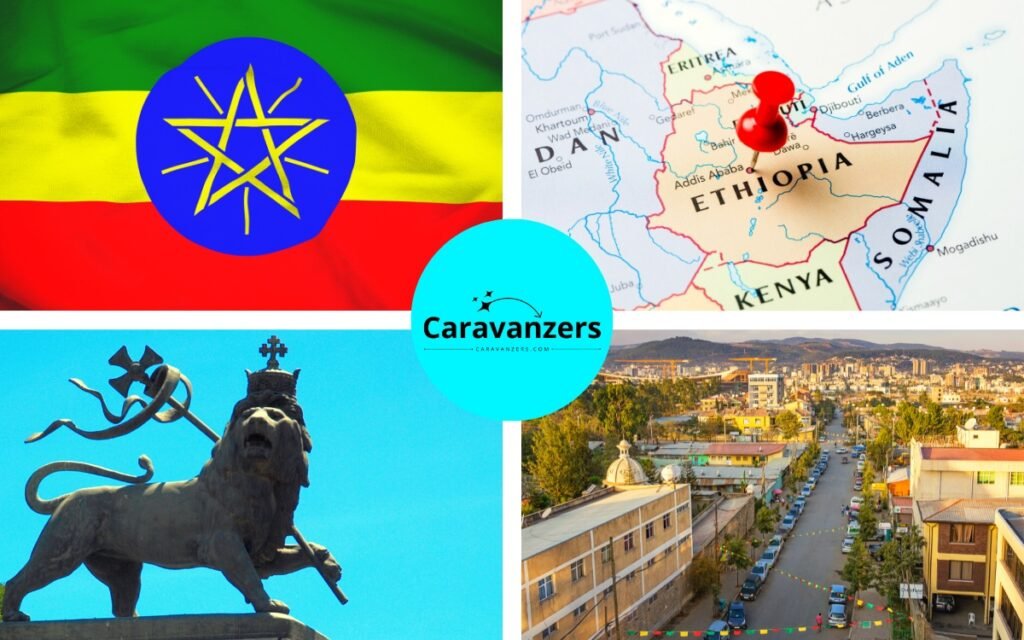 Before visiting Ethiopia, there are some important things to know.
For example, you should know about visa requirements. Check beforehand to ensure a smooth entry into the country.
Health is another major issue to consider before.
I would say consult a healthcare professional before your trip to Ethiopia.
Meanwhile, even though Ethiopia is generally for tourists, take common-sense precautions.
Follow any travel advisories that your home country's government issues, and keep up with the local situation by reading media materials daily.
Finally, Ethiopia has diverse customs and traditions, so you really want to be respectful and mindful of local etiquette.
For example, when visiting churches, Ethiopians dress modestly, and they may even remove shoes.
Likewise, they consider it polite to ask for permission before taking photographs of people directly (it's fine if they are in a larger frame).
Similarly, do your best to learn a few basic phrases in Amharic, the main language.
The currency is the Ethiopian Birr (ETB). While credit cards are accepted in larger establishments in cities, you really should carry enough cash for smaller towns and remote areas.
Meanwhile, drink bottled or treated water and avoid consuming uncooked or unpeeled fruits and vegetables unless they have been thoroughly washed and/or peeled.
Finally, your Ethiopia travel must have insurance. Your travel insurance should cover medical expenses, trip cancellation/interruption, and emergency evacuation.
I truly encourage you to double-check the policy details to make it meets these needs.
Basically, Ethiopia is a great country to visit; you just want to make sure you have what I mentioned in mind as you plan your trip.
Best Time to Visit Ethiopia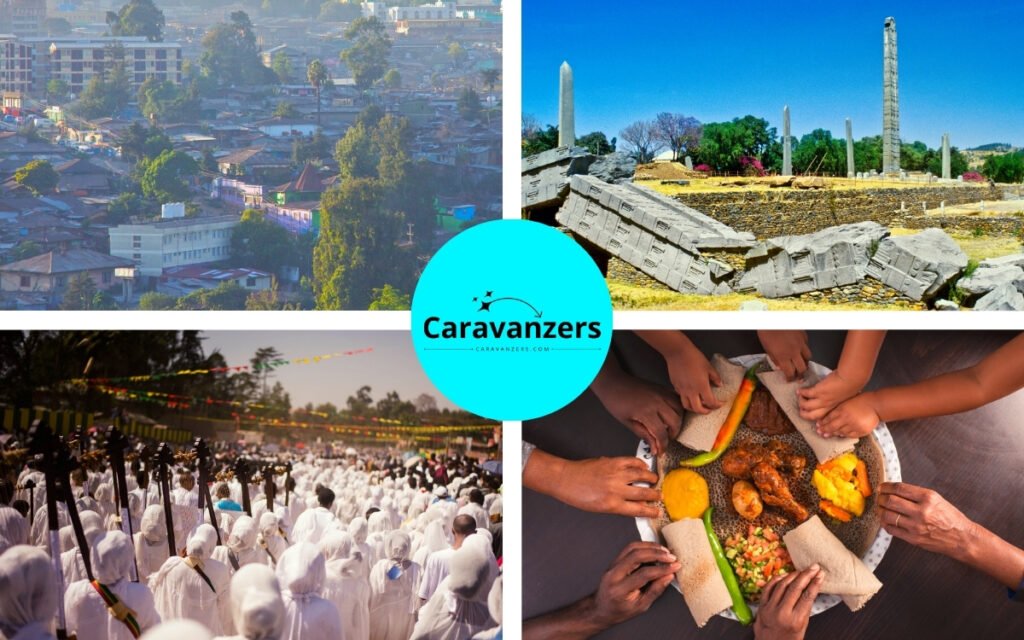 The best time to visit Ethiopia depends on whether you are after the rich history, culture, and natural beauty.
I think knowing Ethiopia's weather and the times for religious holidays can help you make an informed decision.
Although the country's climate varies across its different regions, the dry season and the rainy season make a huge impact on tourism.
The dry season runs from October to May. It's an excellent time for outdoor adventures and exploring Ethiopia's stunning landscapes.
The weather during this period is typically sunny and warm, with pleasantly cool evenings.
I would say this is the best season for experiencing rich religious festivals, too.
One of the most significant holidays is Ethiopian Christmas or Gena, which falls on January 7th, according to their calendar.
It's a joyous celebration marked by colorful processions, music, and feasting.
Another major festival is Timkat, the Ethiopian Orthodox celebration of Epiphany, which usually takes place in mid-January.
Timkat is a lively event where thousands of pilgrims gather around water sources for baptismal ceremonies and processions.
As you can imagine, the dry season is a busy time for tourism, and even the locals are traveling.
Ethiopia also gets a sizeable number of tourists from nearby countries, as well.
Meanwhile, the rainy season in Ethiopia takes place from June to September.
I would say that July and August are the months to avoid since they are the wettest.
The lush greenery and fewer crowds can add a unique charm to your visit if you don't mind a bit of rain.
Of course, personal preferences and specific destinations within Ethiopia might influence your choice as well.
How to Get There
Although your Ethiopia travel gives you a chance to get in different ways, flying is a popular choice.
Flying with Ethiopian Airlines, which is the national flag carrier, is probably the best choice for travelers venturing to the African nation.
Additionally, various other airlines offer connections to Ethiopia, providing travelers with alternative options to reach their destination.
For example, Americans can go with United Airlines since it's the only US airline that offers tickets to Ethiopia.
However, there are two things to remember about this.
First of all, your flight will most likely be on an Ethiopian Airline since the two airlines are in the Star Alliance together.
Second, neither United Airlines nor Ethiopian Airlines go directly to the country, which means you will stop over. If you fly with Ethiopian Airlines, you will stop in Lomé, the capital of Togo in West Africa.
Meanwhile, the country is landlocked, so tourists often travel via Kenya or Djibouti by road, as these neighboring countries are popular tourist destinations.
From there, visitors to Ethiopia can negotiate with border security in terms of visas, et cetera.
Djibouti is a popular tourist destination, and many travelers go there for the famous salt lake. These travelers tend to be French-speaking ones, too, since Djibouti is a former colony of France.
English-speaking tourists tend to go through Kenya, a former British colony where this is an official language. Generally speaking, Kenya tourism is focused on beaches or safari.
So, yeah, reaching Ethiopia means different options.
Destinations in Ethiopia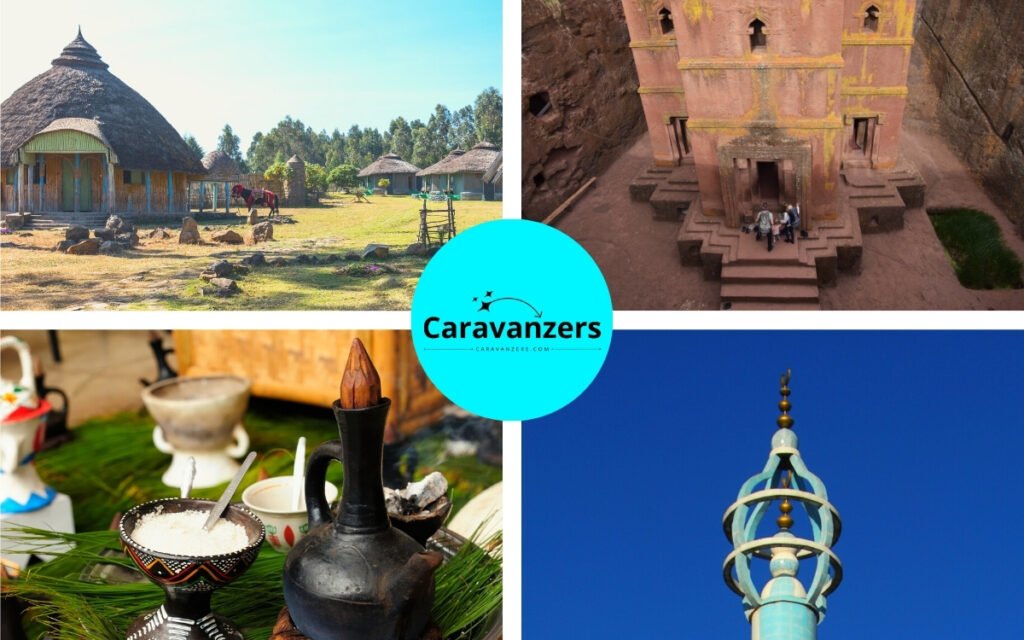 Your Ethiopia travel is a chance to visit amazing destinations that have something for visitors of a wide range of interests.
Most travelers start with Addis Ababa.
As the capital and the largest city of Ethiopia, it serves as your main entry point.
I would say a visit to "Lucy" (a famous fossil) at the National Museum of Ethiopia is definitely something to put on your list.
Lalibela is another incredible destination.
This UNESCO World Heritage site has rock-hewn churches which date back to the 12th century.
The religious and historical significance of this site makes it a highlight of any trip to Ethiopia.
I also think that Lake Tana makes a great destination.
With an area size of 830 square miles or 2,156 square kilometers, this is the largest lake in Ethiopia.
Take a boat trip and visit the ancient monasteries, such as Ura Kidane Mehret and Azwa Mariam.
Axum was once the center of the ancient Aksumite Empire, and today it's a treasure trove of historical and archaeological wonders.
The Obelisk of Axum, standing tall and majestic, is an iconic symbol of Ethiopia's rich past.
If you love nature, you will absolutely adore Simien Mountains National Park.
This UNESCO World Heritage site has dramatic landscapes, towering peaks, and unique wildlife, including the endemic Gelada baboons.
The Danakil Depression is a destination you want to consider.
It's one of the hottest places on Earth and features colorful sulfur springs, salt flats, and lava lakes.
These are just a few of the main destinations in Ethiopia.
Of course, the country has much more to offer, including the ancient city of Harar, the Bale Mountains National Park, and the Omo Valley.
Food in Ethiopia
Your Ethiopia travel is a chance to eat delicious and diverse food because of all the influences from the country's various ethnic groups and neighboring cultures.
The Oromo, Amhara, and Somali are some of the largest ethnic groups in Ethiopia, and each group brings its own unique dishes and culinary traditions to the table.
One common ingredient found in Ethiopian cuisine is berbere, a spice mix similar to curry.
It includes a variety of spices, some of which may be unfamiliar to non-Ethiopians, such as radhuni.
Another staple in Ethiopian food is injera, a sourdough flatbread made from Williams lovegrass flour or "teff." Injera is commonly used as a base for scooping up stews and sauces.
The Oromo cuisine has diverse dishes. Islam, Christianity, and Waaqeffanna, and they all influence the food.
Some popular Oromo dishes include marqaa, a barley-based dish.
The Orthodox Christian faith influences Amhara cuisine.
It incorporates many vegetarian dishes since meat is a no-no for a significant part of the year.
Doro wat is a famous Amhara dish. This spicy chicken stew has onions, garlic, and berbere spice.
The Somali cuisine brings Arab influences due to the predominantly Muslim population.
So, Somali cuisine combines meat, grains, and fruits in dishes like iskukaris (Somali pilaf) and sambus (similar to samosas).
Other ethnic groups in Ethiopia also contribute to the country's diverse culinary landscape.
Kitfo, for example, is a popular steak tartare-like dish that originates from the Gurage people, while tihlo, using barley balls, is a dish associated with the Tigray ethnic group.
Kocho, a popular bread, originates from the Sidama people.
Ethiopian food offers a wide range of flavors and dishes, thanks to the country's diverse ethnic groups and culinary traditions.
Meanwhile, you will find global foods, including Italian, Indian, and more.
2 Weeks in Ethiopia Itinerary
Go on a two-week adventure in Ethiopia.
This itinerary gives you a glimpse into Ethiopia's diverse landscapes, incredible history, and amazing traditions.
As you will see, I have you starting in Addis Ababa, the capital.
My goal is to have you visit the National Museum to see the famous fossil "Lucy."
Later, you get to go to the rock-hewn churches of Lalibela, as well as the ancient monasteries on Lake Tana.
You will discover the historical wonders of Axum and trek through the dramatic landscapes of Simien Mountains National Park.
And, of course, you will witness the surreal beauty of the Danakil Depression and immerse yourself in the cultural heritage of Harar.
I'm dividing the weeks into two.
So, get ready…
First Week Itinerary
In the first week of your Ethiopia travel, you'll arrive in Addis Ababa, the busy capital.
I would say this is definitely a place to take your time.
Explore the city and don't miss the chance to visit the National Museum and see the famous fossil "Lucy."
So, the museum is in the Arada area, which is still in the Ring Road but in its northern part.
Make sure to also go to Merkato, which is a gigantic open-air market in Ketema.
It's on the northern side of the city.
The next stop is Lalibela, where you'll fly from Addis Ababa.
Spend a couple of days in Lalibela, immersing yourself in the religious and historical significance of these ancient marvels.
Then, fly to Bahir Dar, the gateway to Lake Tana.
Hop on a boat trip and discover the serene beauty of the lake while visiting ancient monasteries like Ura Kidane Mehret and Azwa Mariam.
Don't forget to explore the majestic Blue Nile Falls or "The Smoking Water."
Lastly, fly from Bahir Dar to Axum, an ancient city with a rich history.
Explore the UNESCO World Heritage sites, including the famous Obelisk of Axum, the Church of St. Mary of Zion, and other fascinating archaeological sites.
Great, now you have one week down and one more to go.
So, let's keep going!
Second Week Itinerary
During the second week of your Ethiopian journey, you'll venture into the breathtaking landscapes of Simien Mountains National Park.
After flying from Axum to Gondar, drive to the park and embark on an unforgettable trekking adventure.
Witness the unique wildlife, such as the Gelada baboons, and savor the awe-inspiring views from the mountain peaks.
Next, fly from Gondar to Mekele, the starting point for exploring the Danakil Depression.
Prepare for an amazing experience because these otherworldly landscapes feature colorful sulfur springs, salt flats, and mesmerizing lava lakes.
Make sure your batteries are in full charge and that you have plenty of space in your cameras!
You will love the gorgeous sunsets and the mind-blowing geological formations of this extraordinary place.
Afterward, fly from Mekele to Dire Dawa and make your way to the ancient city of Harar.
Explore its walled old town, soak in the vibrant markets, and witness the famous hyena feeding ceremony—a unique cultural experience that shouldn't be missed.
On the final day, fly from Dire Dawa back to Addis Ababa for your departure, bringing an end to your incredible Ethiopia travel.
If you can, try to stay in the city for at least a day before going back home.
Road Trip Destinations from Ethiopia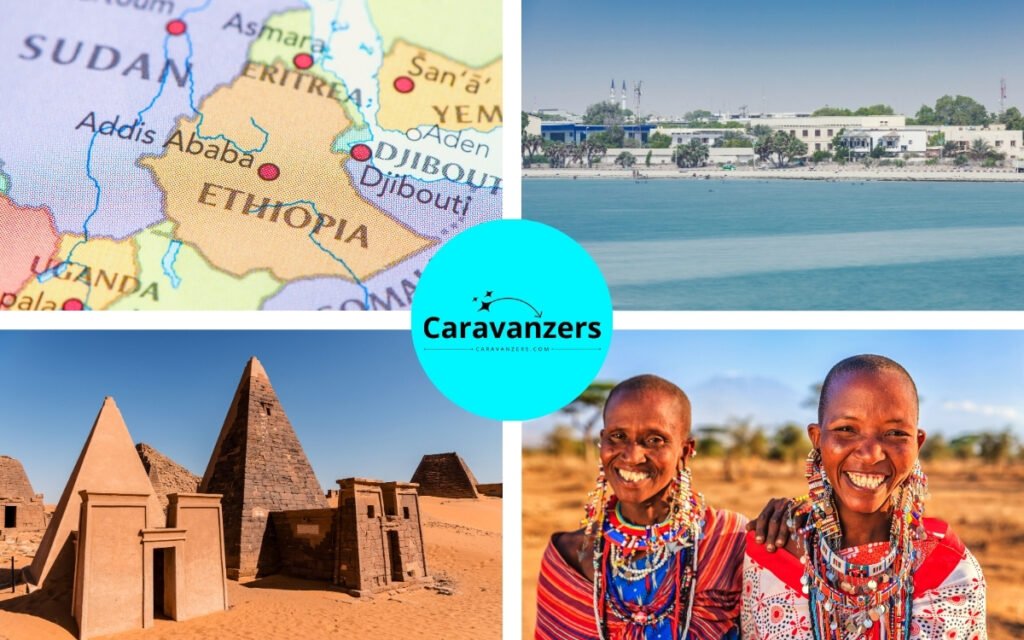 Ethiopia offers diverse and captivating road trip destinations that cater to various travel preferences.
That said, though, I only recommend those going to the north, east, and south.
Travelers from Ethiopia can go on road journeys to the north, leading them toward Sudan and Egypt.
Exploring the historical wonders of these neighboring countries adds an extra layer of cultural immersion to their itinerary.
The 25-hour trip from Addis Ababa to Khartoum covers a distance of 875 miles or 1,410 kilometers via the A3 highway.
So, this journey involves passing through toll booths, crossing the border, and experiencing a time zone change along the way.
For those seeking an adventure to the east, Ethiopia's neighbors have unspoiled beauty in Somaliland and Djibouti.
The rugged landscapes and unique cultural experiences in these regions create an unforgettable expedition for intrepid explorers.
So, there's a 14-hour trip from Addis Ababa to Hargeisa, and it covers a distance of approximately 500 miles or 795 kilometers via the A10 highway.
The journey includes passing through toll booths and crossing the border between Ethiopia and Somaliland.
Heading south from Ethiopia, travelers can embark on an unforgettable expedition to Kenya.
This enchanting country showcases the stunning landscapes of the Great Rift Valley, wildlife safaris in world-renowned national parks, and the vibrant city life of Nairobi.
So, the 24-hour trip from Addis Ababa to Nairobi covers a distance of nearly 1,000 miles or 1554 kilometers via the A2 highway.
The journey includes passing through toll booths and crossing the border between Ethiopia and Kenya.
There you have the road trips!
Ethiopia Travel – Final Thoughts
Ethiopia travel translates to an experience you will never forget because this is a trip to ancient wonders and vibrant cultures.
From the ancient churches to the breathtaking landscapes, I went through a lot of travel information for you.
You learned about the historical treasures, savored the rich flavors, and embraced warm Ethiopian hospitality.
This comprehensive guide also provided practical information, destination guidance, and a unique two-week itinerary for inspiration.
So, you should be ready to plan your extraordinary journey, dive into the world of Ethiopia travel and uncover its amazing treasures.
AJ Paris is a travel photographer based in New York. He is the editor of Caravanzers.
Follow us on Pinterest.