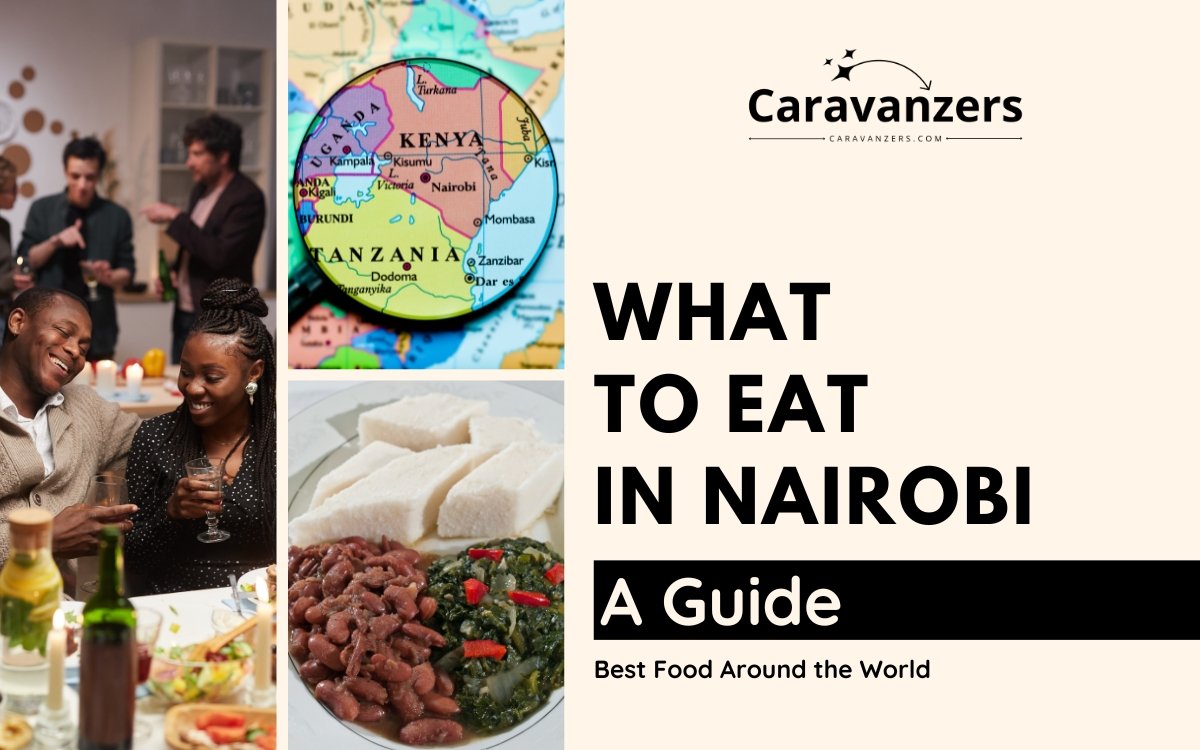 What to eat in Nairobi, from local foods to international flavors and everything in between. This guide has got you covered.
Kenya has diverse ethnic groups. The country's ethnic groups include Bantu, Nilotic, Cushitic, Indian, Arab, and European.
Meanwhile, Nairobi attracts a large number of ex-pats who come diplomatically because it is the capital or because a luxurious life is so much more affordable.
As a result, when it comes to food, Nairobi has a lot to offer a traveler.
History of Food in Nairobi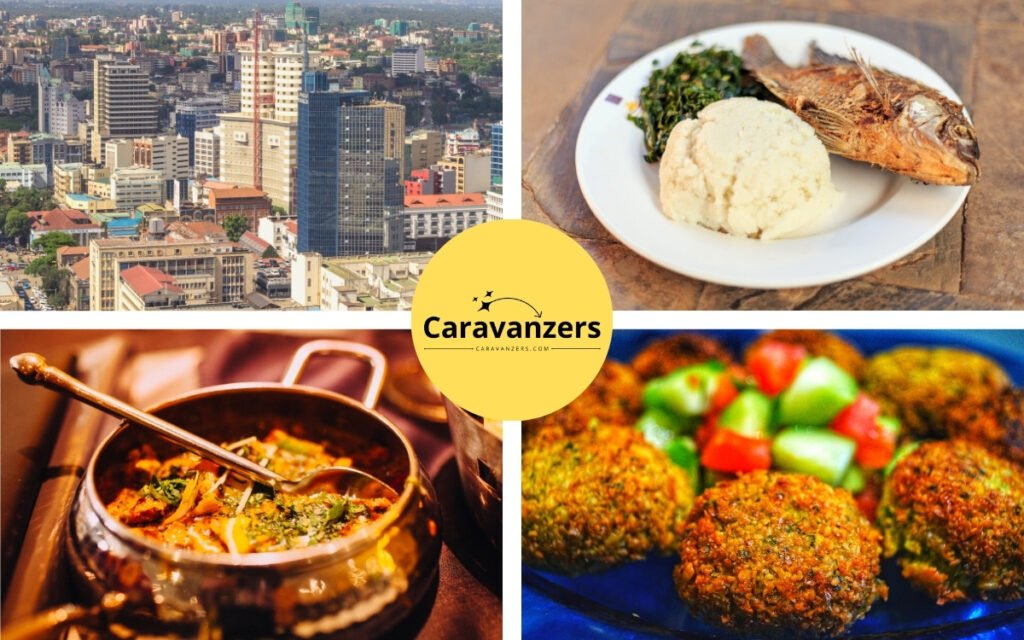 Nairobi has been around for thousands of years. The Kamba people had settled in the area, although they shared it with a few other groups.
Meanwhile, the modern city dates back to the 1800s. The city has had many reinventions but started out as a supply depot for the Uganda Railway.
It soon grew into a bustling city, becoming a major stop for trade and transportation. During this period, it attracted a lot of Indians.
The city officially became the capital of Kenya in 1963 and has since become a major regional hub for commerce, finance, media, and culture.
Today, Nairobi is an expansive and vibrant city with many attractions, landmarks, and activities to explore.
Over time, the city developed a distinct flavor. It has local, national, and international foods that are now part of its global experience.
As you will see throughout this guide, these flavors show up in different ways.
Caution About Nairobi Food
Before we really get into the foods in this beautiful city, I want to take a moment to make sure you understand there are always two sides to every coin.
Not all of the food in Nairobi is safe.
According to the United Nations, only about half of Kenya has access to clean water. And even though Nairobi is a super modern city, a lot of the locals here still don't have access to clean water.
What this meant to you as a traveler is to stay alert. I recommend not eating any food that isn't cooked, boiled, or peeled.
If you're in a restaurant, make sure your drinks don't have ice.
Do not eat food on the streets unless it follows those guidelines.
With that out of the way, let's check out some local, national, and international dishes to try!
Best Nairobi Foods Restaurants
The Kamba people are really proud of their culture, including their food. When it comes to Kamba food, the traditional stalls that are all over the city are the best ways to consume its food.
However, there are a couple of modern spots, too.
Amaica Restaurant serves a lot of traditional foods. Try their usuu, which is a sour type of millet. This is typically served in an earthen dish, and that adds to its localness. Amaica Restaurant is on Gathathuru Gardens Rd, which is off Peponi Rd near the French embassy in Parklands.
For some Kamba drinks, head to Athusi Bar & Restaurant in Nairobi Central. This is also a great place to sample Kamba music. It's on Ukwale Rd, which is behind Ring Rd.
You should know there is a famous Kamba drink called kaluvu. This is a beer-like alcoholic drink served at weddings. However, due to its difficulty in producing, makers had resorted to using chemicals, which made the drink illegal.
To taste kaluvu, you will have to visit a local Kamba village, and I would say you really should try to avoid the chemical ones if you can.
Kenyan Restaurants in Nairobi
Although the Kamba call Nairobi home, there are many other ethnic groups across Kenya. You will find them all in Nairobi.
Luo is a major ethnic group in Kenya, and their ugali, which is made of cornmeal, has become the national dish. Served with collard greens or sukuma, this dish has been served all over the country.
Mama Oliech Restaurant is famous for hosting Facebook founder Mark Zuckerberg, who ate this dish, as well as her daughter cooking for Obama. This restaurant is in the Hurlingham area of Nairobi, on Marcus Garvey Rd.
The Kikuyu are the largest ethnic group in Kenya, and Nyama Mama Delta is a great restaurant to sample some Kikuyu food. Githeri is one of the most popular Kikuyu foods, and you can get a good one here.
Malindi Dishes offers from the Swahili coast. Indulge in their mandazi (mahamri) breakfast, which comes with coco beans! If you're there for lunch, try the coconut fish dish. This restaurant is on Gaborone Rd in Nairobi Central, near the Kenya National Archives.
Hamdi Cuisine & Cafe offers food from the North Eastern Province. You will find unique foods here, such as goat liver served with pancakes, and enjoy it with spiced tea. This restaurant is on the second floor of Town House, which is on Kaunda St in Nairobi Central, near Wabera St.
There are many other Kenyan restaurants across the city, but that will give you a solid overall.
Global Cuisine Restaurants
Nairobi attracts a large number of international people, including Africans and non-Africans. Some are new, and others have been around longer.
For African food, Mama Ashanti is a great West African restaurant serving some well-known foods from that region. Try their platter, which is for two, to sample some of their interesting items. This restaurant is on Muthangari Gardens Rd in Lavington.
Want more African food recommendations? Check out Habesha Ethiopian Restaurant. This Ethiopian restaurant offers some classic dishes. Try their combination, which is called "Mix Dish," on their menu. This restaurant is on Argwings Kodhek Rd in Kilimani.
If you're in the mood for Asian food, Open House Restaurant is definitely one to try. This Indian spot is one of the oldest Asian restaurants in town. Try their mutton vindaloo for an authentic taste. This restaurant is on Parklands Rd, directly across from Gallant Mall.
Want more Asian? Check out Arabesque Restaurant. This Arab restaurant is inside Maa Hotel & Suites on Jabavu Road, near Uhuru Park in Nairobi Central. Try the chicken shawarma, which is truly incredible in this place.
The Talisman Restaurant is a European spot that's been around since the 1970s. For some British flair, try their battered fish and chips. This restaurant is on Ngong Rd in Karen.
The Grill Shack Westgate Mall is where you want to go if you want some American stuff. This restaurant is on the ground floor of the Westgate Mall in Parklands. For classic taste, try the cheeseburger, which is really good!
Of course, there are so many global restaurants, but that will give you good options to sample.
Example Food Tour
Grace loves food. She always had. This African-American woman says that food has been part of her identity all her life.
When she decided to go on a month-long safari across Kenya and Tanzania, she knew she had to check out the food.
Grace absolutely fell in love with the foods of Nairobi, which she said was the city she arrived through in East Africa.
"Nairobi gave me a chance to slowly lean into the food," she said.
She stayed in a name-brand American hotel, which had what Grace calls a "bland" restaurant. You know, the type that serves "whatever."
A day after arriving, though, she headed into town. She started with Kenyan foods, then slowly moved on to other African restaurants in town.
In fact, she recommended the Ethiopian restaurant on this list to me!
Grace says to ease your way into the food in Kenya. Like me, she doesn't think you should "experiment" with the food you eat in Kenya.
"Don't eat anything that hasn't been fully cooked," she says. "No medium rare steaks, please."
And I agree with her completely.
What to Eat in Nairobi – Final Thoughts
As you saw from this guide, I only shared a limited number of restaurants to sample the local, national, and international flavors that Nairobi offers. And the reason for that is simple: these were my favorite spots.
When you get to Nairobi, explore the food scene, and you might discover your own ones to share with other travelers in the future.
The twelve restaurants I shared with you can easily occupy a two to four weeks trip! And, of course, you can pick and choose what sounds best to you.
My final word is one of caution. Please, be careful. The last thing you want is to ruin your perfect trip by getting sick.
Put this old African proverb to use: "Look before you leap."
Enjoy the Nairobi food!
AJ Paris is a travel photographer based in New York. He is the editor of Caravanzers.
More Kenya
Here are more articles for you:
Kenya Official – Learn more about Kenya by visiting the official tourism website.