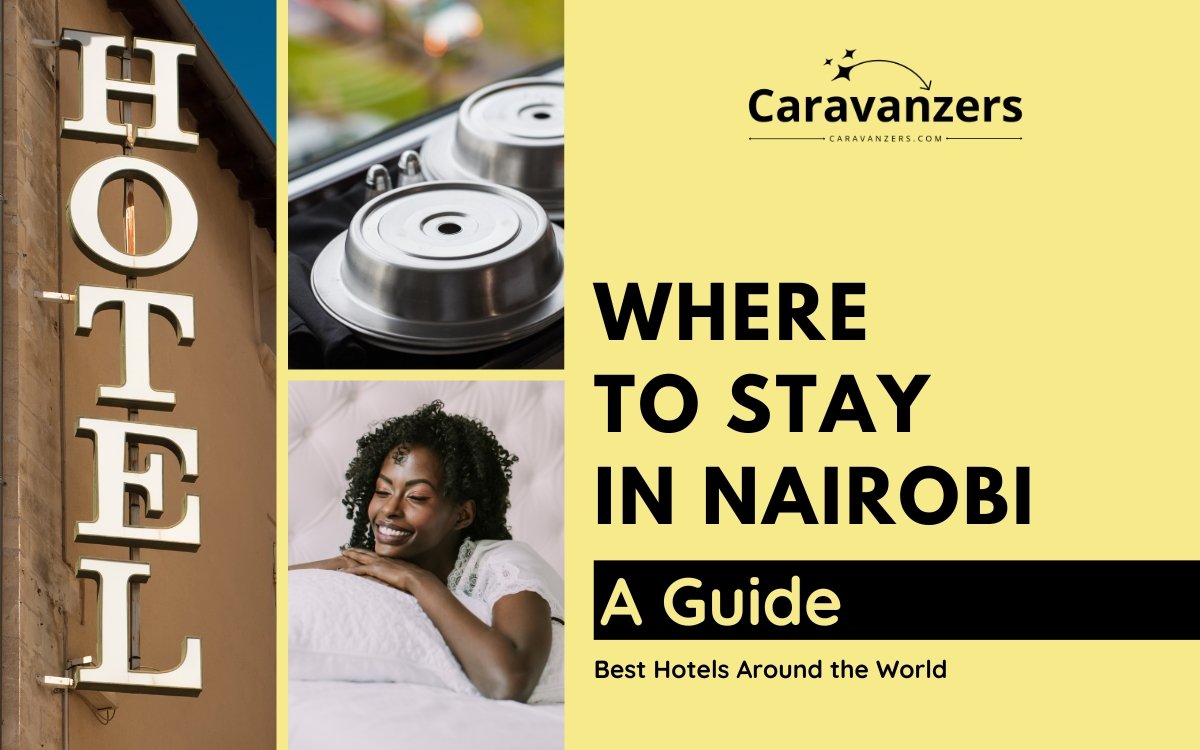 Where to stay in Nairobi might depend on your needs, but this guide gives you all the options. Here are the best options.
When people hear African cities, they often revert to unfounded claims, but Nairobi will win against any argument.
Travelers are often concerned about the quality of the accommodations, the safety of the location, and the availability of amenities.
In this guide, we will address all of these concerns. So, come and check out the best spots to lay your head when you're in Nairobi.
Accommodation Basics in Nairobi
Kenya is a modern country with a very strong governmental influence. As a result, your accommodation is usually licensed by the government.
For example, there are licenses at the national, provincial, and city levels. While every business may need a license to operate, hotels have more scrutiny.
In Nairobi, hotels must pass a Ministry of Health inspection, giving them a license. They also need some for fire, environmental, and even specific diseases.
Kenya is tough on the tourism industry, and violators not only have to pay fines but are also imprisoned. That's because tourism is a leading economic generator for the country.
What that means is that you need to make sure the place you plan to stay is licensed. By knowing they are licensed, you will feel more relaxed about your trip.
Types of Accommodations in Nairobi
There are many types of places to stay available for you in Nairobi, depending on your budget and preferences. For example, there are hotels, hostels, and even Airbnb.
Hotels are popular choices, with a range of prices and amenities. You can find luxury, medium range, and even budget.
For a more intimate experience, Bed & Breakfasts offer a cozy atmosphere and a chance to get to know the local culture. You're generally in a room in someone's family or a small inn, though.
Hostels are a great, budget-friendly option for solo travelers. You get to meet other travelers, and you may even make a good friend along the way!
Airbnb is also a great option for those looking for more independence and privacy. This is also an excellent choice for families because you may find a house.
Finally, camping is a great choice for those looking for an outdoor adventure. There are a couple of options for this, especially if you're brave!
Where to Stay in Nairobi as a Tourist
You're coming to Nairobi and want to explore as a tourist, and you want to know the best area to be based out of.
Where to stay in Nairobi as a tourist? Nairobi Central. This is an area dotted with skyscrapers, markets, and iconic tourist attractions. Plus, this is an area that allows you to really go discover what the city has to offer. For example, many guided tours depart from this area.
The best hotels in town are in this area, too. Whether you're looking for a five-star experience or just a more moderate space, it has everything you could want.
You do need to keep in mind, though, that this is also the busiest area of the city.
For a luxury stay, consider Sarova Stanley. A week in July will cost around $1,000. It's on the corner of Kimathi St and Kenyatta Ave.
Meridian Hotel, which is also known as Best Western, is more moderate. A week in July will be around $500. It's on Murgana Rd, near Moi Ave.
The Clarion Hotel is more of a budget. $350 will get you a week in July. It's on where Murganga Rd and Moi Ave meet.
Of course, there are a lot of other options, too. You just need to shop around.
Where to Stay in Nairobi on a Budget
Many travelers don't have the budget to splurge on expensive hotels, and Nairobi has plenty of options.
Where to stay in Nairobi on a budget? There are many options, but I like Ngara. It's adjacent to Nairobi Central, but its hotels are affordable, while the neighborhood still gives you a chance to experience unique cultures. It's perfect for those of you who love Indian food, too.
Glory Palace Hotel is on Muranga Rd in Ngara East. It's a great place to stay for $30 per night.
Khweza Bed & Breakfast Nairobi on Ngara Rd is a nice place that only costs about $20 per night.
La Jardine Hotel, which is also on Ngara Rd, is a bit lower in quality and is about $10 per night.
If you're brave, consider Eastleigh, a Somali neighborhood that has really great hotels.
For a more touristy feel, head to Westlands, where you can also find affordable hotels.
Where to Stay in Nairobi as a Solo Traveler
In my opinion, Nairobi is one of the best places to travel on your own, and when it comes to where to stay, you have a lot of options.
Nairobi Central is the best neighborhood to stay. With all that's happening, you want to be in the heart of the action.
The good news about Nairobi is that the hotels are so affordable. For example, you can get a week at a nice hotel in this area for less than $300.
Chester Apartments on Koinange St, for example, has modern studios for about $285 per week. There are a lot of travelers in the building, and nearby, so you will meet them easily.
Meanwhile, Hotel Embassy on Tubman Road has rooms for about $200 per week. Another place with clean, modern rooms.
The best thing about Nairobi Central is that there are so many places to hang out. You can go for a coffee and meet people in two minutes. It's really amazing.
So, yeah, don't be afraid to plan a trip on your own!
Where to Stay in Nairobi for a Month
For travelers who intend to stay in Nairobi longer, there are definitely a lot of good options.
Where to stay in Nairobi for a month? Consider Westlands. This is an area that's north of Nairobi Central. As an affluent area, it has top-quality stays where you can live for a month, including cooking. There are also plenty of ex-pats in Westlands, making it a little easier.
Sports Road Apartments by Dunhill Serviced Apartments is great for those of you who want to feel like you're living in your own home. The apartments have modern furnishings, including kitchen gadgets. A month there will cost around $1,500. It's on Rhapta Rd.
The Crossroads Hotel is perfect for those of you who don't want to be in an apartment. It's on Westlands Rd, not far from Nairobi Expy. A month there will cost around $1,000.
If you don't mind sharing, there are plenty of roomie situations in Westlands. Airbnb is your best bet in that situation. You can find a private room in a particular residence for about $500 per month.
Final Thoughts
Nairobi is a great place to visit, and there are many amazing spots to stay. Whether you choose a neighborhood or specific accommodation, you will be able to find what best suits you.
In this guide, I gave you information on where to stay, specific spots, and even general information on the industry.
I really hope you enjoy Nairobi!
Enjoy Nairobi!
AJ Paris is a travel photographer based in New York. He is the editor of Caravanzers.
More Kenya
Here are more articles for you:
Kenya Official – Learn more about Kenya by visiting the official tourism website.