India by train is definitely one of the best ways to see this incredible Asian country. You will be tired, but your spirit will be happy.
In this guide, we will start our journey from Delhi, the capital. After a whirlwind trip that literally takes you around the country, you will return to Delhi once again.
For those of you who love feeling like you're on a perpetual trip, Indian trains offer that… for a fraction of what it would cost to fly.
So, take your pen and paper out and get ready to write down a cool itinerary!
Let's go!
Indian Trains Are Awesome
Trains in India are not only an affordable mode of transportation but also an excellent way to explore diverse landscapes and immerse yourself in the cultural tapestry of the country.
India's extensive railway network is one of the largest in the world, offering a vast range of routes and destinations to choose from.
One of the key advantages of train travel in India is its affordability. Train tickets are generally much cheaper compared to airfares, making it an attractive option for budget-conscious travelers.
While train journeys may take longer than flights, they offer a unique and immersive experience. You have the opportunity to witness the ever-changing scenery, from bustling cities to serene countryside, from lush green fields to majestic mountains.
Indian trains come in different classes, ranging from luxurious options like First Class AC and Executive Class to more economical choices such as Sleeper Class and General Class.
Another advantage of train travel is the accessibility it provides to off-the-beaten-path destinations. While airports are usually located in major cities, trains often connect smaller towns and rural areas.
To make the most of your train journey in India, it's advisable to plan ahead and book your tickets in advance, especially during peak travel seasons.
So, if you're looking for an affordable, immersive, and culturally enriching travel experience in India, hopping on a train is an excellent choice.
Start Your Trip in Delhi
Starting your India trip in Delhi is a great way to immerse yourself in the country's vibrant culture, history, and architecture.
Delhi is a bustling metropolis that showcases a blend of ancient traditions and modernity, making it an exciting destination for travelers of all interests.
One of the top attractions in Delhi is the Red Fort, a UNESCO World Heritage Site that was once the residence of Mughal emperors.
Other must-visit landmarks include the Jama Masjid, one of the largest mosques in India, the Lotus Temple, a striking Bahá'í House of Worship, and Humayun's Tomb, a stunning mausoleum that inspired the design of the Taj Mahal.
After spending a few days exploring Delhi, the next stop on your itinerary should be Agra, home to one of the most iconic monuments in the world – the Taj Mahal. Agra can be reached via a 5-hour train journey.
Visit the Taj Mahal
The Taj Mahal is a magnificent mausoleum built by Mughal Emperor Shah Jahan in memory of his beloved wife, Mumtaz Mahal.
It is considered one of the Seven Wonders of the World and is a symbol of eternal love and devotion.
Visitors can marvel at the intricate marble carvings, stroll through the lush gardens, and learn about the fascinating history behind this iconic landmark.
Apart from the Taj Mahal, Agra also boasts other notable attractions such as the Agra Fort, an imposing fortress that served as the seat of the Mughal Empire for several generations, and Fatehpur Sikri, a well-preserved ghost town that was once a thriving Mughal capital.
Now you're ready for the Pink City, Jaipur, which will take about 4 hours to reach.
Explore Jaipur's Pink Vibes
Welcome to Jaipur, renowned as the Pink City of India! Situated in the state of Rajasthan, this captivating city is celebrated for its opulent history, lively culture, and breathtaking architecture.
Among the prominent landmarks is the Hawa Mahal, an exquisite palace crafted from pink sandstone adorned with intricate latticework. Originally designed as a viewing gallery for royal women, it offers a fascinating glimpse into the city's regal past.
Another highlight is the magnificent City Palace, expansive complex housing museums and galleries that showcase royal artifacts, regal costumes, and remarkable artwork.
Don't miss the chance to visit the majestic Amber Fort, a grand fortress situated on a hill overlooking Jaipur. As you explore its splendid palaces, courtyards, and gardens, consider taking an elephant ride to the entrance, immersing yourself in an experience fit for royalty.
Jaipur is also renowned as a shopper's paradise, boasting vibrant bazaars brimming with traditional handicrafts, textiles, and jewelry.
Delight in the city's colorful fabrics, admire the intricate block-printed textiles and explore the world of precious and semi-precious gemstones.
Should you desire to venture beyond Jaipur, consider embarking on a day trip to the nearby village of Sanganer, renowned for its exquisite, handcrafted paper.
Now, you're off to Ahmedabad.
Ahmedabad Awaits
After immersing yourself in the charm of Jaipur, your next adventure awaits with a 15-hour overnight train ride to Ahmedabad.
Ahmedabad, the largest city in the state of Gujarat, offers a fascinating blend of history, culture, and thriving commerce.
Boarding an overnight train allows you to relax and rest while traversing the distance between Jaipur and Ahmedabad.
Overnight journeys in India are a common and convenient way to cover long distances, providing comfortable sleeper berths where you can get a good night's sleep and wake up refreshed at your destination.
Arriving in Ahmedabad, you'll discover a city that seamlessly combines its rich heritage with modern developments.
One of the city's notable attractions is the Sabarmati Ashram, the former residence of Mahatma Gandhi during the freedom struggle.
This serene place offers insights into his life and teachings, as well as a glimpse into the history of India's independence movement.
Ahmedabad is lovely, but you want to hurry to Mumbai!
Mumbai Is Maximum City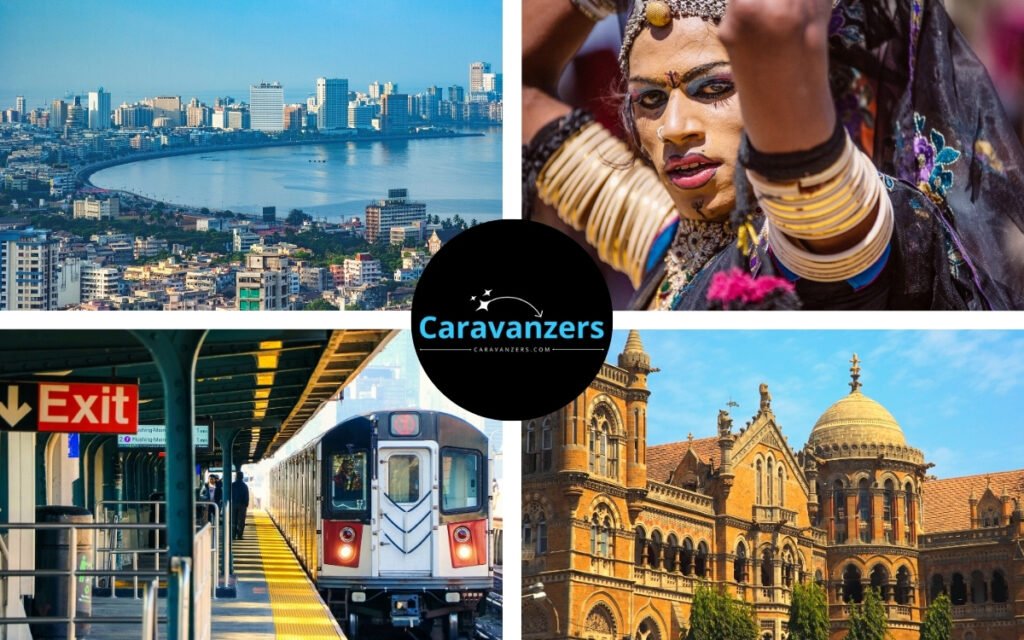 A 5-hour train ride from Ahmedabad takes you to the vibrant metropolis of Mumbai. Known for its diverse culture, iconic landmarks, and dynamic atmosphere, Mumbai captivates visitors in various ways.
The Gateway of India is an iconic landmark not to be missed. This majestic arch overlooking the Arabian Sea is a symbol of the city's historical significance.
Exploring Mumbai's vibrant street markets is a must-do activity. Visit Colaba Causeway, a bustling street lined with shops offering clothing, accessories, handicrafts, and souvenirs.
For history and culture enthusiasts, the Chhatrapati Shivaji Maharaj Terminus is a UNESCO World Heritage Site showcasing a beautiful fusion of Victorian Gothic and traditional Indian styles.
To experience Mumbai's vibrant nightlife, head to Bandra or Juhu, known for their trendy restaurants, bars, and entertainment venues.
Mumbai is renowned for its Bollywood film industry. Catching a movie at one of the local theaters gives you a taste of the city's glitz and glamour.
Don't miss the chance to indulge in Mumbai's delectable street food. Try local favorites like vada pav, pav bhaji, and pani puri from street vendors and food stalls.
From bustling markets to cultural landmarks, Mumbai offers a captivating blend of experiences.
Go Relax in Goa
Go on a scenic 15-hour train journey from Mumbai, and you'll find yourself in the tropical paradise of Goa.
Known for its pristine beaches, relaxed atmosphere, and lively culture, Goa is a favored destination for those seeking rejuvenation and tranquility. The small state boasts a diverse range of beaches, each with its own unique allure.
In addition to its stunning coastline, Goa offers a rich historical and cultural heritage. Explore the colonial-era architecture of Old Goa, where you can visit the UNESCO World Heritage Site, Basilica of Bom Jesus.
Goa is renowned for its vibrant nightlife and entertainment scene. Visit the popular beach shacks and clubs that line the coast, where you can dance the night away.
Indulge in Goan cuisine, influenced by Portuguese and Konkani flavors. Don't miss the chance to sample local specialties such as Goan fish curry.
For those interested in exploring Goa's spiritual side, the state is home to beautiful temples and churches scattered throughout its landscape. Prominent Hindu temples include Shanta Durga Temple.
Whether you seek relaxation on the beach, exploration of heritage sites, enjoyment of vibrant nightlife, or the delights of local cuisine, Goa guarantees an unforgettable experience.
Kerala Is God's Own Country
A gorgeous 7-hour train journey from Goa will take you to the enchanting state of Kerala. Known as "God's Own Country," Kerala is renowned for its lush green landscapes, tranquil backwaters, and rich cultural heritage.
As you arrive in Kerala, get ready to immerse yourself in its natural beauty and unique experiences. Explore the tranquil backwaters of Alleppey, where you can cruise on a traditional houseboat and witness the picturesque scenery of palm-fringed canals, paddy fields, and quaint villages.
Don't miss the opportunity to visit the hill stations of Munnar and Wayanad, nestled amidst the Western Ghats. These serene retreats offer breathtaking views of tea plantations, mist-covered mountains, and cascading waterfalls.
Kerala is also known for its Ayurvedic treatments and spa therapies. Pamper yourself with traditional Ayurvedic massages. Experience the vibrant cultural heritage of Kerala by witnessing Kathakali, a classical dance form that combines elaborate costumes, dramatic makeup, and storytelling through dance and expressions.
Indulge your taste buds with the flavors of Kerala cuisine. Known for its aromatic spices and fresh seafood, Kerala offers a delectable culinary journey.
Explore the historic city of Kochi (Cochin), known for its charming colonial architecture and bustling spice markets. Visit the iconic Chinese Fishing Nets.
From its serene backwaters to its lush hill stations and cultural experiences, Kerala offers a diverse range of attractions.
Bangalore Is a Big City
An overnight 10-hour train journey from Kerala brings you to the vibrant city of Bangalore.
Also known as Bengaluru, this cosmopolitan hub is the capital of Karnataka and a major center for technology, culture, and innovation in India.
You'll find a city that seamlessly blends tradition with modernity. Explore the iconic landmarks, such as the magnificent Bangalore Palace, a stunning architectural masterpiece inspired by Tudor and Scottish styles.
For nature enthusiasts, a visit to Lalbagh Botanical Garden is a must. Spread over 240 acres, it houses a mesmerizing collection of rare plants, serene lakes, and vibrant flower displays.
Visit the bustling Commercial Street and Brigade Road, where you can shop for trendy clothing, accessories, handicrafts, and more.
The city is also famous for its thriving food scene. Indulge in a gastronomic adventure by trying traditional South Indian delicacies.
To delve into the city's cultural heritage, visit the Bangalore Fort and the Bull Temple, home to a massive monolithic Nandi statue.
For a taste of Bangalore's vibrant nightlife, head to areas like Indiranagar and Koramangala.
If time permits, consider taking a day trip to Nandi Hills, located on the outskirts of Bangalore. This scenic hill station offers breathtaking views, ancient temples, and picturesque hiking trails.
With its blend of history, technology, and cultural experiences, Bangalore offers a diverse range of attractions.
Chennai Is Right Now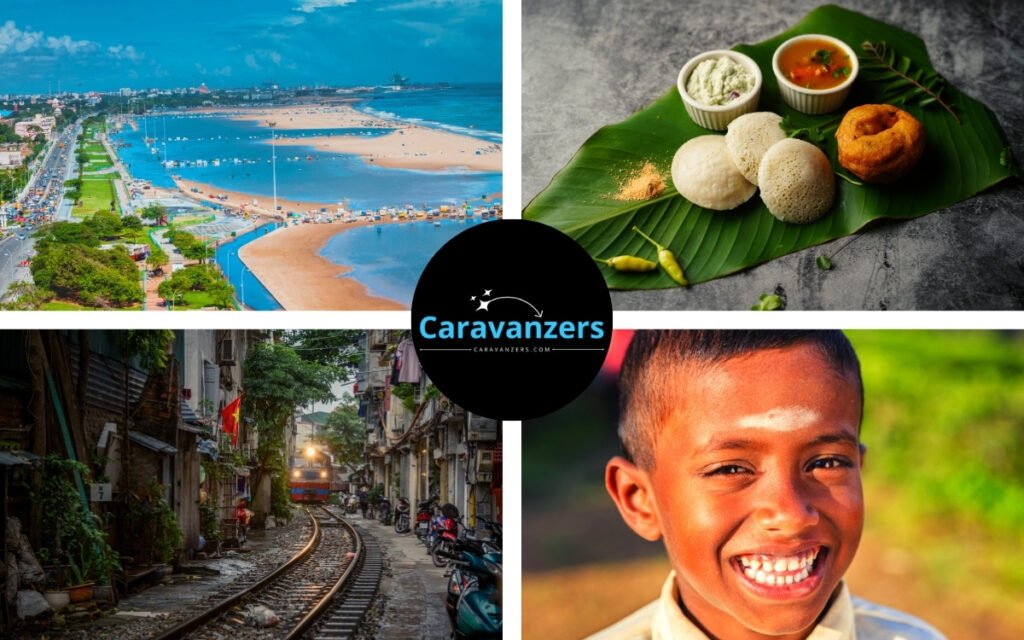 Embarking on a 5-hour train journey from Bangalore, you'll arrive in Chennai, a vibrant city on the Coromandel Coast.
Immerse yourself in its rich heritage and bustling cityscape. Explore Marina Beach, one of the world's longest urban beaches.
Visit Fort St. George, housing the oldest Anglican church in India and a museum showcasing British colonial artifacts.
Discover art and culture at the Government Museum and National Art Gallery.
Experience Chennai's renowned Carnatic music and dance performances at venues like the Music Academy.
Indulge in the flavors of South Indian cuisine, explore the vibrant streets of Mylapore, and catch a Tamil movie at an iconic theater.
Nearby, explore Mahabalipuram's ancient rock-cut temples and shore temples, a UNESCO World Heritage Site.
Chennai offers a dynamic blend of history, culture, and city life for a memorable experience.
Hyderabad Is Royalty
Embark on a scenic 15-hour train journey from Chennai to reach Hyderabad, a historic city known for its cultural heritage, magnificent architecture, and mouthwatering cuisine.
Explore iconic landmarks like the Charminar and the bustling Laad Bazaar.
Discover the glorious past of Golconda Fort, with its impressive ramparts and the remarkable Fateh Darwaza.
Marvel at the grandeur of Chowmahalla Palace, a former royal residence displaying intricate architecture and valuable artifacts.
Treat your taste buds to Hyderabad's flavorful biryanis, kebabs, and traditional sweets, especially the famous Hyderabadi biryani.
Immerse yourself in the thriving arts scene at the Salar Jung Museum and explore the Qutb Shahi Tombs, a testament to the city's history.
Shop at vibrant markets like Begum Bazaar and Sultan Bazaar for clothing, jewelry, handicrafts, and perfumes.
Enjoy the tranquility of Hussain Sagar Lake, featuring the iconic Buddha statue, and take a boat ride to admire the city skyline.
Visit the renowned Ramoji Film City for a fascinating glimpse into the world's largest integrated film studio complex.
Hyderabad promises a captivating experience with its rich history, stunning architecture, delicious cuisine, and vibrant culture.
Kolkata Is for Culture
An exciting 24-hour train journey from Hyderabad will bring you to the cultural capital of India, Kolkata.
Located in the eastern state of West Bengal, Kolkata is a city steeped in history, art, literature, and intellectual pursuits.
As you step foot in Kolkata, prepare to delve into its rich cultural tapestry. Start your exploration with a visit to the iconic Howrah Bridge, a magnificent steel structure that spans the Hooghly River.
No visit to Kolkata is complete without experiencing its literary heritage. Pay homage to the Nobel laureate Rabindranath Tagore at the Tagore House, where he lived and composed his famous works.
Immerse yourself in the city's vibrant art scene by visiting the Academy of Fine Arts, showcasing contemporary and traditional artworks.
Discover the Victoria Memorial, an imposing white marble monument that serves as a reminder of Kolkata's colonial past.
For a spiritual experience, visit the Kalighat Temple, dedicated to the goddess Kali.
Kolkata is famous for its delectable street food. Indulge in mouthwatering treats.
Take a leisurely boat ride along the Hooghly River, or visit the enchanting Botanical Gardens, home to the iconic Great Banyan Tree.
With its rich cultural heritage, literary legacy, mouthwatering cuisine, and warm hospitality, Kolkata offers a unique and enriching experience for travelers.
Darjeeling Is Beautiful
Embarking on a picturesque 18-hour train journey from Kolkata, you will reach the enchanting hill station of Darjeeling.
Nestled in the foothills of the Himalayas in the state of West Bengal, Darjeeling has scenic beauty.
Start your exploration with a visit to Tiger Hill, where you can witness a mesmerizing sunrise over the snow-capped peaks of Kanchenjunga, the world's third-highest mountain.
Take a ride on the famous Darjeeling Himalayan Railway, also known as the Toy Train, a UNESCO World Heritage Site.
Visit a tea plantation and witness the tea-making process, from plucking the leaves to their processing.
Head to Mall Road, the bustling heart of Darjeeling, where you can shop for souvenirs.
For a glimpse into the region's rich cultural heritage, visit the Himalayan Mountaineering Institute and the Padmaja Naidu Himalayan Zoological Park.
To soak in the panoramic views of Darjeeling and its surrounding mountains, visit Observatory Hill and the Batasia Loop, a unique railway loop that offers breathtaking vistas.
If you're an adventure enthusiast, you can go trekking in the nearby Singalila National Park or enjoy a thrilling cable car ride at the Rangeet Valley Ropeway.
Darjeeling's cool climate and serene ambiance make it an ideal place for relaxation and rejuvenation.
Varanasi Is Holy
Go on a captivating 20-hour train journey from Darjeeling to the spiritual city of Varanasi.
Varanasi is one of the oldest continuously inhabited cities in the world and a significant pilgrimage site for Hindus.
Prepare to immerse yourself in its spiritual and cultural aura. Begin your exploration with a visit to the ghats, the iconic riverfront steps leading to the Ganges.
Take a boat ride along the Ganges during sunrise or sunset to experience the ethereal beauty of the river and witness the daily rituals and activities of pilgrims and locals.
Explore the narrow, labyrinthine lanes of Varanasi's old city, known as the Varanasi Old Quarter. Get lost in its vibrant atmosphere, bustling markets, and ancient temples.
Experience the spiritual practice of yoga and meditation in Varanasi. Many centers and ashrams offer classes and retreats for those seeking inner peace and self-discovery.
Indulge in the traditional cuisine of Varanasi, known for its distinctive flavors and vegetarian delicacies.
Varanasi is also known for its vibrant silk-weaving industry. Explore the local silk markets and witness the intricate artistry of Banarasi sarees being created.
If time permits, take a day trip to Sarnath, located just a few kilometers from Varanasi. This is the site where Gautama Buddha gave his first sermon.
Varanasi is a city of contrasts, where life and death coexist in harmony.
Back to Delhi – Goodbye India
Returning to Delhi after a 15-hour train journey from Varanasi, you can finally catch your breath and relax.
Delhi offers the perfect opportunity to unwind and indulge in good food after the roller coaster ride.
The city has several spiritual places where you can find peace and tranquility. One such place is the Akshardham Temple, a magnificent complex renowned for its stunning architecture and serene atmosphere.
Delhi is also famous for its diverse culinary scene. Savor a variety of delicious street food and local delicacies, especially the flavors of Mughlai cuisine.
Take some time to rejuvenate yourself in Delhi's beautiful gardens. The serene Lodhi Garden and the sprawling Nehru Park are perfect for a leisurely walk, a picnic, or simply soaking in the peaceful ambiance.
Moreover, Delhi is a great place for shopping before leaving the country. With its many markets, you can find great deals on souvenirs and gifts for yourself or loved ones.
Before concluding your Indian journey, take some time to reflect and appreciate the experiences you've had during your trip.
Delhi is the perfect place to reminisce and plan your next adventure.
Final Thoughts
If you're wondering, I certainly have made this exact same trip. With a 6-month visa, I was able to take my time and slowly do it.
Of course, that would be my recommendation – to take your time and not rush. However, I understand you may have less time to spend.
Something I intentionally didn't cover in the guide is that you can mix and match flights, buses, and private cars.
For example, on one of my many trips, I took a taxi from Delhi to Agra.
So, yeah, this is just a "you might want to know" kind of guide, and I really hope you try it because I know you will love it.
Enjoy India!
AJ Paris is a travel photographer based in New York. He is the editor of Caravanzers.
Follow us on Pinterest.