Vacation destinations are all around if we are willing to take the time and research, and this guide has it all.
If you're itching to travel but need inspiration, you're in the right place.
This guide will take you on an exciting journey through captivating locations, whether you're seeking a family adventure, a romantic retreat, a solo expedition, or a serene getaway.
With expert tips and recommendations, you'll discover the best travel destinations to suit your preferences.
So, get ready to pack your bags and embark on an unforgettable vacation!
Vacation Trips in Europe
Europe is a continent with a vast history, diverse cultures, and breathtaking landscapes, offering an array of travel options for families, couples, solo travelers, and seniors seeking a relaxing vacation.
For families, Disneyland Paris is a must-visit destination. This theme park is offering a range of attractions and shows that cater to kids of all ages.
Alternatively, London is a great family destination. With iconic landmarks like Buckingham Palace, the Tower of London, and the British Museum.
Couples looking for a romantic trip can consider Venice, known as the city of love, where you can explore the charming streets, take a gondola ride through the canals, and enjoy the local cuisine.
Paris is also a popular choice for its romantic ambiance, delicious food, and iconic landmarks like the Eiffel Tower.
Solo travelers can have fun and make new friends in Amsterdam, known for its vibrant nightlife, stunning architecture, and welcoming culture.
Barcelona is another great option for solo travelers, offering a perfect mix of beach and city vibes, with plenty of bars, restaurants, and clubs to explore.
Seniors seeking a relaxed vacation can opt for a cruise along the Mediterranean coast. This allows you to explore multiple destinations conveniently. From the picturesque towns of the Italian Riviera to the ancient ruins of Greece, cruise is a fun.
To ensure a safe and enjoyable trip to Europe, it is crucial to plan ahead, research the destination, and take necessary precautions. For example, getting travel insurance, making sure the passport is up-to-date, and getting required or recommended vaccinations.
With Europe's diverse destinations, it is the perfect vacation spot for everyone.
Vacation Trips in Florida
Welcome to sunny Florida, a state known for its warm weather, beautiful beaches, and fun attractions.
Whether you're looking for a family-friendly vacation, a romantic getaway, or a solo adventure, Florida has something for everyone.
For families, a trip to Orlando is a must-see destination. Home to Walt Disney World, Universal Studios, and SeaWorld, Orlando offers endless entertainment options for both kids and adults.
You can also visit the Kennedy Space Center in nearby Cape Canaveral or head down to Miami to explore the vibrant art scene and soak up the sun on the beaches.
Couples looking for a romantic escape can find it in Key West. This charming island offers beautiful sunsets, great restaurants, and plenty of water sports like snorkeling and kayaking.
If you're looking for a more cosmopolitan experience, Miami offers world-class dining, shopping, and nightlife.
Singles looking to let loose and have fun can head to the party city of Miami Beach, which offers a lively nightlife scene and plenty of beach activities.
Alternatively, the Gulf Coast offers a more laid-back vibe with miles of white sandy beaches. There are also small coastal towns to explore.
Finally, seniors looking for a more relaxed vacation can enjoy the scenic drives along the Florida Keys, where you can stop at quaint towns and enjoy the ocean views.
The Gulf Coast also offers many senior-friendly resorts with amenities like golf courses, spas, and nature trails.
Vacation Trips in Hawaii
Hawaii is an immensely popular destination for tourists due to its mesmerizing beauty, including the lush landscapes, crystal-clear waters, and pristine beaches.
Families can indulge in various adventures and fun activities like building sandcastles and swimming in the warm waters of Waikiki or Kailua beaches.
You can go on snorkeling or scuba diving excursions to explore the vibrant marine life. Or, visit the Hawaii Volcanoes National Park to witness the island's geology and the power of nature.
Couples can cherish the romantic ambiance of Hawaii by enjoying stunning sunsets and secluded coves.
You can take a sunset cruise on a catamaran, go on a hike to explore hidden waterfalls, or just relax on the beach with a tropical cocktail.
Moreover, booking a helicopter tour to see the islands from above can be a unique and memorable experience.
Singles can relish the vibrant nightlife and social scene of Hawaii's major cities like Honolulu, Maui, and Kauai.
You can participate in cultural festivals, try local delicacies, or join group excursions to meet fellow travelers.
You can also engage in surfing or paddleboard lessons, hiking, or kayaking adventures to meet other outdoor enthusiasts.
Seniors can enjoy the laid-back pace of Hawaii and take in the natural beauty.
You can go on a whale-watching tour, visit the Pearl Harbor Historic Sites, or take a scenic drive along the Road to Hana.
Likewise, you can also relax on the beach or at a spa and admire the stunning views of the ocean and mountains.
You won't regret a trip to Hawaii.
Vacation Trips in India
India is a vast and diverse nation, boasting a rich history, captivating culture, and awe-inspiring landscapes.
From the hustle and bustle of Delhi to the tranquil backwaters of Kerala, India provides a unique vacation experience for all.
Families are encouraged to visit the iconic Taj Mahal in Agra. This is a UNESCO World Heritage site and one of India's most popular attractions.
Jaipur, also known as the "Pink City" for its striking pink buildings, is another excellent option for families. You can explore the famous Amber Fort, ride elephants, and immerse yourself in the vibrant culture of Rajasthan.
Couples can enjoy a romantic getaway to the picturesque beaches of Goa, where you can bask in the white sandy beaches, clear waters, and breathtaking sunsets.
Udaipur, known as the "City of Lakes," is another romantic destination that offers stunning palaces, lakes, and gardens.
For singles seeking adventure and exposure to Indian culture, Varanasi is a must-visit.
This ancient city is considered one of India's holiest places, and visitors can experience the country's spiritual and cultural diversity.
Mumbai, a vibrant city, is an excellent alternative that offers a chance to explore Bollywood, indulge in street food, and experience the nightlife.
Finally, seniors looking for a relaxed vacation can head to the charming hill stations of Darjeeling and Shimla.
These towns offer stunning scenery, colonial architecture, and an opportunity to unwind and rejuvenate amidst nature.
Yeah, India is a great place to vacation.
Bali Vacations
Bali is a captivating island in Indonesia that provides a wide range of experiences suitable for everyone.
With its breathtaking beaches, enchanting temples, and lush rainforests, Bali is a magical destination for families, couples, singles, and seniors.
Families can enjoy endless fun-filled adventures in Bali, including visiting the world-class Waterbom Bali water park, exploring Bali Safari and Marine Park, and observing playful monkeys at the Sacred Monkey Forest Sanctuary in Ubud.
For couples, Bali offers a romantic getaway with luxurious experiences and picturesque sceneries. For example, stroll along the beach, relax in a private villa with a view, or indulge in the island's famous spa treatments.
The ancient Pura Tanah Lot temple at sunset is also a popular romantic activity.
Singles can experience Bali's vibrant nightlife and adventurous activities. You can explore the colorful markets, take surfing lessons, or party the night away at a beach club.
Finally, Bali provides a peaceful and serene escape for seniors looking for a more relaxed vacation.
You can enjoy a yoga class, relax on the beach, indulge in a spa treatment, and visit the island's tranquil temples and serene rice paddies.
Bali is really awesome.
Vacations in the Maldives
The Maldives is a true tropical haven that sits in the Indian Ocean. It boasts crystal-clear waters, sandy beaches, and lively coral reefs. The Maldives attract honeymooners, families, and those looking for a peaceful escape.
For families, the Maldives is a great option as there are plenty of activities suitable for kids of all ages. Snorkeling excursions are a fantastic way to observe vibrant marine life, while sunset dolphin cruises provide opportunities to spot playful dolphins.
Additionally, there are numerous kid-friendly resorts that offer a variety of activities and amenities that cater specifically to families.
Couples seeking a romantic retreat will find that the Maldives offers everything you could wish for.
You can luxuriate in couples' spa treatments, indulge in candlelit dinners on the beach, or embark on a romantic sunset cruise.
The Maldives is home to some of the world's most opulent resorts, where you can stay in a private overwater bungalow and enjoy breathtaking ocean views.
Solo travelers, on the other hand, can unwind in this breathtaking environment.
You can relax on the beach, try your hand at water sports, such as surfing or paddleboarding, or immerse yourself in the local culture and cuisine.
Many resorts have packages designed for solo travelers, which provide an opportunity to meet new people.
Seniors looking for a peaceful and serene vacation destination will find the Maldives to be an ideal choice.
The tranquil atmosphere and natural beauty of the Maldives make it a perfect place to unwind and rejuvenate.
Wellness programs, such as yoga and meditation, are also offered by many resorts, providing the perfect opportunity for seniors to remain active and healthy.
Honestly, the Maldives offers an exceptional vacation destination for anyone seeking a tropical getaway.
Tanzania Vacations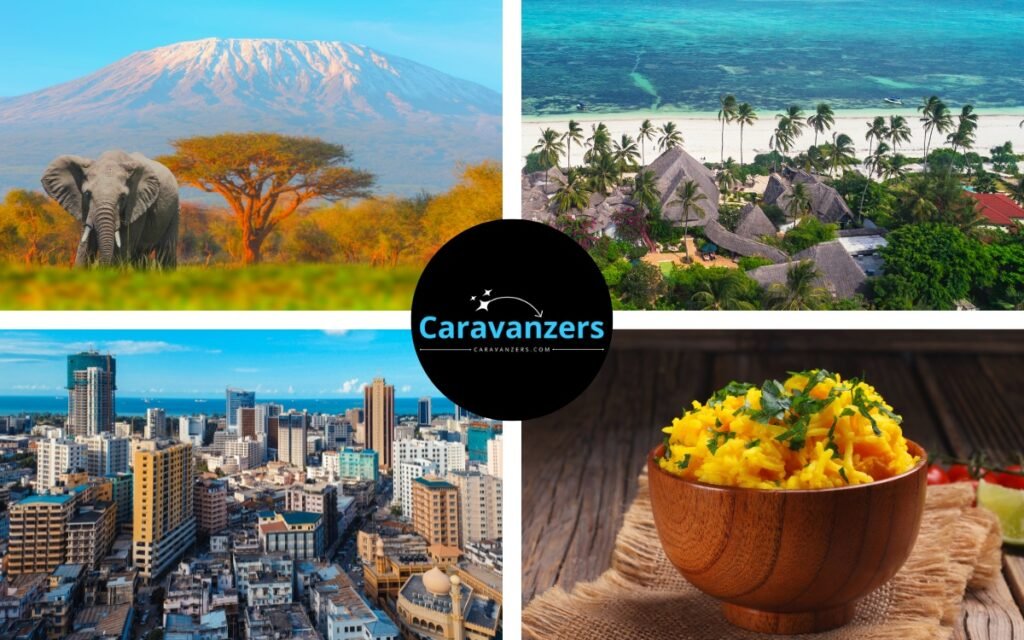 Tanzania, located in East Africa, is a country known for its rich cultural heritage, diverse wildlife, and stunning landscapes.
Families can enjoy a variety of exciting activities in Tanzania. The country's many national parks offer the opportunity safari. You will spot elephants, lions, giraffes, and other animals in their natural habitats on a thrilling safari.
Additionally, visitors can relax on the beautiful beaches in Zanzibar and explore local villages to learn about traditional lifestyles.
Couples seeking a romantic getaway can enjoy a hot air balloon ride over the Serengeti, indulge in candlelit dinners under the stars, or unwind on a secluded beach.
The luxurious lodges and resorts in Tanzania offer couples spa treatments and other amenities to enhance their romantic experience.
For solo travelers, Tanzania is perfect for adventure and exploration. You can climb Mount Kilimanjaro, Africa's tallest mountain, or go on a solo safari to witness wildlife on your own.
Moreover, Tanzania presents many opportunities to immerse oneself in local culture and meet new people.
Seniors can also have a great time in Tanzania. The country offers leisurely safaris and boat cruises on its many rivers and lakes.
Additionally, Tanzania boasts many historical sites and museums that showcase the country's rich history and culture.
Tanzania is a perfect destination for anyone seeking an unforgettable adventure.
Caribbean Vacations
The Caribbean Sea is a stunning region with over 7,000 islands, cays, and reefs, renowned for its turquoise waters, white sandy beaches, and tropical climate.
Families, couples, singles, and seniors alike can enjoy the Caribbean's diverse attractions.
For families, the Caribbean offers exciting activities for kids of all ages, such as snorkeling to see colorful marine life, visiting water parks, and taking family-friendly cruises.
All-inclusive resorts offer tailored amenities and activities designed to cater to families needs.
Couples seeking a romantic getaway will find plenty of opportunities in the Caribbean.
With romantic beachside dinners, couples' spa treatments, and sunset cruises, the Caribbean offers romantic retreats perfect for a special occasion.
Private villas and secluded beaches provide an intimate atmosphere for couples.
Solo travelers can explore the Caribbean's history, local markets, and beautiful beaches.
Many islands offer solo travel packages with activities and excursions to keep travelers engaged and excited.
Seniors can relax and rejuvenate in the Caribbean's warm climate and stunning natural beauty.
Wellness programs and activities such as yoga and meditation are popular in many resorts, making them ideal for seniors looking to stay active and healthy.
The Caribbean is an ideal vacation spot that appeals to a wide range of travelers.
Vacation Destinations – Final Thoughts
Vacations are necessary. I really hope that this travel guide has given you significant knowledge of the most amazing locations around the globe I have discussed.
It doesn't matter if you're traveling with your family, partner, alone, or as a senior; there is definitely an experience waiting for you.
Using this guide, you can now plan your dream vacation with confidence and make unforgettable memories.
So, take the opportunity to explore the world and create memories that will last a lifetime.
Have a wonderful journey!
AJ Paris is a travel photographer based in New York. He is the editor of Caravanzers.
Follow us on Pinterest.